Thank goodness that interior décor is not cast in stone! It's as flexible as they come. That means there is always an opportunity to enhance the decor of a home. So, if your white kitchen does not look what you initially conceived when decorating, there is always room for improvement.
In other words, you can add colors to your white kitchen to make it pop without breaking down walls or pulling down your white cabinets.
So, how do you introduce pops of colors into an all-white kitchen without breaking the bank? Well, it's easy to achieve…well, we dare say easier than you imagine. From custom curtains to colorful backsplashes, let's check out tips to guide you through the process of making your white kitchen brighter with colors..
Best Tips to Make Your All-White Kitchen Pop with Color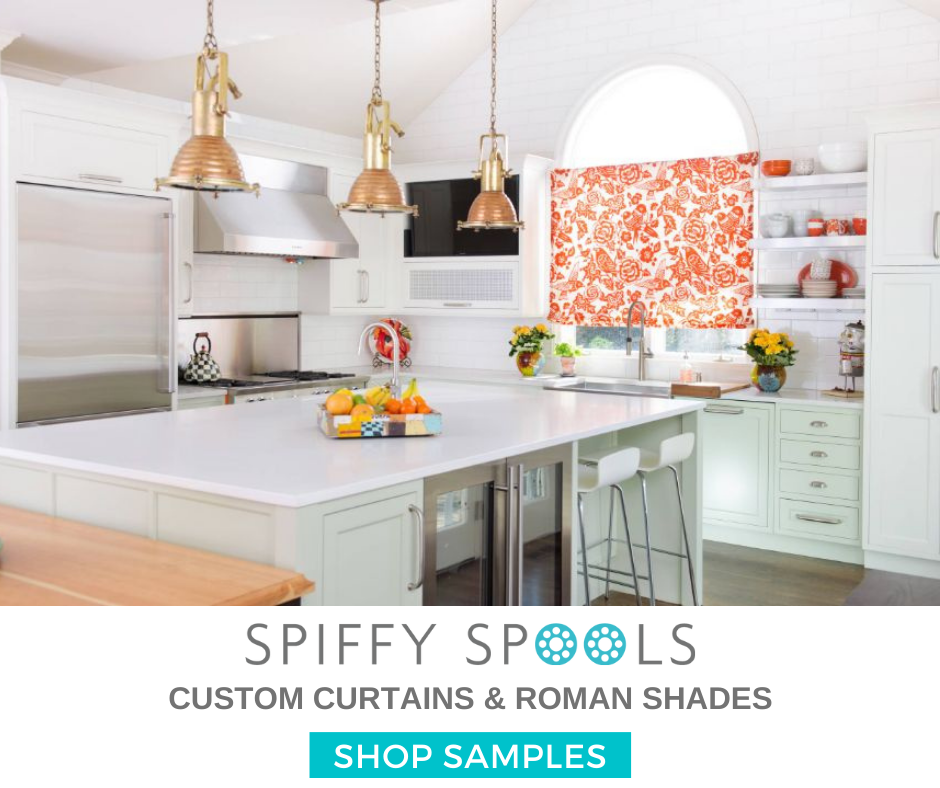 Without a doubt, the purity and a sense of serenity that your all-white space delivers are quite relaxing. But a too-serene white space can become too plain and boring with time. So, it is natural to want some color to spice things up with time.
When you start getting this feeling, it's time to explore tips to invite color. The good thing is that you can be as creative as you want as you inject personality and character to create a timeless kitchen space.
You can opt for subtle colors like baby blue or sage or go all bold and contrasting with red or black. The options are limitless. Let's check out things you can do to make your kitchen pop with color!
Introduce High Contrast to Your Kitchen Work Space
A nice and effective way to inject a striking color into an all-white color kitchen is to switch the work surfaces. You can revamp your work surface by installing deep wood to get a more rustic feel. If you prefer a contemporary look, a black marble stone would look perfect. Glossy red finish on the kitchen top can also add a very bold vibrance to the all white kitchen.
To avoid making these elements stand out like a sore finger, consider linking the color with other décor items, such as your custom roman shades, chairs, or small appliances.
Colorful Splashback can do Wonders
One way to add color to your white kitchen without repainting a whole wall is to switch up the kitchen splashback. Installing colorful tiles is a practical and inexpensive way to do this. You may want to consider adding character and visual interest by choosing patterned tiles.
If you have smaller wall areas or a single large space that need additional protection from wear and tear, consider installing tiles here. It will not only protect the space, but also add a pop of color.
Get a Statement Cooker Hood
The norm is to try to hide your cooker hood from sight. Well, what if you can use this singular piece to add color to your kitchen space? Yes, it's possible. Make a statement of your cooker hood and add color to your white kitchen.
If you want to add a touch of serious luxury to your kitchen, choose a bold metallic statement cooker hood. You can easily connect the metal to your space with plug sockets, cutlery, and cabinet handles.
If you prefer a funkier look, you can choose your cooker hood in a bright-colored design in metal.
A statement pendant light can add more than illumination to your kitchen space. It can also add an extra touch of color. You don't need to go for something elaborate if that's not your style.
You can be as minimalistic or dramatic as you want with your kitchen lighting fixtures. The only thing is to choose colors that fit into your décor scheme. One more thing; note that light from colored shades varies.
Choose Colorful Appliances
Adding pops of color with appliances is another smart way to inject colors into an all-white kitchen space. The only caution is to choose appliances in colors that you are comfortable with. Don't choose too brightly colored items that may start to put you off after a few days.
Kitchen appliances are a huge investment. So, pick them wisely. You can choose pastel hues to add colors to an all-white country-style kitchen. Bold and bright color appliances will look great in a retro or contemporary-style kitchen. For a traditional kitchen, go for strong heritage hues to add a pop of color.
Paint a Section of the Walls
So, what if you have a tiny kitchen with a tiny budget? Well, you can still add a pop of color. Consider painting a section or several small accent sections in a color different from white to add a splash of color. The best part is that you don't have to change the kitchen scheme.
You can also choose to use patterns instead of solid colors. Just make sure you choose a paint color that complements another item in your kitchen to achieve cohesion.
If you don't want to make such a permanent change, you can consider using peel-on wallpaper.
Conclusion
An all-white kitchen is contemporarily sophisticated. However, a pop of color can bring in coziness and warmth that will transform the space. You can use these six tips to add color and introduce a new dimension of visual interest to your kitchen.