Bonsai are groomed and manicured pot plants that are a great choice for people who do not have much space in their homes. They have a great aesthetic appeal and are perfect for indoors as well as outdoors.
Having a bonsai tree at home has several benefits. It helps in stress relief and keeps you patient and calm. Bonsai trees are also known to purify the air and give you a sense of joy. When taken care of, bonsai trees can thrive for years and can be your family treasure
Many people love growing bonsai trees at home but do not know how to take proper care of them. In this article, we talk about ways to trim Bonsai Sequoia roots from small pots.
All You Need to Know About Sequoia Bonsai Tree
Sequoia is a beautiful bonsai plant species and looks majestic. It has a beautiful natural appeal and can be a great choice for your home. They have a very long life span, and when taken care of, these will last for years. These trees grow slowly and a very flexible with the weather conditions, but you need to take some care to avoid killing them.
You need to ensure that they get appropriate light to encourage their growth.
Also, keep checking on the humidity levels. This is also important because excessive humidity can weaken the plants. A proper drainage system and moist soil are essential for growing this sequoia bonsai tree. Regular water and fertilizers from time to time are essential so that your plant grows well.
Why is Trimming Sequoia Bonsai Important?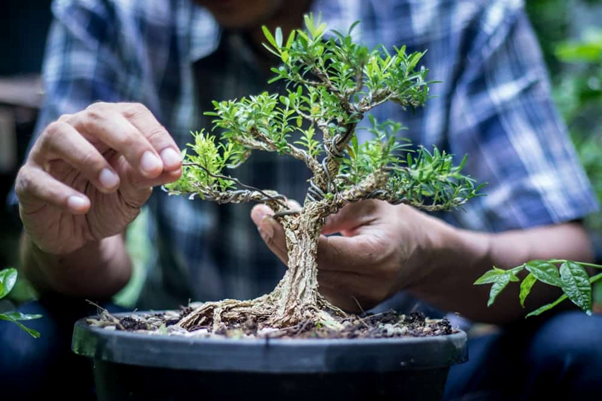 Roots, branches, and shoots of sequoia tree often outgrow the desired canopy shape you want in your bonsai tree. For this, you need to trim your tree to maintain its shape to grow in the way you desire.
You must trim your bonsai regularly so that the force that you apply on trimming equalize the growth and a dense canopy is maintained.
For correctly trimming your tree, you need scissors, cutters, and shears. For this first, you will need to hold the tip of the shoot or the root between your thumb and finger and then pull it away.
Trimming the roots of your bonsai tree helps in giving a better fiber system that equitably distributes the water and nutrients for good plant growth.
Importance of Root Pruning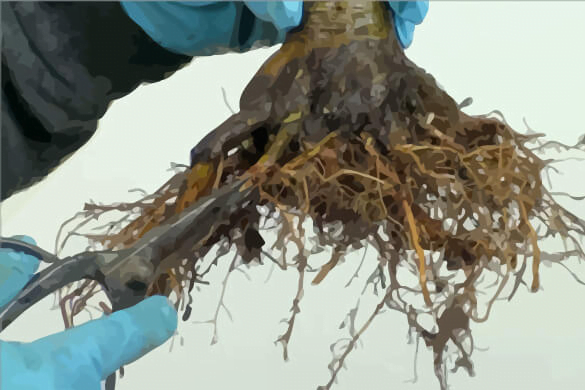 A healthy sequoia bonsai tree needs good rootwork. Roots help in the transportation of water and nutrients to other parts of the plant. Trimming the roots from time to time helps in giving better nourishment to the plant.
Root pruning ensures better delivery of water and nutrients and a way to distribute the roots so that the dwarf shape of the sequoia bonsai is maintained.
It is essential to remember this process needs to be done only once a year, and the plant after it is trimmed should be e re-potted in new soil.
You should comb the roots in a radial pattern to minimize the damage.
Step-by-step Method for Root Trimming
Follow this method for trimming your potted sequoia bonsai tree:
The first thing you need to do is remove weeds and dead leaves from the pot. Do this carefully, though, and we do not want to damage the roots.
Then remove the bonsai tree from its pot and place it on a clean surface. This should be at the ideal height with adequate lighting so the trimming procedure goes smoothly.
The next step is to run your fingers in the roots and comb through them. This allows the soil and roots to loosen out.
Now, you need to start trimming the roots that relate to the main taproot. This should be done using clean scissors or shears.
You also need to start removing roots that grow downward from the taproot to ensure proper growth. This is essential to maintain a thin root system from the tree.
The bonsai grows well in a thin root system. Create a compact and shallow root arrangement. Once you are done trimming, take your plant and put it back in the container, about 1-1.5 inches taller than your root ball.
Prune the roots all around, so the root ball fits well into the new container. There should not be any need to fold it.
Plant scissors 60mm Gardening Shears (Titanium plated coating Bonsai Scissors) Practical and Light...
[HIGH-QUALITY TITANIUM COATING STAINLESS STEEL MATERIAL]- Titanium coating blade is three times...
[NON-SLIP GRIPS HANDLE]- Ergonomically designed handles minimize hand strain and maximize comfort...
[ULTRA SHARP BLADES]- CastleGreens bonsai shears snips come with stainless steel precision-sharpened...
[LONG REACH]- Blade length 2.36''. Using this pruner will easily reach stems inside bundles, the...
[RESPONSIBLE AFTER-SALES SERVICE]- Thank you for choosing CastleGreens. Professional service team is...
Sale
Conclusion
A healthy Bonsai Sequoia tree will grow well when rootwork is done from time to time. It is essential because of the limited space of the pot. If you do not trim and prune, you put your plant in danger of a condition called root-bound. Therefore, to keep your plant healthy and nice, regular trimming is suggested.