Just like the types of kitchen cabinets, the type of cabinet hardware is also essential to consider. Yes, you might not have thought about it. As with many homeowners, you may think that it doesn't deliver any value to your cabinets. Well, you are wrong.
The type, color, shapes, and size of hardware make or break the look of your cabinets. For instance, if you install white knobs on green-colored cabinets, it will make your cabinets look hideous. But if you choose metal knobs or pulls, you can change the entire feel.
On top of that, they can also help you create a specific ambiance in your setting. Installing high-end hardware may help you get a luxury and expensive feel. If you use traditional wooden pulls, it will keep your cabinets classy and old school. Hence, you need to choose the appropriate hardware to make your cabinets stand out.
Read more to get an idea of what hardware options you have for your cabinetry. Let's take a look.
Types of Kitchen Cabinet Hardware
Here are the types of kitchen cabinet hardware that you can use according to your cabinets.
Knobs
Knobs are small yet impactful. This is one of the common, popular, and oldest hardware. They come in a range of sizes, shapes, colors, and materials. For instance, you can find them in oval, round, rectangular, square, and several other geometric shapes. But it is challenging to find the shapes that are irregular and distinctive.
The best part is that you can find some with unique textures and designs like you find in houseplants. In fact, you can customize them and crave out your desired design on its upper circular surface. Since knobs only need one mounting screw, you can easily and quickly install them.
Here is the catch- they are prone to damage and breaks. Generally, when knobs become old, they come out while you are pulling the cabinet. You might find it difficult to use that cabinet until you get the new one.
Handle Pulls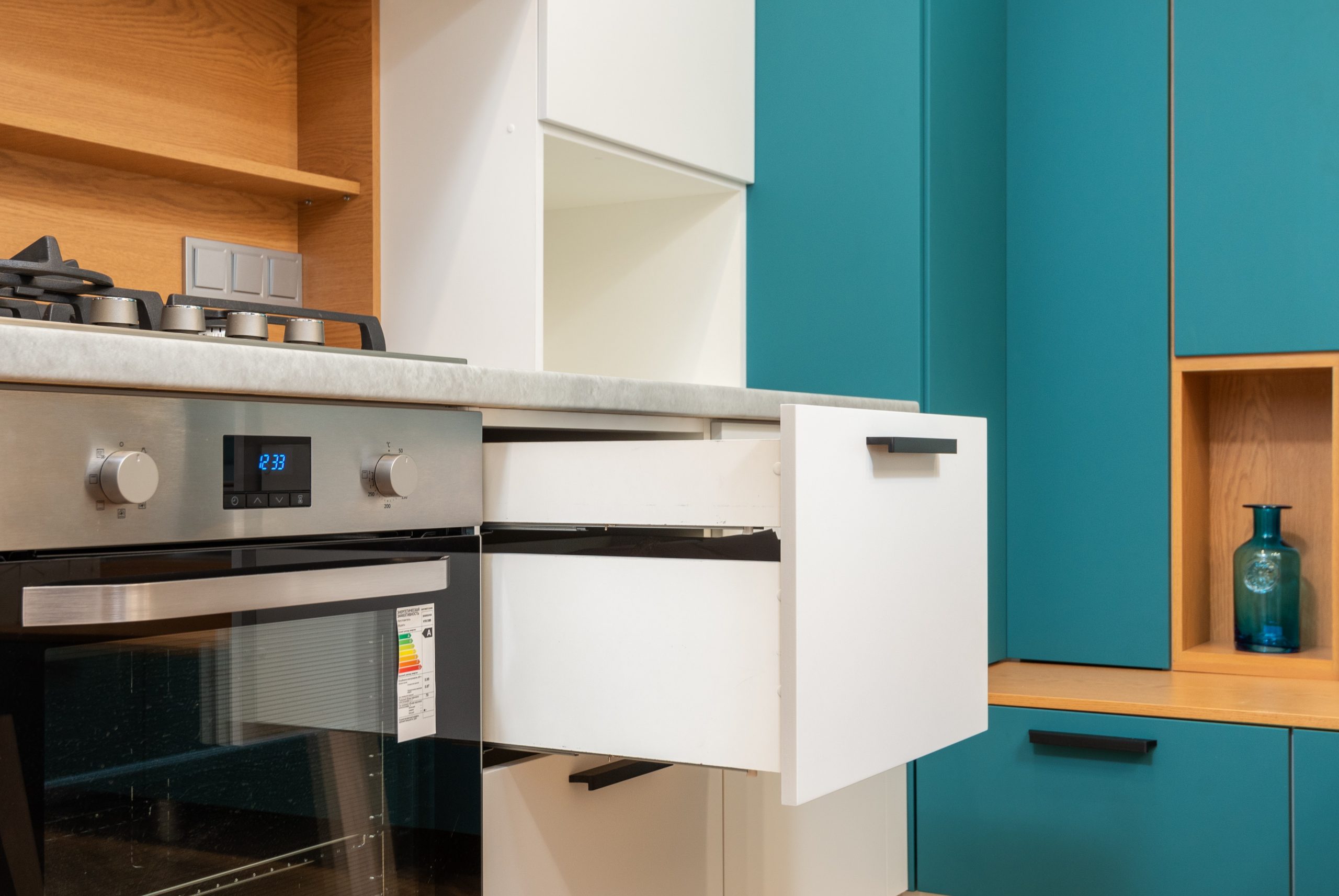 Handle pulls are also known as cabinet pulls or drawer pulls. They have a bar or rod-like design that fixes them to the cabinet surface at each end. Most of the manufacturers offer you handle in the same shape, finishes, and styles as the knobs for coordination purposes. These are also one of the common choices, as you can incorporate them in both modern and traditional kitchen styles.
Unlike knobs, they need two screws for mounting them in the cabinetry, so choosing the right size is vital. Some cabinets come with holes to insert screws. In this case, your handle pull should have a size that can accurately line up the existing holes to secure them. If not, you will have to make new holes, which will leave the older holes open and noticeable.
If you have drawers and doors that don't have the mounting hole, there is no rule of thumb for choosing the right size of pull. These types of doors also make installation easy. So, in this case, you can opt for the size that you feel comfortable with. If you are looking for cabinets that come with mounted handles, then you can check out Walcraft Cabinetry. You can find durable and premium quality cabinets with the best hardware.
Bin Pulls
Bin pulls have a pretty similar construction to handle pulls but have the dome shape. Its dome shape allows you to grasp it from the bottom since three of its four sides are enclosed. You can also find them under the name tag of cup pull that simply describes its style and shape.
Generally, bin pulls feature some type of decorative carving or embellishment. You can find designs like flowers, shapes, or simple lines. The best part is that its dome also comes in a wide range of geometric shapes, including square, oval, round, or rectangular. Besides that, you have lots of colors and finishes options.
It is important to note that you need to mount them with two or more screws. This is because they are long and cover more space than knobs and pull handles. Hence, this property can make them prone to damages or breakages, which is why you need to fix them firmly on the cabinets to prevent any problem.
Another thing you need to know is that they are durable kitchen cabinet hardware. Installing them in your cabinetry can go a long way.
Cremone Bolts
It might be challenging for you to find this hardware in the market. Cremone bolts are commonly known as surface bolts. Generally, you can find them on French doors or casement windows. This type of kitchen hardware has a lever handle or knob that's fixed to a lower and upper rod.
Depending on the turning side of your bolt, the rods will either slide out or inside of the sockets that are present on the lower and upper sill. Therefore, the usage of this hardware is greatly different from other types of hardware. This is also the reason that they don't look great in every cabinetry style. Only a few manufacturers offer you cremone bolts with the cabinets.
It also gives a unique and catchy look to the cabinets if they complement each other. If you want to install this hardware in your cabinets like shaker cabinets, you need to take help from a professional. Interior designers can help you find out whether they will work for your kitchen.
Bottom Line
So, if you are planning to purchase kitchen cabinets or simply want an upgrade, make sure to think about what type of knobs can suit your desired cabinetry. While you are at it, buy knobs for your underground room, living room, and patio as well. Plus, if you simply want to alter the look of your cabinets or give them a high-end feel, you can opt for hardware that helps you achieve the appeal you want.