If you love gardening and have a lawn of your own with trees and shrubs and herbs, then there are high chances that you own specific gardening and lawn equipment that make life a lot easier.
Tools like a lawnmower, edger, and weed eater are now ubiquitous and reduce much work that we would have to do otherwise.
One among these gardening and lawn equipment is a woodchipper. Although many people do not own it as lawn mowers or weed eaters, it is used by most of them by using renting methods.
These could be an excellent option to invest in instead of spending that money on renting it. Woodchippers come in a lot of varieties and a lot of different sizes.
But before getting into any of that, let us first understand what a woodchipper is.
What are Woodchippers?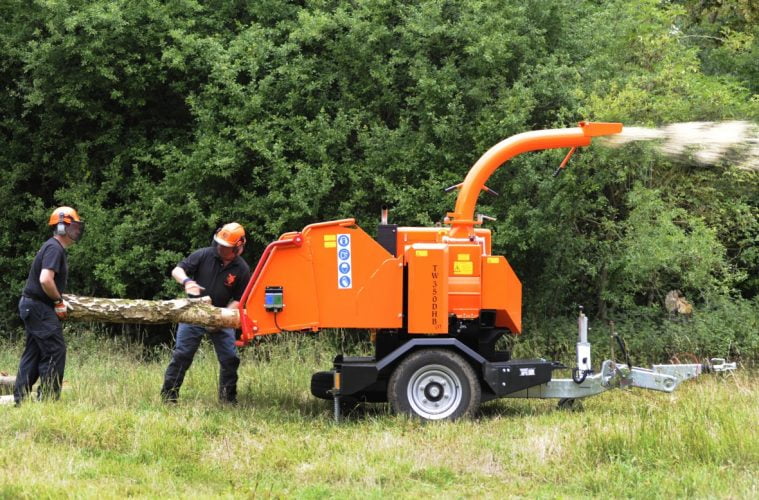 There are a lot of times you would have wanted to remove the specific branch from the tree or the shrub but then think about where you will dispose of it. Well, woodchippers solve this problem for you. 
Woodchippers are garden or farm equipment that help you reduce the branches of trees, shrubs, and wasteful logs of woods into fine light chips that are easily disposable and can be used as manures.
These machines are well equipped with blades and motors and are very efficient in doing what they do. They also range in power as they have variants coming in between 3 horsepower to 1000 horsepower.
Working Mechanism
The working mechanism of a woodchipper is straightforward, and you can understand it within a glimpse.
It has four components- the engine, the drive belt, the chute, and the impeller. When the engine is turned on, the crankshaft is started automatically, and the crankshaft leads to the drive belt movement.
When the drive belt starts moving, the impeller also starts moving. The impeller is equipped with sharp blades that are responsible for cutting the wood and branches. The impeller then pulls the woods and branches towards itself and converts them.
Into fine chips, which are then disposed of or are used as manures for providing nutrients to the plants in your garden.
The Difference from Wood Shredder?
A wood shredder and woodchipper are sometimes confused with each other, but they are not the same. A woodchipper is more powerful and hardy, and it is responsible for cutting and chipping woods that are wider and harder.
Whereas the shredder cannot deal with challenging and thick woody branches that work well with thin branches of shrubs and the leaves that fall all around your lawns in the fall.
A woodchipper cannot shred small and delicate substances like leaves and face the threat of getting jammed because of these products.
Most woodchippers nowadays are also shredded, and you do not need to possess two different machines. When buying or renting a wood chipper, you are recommended to go for the one that comes in combinations of both as it will be more convenient and cost-effective.
Two different devices will not just cost more but will also eat up more energy and demand more maintenance.
Should We Buy a Woodchipper?
At first, glance, buying a woodchipper might seem like a wastage of money if you do not have any monetary attachments with it, i.e., if you are not purchasing it for commercial use. But this fact is not valid. This is because there are a lot of wood trimmers that are specially made for household work.
If you realize the need for a woodchipper more than once or twice a year, then you should consider investing permanently in your very own wood chipper. Why so? Because the rental charges for q woodchippers could go very high, especially in areas where they do not have much of the same service providers.
So, buying a woodchipper might be more than spending money on renting it five or even ten times, but getting a woodchipper is more profitable in the long run. 
Also, having your very own wood chipper could provide you with the flexibility to use and move than a rented one would not do. And if you have big farms or big lawns and you are into farming, you should have one with you. Many farmers keep these machines attached to their tractors as they are used very often.
Varieties of Woodchippers
There are many different varieties of woodchippers, but they can broadly be divided into two types depending on their source of power generation.
Electric Woodchipper
Electric limes power electric woodchippers, and they are comparatively lighter compared to their non-electric powered counterparts. These do not make much of a sound and do the work very effectively. 
However, they are not as powerful when compared to fuel-powered electric chippers as they are hardier. The benefit of having these woodchippers is that you can do the work more quietly. It is most suited for domestic or household tasks.
They are attached to an extension cord, which provides them with power. They can only cover the areas which are under the length of the cord. So, this limits the area or portability of these machines.
Fuel-Powered Chippers
Fuel-powered electric trimmers are hardier and are attached with a more powerful engine. They can chip more significant pieces of wood as compared to their electric counterparts.
GreatCircleUSA Wood Chipper Shredder Mulcher Heavy Duty Gas Powered 3 in 1 Multi-Function 3" Inch...
MULTI-FUNCTION CAPABILITY - This 3-in-1 Wood Chipper Shredder Mulcher design has a Reduction Ratio...
POWERFUL - This Chippers powerful recoil starting 7HP Horizontal 4-stroke Single Cylinder OHV Gas...
EFFICIENT DESIGN - Hookup your favorite: ATV, lawn mower or small tractor, for easy transportation...
SAFETY - Always operate according to directions outlined in the user manual, always wear the...
BEST APPLICATION - Use for Forestry, Gardens, Landscaping or Green Waste Recycling to chip tree...
They produce a lot of noise when they are switched on. They are not restricted to a specific area as the electric chippers and can be moved to many locations.
They are mostly used for commercial purposes, as they are more heavy-duty. There also is no fear of the machine running off as it is powered by fuel, and you must make sure that the tank remains full. They are certainly heavier than electric woodchippers.
Types of Woodchippers (Depending on the Mechanism)
There are also different kinds of woodchippers about their wood chipping mechanism. They are different from each other in terms of shapes and sizes, but they are instrumental in chipping woods. Let us know more about them one by one.
Drum Chippers
Drum chippers are a perfect variety of woodchippers. They are undoubtedly massive, and that limits their mobility (it is not easily movable). These chippers have a drum-shaped part attached to them that have blades installed in them.
When the wood or the branches come in contact with the drum, they are pulled near the sharp blades, which chop the wood into fine pieces, which are further reduced to chips and then expelled out of the machinery from the other end.
These woodchippers are very powerful and are powered by a fuel or gas engine. They must be attached to vehicles so that they can be moved easily.
Disc Chippers
An electric engine also powers disc chippers like drum chippers. They have a freewheel with blades installed in it at a perpendicular angle, which allows it to chap and then chips the wood. It is also a mighty machine and can be used for commercial uses.
Like any other gas-powered wood chipper, they produce a lot of noise, and professionals usually use noise cancelers while using it. These are also very heavy and must be moved using a vehicle.
PTO Woodchippers
Woodchippers of this variety does not have an engine of their own. They are connected to driveshafts of the tractors, and it is from there, it gets the power to chip woods and plants.
This is a wide variety of woodchippers. They are powered by a gas engine(indirectly). The most significant disadvantage with this variety of woodchipper is that they will only work when they are attached to a tractor or any other vehicle of that sort.
So, having a vehicle is a prerequisite condition for buying this woodchipper, and if you do not have one, it is not for you.
As already mentioned, it is a powerful woodchipper and is used for commercial purposes.
Woodchipper Maintenance
Using a woodchipper is not the end of the deal. You are also required to take regular care of it not to run out of order.
Gas-powered woodchippers demand more care than electric chippers. 
Check the engine oil and race it occasionally so that the engine remains in good health.
Clean the air filters and clean and replace the spark plug regularly. A faulty spark plug can prevent your woodchipper from starting.
Conclusion
Now that you know how a woodchipper works, how it is different from a shredder, and most importantly, the different types of woodchippers, you are good to go. Now you can easily decide which woodchipper you want.
Do you want it to be less noisy? You can go with electric chippers. Do you want it to be more powerful and mobile? You can go with gas-powered woodchippers.
However, the decision to buy or not buy a woodchipper is subjective and up to you. If you feel that you require it regularly and renting is costly, it would be wise to purchase one.