Do you long for a tranquil outdoor setting where you may unwind and re-establish contact with nature? Solar spotlights from XMCOSY are the only option. With the help of these spotlights, you can turn a plain backyard into a tranquil outdoor refuge.
We shall discuss the idea of solar spotlights and how they might promote a relaxing atmosphere in this article. Additionally, we will offer helpful advice on how to use XMCOSY solar spotlights to improve the ambiance of your garden so that you may have a peaceful getaway right at home.
Outdoor illumination has never been the same since the invention of solar spotlights. These environmentally friendly lights provide a cost-efficient and sustainable method to improve the aesthetic of your home by utilizing solar energy.
Among the wide range of solar spotlights available, the XMCOSY spotlights stand out due to their unique features and elegant design. Let's dive in to see what makes them special:
1. Acrylic Suspended Bubble Light Posts: The XMCOSY spotlights have a distinctive design with acrylic suspended bubble light posts. This design not only enhances the lighting effects but also adds an elegant touch to your outdoor space, creating a visually stunning atmosphere.
2. Independent Panel for Maximum Sunlight: The XMCOSY spotlights come with a large 6.1in*3.9in solar panel. This independent panel ensures maximum sunlight absorption and provides 3 working modes of brightness: Smart IC Auto (6-12 hours), Low (10-12 hours), and High (6-8 hours). You can customize the lighting duration based on your specific needs.
3. Adjustable Spotlight and Solar Panel: The spotlight head of the XMCOSY spotlights can rotate 180°, and the solar panel can rotate 210°. Additionally, the entire product can be horizontally rotated 360°, ensuring that you can illuminate any outdoor space from different angles to meet your specific lighting requirements.

4. Buy One, get Two: The XMCOSY spotlights offer two installation options in one product. You can choose to insert them into the ground or mount them on the wall, giving you flexibility to suit different scenes and preferences. This versatility allows you to effortlessly adapt the lighting to various areas of your garden.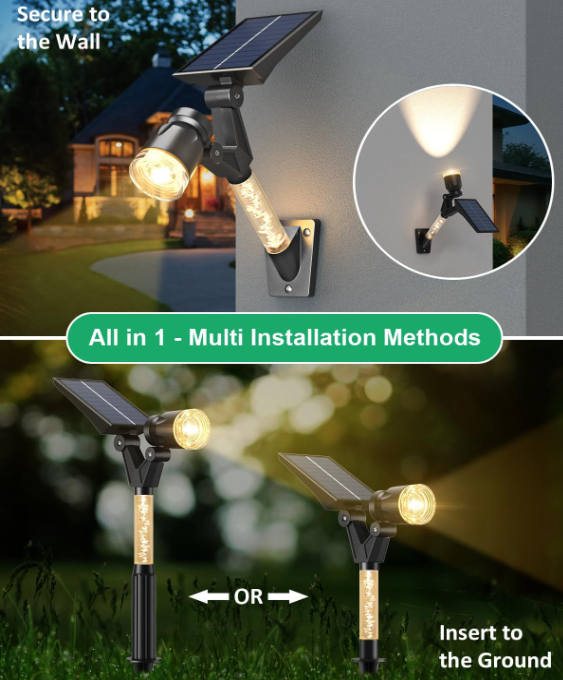 5. Outdoor Waterproof: The XMCOSY spotlights are specifically designed to withstand different weather conditions. They have an IP65 waterproof rating, which means they can endure rain, snow, and other outdoor elements. This makes them perfect for long-term outdoor use.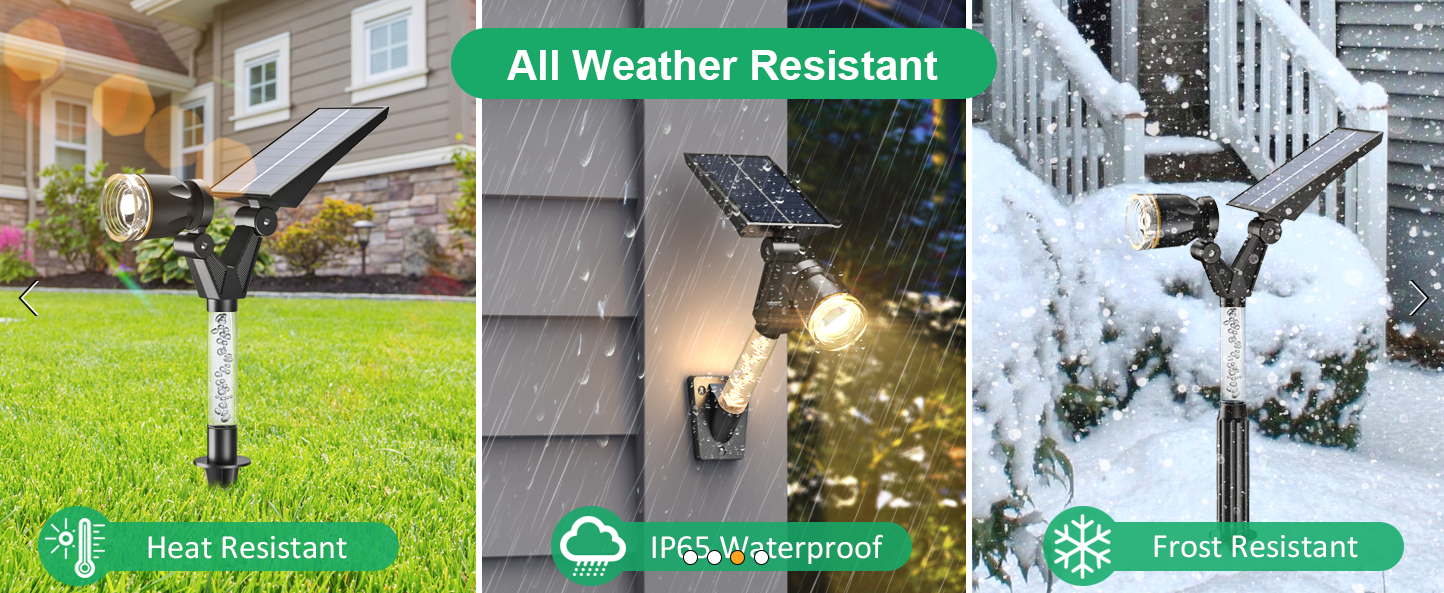 Here are some useful advice and methods to help your solar spotlights perform at their best:
1. Strategic Positioning: Place the spotlights in the best possible locations to draw attention to significant features like trees, plants, or architectural details. To create the correct lighting effect, try out various angles and distances.
2. Consistent Maintenance: To guarantee that the solar panels collect the most sunlight possible, keep them clean and free of obstructions. Use a moist towel to gently wipe the panels from time to time.
3. Changing the Lighting settings: Use the many brightness settings that your solar spotlights offer in accordance with the situation or time of day. Higher brightness levels can give practical lighting for walkways or seating areas, while dimmer settings can create a gentle and romantic atmosphere.
The installation of solar spotlights is a great option for establishing a tranquil and warm outdoor retreat. They offer several illumination modes, are simple to install, and are environmentally beneficial.
The XMCOSY spotlight is ideal for boosting the ambiance of your garden. You may design a lovely landscape while simultaneously promoting sustainability and becoming green by employing solar lamps. So why not use solar spotlights to elegantly and effectively light up your outside space and transform your garden into a peaceful haven?