Planting has always been one of the favorite activities for many of us as we love natural and aesthetic plants that enhance the beauty of our garden.
Whether you have a small yard or a huge yard, planting shrubs and bushes of all sizes and shapes remains the same in every backyard.
However, smaller yards might face certain restrictions on planting bigger and beautiful plants, but the bonsai tree is a plant that can fit in the smallest yard.
There are several varieties of bonsai trees, but the beauty of the Giant Sequoia bonsai tree is something that everyone should witness.
The giant sequoia bonsai tree has a very long life span of 2500 long. They have thick branches and very tough wood that can independently.
What are the Basic Cultivation Points for the Giant Sequoia Bonsai?
The Soil of the sequoia bonsai should be free draining soil like juniper, and it is better if you use a shallow pot for your giant sequoia bonsai as it has shallow roots. It is better to use a mix of Akadama, Kiryu, and some peat to make it easy for you to soil.
The Fertilizing process of giant sequoia is not difficult, you can use bio gold pellets to fertilize it. Fertilize it every 3 months in every quarter of the soil.
The Branches of giant sequoia bonsai should be kept as short as possible to make the process of maintenance easy.
To avoid pests from the tree, you should spray against wasp and bark pests.
The watering of giant sequoia bonsai is also easy. Water the plants twice a day, one in the morning and one in the evening.
How to Feed your Giant Sequoia Bonsai Tree?
The feeding or watering process of the bonsai tree is normal as other species of bonsai trees, but it is better to take care of your bonsai tree.
Check the soil regularly and do not let it dry too often; water it whenever you see the soil dry. If you see the soil moist, consider avoiding watering it during that time and water after a few hours.
Keeping a check on the water level of your plant will help you keep the health and growth of your plant.
The watering process of the sequoia bonsai tree depends on the type of soil you choose for your plant. If you have used soil that soaks more water, you may only need to water it 3-4 days a week, but you may need to water it daily or even twice a day in some soil.
The Shaping and Pruning of Sequoia Bonsai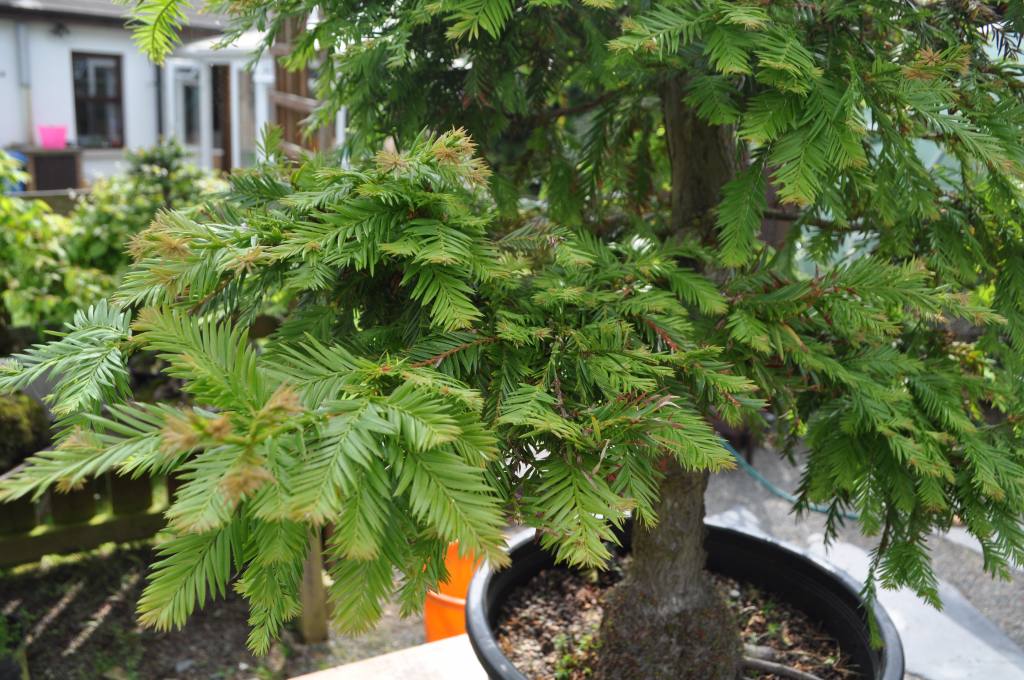 The shaping of your bonsai tree should be done during January or February as it is the best time to chop or shape your plant. During winters, it becomes easy and makes sure you use a cutter to shape it and do not trim the lower parts of the plant.
Trimming the lower part of your tree will lead to the exposure of the roots towards sunlight which may cause harm to the roots. Also, make sure you have a shape in your mind before you start the process of trimming the plant.
What are the Specialities of Giant Sequoia Bonsai Tree?
As the name of this plant clearly says, it is giant! So, if you are new to planting shrubs or bushes, then this plant may not be a great option to suggest. As this tree takes years to grow, so it is better to buy an existing bonsai tree.
If you decide to purchase this plant from a local nursery or online store, then you should know the following points:
It needs a lot of water.
It needs constant care and checking of soil.
You may need to place it indoors during extreme summers.
Shaping should be done with utmost care and do not trim the lower edges.
Pruning should only be done during winters.
In summers, it might need your maximum attention.
These were the unique feature of giant sequoia and the basic things you need to know while taking care of them.
Conclusion
Giant Sequoia is one of the most unique and beautiful plants, and it is the exact reason why so many authors have penned down their opinions about its beauty.
We hope you have a great time planting and gardening your favorite bonsai tree species and making sure you take good care of your tree.