Summer not only brings sunshine and flowers along with it but also brings tall grass and weeds. It is essential to get rid of them. Otherwise, they will destroy the lawn very easily.
That is when Weed Cutters come to help. There are different varieties of Weed Cutters available in the market,t and Black and Decker are among the most reputed companies in that department.
This guide will compare the two best Weed Cutters from Black and Decker named LST136W and LST522. We will also discuss which of them is best for daily and normal usage.
Black and Decker LST136W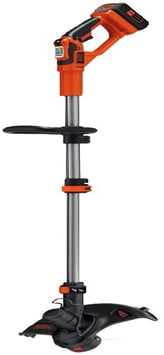 The Black and Decker LST136W Weed Cutter is considered the best in all-around performance. It can easily handle all household activities without running out of power. It is very light in weight and has can-do precision edging. Due to its lightweight (8 Pounds), you can easily move it from one place to another.
Talking about its design and build quality, it has a great design and is constructed with a mixture of plastic and aluminum. You can also adjust its shaft length according to your own comfort.
It comes with a powerful 40V Battery which can easily give a battery backup of 35-40 minutes in nonstop usage. There is also a Power Command Dial available in this trimmer to control the operating speed. You can easily adjust the operating speed from 6500 RPM to 8500 RPM if you want thicker vegetation.
No products found.
Pros:
Very Lightweight
Can do Precision Edging.
Has an Adjustable Shaft
Cons:
Low battery Backup on High Usage
Single Lined
Black and Decker LST522

The Black and Decker LST522 is a very lightweight (7.7 pounds) cordless weed trimmer. It is constructed using a mixture of plastic and aluminum to provide a lightweight and sturdy design. Its handle can be adjustable and comes with a soft grip to allow more comfort while cutting weeds.
It comes with a 20V Lithium Battery which is not considered the most powerful, but it is best for menial home-usage. Another best feature of LST522 is its adjustable operating speed.
You can easily switch between high and low speeds. The higher speed can allow the motor to rotate fatly, which helps cut all the thicker weeds. And, for the light tasks, the low-speed option is more than enough. 
It has a trimming line of 0.065 inches and comes with a cutting radius of 12". There is also a wheel-mounted trimmer edger present on the top of the guard which makes it a perfect tool for edging and cutting and helps in maintaining the look of your garden.
Sale
BLACK+DECKER 20V MAX String Trimmer, 2-Speed, 12-Inch, Cordless (LST522)
Automatic Feed Spool (AFS) feeds edger/ trimmer line as needed - without bumping..Watt Hours:50.
LBXR2520 battery provides cordless grass trimmer 66% more battery capacity for longer runtime...
2-speed control lets you boost power or extend runtime of the lawn trimmer.
PowerDrive Transmission increases torque for more cutting power at the string.
Easily converts from trimmer to wheeled edger.
Pros:
Lightweight
Has an Adjustable Shaft 
Cons:
Has a week motor.
Only one cutting line
What We Liked About Black and Decker LST136W
If you want to buy an all-rounder ween cutter that can balance both power and affordability, then the Black and Decker LST136W is the best option for you. It can easily cut thicker vegetation and comes with two power modes which you can use to get extended runtime.
Based on the customer reviews, it can easily cut all the corner grass, and the trim quality is also very exceptional. It is recommended to set the trimmer to 6 for heavy usage and 2-3 for light usage. After a full charge, the batteries can last for a minimum of 45 minutes.
What We Liked About Black and Decker LST522
Black and Decker LST522 Is the lightest cordless string edger which can be perfect if you own a small yard. It is so lightweight that your kids can use it too. It has a 20V battery that lasts longer and can be either used as a trimmer or a wheeled edger.
If you want quality as well as efficient trimmer, then the Black and Decker LST522 is the perfect option for you. It also has a lot of satisfied and happy customers.
Final Words
So, this is the complete comparison between Black and Decker LST136W vs. LS522. Now, you must have a clear idea about which one to choose.
Both are best in their own way. So, if you are still confused between choosing these two, then clear your priorities first and then reread the guide.
This is all about this comparison guide; if you found this useful, then please share it once. If you have any questions or queries regarding this guide, please ask us by commenting below.