If you are someone who resides in a dry and hot area, you would know how important it is to take care of almost everything that you own. A house in a desert-like area needs even the smallest things to be tolerant of extreme sun. In such a case, only desert landscaping ideas can help if you are planning to create a beautiful landscape on your lawn.
Landscaping is incomplete without beautiful trees, either one or more. If you have a lawn or backyard, a tree can serve you in numerous ways, whether big or small. Trees might give you tasty fruits, medicinal benefits, beautiful flowers, and foliage yearlong, or just some shade to sit and relax.
When it comes to desert landscaping ideas, not every tree can be chosen. Certain trees are extreme heat and sun tolerant and serve the best in dry areas without having you worry about them much.
So, if you are also looking for trees that can thrive in your sunny area, then you are at the right place. Here is a list of some of the best trees to include in your desert landscaping ideas. Keep reading to choose your favorite.
1. Sweet Acacia Tree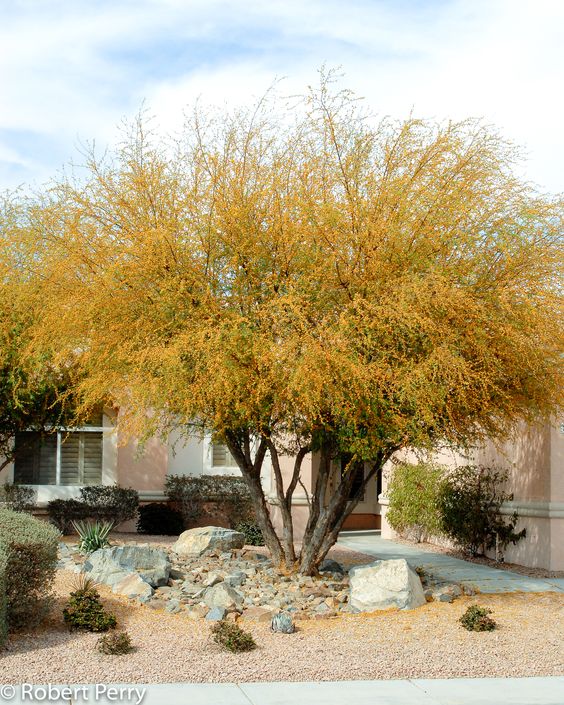 Also known as needle bush, this medium-sized desert-loving tree grows not more than 30 feet. The sweet acacia has spikey branches and blooms yellow puffy flowers. These flowers look utterly beautiful and provide a sweet fragrance when they bloom.
This tree can be messy and shed leaves or evergreen (will not shed leaves) depending on the climate and atmosphere you provide. It is rare to see these trees not giving shade, though.
2. Chaste Tree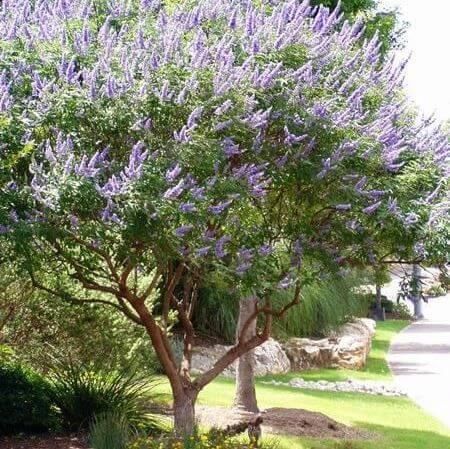 The chaste tree is a drought-tolerant tree that can grow into a small bush as well as a tree of medium size. If you are looking for a great shade tree, this one can be an option. It has dense green foliage that can protect it from the summer heat. What makes this tree beautiful and eye-catching is its flowers? They bloom on spikes in lavender and blue shades in summers. Some other types of chaste trees may also show white and pink flowers.
3. Texas Mountain Laurel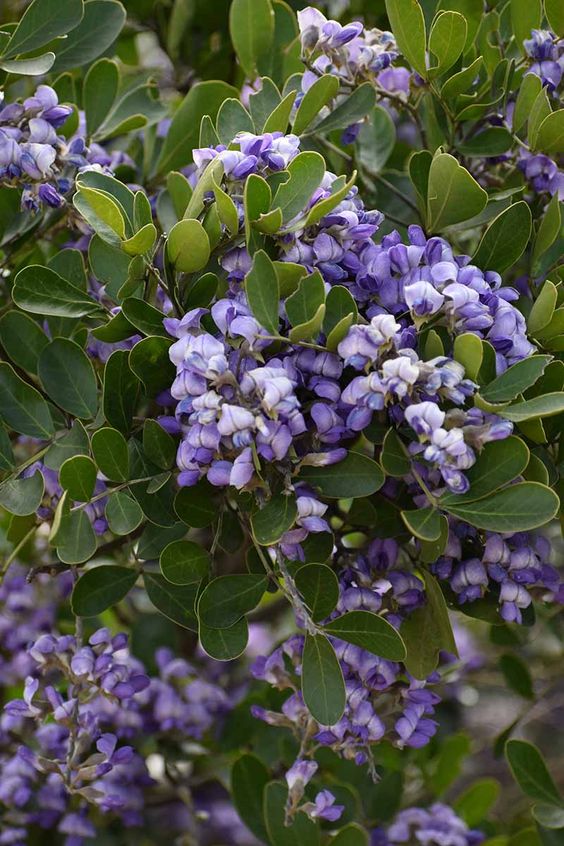 The Texas mountain laurel is a beautiful desert tree with evergreen leaves that thrive the best in arid areas. It is a slow-growing tree that can be grown as a flowering shrub and a tree, and it depends on the care it is given. Though demanding minimal maintenance, this tree shows attractive purple flowers which bloom in the spring.
This is one of the best trees if you want to add something to your desert landscaping ideas that you do not need to look after.
4. Desert Willow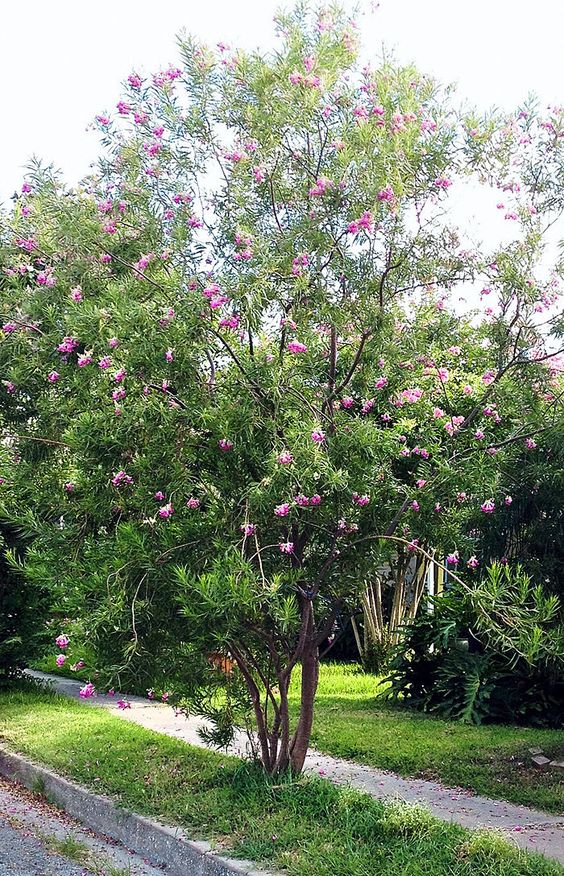 This is a bush-like small tree that has willow-like leaves (not a true willow). Desert willows are extremely drought-tolerant, and the reason they are preferred is because of their beautiful showy flowers. They bloom in clusters in a trumpet-like shape in pink and purple colors. This tree also sheds leaves in the winters.
5. Africa Sumac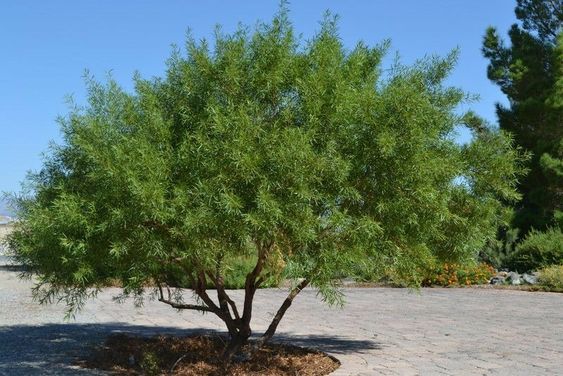 The African sumac is a short bushy tree native to African deserts. This tree can reach up to a height of 25 to 30 feet but can be pruned to keep it short. This tree also blooms flowers but is usually unnoticeable. Though a shade canopy, the pine-like leaves of this tree would shed off every year to make your lawn messy. However, you can use those leaves as mulch.
6. Tipuana Tipu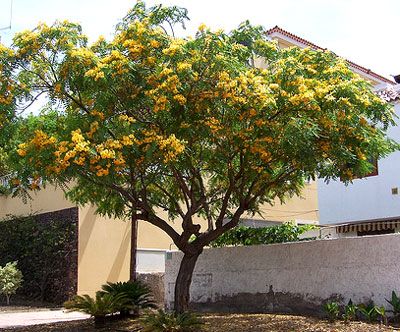 Tipuana tipu tree is a desert-loving, fast, and easy-growing type. This tree grows to a height of up to 30m and shows a spread of around 20m, giving a lot of shade. A drawback that comes with it is that it cannot be grown in small lawns and backyards.
This tree sheds its leaves in the winters and blooms flowers in orange. But the blooms are usually seen only for a short time in the late summers.
7. Acacia Bailey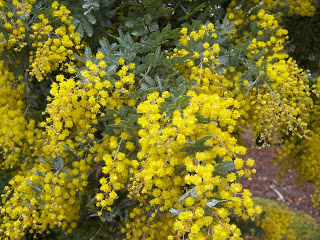 This is an ornamental tree that is highly drought tolerant and does not need much maintenance. Acacia bailey grows quite quickly and can survive long periods of heat and dryness. It shows feather-like foliage to provide good shade.
This tree blooms flowers in the shades of orange and yellow in early springs. These flowers bloom in clusters and give out intense fragrance.
8. Sissoo Tree
The more sun and hot temperature Sissoos get, the more quickly they grow. Sissoo is a huge shade tree that is extremely drought tolerant. This tree can grow up to around 80 feet with bright green and leathery foliage. This tree also shows tiny flowers in white and pink that grow in clusters.
9. Texas Olive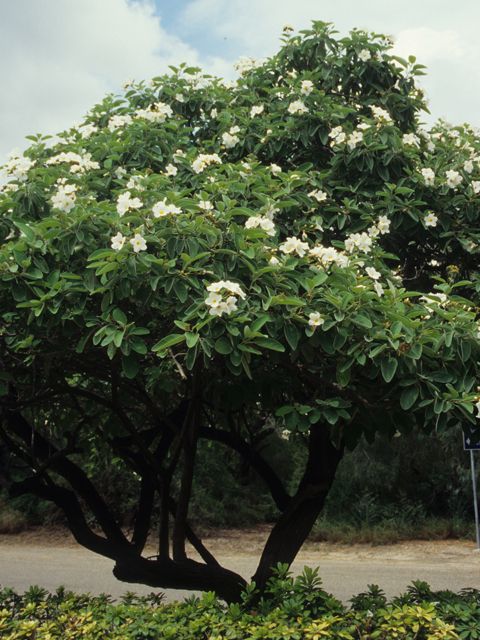 If you want a lush green treen with flowers on your dry lawn, Texas olive is just what you need. This tree has large dark green foliage and is extremely heat tolerant. Though called an olive, it is not a true olive and is also a slow grower. This is a small tree that blooms throughout the year with trumpet-shaped white flowers.
10. Palo Verde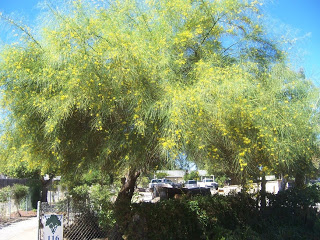 Palo Verde is mostly preferred because of its versatile nature of growing nicely in various atmospheres. This desert tree is deciduous that has a multi-branch structure. It has appealing green leaves which shed themselves in the dry seasons.
Moreover, Palo Verde also blooms fragrant flowers in white and yellow. These flowers spread bright colors in your garden as well as a sweet fragrance.
These were some of the best trees to include in your desert landscaping ideas. The visual delight you would get with these trees is going to be worth it all. Check landscaping services by Farmington Hills tree experts for more ideas.