Gardens legit give a glow up to any kind of house. Lush and lively greenery with a few gorgeous flowers here and there brings a sense of liveliness and calmness with them.
More than that, a garden gives you the opportunity of eating veggies and herbs that you have grown yourself. However, not everyone today has the space for a whole garden. People living in flats and cities often miss the satisfaction of having veggies from their own garden.
If you are experiencing the same issue, here is something that can cheer you up. If you wish to plant some edibles in your home, here are some ways you can do it creatively and easily. Keep reading to know!
Best Vertical Vegetable Garden Ideas
1. Crate Planters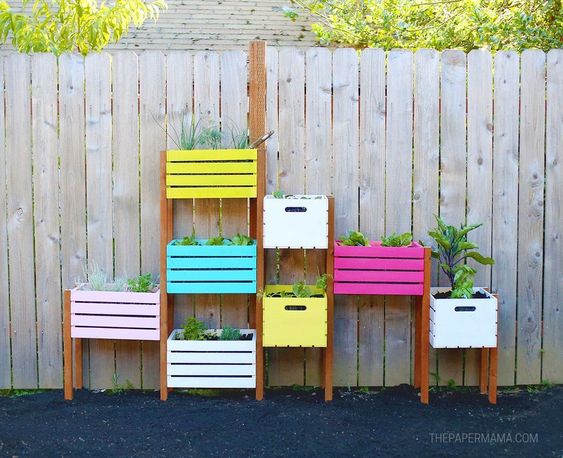 Crate planters are a great way to add fun to an otherwise boring space. Just bring in some wooden crates, color them bright and your planters are ready. If you are planning to grow something more than just herbs and leaves, crate planters can help you with that.
You can reuse your old wooden crates by giving them a little glow-up, just make sure that you do not give any kind of glow up to the inside of the crates. You can also find some crates outside at the least cost.
2. Lettuce Hanging Basket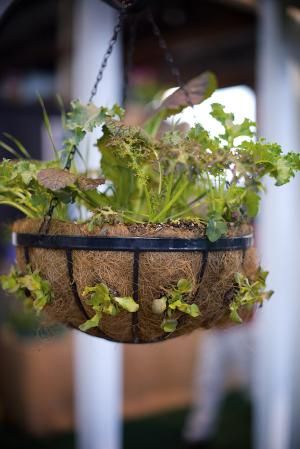 This lettuce hanging basket is legit one of the best and easiest ideas to execute. You just need to hang a basket anywhere you have the space for it- your balcony, terrace or patio. Sphagnum moss can be used to make a cut and come again lettuce hanging ball. You can also have a real basket hanging in there. Whether in a ball or a basket, you can plant various herbs that are edible.
3. Tower Planter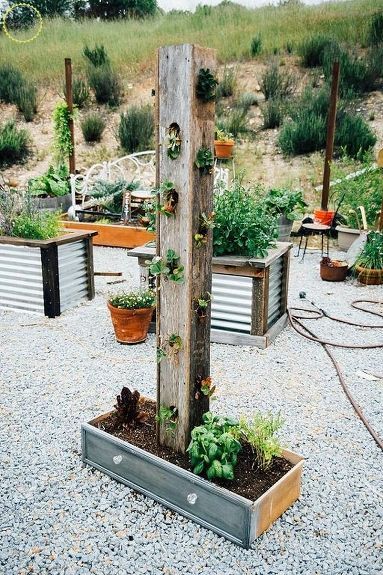 A DIY tower garden is all you need when you wish to plant more in lesser space. Tower gardens are a popular way of planting various plants all in one place with ease. You can plant spinach, lettuce, mint, and veggies like tomatoes and beans on a single tower.
Moreover, tower gardens can be established by a lot of options. You can choose an old PVC pipe for this purpose, a wooden plank or can even get a new garden tower of your choice. Also, you can plant towers directly into the ground or in a pot, depending on the space available.
4. Cedar Garden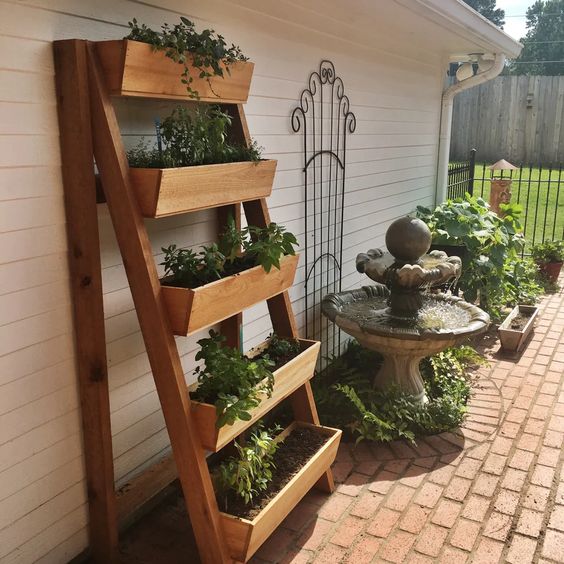 The idea of a cedar vertical garden is a simple one, but it looks quite gorgeous and clean. A cedar planter somewhat looks like a shoe rack, except that it does not close as one. You can grow various plants in it like spinach, radishes, carrots, cherries, and tomatoes. These planters also have a drip watering system that makes sure that water reaches all the floors.
Moreover, cedar planters come in various sizes, ensuring that you can choose the one that fits perfectly in your house. They also come in a type that does not take much space of the floor and depends mostly on the wall, making it even clean and neat to maintain.
5. Pipe Garden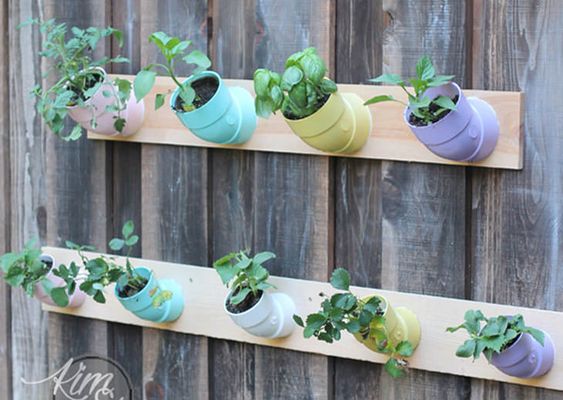 Pipe gardens are a cute way of planting little plants in your balcony or garden. You can use whichever type of pipe you like to plant some herbs and veggies. Pvc pipe elbows are most used for such ideas. However, long pipes can also be used by making holes in them at proper distances.
Though a cute idea to decorate your space, not many types of plants can be grown in pipes. What can you grow in them depends on the size of the pipe you choose?
6. Old Pallet Trellis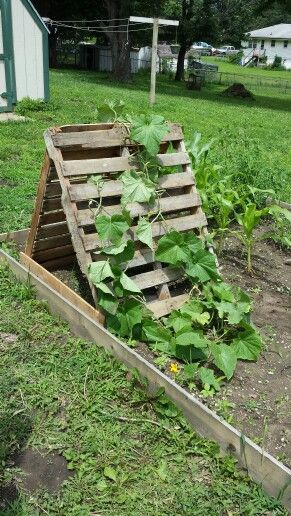 Trellis gardens are usually used to grow spreading vines like cucumber, but a trellis made of old pallets can serve much more than that. Establish a trellis kind of a structure out of an old pallet and there you go! Grow vines along with the standing trellis and some small shade-loving plants under that trellis.
For making a trellis, it is the best option to use old pallets from your storeroom or buy some at the least prices in the local. However, you can also get a garden trellis to make the process easier.
7. Vertical Pot Garden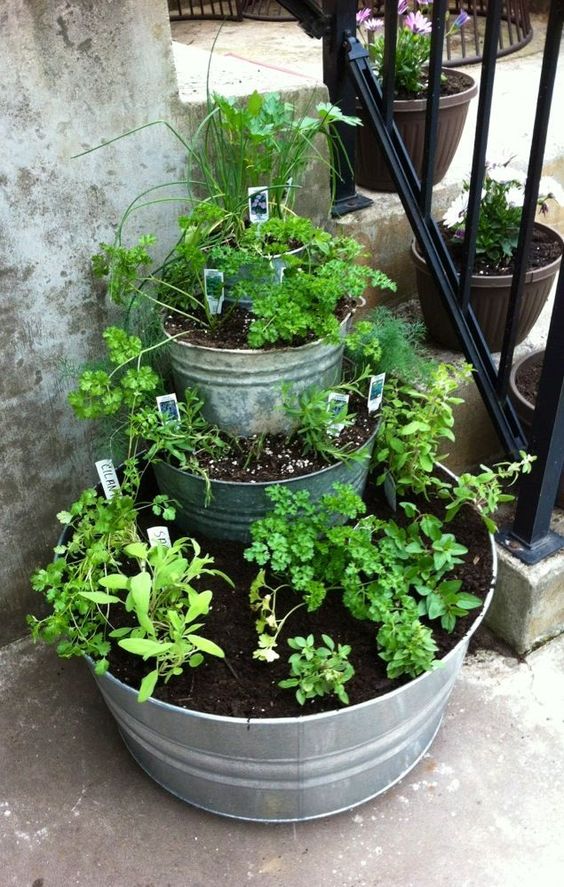 If you have quite a few gardening pots but not the space to plant them all, here you go! Vertical pot gardens are a great way to grow various plants through a single pot. You just must place a pot on the pot according to their sizes, as shown in the picture above. You can also buy a vertical pot setting from any local store and get started with multiple plantings. Consider growing authentic shiitake mushrooms to one of the plants you can try adding to your garden. They are perfect for vertical gardening and needs little space to flourish.
8. Hanging Garden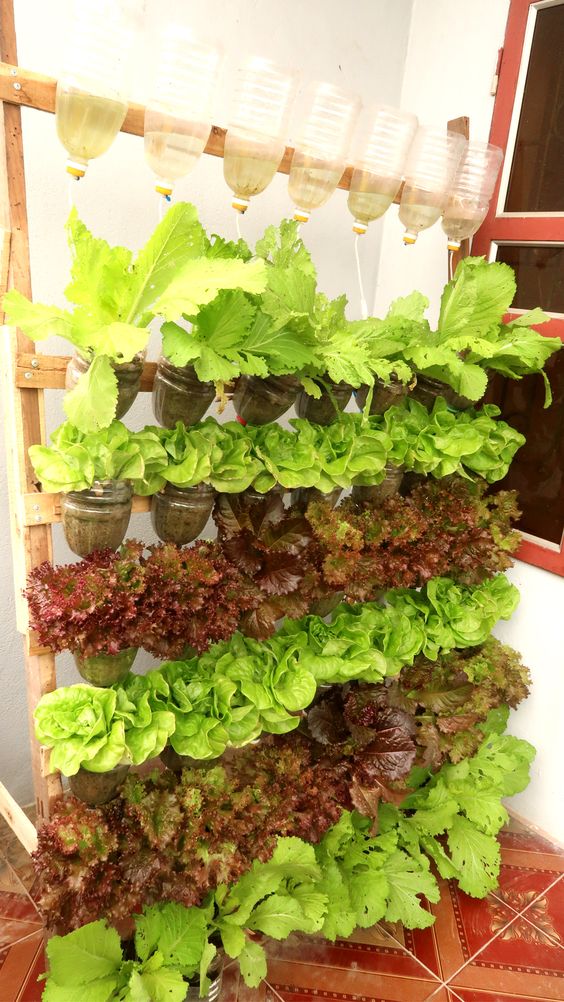 As the name says, hanging gardens are just your plants and herbs hanging on strings. Plastic bottles and cans are the most used containers for a beautiful hanging garden. Other than them, you can also choose light-weighted pots and baskets. Also, a hanging garden does not have to be anything hanging on chains or strings. You can hang some small planters on a wooden frame, it would still be called a hanging garden.
9. Rain Gutter Gardens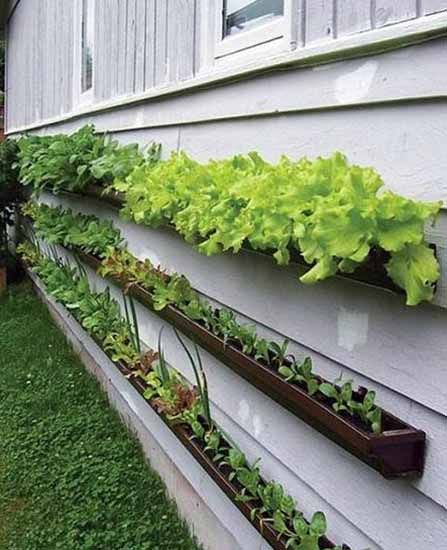 You can make good use of your old rain gutters or some spare ones in a nice and cute rain gutter garden. Rain gutters allow you to grow quite a variety of plants, that too easily and neatly. You can put the rain gutters on a frame, railing or even hang them with some strong chains.
If planted neatly and with proper planning, rain gutter gardening can look gorgeous along with the walls. Moreover, with a few gutters at hand, you can grow numerous plants at once.
10. Garden in Bottles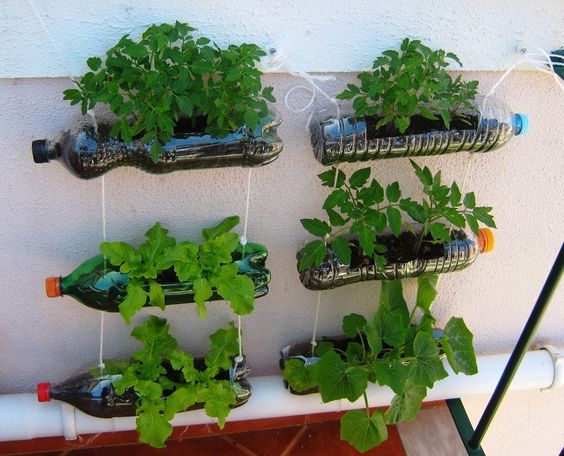 One of the most common planting ideas people go for is plastic bottles. There are many benefits associated with planting herbs and veggies in plastic bottles. You are recycling plastic, planting anything you want in the least space, plus, it also adds to the beauty of your house. This idea will also give your kids to explore their creative side if you have any.
When you are planting in bottles, what you can plant depends on the size of the bottle. Coriander or mint can easily grow in medium-sized bottles. For lettuce or more space-needing plants, you can choose bigger bottles.
11. Ladder Planters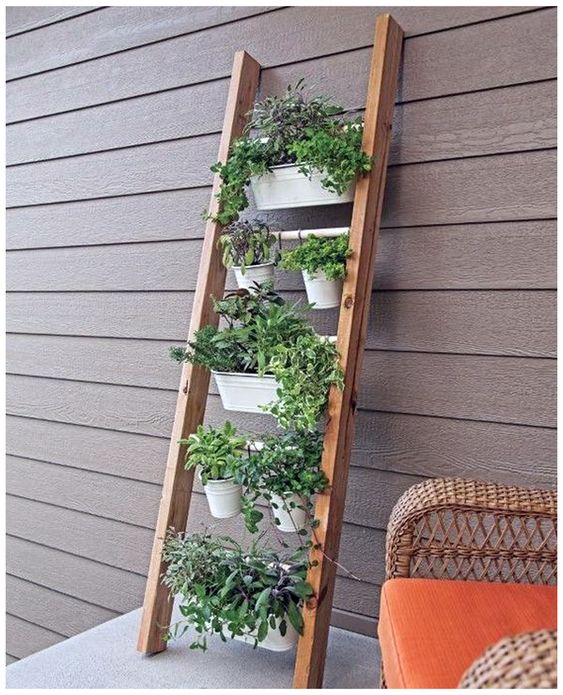 If you have an old weak ladder that is not being used anymore, why not make it a little fancier? You can use the old ladder as a stand to plant any veggies or herbs you want. The best part about a ladder planter is that you can plant vines climbing on it as well as put containers of herbs on each of its steps.
If there is no old ladder to reuse, you can also buy a ladder planter from the market. Moreover, it can be made colorful and bright with colors, only if you are looking for a bright planting idea.
Final Word
These were the easiest ideas you can go for when planning on planting some greens in your garden. Even if you do not have a garden or a space as big as it, you can still use your balcony or gallery to fulfill your wishes. Be it simple coriander, mint, or veggies like cucumber and spinach, growing one by yourself gives a pleasure no other thing can ever provide.