Building a deck above the ground can sound a little bewildering. But, who doesn't want an attainable space to sit, relax, sunbathe, and enjoy quality time with your acquaintances? Well, a pool deck is more than a complete platform for your above-ground pool ideas. Water-proofed pool decks avert accidents and protect the children, the elderly, and pets.
Moreover, pool decks absorb heat and, thus, protect your foot skin from peeling. The porosity of decks helps keep a little dust away from the pool water for easy cleaning. The hues of the pool deck contrast the blues and thus build up the pool ambiance.
As well-designed pool decks add value to your home during resale, we need to tackle the aesthetics. Here are 14 deck tips to spruce up your above-ground pool ideas, ready for you to choose.
1. Add a Timer Deck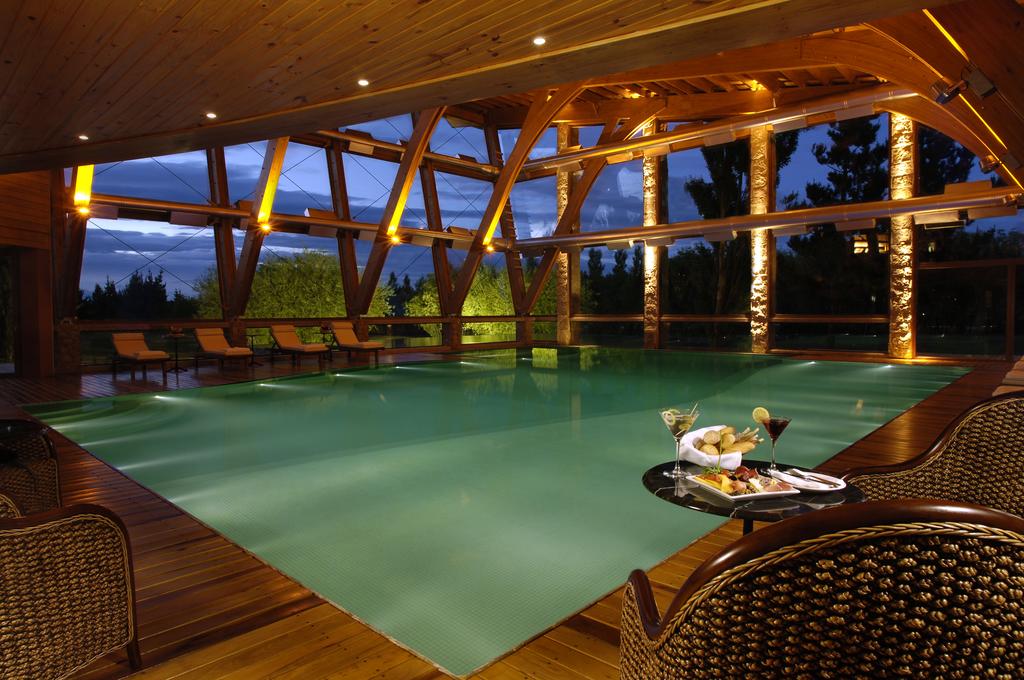 Elegant and natural but inexpensive to install, timber decking add contrast, color, and texture to your deck. However, with frequent staining and sealing, the life of the wood and its resistance to water damage may shrink. Hence, it becomes crucial to choose the right quality, durable wood.
For outdoor, above-ground pool decks, pressure-treated pine becomes a vintage choice owing to its character, feasibility, and low maintenance. Balau and redwood are some more durable alternatives that neither shrink nor break. Moreover, they have natural oils that prevent decay, fungi, cracks, and rots.
Alternatively, you can use teak wood to repel insects naturally. Additionally, each wood is available in various shades and stains in the market. Hence, to enhance your above-ground pool ideas, choose one that suits your purpose. Also, check the ratings for strength, durability, appearance, and grain structure.
2. Add Landscape Buffers
Though frequent splashes of chemically treated pool water can burn some plants, low-maintenance plants like the Aloe, Honeysuckle, and Trumpet vine on the deck and perennial plants on the pool sides seem enchanting. You can even create a jungle sanctuary with the help of your landscape architect. However, prevent deciduous trees or pine cones and seed trees, thus preventing the added impurities that might fall into your pool.
Remember that water reflects light, and reflected light generates heat. Thus, a green pool deck will introduce calmness and help get rid of this passive heating. Choose sun and heat-loving plants like Zebra grass for this purpose. You can even hide your pumps and ladders behind these plants and thus, balance outbursts of color.
3. Terraced Decks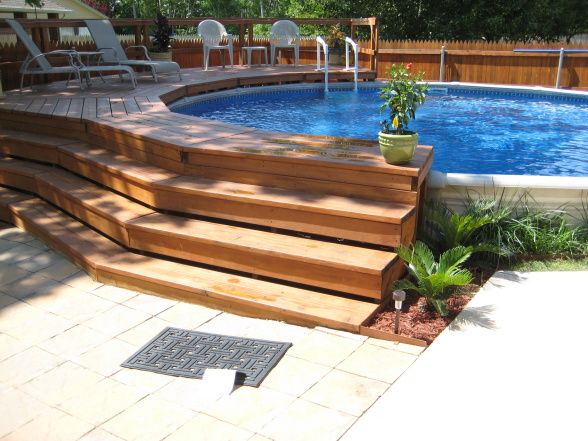 You can partially or fully submerge an above-ground pool into a series of scalloping and cascading steps that change the appearance entirely. Stamp Crete, grasses, and other landscaping elements further enhance these steps to highlight the pool. These steps can multi-function as seating spaces and spill-overs. Pre-installed jets can function as hydrotherapy junctions in spirituality centers and can even assist the specially-abled. For corner pools, deck terraces can be well-managed on two sides, whereas two sides need a retaining wall to bear the loads.
4. The Flexibility of The Composite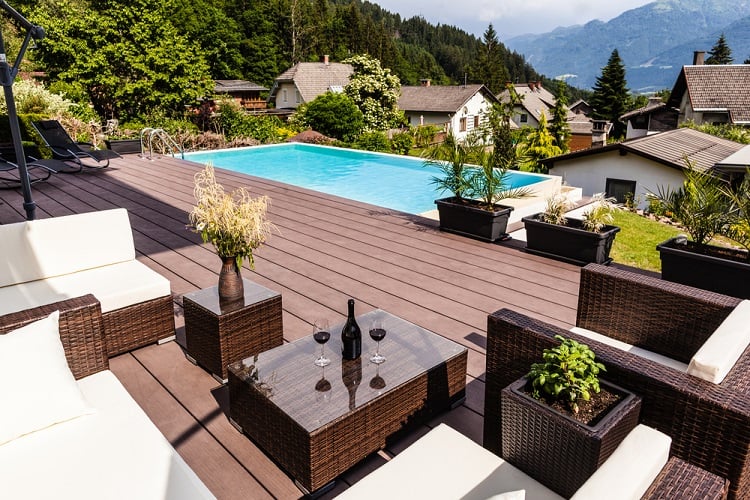 Durable and water-resistant composite decking surfaces run parallel to the comfort of wood. They are smooth and thus, reduce the damages of splinters or stones to bare feet. A 360-degree capped composite deck can repel pests, protect against UV rays, and stand stiff against moisture.
Though it has a higher initial investment, it saves the long-term costs on maintenance and replacement. Moreover, it maintains a cooler temperature on the underfoot plane in comparison to its PVC alternatives. It repels rot, mildew, and fungi. Thus, it is suitable for your above-ground pool.
5. Modern Development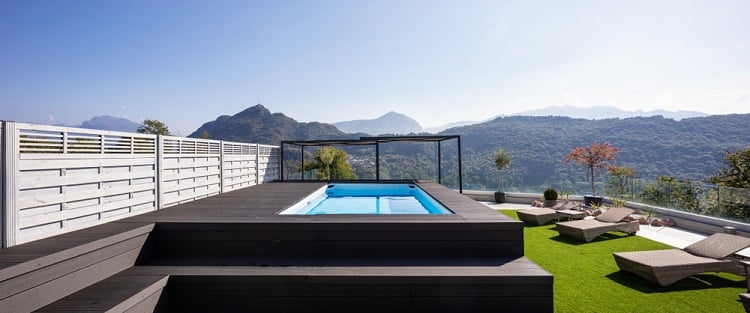 Modernism revolves around an emboldened belief of 'Less is more' Thus, minimalist pool deck ideas fit in this category. Uncluttered deck space rules the design whereas, a plain concrete or decking finish provides the royalty of a contemporary design. In this era where functionality governs the brief, railings for assisting the elderly are prevalent for the decks. However, clear glass panels are more suitable than wood railings for this style. Hence if you choose timber, remember to screw it in slender sections and add a dark stain. Moreover, you can select dark pool liners for curious depths and reflections.
6. Fence It Up!
If you are a lively family with small children and pets, security might be your top priority. Thus, to reduce accidents, you need to choose a tall fence that can not only fit in your existing deck idea but seem attractive. Bar, panel, or plank fences will suit your purpose. Though rustic fence designs steel, vinyl, aluminum, and iron, a primary wood or vinyl post sounds good. For added safety, the same statement of fences around stairs and a gatekeep the deck locked when not in use. There are a variety of materials available. Wooden ones range from $10-$30 / linear foot. Vinyl ones range from $25 and simple chain links from $8.
7. Create A Sun Deck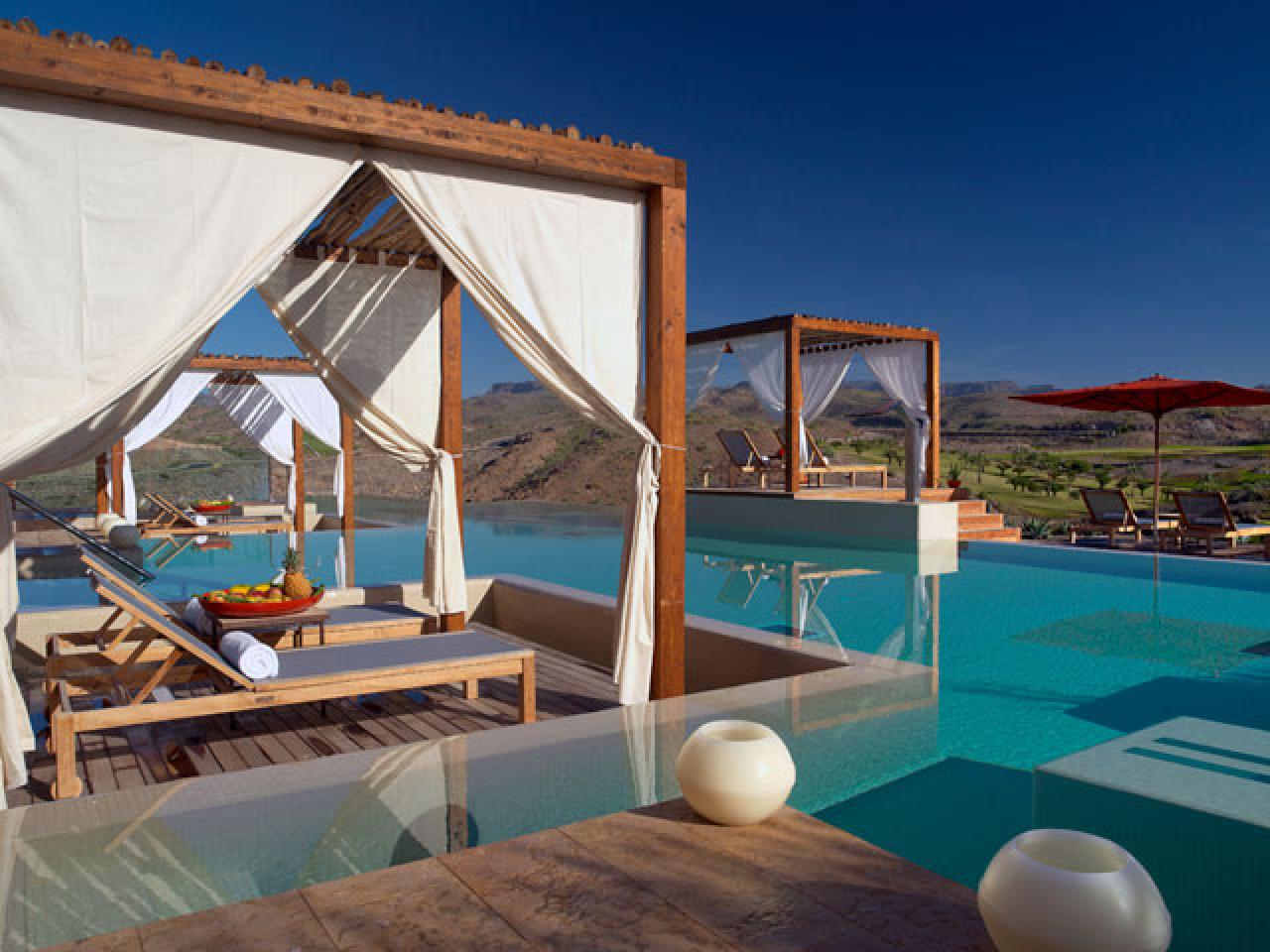 If you own a big backyard, you can have a sunbathing deck for your pool. For this, place sunbathing seats linearly on the larger side of the deck. Designed for simple relaxation, it helps unfold and destress after a nice warming dip. This simply huge deck can mimic the luxury of a resort with lined chaise lounges.
8. Platform Decks
Rectangular platform decks are the easiest to construct among shapes and suit large yards. Many-a-times, they flush the above-ground pool to make it look in the ground with access from all sides. This type of deck adds up to the carpet area of recreational spaces and offers permissions for expansion. Though costlier, this deck allows access panels for pool maintenance and equipment.
If you want to have everything at hand without much fuss, a platform deck is just the alternative for you. From patio chairs and sunbaths to spas, an experienced builder with knowledge about deck load capacities will assist you in building a platform deck.
9. Supplementing the Pool Deck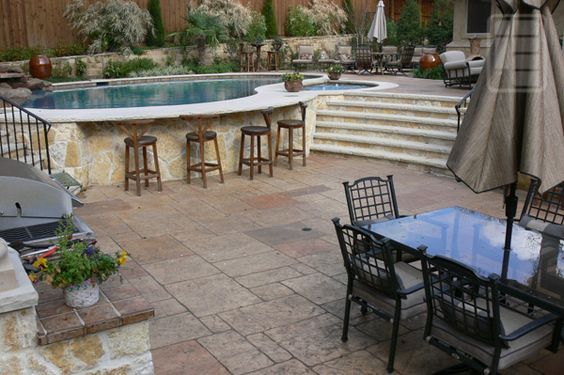 Above ground, pools allow opportunities to incorporate different activities within the pool edge. This raised edge can act as a miniature bookshelf for all the book fanatics out there who enjoy reading during a sunbath. The space underneath the raised edge of an above-ground pool can hold potted plants for landscaping. It can convert to additional storage to take care of your junk.
As summer approaches, people enjoy plunging and cooling in the pool with a glass of wine. Poolside friend parties can be made simpler by converting the deck to a minibar. All you need are some weather-friendly chairs facing the poolside and there! You can enjoy it with a fun, quirky setup.
10. Call the Future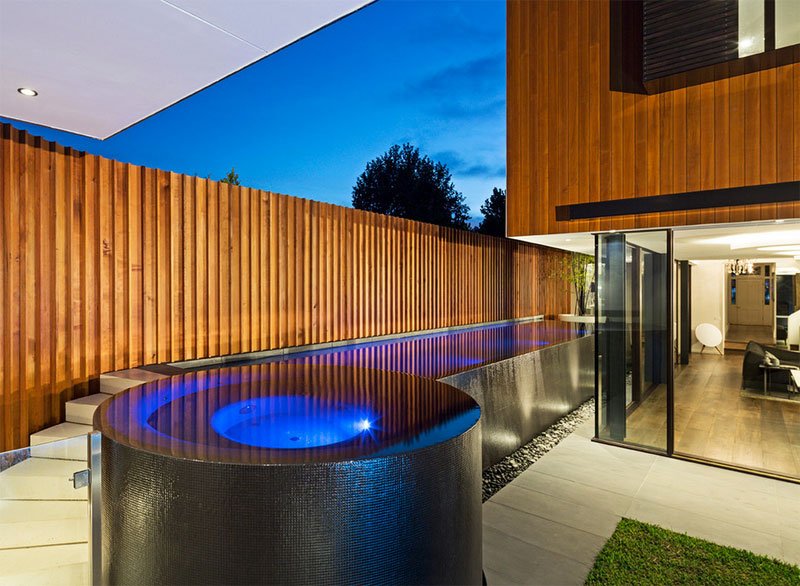 You can opt for a futuristic character of your pool. Building this above-ground deck allows you to modify the shape, play with contours and infuse geometry. The idea behind this pool is simple. Just switch on your interstellar modes and paint the outer wall of the deck in black. You can use the wooden privacy screens and carve out steps with stone.
Additionally, you will require lights and, outdoor strip lights are great for the purpose. These decorative lights will give a clean and neat border for your modern pool. For the exterior of your pool decks, motion sensor lights that charge on solar power and provide light might be suitable.
11. opt for A Bohemian Style Side Deck
A bohemian-style pool deck invites contrasting furniture pieces to merge as a single structure. A bohemian pool deck appears cozy with rugs at sight. As art forms the backbone of the Bohemian style, it is crucial to invest in cushions and curtains, going a little out of the box and yet inviting local artisans for unique artwork.
You can play with the placement of metal lanterns and lights within real flowers for this style. Boho pool decks are not detailed and expensive but require proper planning. You can fuse them up with earthy decor and furniture for a peaceful yet colorful deck.
12. Brace the Slenderness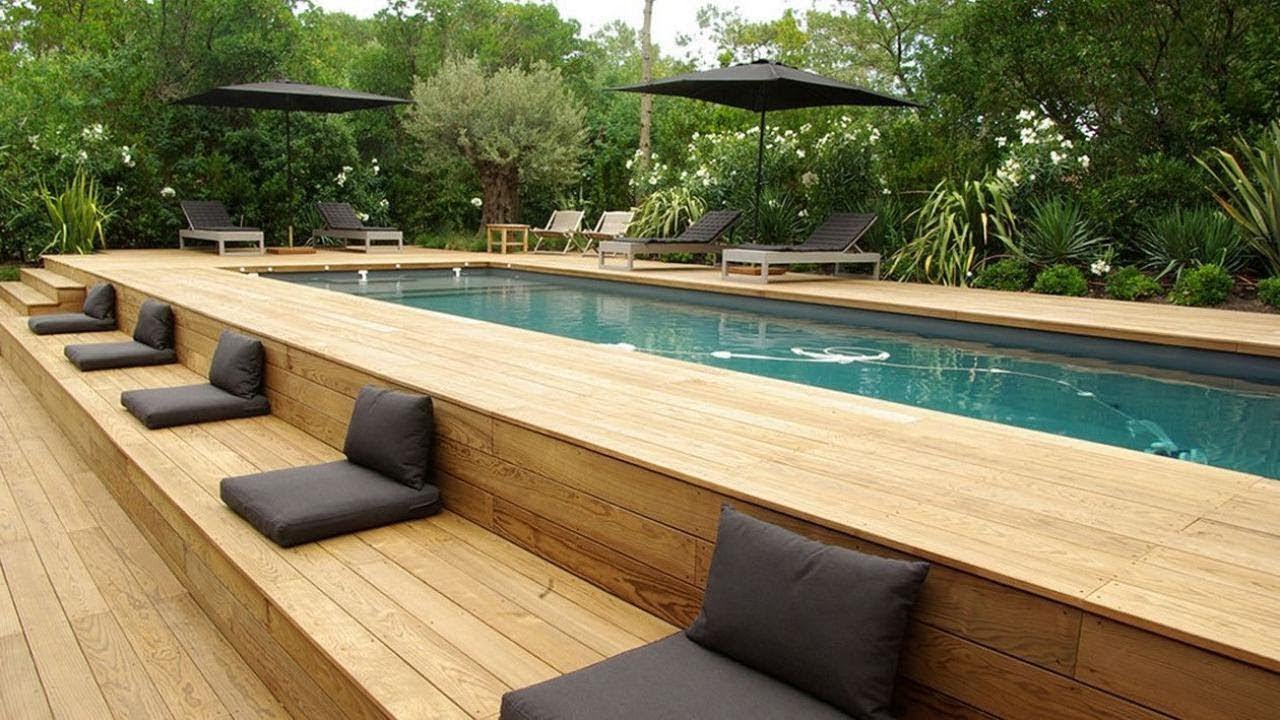 If your plot is linear and thus, the pool is elongated, opt-in for a wooden deck with narrow stone walls for sturdiness. You can paint the top of the edge to a clean white and grow some potted grasses to add greenery along with the blue hue. Alternatively, you can convert your above-ground pool deck to seating areas and install weather-protected furniture to protect you from the climate. In addition, the long steps can transition to cushioned seating where you can sit and enjoy a chit-chat over coffee.
13. Create A Deck Cabana
Is your pool deck too simple and does not stand out? You can secure the deck with wood, add a frame and pour in some creepers. There! You have made a little cabana for your above-ground pool deck. These cabanas do not only provide shelter but protect your outdoor furniture from the climate. A trailing bougainvillea, up a cabana, will speculate resort vibes. They also help hide the fence lines, equipment, and the views beyond. Moreover, larger cabana roofs can be mounted with solar panels to create an energy-efficient pool deck.
14. River Rock Edging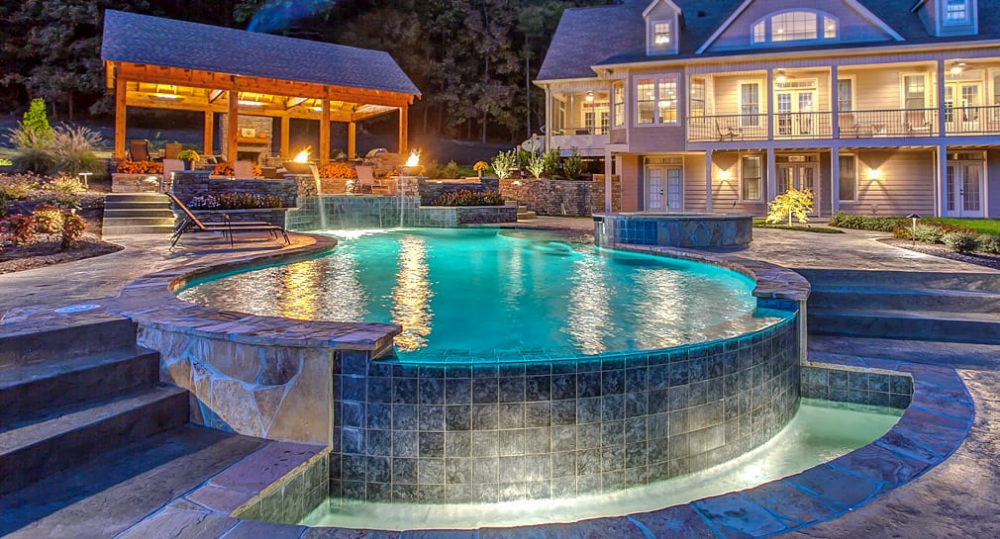 Edging the pool with inexpensive river rock is an efficient way of traditional pool landscaping and suits all shapes and sizes of the deck. Moreover, you can define your surfaces with mosaic pebble patterns and plunge in a taste of the sea-side. This edging underlines your pool, can be merged with landscaping and prevents spillage. Thus, it will justify any of the above-ground pool ideas.