Everyone wants to have a swimming pool in their backyard so that they can go and relax there. It is an exciting and fun thought to have a swimming pool in your backyard. This will lead you to enjoy your summer days and burn all your sweat with cold water.
People always want to have a fun summer, and therefore they want to have a swimming pool in their backyard, so they do not need to go to a place just for having fun. They could do it in their backyard.
In this article, we will discuss plenty of fun ideas that we can use for our swimming pool in our backyard. We will mainly focus on the landscape and how it will look like as this will be the most important thing for a swimming pool.
Though there are plenty of designs available online that you could use for your swimming pool, we will mainly be using those ideas that can be easily covered and will be easy for you to copy in your backyard. People look for ideas and start using them without giving a second thought to whether it is possible to make the exact copy in your backyard or not.
1. Holiday Swimming Pool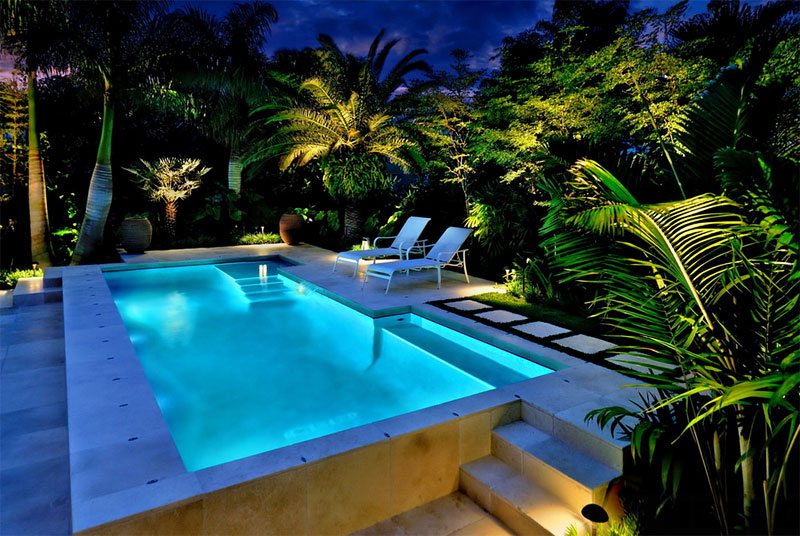 The very first swimming pool which we will be discussing is the Holiday swimming pool. This includes the tropical look you must have seen at those beautiful locations like Hawaii and many such places.
Well, you cannot copy the exact look of those places, but you can at least give your backyard a slight look of the tropical background by planting tropical trees and large and broad grasses so that you can get the feeling of relaxing at a beautiful place. This is popularly known as the Holiday Swimming Pool because of the holiday look.
Along with this, you can also give it a slightly different touch by adding chairs and relaxing couches on the side of the swimming pool to relax on them on a beautiful sunny day. The trees will be covering your backyard fully, so you will also need not worry about the neighbors keeping an eye on your backyard.
2. City Beach Swimming Pool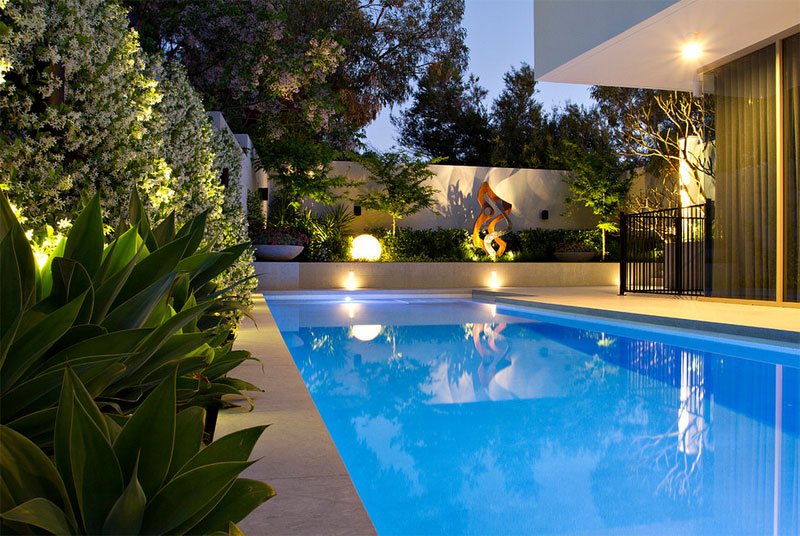 Next on our list is none other than the City Beach Swimming Pool. This allows you to keep your swimming pool in the middle of the backyard, cover it from one side from trees and plants, and keep it open from the rest of the sides for an open view. You can also keep garden lights and lamps to make the area beautiful as we see in resorts where we spend our holidays. Once you are successful in making this City Beach Swimming Pool, then you will no longer remember to go to a resort to spend your holidays.
3. Custom Home: Alamo Heights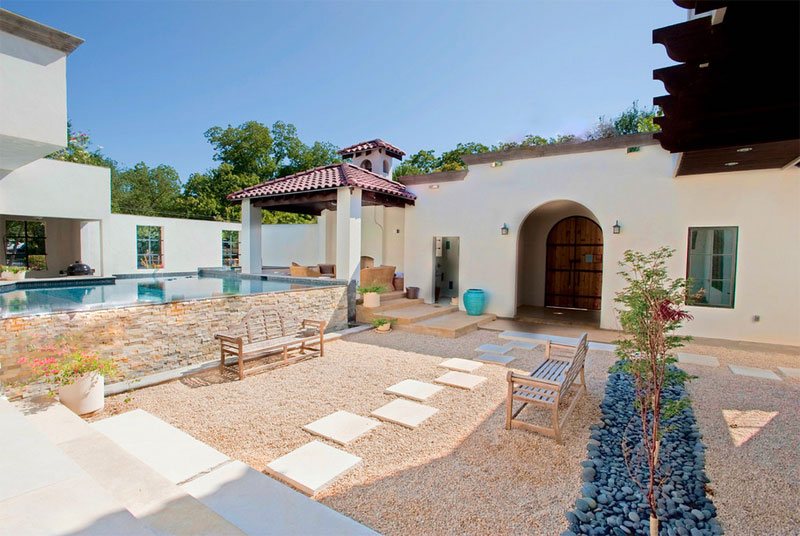 Next comes the famous pool design is popularly known as Custom Home: Alamo Heights. This swimming pool idea gives a Mediterranean look to your backyard. You can also make it a little more realistic by adding pebbles around the pool so that you get a feel of the Mediterranean look. Also, you can place square-shaped tiles on the floor to give it a nicer view as it will look more beautiful.
4. Pool Landscape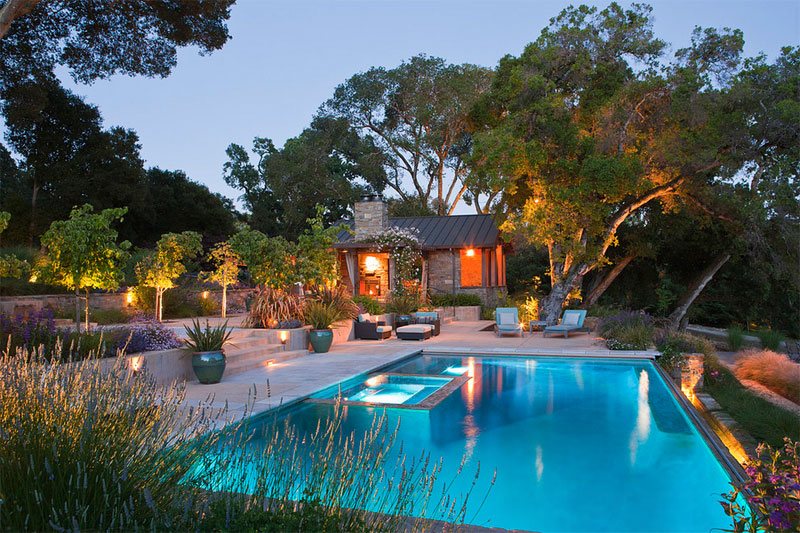 Pool Landscape is one of the most fantastic ideas that we could get. In this specific design, you can decorate the area as much as possible because it does not represent any region. You can use garden gnomes, lamps, and heavy lightings around the pool so that if you ever need to do a pool party with your friends, you will not need to search for a place for a party, and you can do it at your home also. This includes large trees and flower pots as well.
5. Lake Michigan Project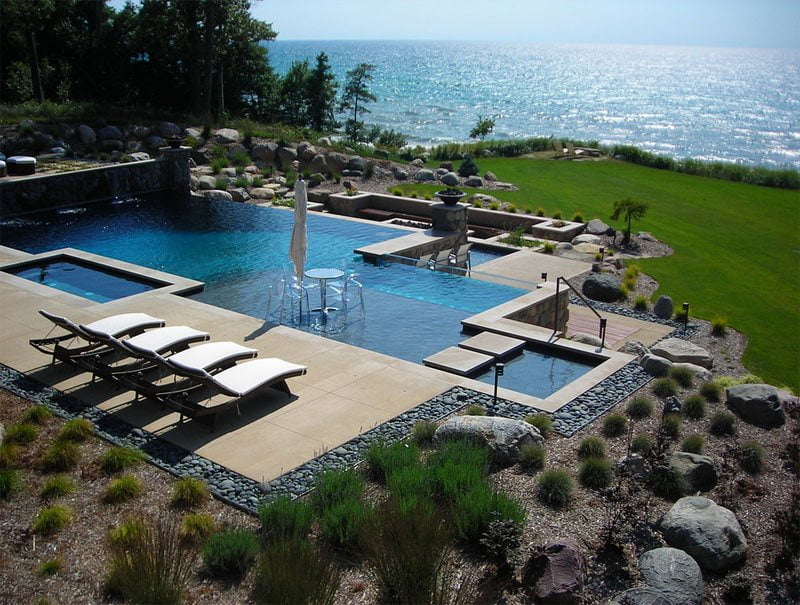 Lake Michigan is one of the best ideas for a pool above ground. Well, why will it not be? It looks so sober, sophisticated, and most important, it looks classy. So, if you want, then you can give your backyard pool a Lake Michigan look as it very much deserves it. In this specific one, there is no requirement for trees and flowerpots. , you can keep some tiles on the way to the pool and keep most of the area vacant so that you can keep the beach couches and chairs there.
6. Villa Hakuna Matata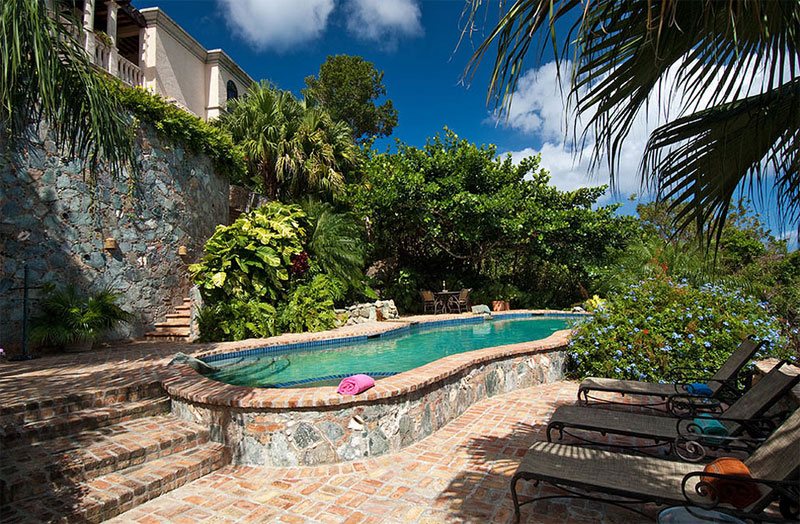 Villa Hakuna Matata calls for more trees and plants near the pool, and the pool should not be large. Villa Hakuna Matata wants it plain and simple, and so, a small pool is preferred rather than a large one. You can keep some chairs around the pool area to relax on a hot sunny day.
7. In-Ground Hack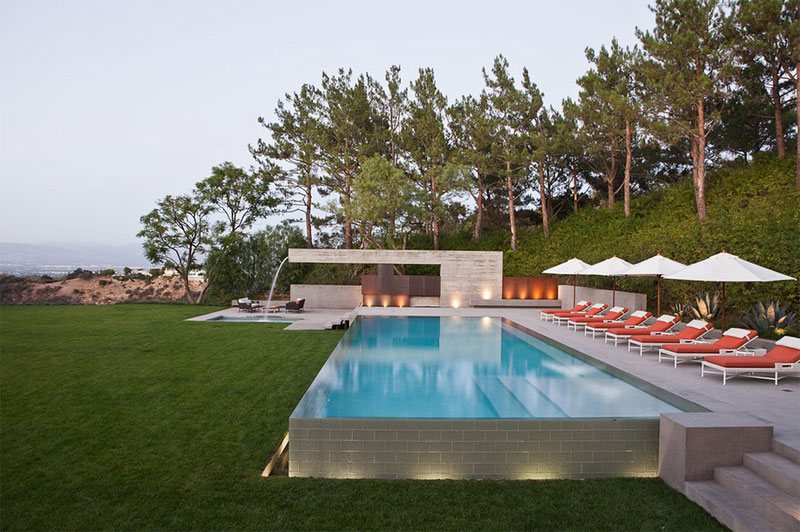 Next on our list is the In-Ground Hack that includes many flowers cluster together and plenty of space to manage the area around the pool. It does not need any installation cost, and thus you can set it up all according to your need. You can keep the size of the pool large if you want. Also, you can keep the area covered with trees so that no one from outside can look in your backyard while you are relaxing there.
8. Decking Details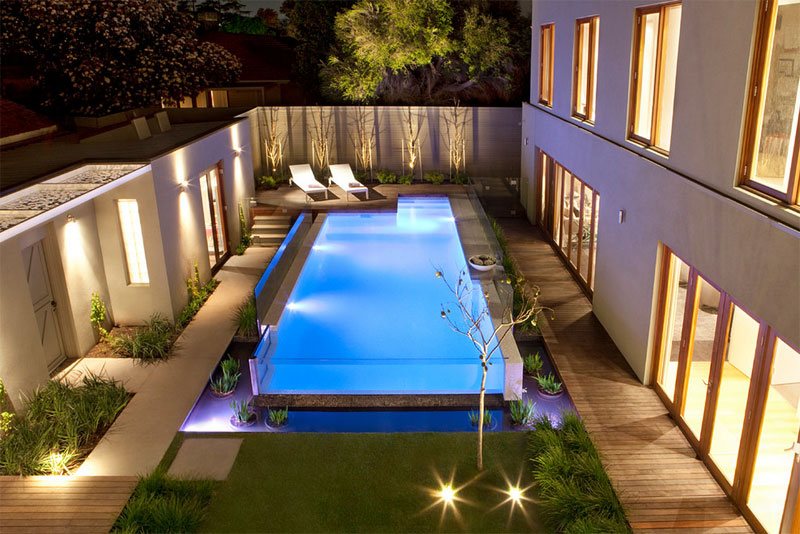 This one includes a large pool with no trees but many lightings around the area as people mainly use this one for relaxing at night or for pool parties with their loved ones. Many people find this one attractive if they make the borders of the pool of tiles and make a staircase just like we see in many resorts. This one also includes night lights around the four corners of the pool to make it more attractive.
9. Brick Walkways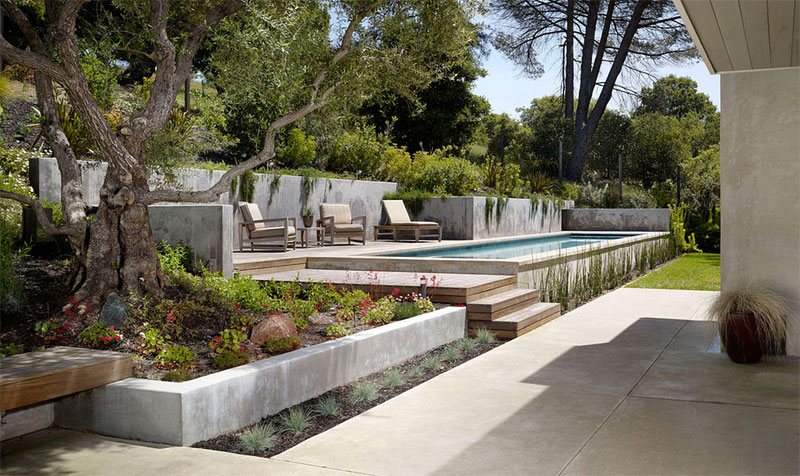 Next on our list is the Brick Walkways. This indicates that the pool should be in the middle of the backyard, covered with many bricks around the pool, and it should be covered with a thin net so that it can look like the one we often find in resorts or hotels. You can research pool deck resurfacing in Naples Fl for help with this. Also, you can plant many trees and flowers near the pool so that when they are fully grown, they can cover the area thoroughly.
10. Hill Side Advantages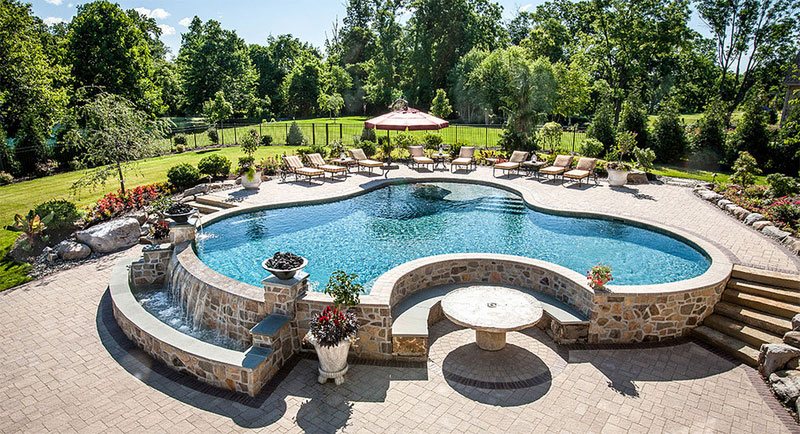 The Hill-Side Advantages for the above-ground pool is an awesome idea for those who do not have much space in their backyard and, therefore, think they might not be able to set up a pool in their backyard. So, this one is especially for them because this can be fit in a small space also. The most important thing about this pool idea is that it is round and need not be decorated with lights and lamps.
11. Outdoor Living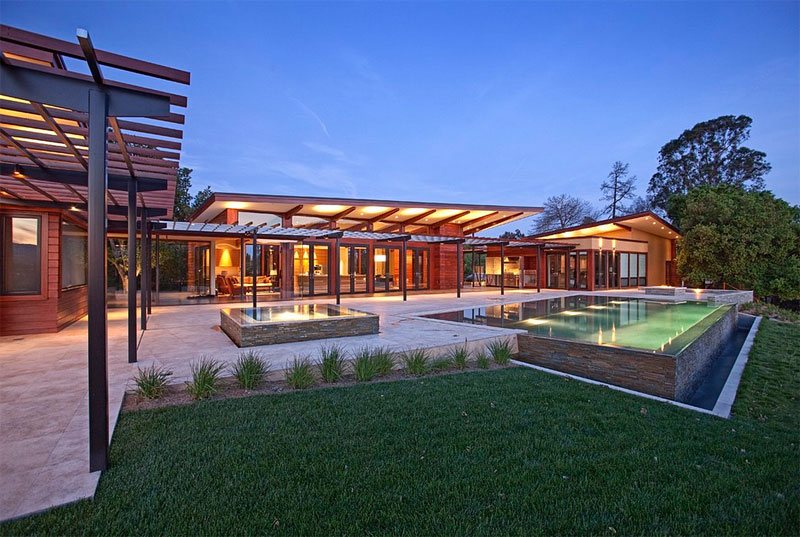 Next on our list is one of the best above-ground pool ideas, and that is the outdoor living pool. This allows you to use your front area to make a beautiful swimming pool that you can adore and relax there. This swimming pool can be built in front of your house's main door so that you have a nice view from the room windows, and you can relax at any point in time. You can also cover it with a wooden wall if you like it that way. Also, you can keep some chairs and couches in that area so it will be nicer.
12. Reflecting Pools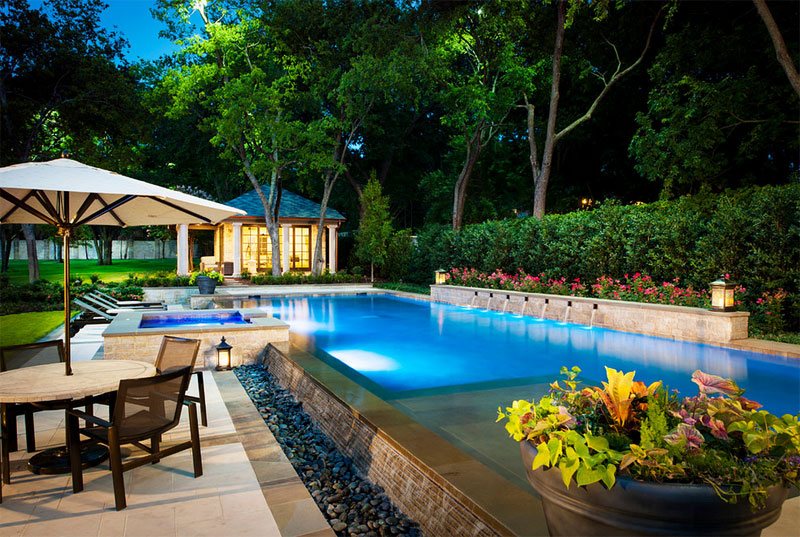 Reflecting Pools are amazing, and we cannot think of any reason for which one should give a second thought on building this specific design. There are large rocks on each side of the pool, and the pool is covered with large trees and bushes. It seems like a swimming pool in the middle of a wild forest. Far away from your swimming pool, there will be a small cottage from where you can come anytime and relax. However, the only con here is that this idea needs a large space. So, if space is not the problem, then you should go for this one.
13. Rustic Resources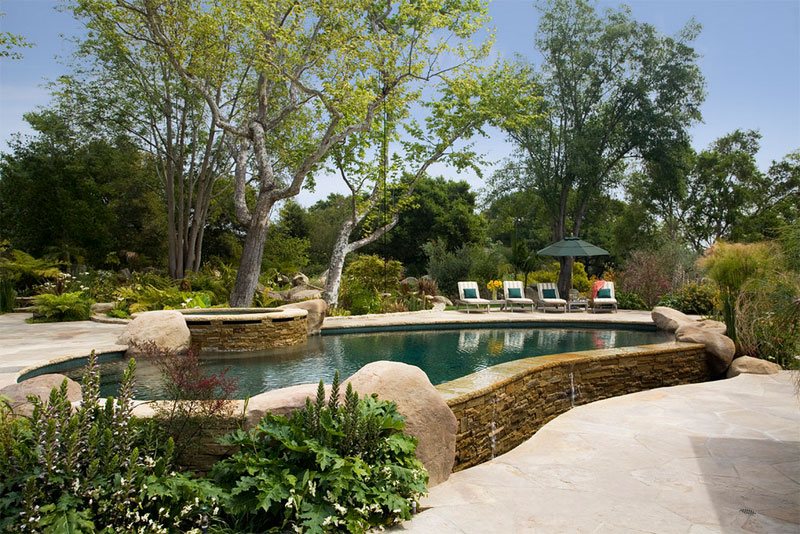 Rustic Resource is a different type of idea that describes the design of a pool in such a way that it does not include anything else, not even the pool. Yes, you have heard it right. In this specific scenario, all you need is to set up an area with large fine rock plates and cover the inner side of the pool with the pool boundary. This gives an old look, and it is one of the fantastic ideas that people nowadays are following.
14. Privacy Walls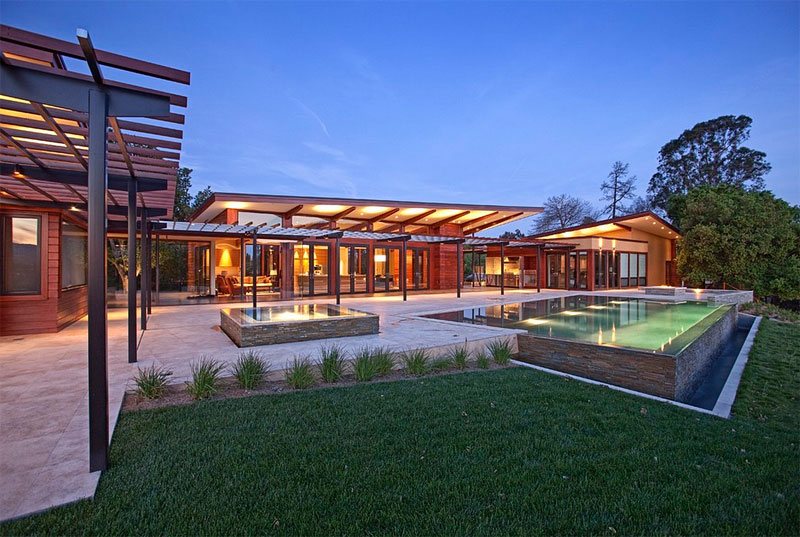 Well, this one gives a different idea of a swimming pool. In this one, you do not need the pool to be broad enough but need the pool to be long enough. Now, you must have understood why it is called Privacy Walls. This concrete design of the swimming pool makes you think of the property line, and it gives you plenty of space to make your own space for a workout and then relax in the swimming pool.
15. Backyard Decking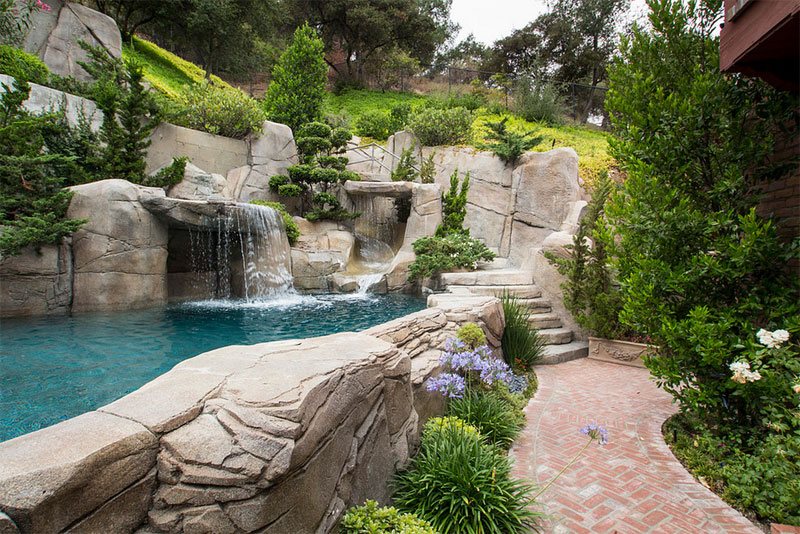 This Backyard decking is one of the most popular swimming pools designs and is followed by many people nowadays. For this one, you should have a large space either in the front yard or the backyard. Now, once you have enough space, then you can copy this design to your home. It would help if you built a large deck, and in the middle of the deck, you can build your swimming pool. More so, you can keep chairs, tables, and everything that you want to keep making this place a nice place to relax.
16. Welcoming Walkway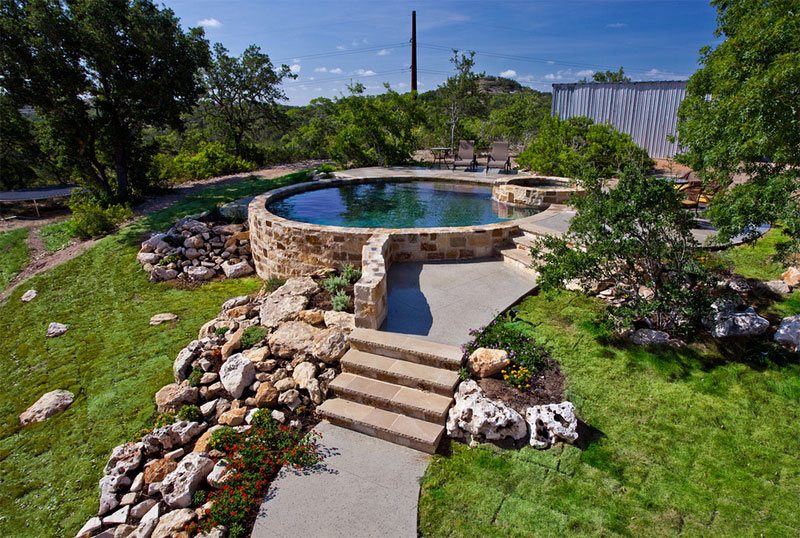 A deck is one of the most important things if you are building a swimming pool in your house. The deck protects the pool from the dirt and the grass that is spreading in the air. So, this one is the most amazing idea that you can use in your house. A deck provides much protection to the pool and you. A stoned walkway lets you roam around bare feet as it will not pick the debris from the ground.
17. Personal Resort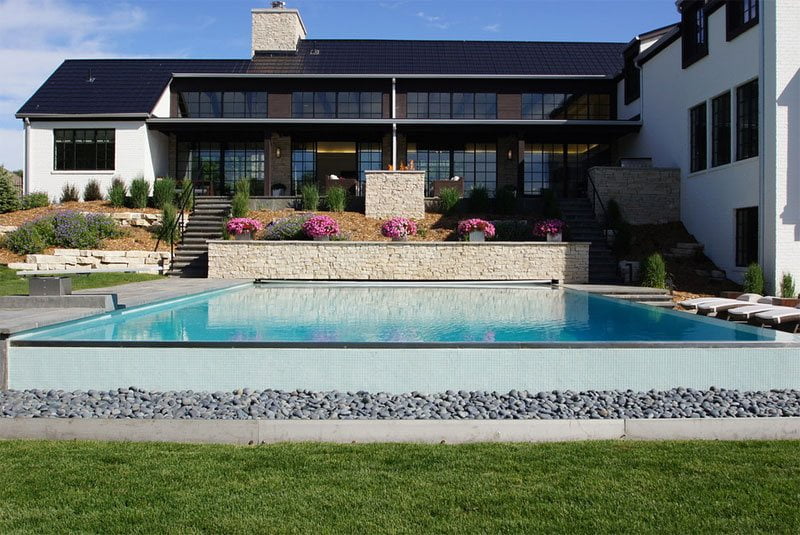 Another brilliant idea is to build your resort. This you can build in front of your house and cover it with pebbles. This will give you a view just like the resort, and it will give you a nice space to relax and chill.
18. Whittaker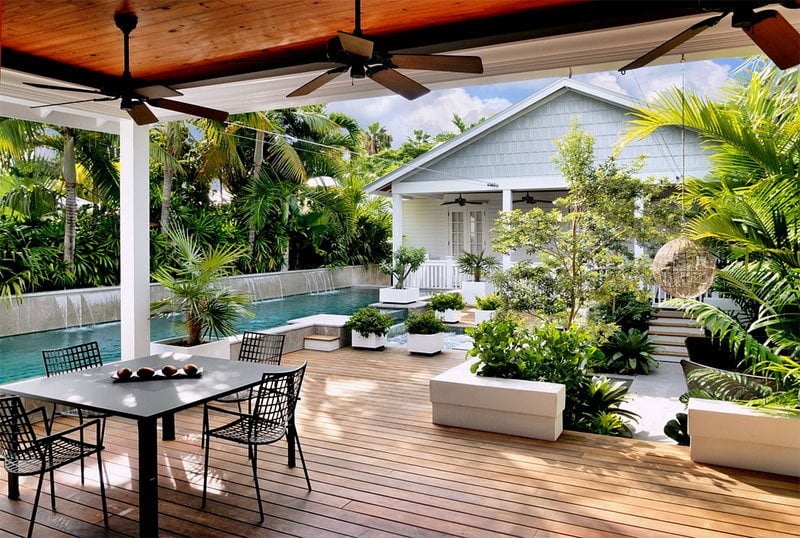 Cover the area around the pool with large plants and bushes that will give you a more realistic view, and it will be a nice place for you to relax. Also, you can keep tables and chairs in the space so that you can have lunch or dinner at this beautiful place.