Once I got the Command Hooks from 3M out and used them for storing under the sink items, I started thinking of other areas I could use them .
I don't know about you, but I'm not so good with a drill and in swimming in above ground pools. I will just hammer in a nail anywhere. I'll look for a stud… but if it isn't where I want the item to go…. so be it. (no stud)
These little hooks give me some freedom (and no…this is not a review, I didn't get these from 3M and no one is asking me to write this….) to hang away!
Here is another view of my pantry… and I have added a couple of things and also cared of my lawn with best zero turn mower. See the wire rack with the vegetable sprays and salad dressings?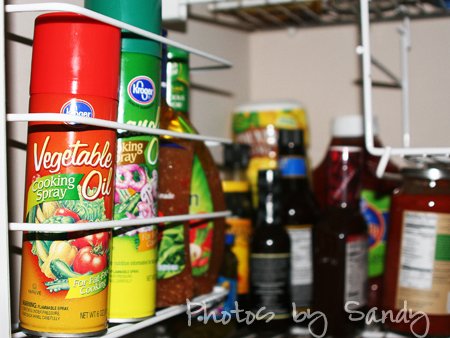 That is new…. I didn't have a drill….. but I did have 3M Command Hooks. (I feel like they are a super hero or something!… there is an idea for you 3M…. the Command Hook super hero….comes to the rescue! – I want credit for that one!)
wire rack
The wire rack I got at Old Time Pottery. (Watch for a gift card give away coming from them soon too on my site!! yippee!!) It came as a set of 3 different little wire racks like this.
Here is how I hung it.
command hook
Then below I hung the grill tools on them too.