It is not easy to spot the difference between bulbs; you cannot say they both are different without turning them and observing the beam they radiate.
So, you can see the difference by turning them on because they emit different beams. Every bulb or light produces a completely different beam, and this all relates to the beam angle of the light and how far it is going to spread in that area.
That is where the difference between a floodlight and a ring spotlight starts making sense as they both completely different beam and all these properties makes them good for different places.
So here we are going to talk about the difference between a floodlight and a ring spotlight by comparing both and their properties and aspects:
Firstly, let us start with the comparison, then we will discuss them separately and all their properties.
Spotlight Vs Floodlight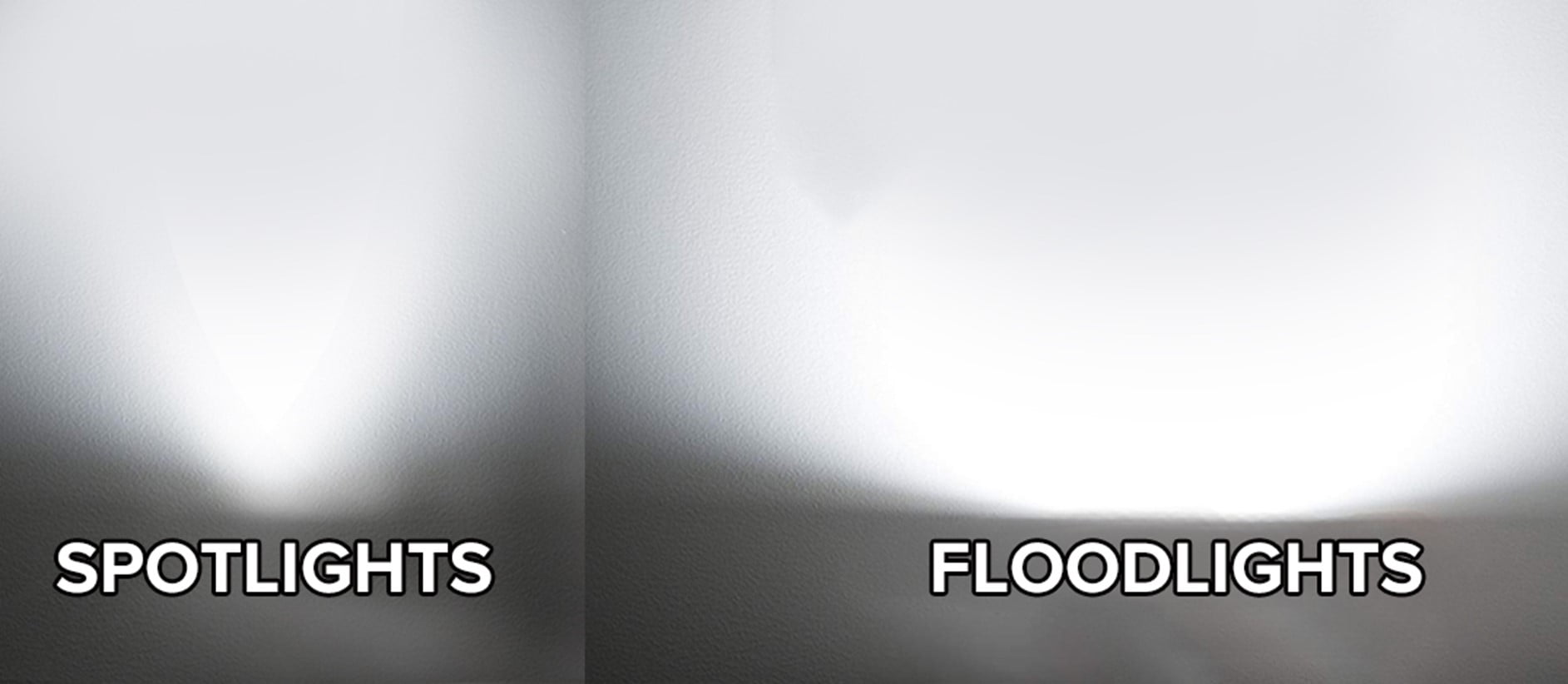 In our comparison of ring spotlight vs. floodlight, we found that Spotlight emits a more concentrated and smaller beam angle while Floodlight produces a wider beam angle. Spotlight generally comes in smaller sizes and is lightweight, while floodlights come in larger sizes and are heavyweight. It can be used for indoor and outdoor places, whereas Floodlights are best for outdoor regions only.
Spotlight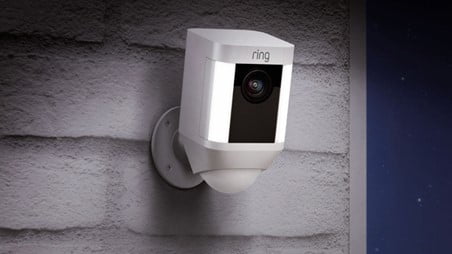 Spotlight is the smaller of these two. It can be used in both outdoor and indoor regions. These lights are basically used for highlighting small details in your hall or room. These are the lights used to catch the attention of all at one place and can be used at mood lighting or creating an attractive design for eye appeal.
Spotlights are also used to prevent glare as they will completely focus on specific objects. When you plan right, they can also create a beautiful illusion and make your room look bigger.
It is also good to place in the kitchen where you can completely focus on the sink and stove, which will make your working in the kitchen easier and delightful. You can place them in your study room, where you can focus them on your table, arts, or working areas.
Beam Angle
The beam angle is the most important thing which makes every light different from others. The light produced by any bulb comes out as a cone and starts getting far away from it. Spotlight produces a beam of light with an angle that doesn't exceed 45° as it produces a narrower beam. Hence it produces a concentrated beam of light that is very strong and easy to control at the point it is at some specific place or object.
Style and Design
Spotlights come in different designs and styles for completing all your outdoor needs. Spotlights are designed differently for indoor and outdoor regions. There are classical designs available for outdoor regions, such as brushed copper, wooden, and brass detailing with brilliant finishing. For an indoors setting, you can get sleek and lightweight metallic or enamel finishing, which will make your indoor setting look more beautiful.
Best Place for Using These Spotlights
We already told you that spotlights are equally good for both indoor and outdoor areas. You can use these spotlights in gardens, above garage doors, also inside theatres. In theatres, these lights are mostly used to focus on some actors.
These lights are widely used in homes and used in museums and exhibitions where arts are kept on display. At home, they can be used for creating a beautiful illusion to make your room look wider.
Floodlight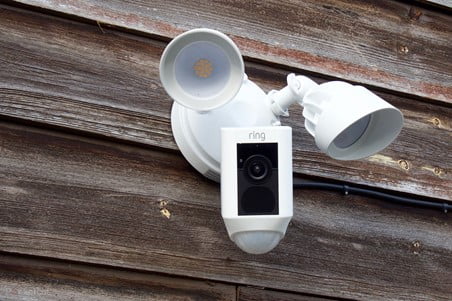 These are the bigger of the two mentioned here. As you can understand from the name that this one floods the area with light. The number of floodlights needed depends on the area you want to light up; sometimes, you can go with only or few more.
Generally, a home can very well be illuminated with only one floodlight or just two. Apart from homes, these floodlights are widely used in commercial areas. These lights can be a good option for security reasons and good for employees working, with this light they can work even after the daytime.
Beam Angle
Compared to the spotlight, these floodlights emit a wider beam. The beam angle of light produced by these floodlights goes up to 120°. This wider beam angle will enable you to see more wide area at a short distance.
If you are using floodlights for security reasons, you should install them as higher as possible; the higher the light goes, the better the view you will get. If you have decided to use more than one floodlight, the correct spacing between them is important.
Style and Designs
These floodlights also come in different styles and designs specially designed for outdoor areas. If you are going to install a floodlight around your home for security reasons, you should go for the one with motion sensors and a powerful bulb.
But if you are going to use them in an industrial or commercial area, then you should opt for the one with several bulbs in one. These lights with multiple bulbs using higher volts are mostly used to light up the stadiums, and you can get them with motion sensors.
Best Place for Using These Floodlights
Floodlights can only be used for outdoor settings. These floodlights are the best for installing in larger areas for security purposes. These lights are used in larger stadiums, driveways, parking lots, warehouses, and industries. These lights are also used to carry out night works such as road construction, harvesting.
We gave you a detailed analysis of the difference between floodlight and spotlight. You can easily decide which one is better for you depending on the conditions and the area where you will use it.
Conclusion
So, it was the post about ring spotlight vs. floodlight. We have told you about the difference between a ring spotlight and a floodlight with all properties concerned. If you found this article helpful, kindly comment down your opinion.