Have you ever tried making use of that one single thing in multiple ways?
Yes, we all do that occasionally!
Several things are used for certain purposes, but people utilize them in different ways. Be it be anything; at times, we know how to use them perfectly. Similarly, being an important tool, a small thing like a wheelbarrow can also be used in numerous ways without having any technological changes. It is a piece of multipurpose equipment to help you in your daily household chores. Aren't you curious?
Let us find out all the possible methods to use a wheelbarrow!
Used as a Tool Keeper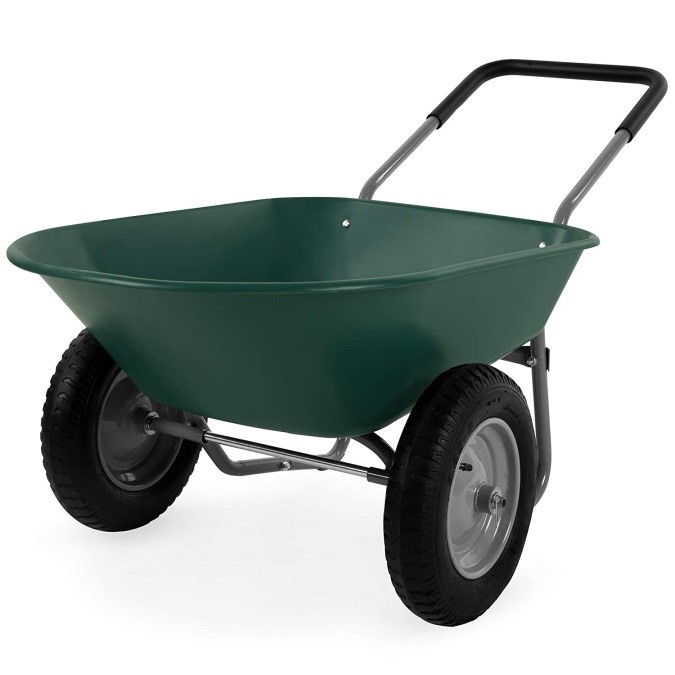 Sometimes the regular tools, we use are quite heavy to handle by ourselves. We either take the transportation or ask another person to help us. In that case, a wheelbarrow is very helpful to move your tools from one place to another. This will not even make you exhausted or tired, rather you will feel relaxed and happy. You can also have proper wall-hanging wheelbarrow storage for its safety.
Perfect Space for a Pet
Imagine sitting in the garden on a bright sunny day of winter but your pet feels lazy and cold outside. Need not worry! You can use a wheelbarrow as a resting or sleeping space for your pet. As an addition, put a blanket over him and he will feel comfortable and cozy napping there with you. What else do you want for a flawless day with your pet?
Best for Gardening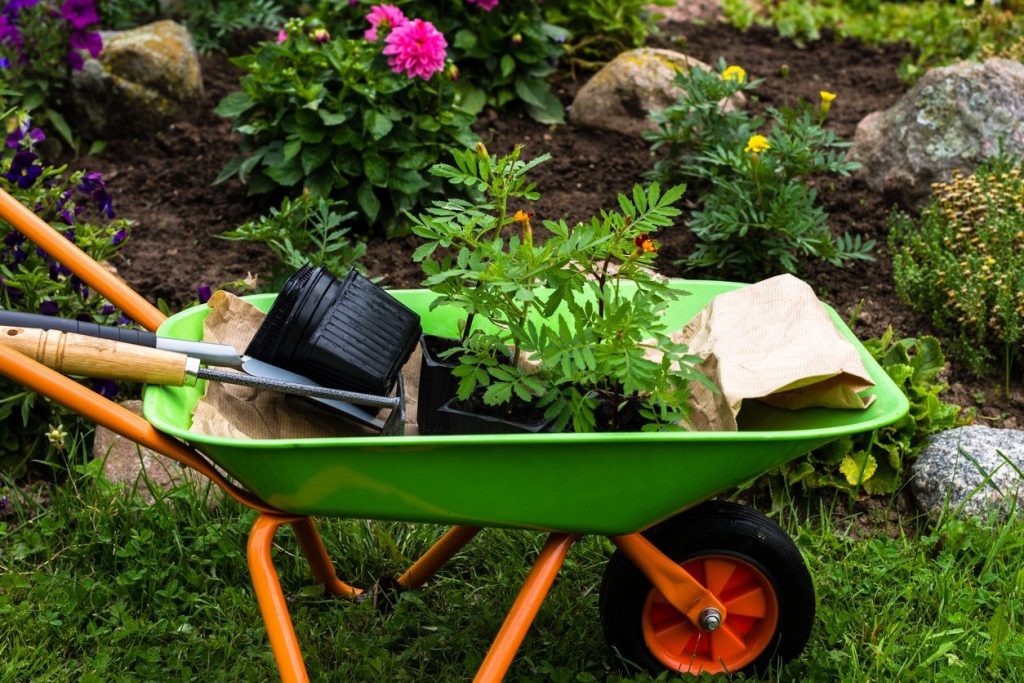 A wheelbarrow is the best instrument for gardening; you can use it for many reasons there, like collecting mud, keeping seeds, securing fertilizers, carrying pots, paints, and whatnot. You can even carry the gallons of water during famines or whenever in need. It is very easier to be on your farm and have a good time gardening with the help of a wheelbarrow.
Fireplace for Winters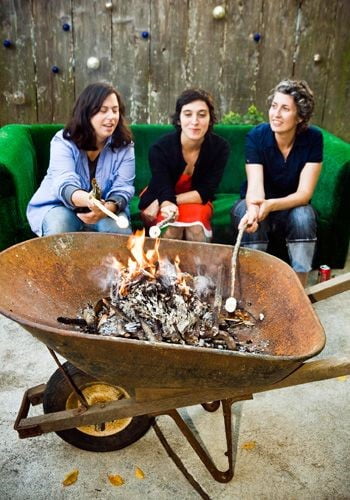 Warming yourself near the fire in winters is the best feeling one can have. You can use a metal wheelbarrow as a fire pit instead of using an iron, plastic, or fibred wheelbarrow as work till extreme temperatures. You can also put it as a temporary or permanent fireplace at your home or can use it to have an amazing born fire party, just in case!
Playing Cart for Kids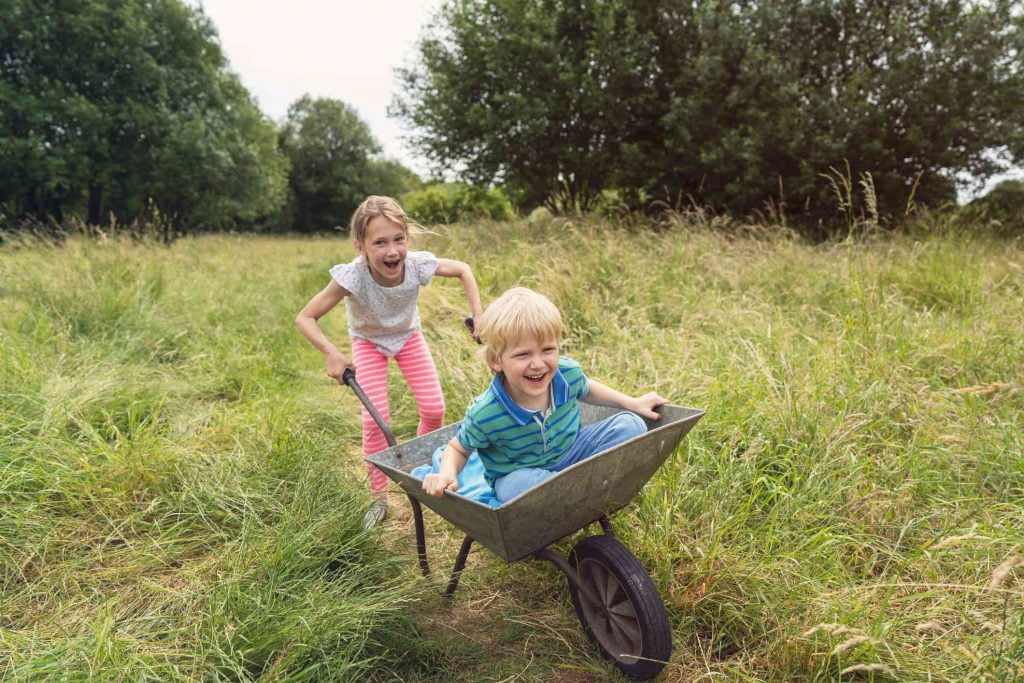 When you have sweet little kids at your home, you want to let them free in the beautiful backyard. To play safe and enjoy to the fullest, you can just ask them to make a cart of a wheelbarrow. One sitting in it and the other dragging it forward can be a wheelbarrow race where later both the kids can switch. Try them with your kids; they are going to love it!
Helpful on Construction Fields
After gardening, the best use of a wheelbarrow can be made on construction sites. Carrying cement, transferring rocks, shifting bricks, collecting metals, mixing concrete, or transferring any other heavy item used on-site, a wheelbarrow can be your first partner to help in small constructing activities. Try this one when you construct or renovate your house and thank me later!
Carriage for Removing Waste
Looking from an eco-friendly point of view, a wheelbarrow can be used to get rid of any waste you want. People get worried about where to dump animal waste, throw away dry leaves or cast out the construction debris or no matter what kind of waste they have, for that a wheelbarrow can be used ideally. It is effortless to handle a wheelbarrow thus anyone can dump things easily.
Utilized to Grow Plants & Flowers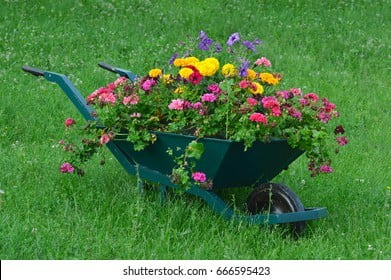 When you are a nature lover but do not have space to grow more plants or flowers, you can convert a wheelbarrow into a flower bed to grow different kinds of blossoms. Succulents are grown in a wheelbarrow look nice and give you a proper feel of good gardening. Avoid growing long-rooted plants like carrots, sweet potatoes, and turnips.
Bottom Line
Invented and used in 147 ADS, the word wheelbarrow is derived from a basic word called "Bearwe" is a special tool not only for farming but beyond it.
Being an old instrument, the wheelbarrow has not been used the way it should. The one who is good at gardening will know the usage better.
It is an ideal piece of equipment which can help you in your work in every possible way; otherwise, the activities mentioned above can be a big task. Seeking such equipment, which is helpful in many ways, keeps us relaxed and eases our workload.
We hope you got what you were looking for from this article. So, do let us know your reviews and convey, which usage hack helped you a lot.
Cheers!