We, humans, are hoarders by nature. And hence, the art of organization and storing our collectibles comes naturally. But the organization isn't as easy as it seems, and the lack of space is a massive predicament along with them all so powerful procrastination. This calls for the urge to recycle and reuse entities and employ smart storage ideas to save space.
Now, gardening is an elite hobby, and those who cultivate this hobby know the drill. It involves quite some hefty machines and tools, along with the smaller precision tools.
Watering the plants, trimming, shaping, clearing weeds, making soil, and mowing lawns are all essential to plants' healthy growth and require some necessary tools and some specialized ones. Generally, the tools occupy quite some storage space in a garage or shed.
A wheelbarrow is a beneficial gardening tool simplifying the gardening process by easing out the loading-unloading and moving around process. Despite its extensive usefulness, the wheelbarrow poses a considerable problem when not in use – storage.
Leaving the wheelbarrow unattended until next use, leaving it against the wall, can harshly damage the tray. Both metal and plastic trays undergo severe damage by the rainwater that's rusts out the metals and cracks the plastic.
This eventually leads to the deterioration of the wheelbarrow and a hard time on your pockets. Wheelbarrow hangers have made the storage of wheelbarrows an easy and going task. Among many other storage methods, the wheelbarrow hangers are quite innovative in their space utilization and implementation.
Storing a wheelbarrow can be a hassle-free task by applying the right brains and a little effort. Here are some simple ways to store your wheelbarrows.
Considerations
Before starting on the ways to store, one must overlook the requirements and considerations. Firstly, you need to note down the wheelbarrow measurements to compute the area that would be required to store it comfortably.
Thinking about accessibility is essential as you don't want to mount your wheelbarrow in your attic and then struggle to get it out when you want to use it. A clean and dry space is essential to ensure the longevity of the equipment.
To use wheelbarrow hangers and holders, the wheelbarrow's size, shape, and material need to be well analyzed.
The next step is to clean and free up space; you have decided to amass the tool.
Wheelbarrow Hanger
A wheelbarrow hanger is a great way to store the wheelbarrow. These are lightweight tools that hold up the heavyweight wheelbarrows with utter ease. There are numerous options to choose from. 
The main advantage is the floor clearance provided in the storage space as the bulky wheelbarrow hangs from a wall, freeing uploads of space. The wheelbarrow hangers are pocket friendly and helpful.
Crawford CMWBH-6 Wheelbarrow Hanger
Ideal for hanging a wheelbarrow
Holds up to 35-pounds
Measures 7. 5-inches (H) by 17. 75-inches (W) by 82. 5-inches (D) and comes in an attractive black finish
Installation is easy with the included hardware
Easy to install
The Crawford CMWBH-6 wheelbarrow hanger is highly recommended due to the various tray sizes and styles it supports. The weight of the wheelbarrow needs to be considered before choosing the right wheelbarrow hanger.
DIY Wooden Wheelbarrow Hanger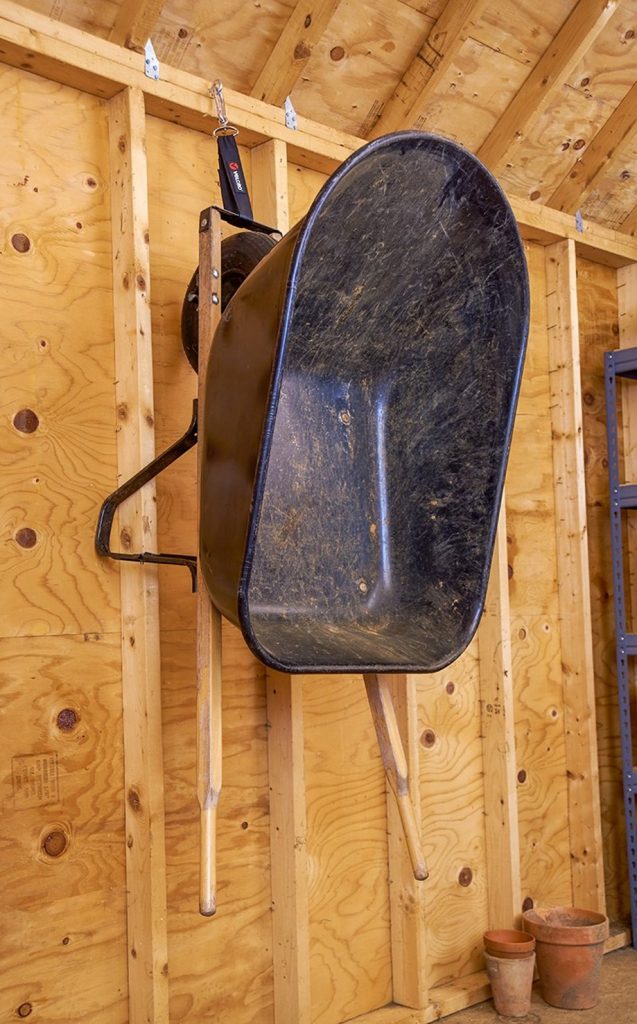 You can conveniently customize and make your wheelbarrow hanger to suit your taste and equipment. All you require is the right hardware and a wooden plank. The wheelbarrow measurements and its weight should be accurately analyzed before commencing the Do-It- yourself venture.
The process is quite simple. First, we make the platform to clutch the base of the wheelbarrow. Find a sturdy wooden plank about 9 to 12 cm in width. Now, screw in two metallic plates about 15 cm long at 6 cm from both the plank's ends.
Then, install a hook at a height more than the length of the wagon. To ensure a better grip on the wagon, twist the hook a little. Mount the setup on a wall about 1.5 feet above the ground to harbor the wheelbarrow easily.
Storage Rail and Hook System
A storage rail system is a multipurpose and practical alternative as it could be used for more than just storing the wheelbarrow. It is essential to choose rail systems that bear an adequate load capacity for smooth functioning and durable service.
StoreYourBoard Wheelbarrow Ceiling Storage Hoist, Hi Lift Home and Garage Organizer, Hanging Pulley Rack
HEAVY DUTY STORAGE SYSTEM: store your wheelbarrows easily and securely with heavy duty straps
SPACE SAVER SOLUTION: hang your large, bulky wheelbarrow up and save floor space
EASY LIFT WITH LOCKING MECHANISM: two straps to hoist the wheelbarrow up, and one strap in between to keep the straps tightly in place
QUICK & EASY INSTALL: with included instructions and mounting hardware, great for home and garage storage
PRO VERSION - EXCLUSIVE PATENTED DESIGN: built to hold your wheelbarrow, ladders, kayaks, and more!
The low-grade cheap rails may be inexpensive but, in the long run, cause more harm. The loading capacity needs to be checked thoroughly before buying. The Rubbermaid FastTrack Garage Storage System Rail is a critic's choice and a total winner for multi-utility and heavy load-bearing capacity.
Wheelbarrow Holder
Like wheelbarrow hangers, this is yet another wall-mounted system that is hassle-free and user-friendly. It is an inexpensive alternative and can store most of the wheelbarrow types.
The tool's working is effortless, as you need to mount the wagon on the holder and bam! It is effortlessly effective. An important feature is the holder's ability to mount the wagon both ways, from top and bottom, due to the double spring-loaded support system provided in it.
Sale
Lehigh WBH-6 Wheelbarrow Holder, Black
The item is LeHigh Crawford Wheelbarrow Holder #WBH-6
Used for Power Tool Accessories, Grinder & Chop Saw Accessories
The product is manufactured in China
Wheelbarrow holder saves space and stores wheelbarrow against wall in garage or shed
Made of heavy gauge solid steel
This helps in load distribution and makes the holder sturdier, and increases the holder's life and, thus, the wagon.
Simple Brackets
Simple brackets are yet another multi-utility option available in the market. It is a simple, easy to go way to store the wagon by mounting it on the wall's brackets. This is one of the easiest ways to store the wagon without any hassle or effort.
The braces keep the wagon sturdy and can be uplifted to get going with the wagon. This is an inexpensive and quick to mount solution to store the wheelbarrow.
Hardware Re-Purpose
Creativity takes you places and saves you currency. The idea is to use the plumbing hooks and repurpose them by fixing them against the wall. The upturned hooks act as a catchment for the tray and work best for lightweight wagons.
Sale
Sumnacon 3 Pcs Industrial Pipe Coat Hook Racks - Heavy Duty Rustic Clothes Towel Holder Hanger, Wall Mounted With Hardware For Home, Office, Electroplated Black Finish
💗 CLASSIC VINTAGE STYLE - Strong rustic atmosphere in the natural texture of bathroom kitchen or entryway decor to be able show. Deliberately imitation of the old paint for its added a unique classical tone. It will looks great in your home anywhere and match with your other pipe decor items.
💗 MULTIPLE FUNCTIONS - It is not only a hook for hanging robes, coats, hats, bags and other outerwear, but also can be used as curtain holder; It is not only can be used everywhere in your home, such as bathroom, bedroom, kitchen, living room, balcony, entryway, but aslo can be used in outdoor. Rustic industrial looks nice with almost any room theme.
💗 GENUINE & SOLID - Industrial style pipe coat holder is made of Iron, electroplated black finish, it's a nice sturdy design with full metal construction. This item is easy to assemble & install, and come with all the screws and anchors to mount on concrete/tile walls or other type wall. Note: Be sure to clean the threads of oil before hanging anything on them, once wiped clean of the dirt from manufacturing, these went together very easily and look great.
💗 Ideal for DIY project to remodel/upgrade you home, will add some DIY Character to Your Room with our industrial hooks, and decorate a warm and beautiful room by yourself. It not only can help you to tidy your home up from cluttering, but also a easy solution to resolve your storage issues.
💗 Bring the trending industrial rustic into your room with this hook. Beauty and beast. Strength and fashion. You will know it is worth to have them when you hold them. Please notice the size information in the picture before you purchase. Try our coat hooks for 20 days and if there are any quality problem, pls send us the email, we promise to offer you a prompt and refund.
To store anything more significant or heavier, employing this method, other hardware interventions can be applied. It is a swift storage option and frees up a lot of ground space that would otherwise be used for keeping the voluminous wagon.
Ceiling Pulley System
The ideas discussed up until now utilize the wall to free up ground space. The ceiling-mounted pulley system method uses the ceiling as a harbor for the wheelbarrow. This method is a total winner in terms of space reserves and creativity.
StoreYourBoard Cargo Box Ceiling Storage Hoist, Rooftop Carriers, Hi Lift Pro Garage Organizer Pulley, Hanger Rack
HEAVY DUTY STORAGE SYSTEM: store your cargo boxes with ease and with a feeling of security
FITS ANY CARGO BOX: adjustable straps fit all widths and lengths of boxes up to 60 lbs
UTILIZE YOUR SPACE: Get organized by hanging and storing your cargo in your overhead space
HI-LIFT PRO SYSTEM: hold straps and cargo boxes tightly in place, using a center connecting strap to keep your gear in place. The PRO version includes upgraded, higher-strength loading straps.
QUICK & EASY INSTALL: with included instructions and mounting hardware, great for home and garage storage
With some essential tools, say wires, pulleys, screws, metallic plates, and basic engineering knowledge, one can quickly build a custom pulley system and say good-bye to ladders and stacked up sheds.
Fenceline Storage
Using fence lines as storage bays is yet another space saver and time saver. The method is simple and employs basic knowledge and bare minimum materials like screws, wooden pieces, clotheslines.
You bolt the screws on the fence according to the wagon's measurements and use a wooden piece as the holder. This creates a catchment area for the wheelbarrow and can be used for storing other equipment as well.
Sale
This method is a total winner on accessibility as you do not need to mount down the wagon from the wall or ceiling. The only drawback is the external weathering due to climate and surroundings.
Natural Solutions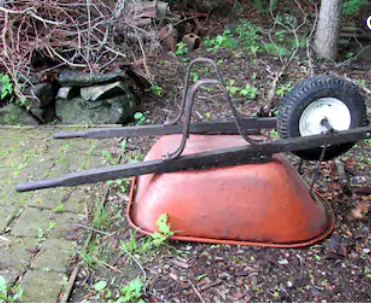 The easiest and laziest method to store your wheelbarrow is by simply upturning it to the ground. The idea is to protect the tray as moisture rusts the metal and dries out or hardens and creates cracks in the plastic or wooden trays.
The exposure to moisture deteriorates the longevity of a wheelbarrow and must be avoided at all costs. This last method is not essentially a storage technique; it is more of a prerequisite.
In case you are unfit to perform any of the other storage techniques, flip your wagon downwards in the least. However, it is advised to take a little effort and employ a better and comfortable to go storage technique to better the wagon and your bank account.
Creating More Room
Storage and organization of tools and equipment in a garage or shed may be quite messy and haphazard. It may be one reason why all the equipment and tools do not fit in, and when they do, you cannot find them anymore.
Creating more room is quite essential. Adding more shelves, making more compartments, and employing better organization techniques are few do's to a well functional garage or shed or storage space in general. Storing the smaller tools well consequently creates room for the larger bits.
Conclusion
Wheelbarrows are fundamental gardening tools with other functionalities. These tools are quite voluminous and may be heavy, depending on the type and material.
Proper storage and care are vital to the life of the tool.
Properly cleaning the wheelbarrow before storing is an effective way to prevent rusting and rotting. Oil coating is yet another anti-corrosion initiative.
It protects the strength of the material. Drying the wagons before storing them is also crucial to the health and life of the equipment.
Wheelbarrow hangers, holders, rail support systems, and repurposed hardware are some critical solutions to the issue of storing these hefty tools.