Few things give such a feeling of freedom as spending time outdoors. As the sun rays come through on a cold winter day or the greenery takes a firm grip on nature on a hot summer evening, we equally like to move as much of our everyday life out to our gardens, enclosed patio from where we can have a beautiful view of some calming hillside landscaping and outdoor lounge areas.
Let the outdoor lounge area become an obvious place for socializing and recreation, a cozy haven that you long to use. But how can you give it a modern twist? Today's range of outdoor furniture, styles, and details is wide and it is easy to get lost in all of the choices.
Here we guide you through the options that are available for you to create a real lounge atmosphere where you can spend great moments with family and friends, but also all by yourself under a soft blanket along with a good book.
Furniture options
Dining tables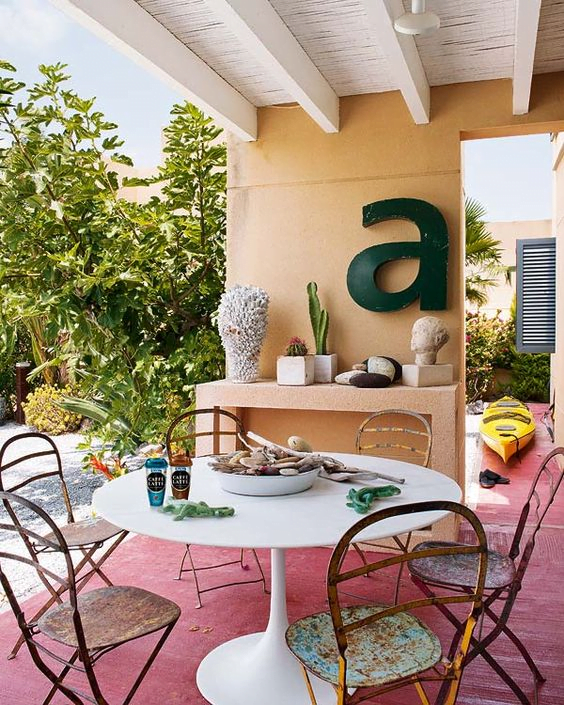 Image source: Pinterest
A nice dining table is an optimal choice for pleasant dinners in the evening sun. The shape of the outside dining area can often guide as to which shape of a dining table is best suited. You can never go wrong with the versatile aesthetic of the tulip table that gives a lovely dynamic, and at the same time, it is an established classic that goes absolutely with any style of decor.
One of the practical advantages of this table is that it provides more space underneath and is perfect for adding extra chairs when the whole family gathers to eat. This was, in fact, the primary reason why the table's designer Eero Saarinen created the table, as he wanted to remove all unnecessary underneath legs and footings. Because of its versatility, there are so many options and various styles of chairs that will pair well with the table and enhance the modern style of your outdoor space.
Outdoor lounge furniture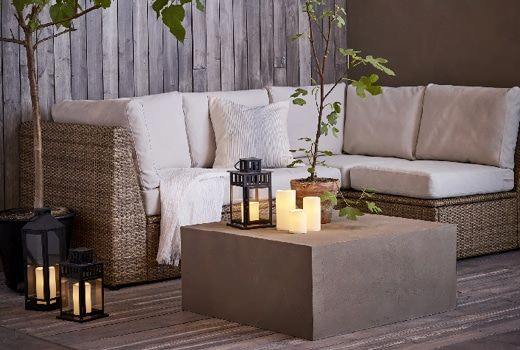 Image source: Pinterest
Lounge furniture is inviting as it exudes elegant comfort and maximum relaxation. Here you can sit among soft cushions and a bunch of blankets and pillows, preferably all day. With features such as low seat height together with thick, comfortable cushions, the lounge furniture set is the dream for those who want the patio to function as a real extension of the living room.
A big advantage of lounge furniture is that they often consist of modules, which means that you can easily change the look of the set by moving the modules. In the same way, it is possible to make it larger by expanding with extra modules afterward – perfect for those who think that change is fun. Modular furniture is also easy to store for the winter as they are easily stacked on top of each other, taking up minimal space on the patio or in the storage room. Many lounge furniture pieces include coffee tables, often with an elegant glass tabletop that becomes the obvious storage space for snack bowls and refreshing drinks.
Mixing Materials
Go ahead and mismatch
Sure, it's nice to use the same style when you decorate, but try the opposite to get a more relaxed and cozy feeling. Daring to mix materials applies to everything from having different fabrics on the pillows, mixing smooth and braided blankets, having pots in ceramic, glass, and bamboo – to the outdoor furniture being diverse. It can include colorful benches, cute little stools, and more robust wooden furniture. Often, mismatching is the best way to create a place where everyone wants to hang out.
Cushions to enhance your style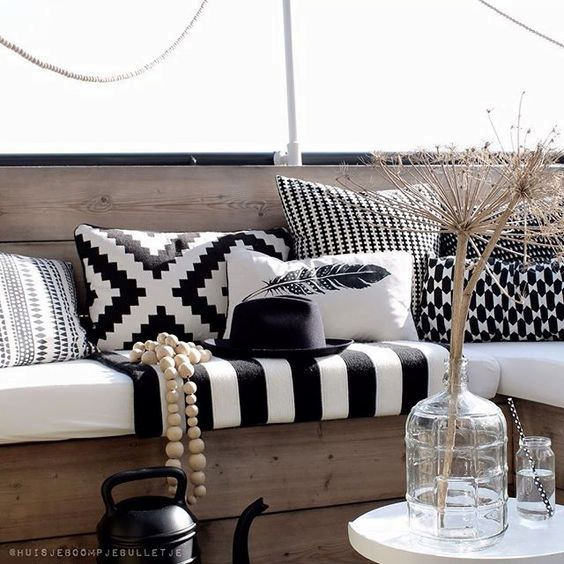 Image source: Pinterest
Maximize the coziness factor on the chairs by letting them be adorned with stylish seat cushions. Adding textiles to chairs and armchairs is a simple trick to create a cozy yet modern atmosphere and make the patio inviting. Choose seat cushions that go in tone with the colors of the outdoor furniture to create a sparse, monochrome style, or invest in colorful cushions, preferably patterned, to give the patio a real energy boost.
Add color to the table setting
For a personal touch to the table setting, add color and pattern. Different colors and patterns give a modern but still a homely feeling. Tablecloths with one or two colors and a pattern, which you combine with plain porcelain, give a luxurious and vibrant atmosphere that your guests will surely remember.
Finishing touches
Create a place for rest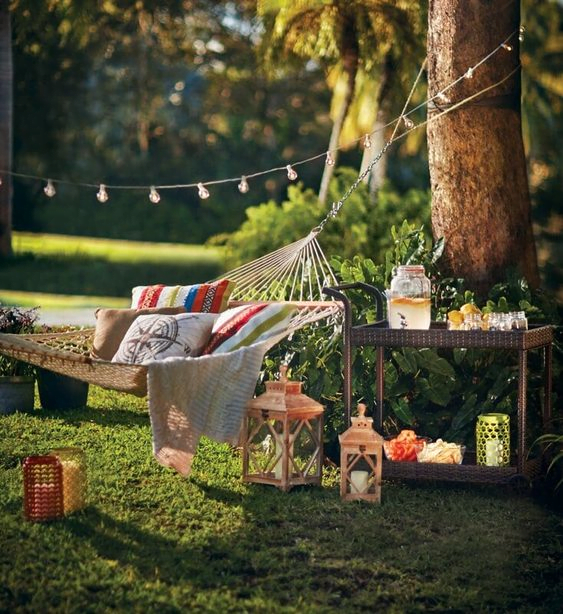 Image source: Pinterest
Your outdoor space needs to be the perfect place to relax. Start with a comfortable piece of furniture that fits. This could be a hammock which, in an almost magical way, gives space for new thoughts as a calm feeling enters the body. A hammock spreads a harmonious feeling with its mere presence and adds a personal touch to the outdoor space and acts as a stylish interior detail that works both outdoors and indoors.
Let the plants be seen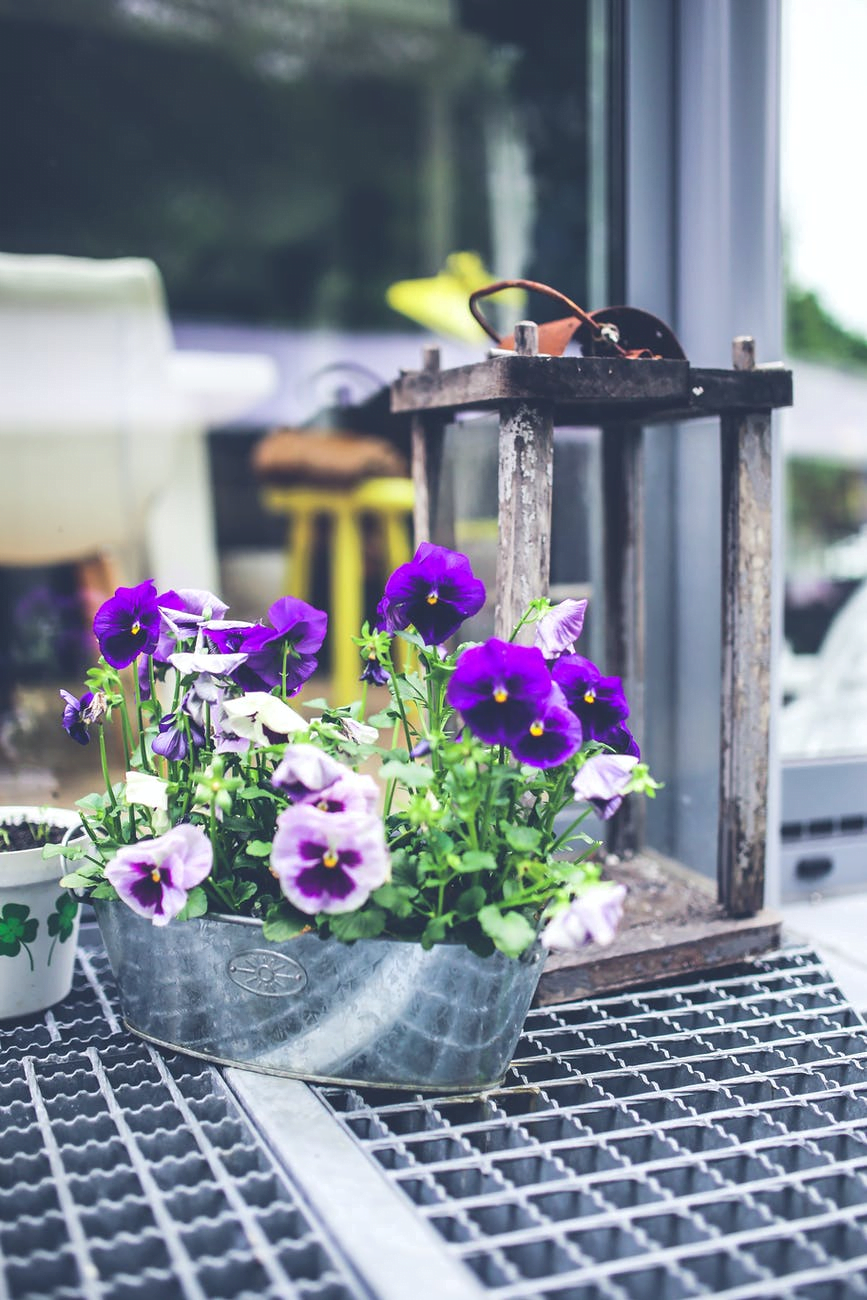 Image source: Kaboompics.com from Pexels
An outdoor space, which is created specifically for relaxation, without green plants, quickly feels stiff and dull. You should therefore plant flowers and different kinds of plants. Or why not plant a small kitchen garden and enjoy being able to cut fresh basil and parsley for dinner. You could create a unique experience and plant an exotic flower that will take the center stage.
Light it up
Combining several light sources for a pleasurable atmosphere is a tip that also applies to the outdoor space. Start by thinking about how you use your lounge area and choose the lighting accordingly. Do you usually sit in a special armchair and read? Place a floor lamp near your reading area or let a window lamp hang freely from the ceiling nearby. Do your dinners often end with something good to drink in the lounge area? Place a table lamp on a table nearby and lanterns with candles.
Parting words
In the end, the most important question to ask yourself is what you mostly use your outdoor lounge area for. Think about what kind of socializing and what activities you value. Is it to be able to sit down and enjoy nice meals with friends and family? Or is the vision to create a wonderful oasis for lazy days in the sun? We are all unique in our personal taste and this also applies to our outdoor lounge area.
If you are fortunate and have a large outdoor area where you can fit both a dining table with chairs and a piece of outdoor lounge furniture, you can get the best of both worlds. Nevertheless, after choosing your furniture essentials, look at the other ways we suggested so you can add a modern twist to your outdoor lounge area.