Like millions of other Canadians, you're spending most of your time at home these days due to COVID and the lockdown it has caused. You are more than likely more acquainted with your home than you'd like to be at this point, so it might be time to change things up.
Bring new life to the place you're spending all of your time in with a renovation from a reliable Toronto landscaping company.
Though spending all of your time at home seems like a chore, having a luxurious new backyard to spend your time in will undoubtedly make it more enjoyable. Most backyards are underutilized, so whether you would like a new deck, pool, sports area, or any other addition that will improve your life, there is a good chance you already have more than enough room for it.
At M.E. Contracting, your reliable Toronto landscaping company, we have been dedicated to providing our clients with the best possible back yard for over 15 years. Our work on a vast array of projects has provided us with ample experience that allows us to take on any project, regardless of the size or complexity. We offer professional landscaping services, pool construction, outdoor kitchens, decking, and more.
To show the expert craftsmanship you can expect from M.E. Contracting, a superior Toronto landscaping company, we have picked one of the recent projects we have completed that stands above the rest.
A Standout Toronto Landscaping Company Project
For this project, our client from Toronto gave us full control from the very beginning. We created several unique areas that brought together a complete outdoor living experience and added immense value to the house.
We will break down each part of the project: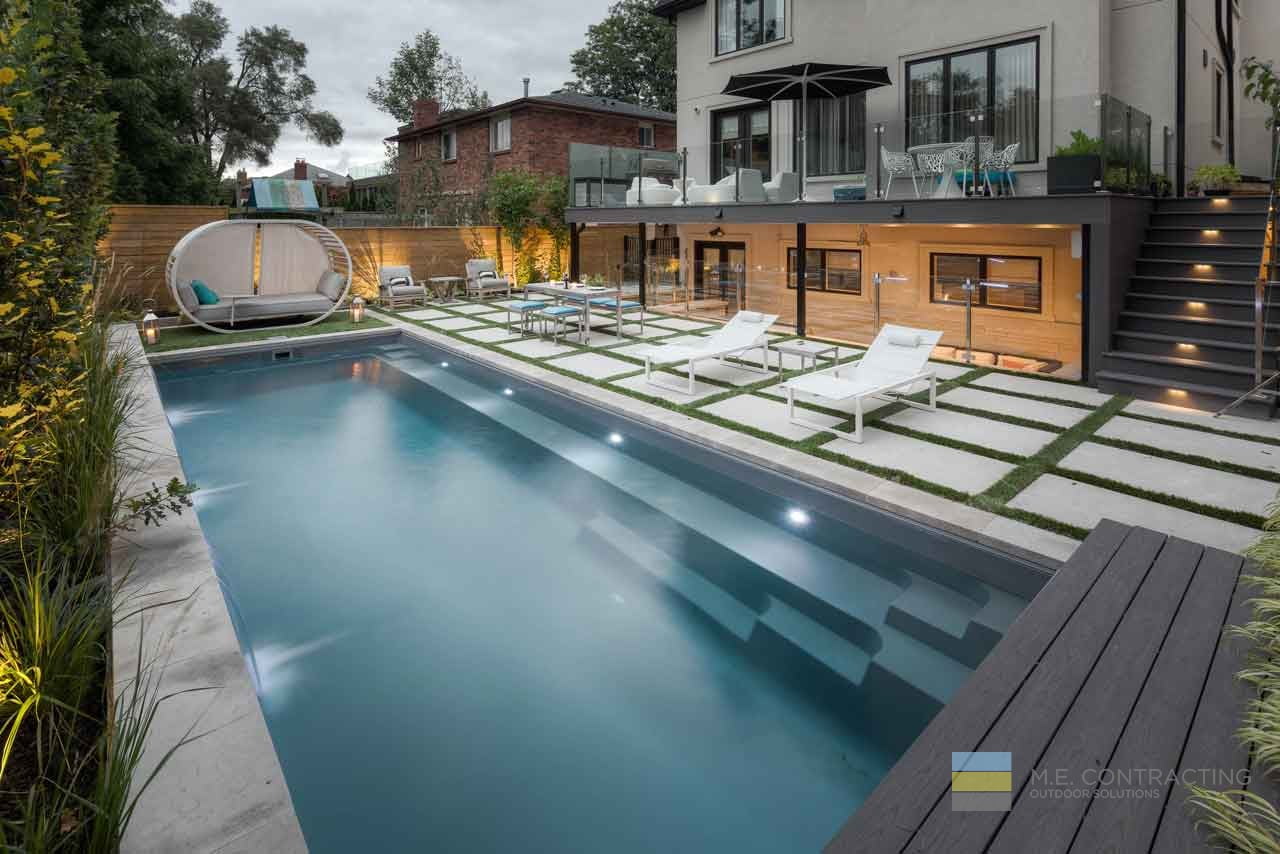 Fibreglass Pool
We built a full-sized fibreglass pool with multiple water features that span the majority of the backyard. Next to it is a perfect seating area for those long hot days when you just want to lounge by the pool. There are multiple water streams with built-in lights that run into the pool, helping with filtration and giving an additional touch of beauty.
Our Toronto landscaping company has constructed many pools in our 15 years of experience, all diverse in style and size, so you can count on us to bring your dream pool to life.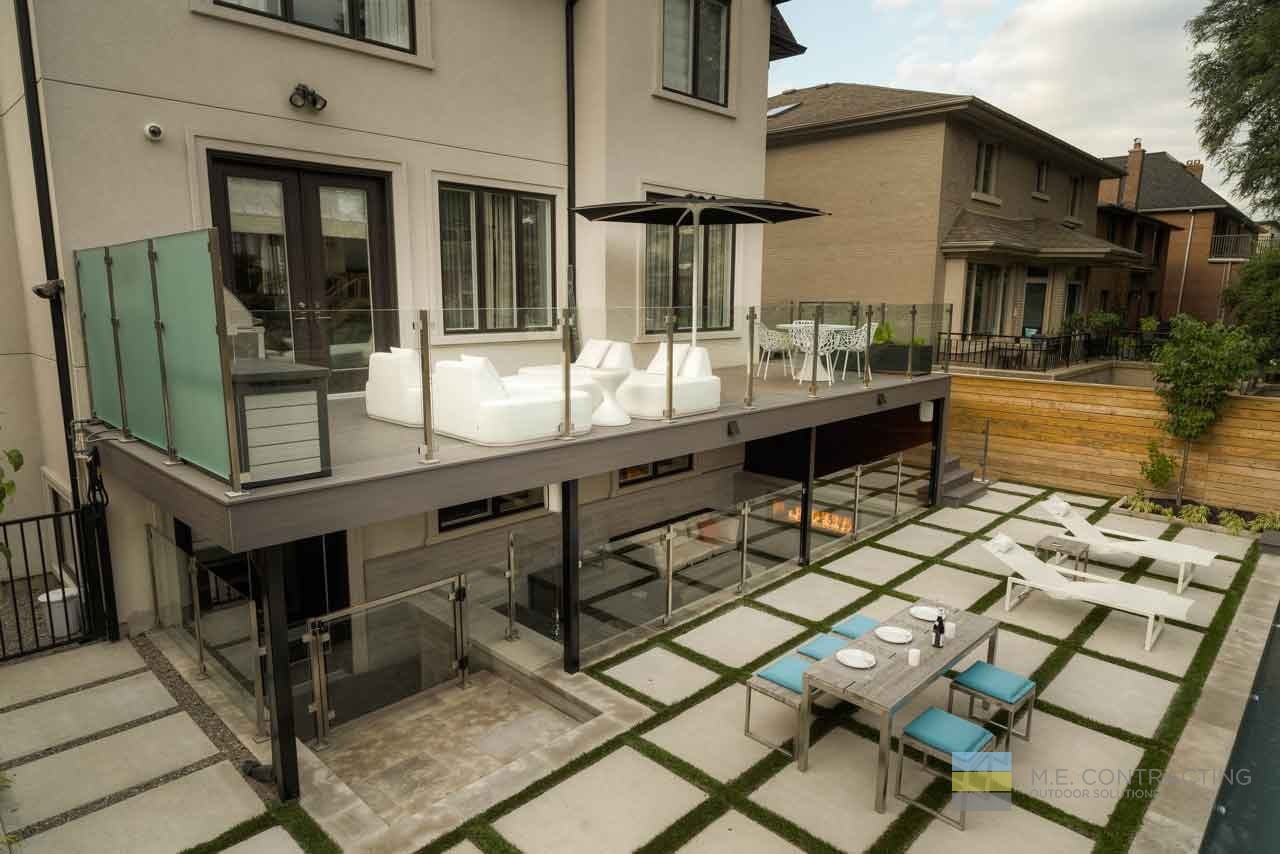 Walkout Patio
We built a walkout patio area connected to the main floor living room and kitchen that sits over their outdoor kitchen. This patio provides a great view of the backyard, perfect for parents who want to keep an eye on their kids. The deck has a glass barrier and a pair of stairs that lead out into the backyard.
Our team is always on top of the very latest and most outstanding developments in backyard design. Regardless if it's outdoor kitchens, outdoor bars, enclosed patio, fireplace, jacuzzis, pools, or any other backyard addition, our team stays up to date on trends to ensure you end up with a modern and contemporary design. With their extensive knowledge, we can give any property a fresh, one of a kind look.
Your deck's design is integral to your enjoyment of it. You need a deck that is perfectly suited for your life and day to day activities. While an aesthetically pleasing deck is terrific, a deck that improves your life is even better. Our team will work with you each step of the process, so you're more than happy with the new addition to your home.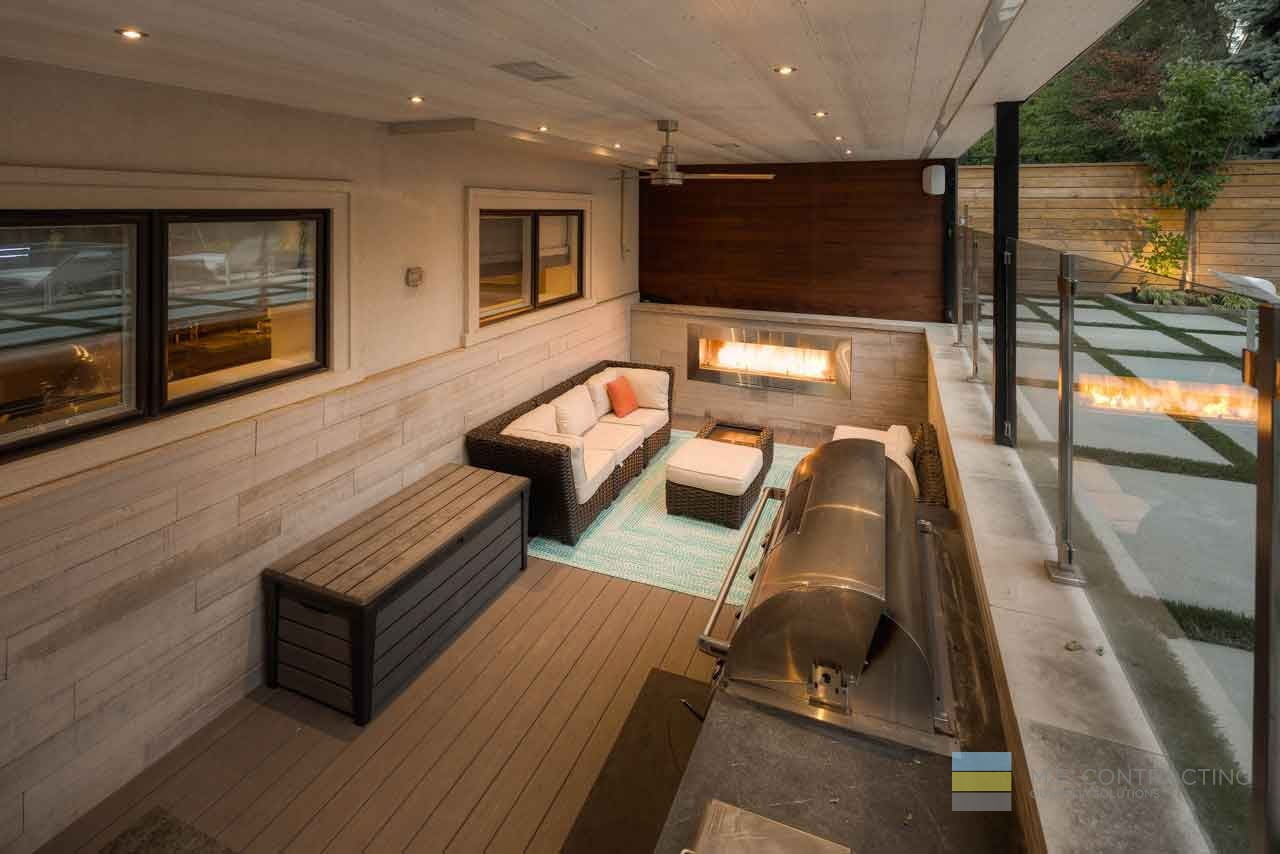 Outdoor Kitchen
One of this project's standout features is the year-round outdoor kitchen with a seating area protected from the elements. The outdoor kitchen is slightly underground and sits directly under the walkout patio and leads into the home. We also added a fireplace for those colder nights. All in all, this outdoor kitchen is a standout feature that anyone can enjoy.
Our Toronto landscaping company is always looking to take on new, unique projects. No matter the addition you are looking to add to your home, we are more than happy to take on the project and deliver exceptional results.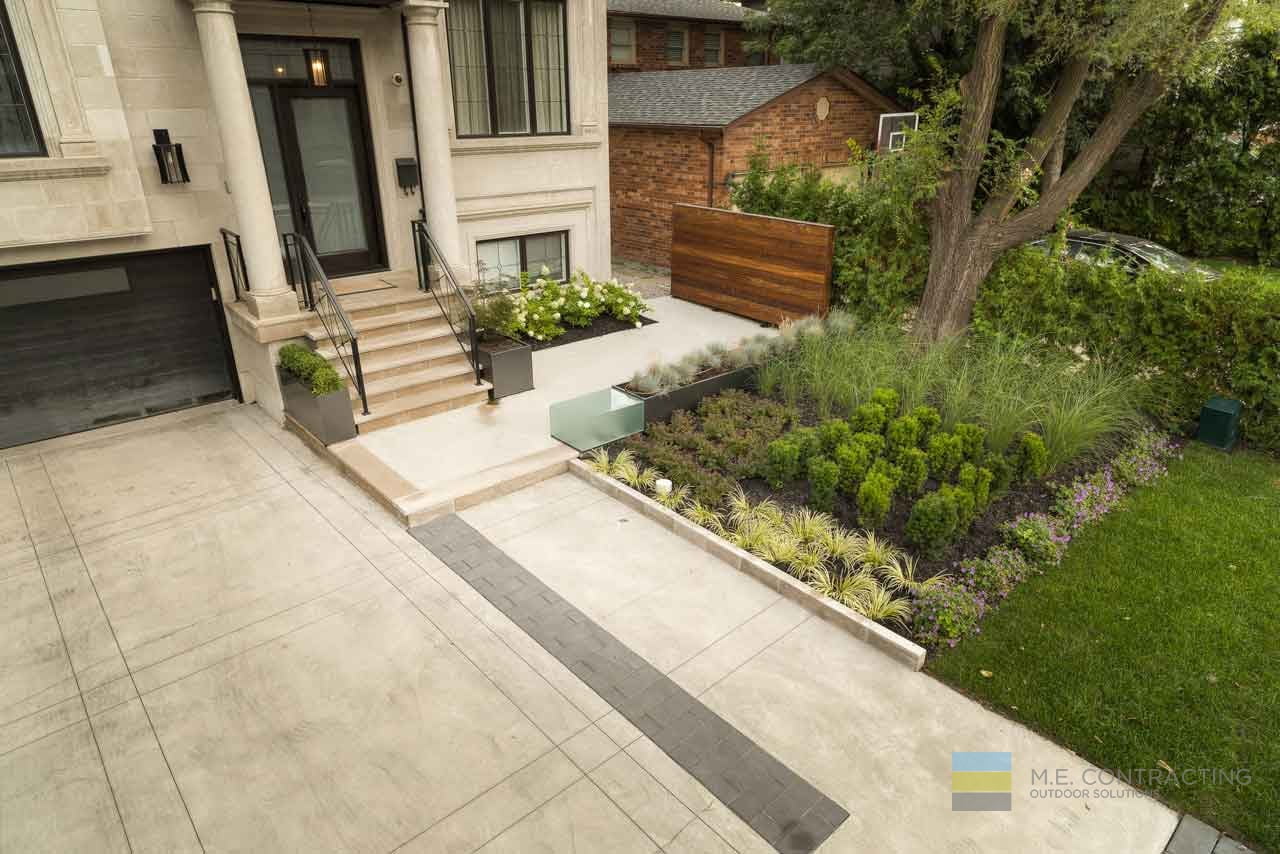 Front Yard Parking Area
For this project, we didn't just work on the backyard, but the front yard as well. We created a fantastic front yard parking area with vegetation that covered most of the front lawn. We covered the parking area with eye-catching interlocking, making for easier maintenance.
From backyards, front yards, driveways, paths, and patios, interlocking is a great way to add additional flair to any part of your property. Our Toronto landscaping company creates works of art with our interlocking that will stand the test of time.
Your Toronto Landscaping Company
Our goal at M.E. Contracting is to work with our clients, taking all of their suggestions and comments to ensure that the results are what they had envisioned closely. We will leave you with a project that you can cherish for long after we go. Our hard work will indeed up your property's curb appeal, which will lead to an increase in your home's value. We won't just provide you with a jaw-dropping backyard, but we will also make sure it is low maintenance.
If you are looking to build a custom deck for your property, we offer an in-depth Toronto deck builder guide to help you find the ideal deck for you. We help you choose the perfect deck by evaluating your need for the patio, your family's size, the expected amount of use, your property, and more.
Call M.E. Contracting today, your trusted Toronto landscaping company, for a free consultation regarding landscaping, inground pool ideas, their construction and installation, interlocking, woodworking, stonework and deck building, and much more.
Request a free in-home estimate or visit our 7,000 sq. ft. Landscaping showroom for inspiration