Backyard BBQ is undoubtedly a great idea to have at home. But is it as easy to make as it sounds? Not.
How badly does one want to have a backyard kitchen? When guests appear, and friends barge in, all we want is to make them experience the beautiful things at home. 
To make such memories, food plays a great hand. Now imagine with a beautiful BBQ backyard how extraordinary your meeting can be. 
From a cozy couple's goals to chilling with friends, backyard kitchens can be all.
How Can You Make a Covered BBQ Area in your Backyard?
All you need is a little effort to build your kitchen. It depends on how different you want your kitchen to look to decide on the area.
But if you are creative enough, you can even build a covered BBQ area in a tiny space.
But do not worry, we got you covered! So, here we bring you 16 backyard BBQ area design ideas with which you can build your home beautifully.
Ideas to Design your Covered BBQ Area
1. A Landscape Designs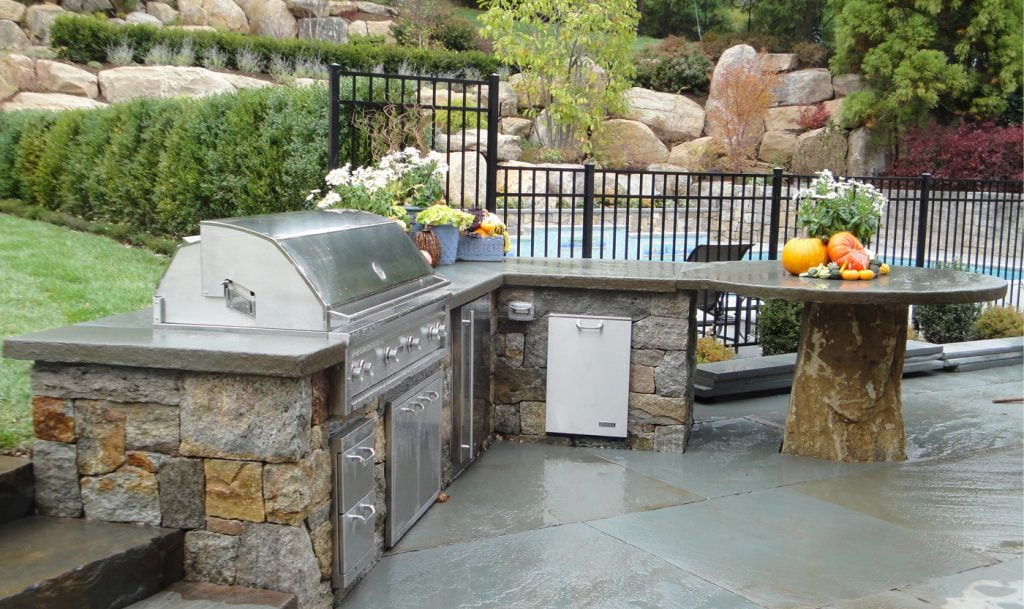 If you love to cook and eat outside, then a landscape design can be great for you. For a vintage lover, landscape designs can be a huge crush. Sometimes, all you want is a peaceful place to sit, and these kitchens can help.
With an old touch to it, this kitchen has a classy and cozy look to it. If your house is built somewhere far and calm from the city, this kitchen will enhance your home's look.
But the problem is that landscape designs are a little mess to handle. But it is all worth it for what it gives.
2. A Party Pavilions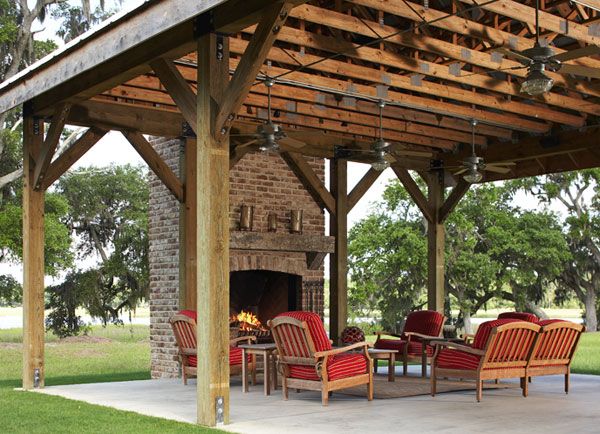 Imagine if you can watch your matches outdoor while you eat and enjoy yourself in your backyard kitchen.
Feels great, right? If you love this idea, a backyard pavilion is a beautiful space for you, and it is a covered BBQ area that can be built in just 500 square feet.
You can use the room for your storage while the same can be covered to make it beautiful with a beautiful kitchen. You can also arrange a dining table and make it look more attractive.
3. Wood-Fired Backyard Kitchen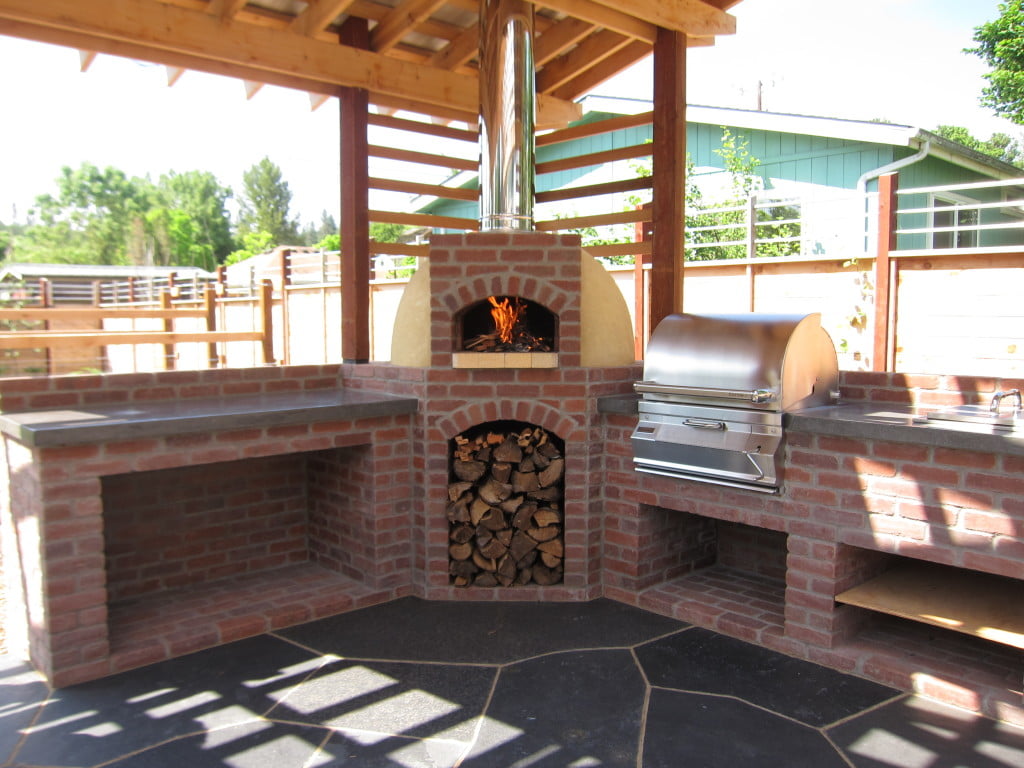 To say it as a kitchen can be a little too much but a beautiful oven. Ever wondered how our ancestors used to chill in the outdoors while they cook delicious food.
Let us run back in time and make it more special by building this outdoor kitchen in your home. It is a simple covered BBQ area that can help you cook delicious food while enjoying it with your friends and family.
The good part is that you need very little space and very little investment in this.
4. Patio Outdoor Kitchen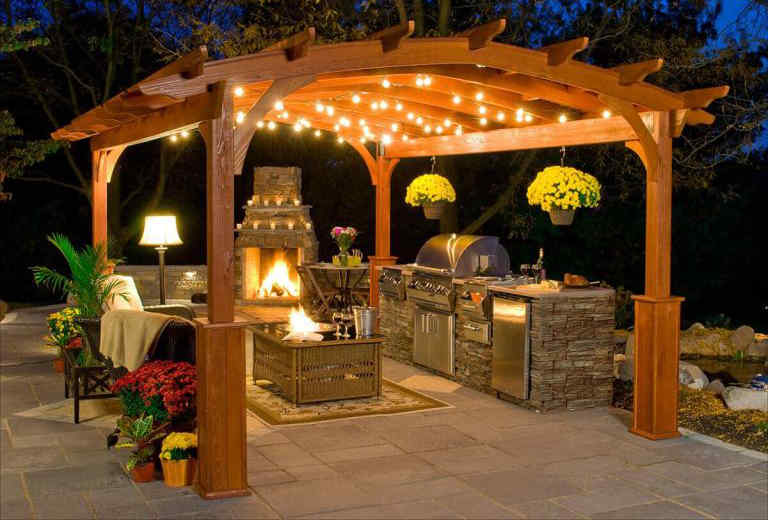 If you are a little fancy person, a patio kitchen is for you. It just looks like your indoor kitchen that is set up outdoors. Your backyard looks most acceptable with this setup with a wooden appearance of kitchen and dining table.
5. Stone Setup Kitchen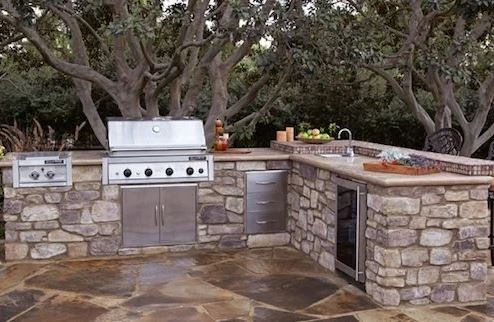 Stone cladding is just unique wherever it is set up in the home. It looks great as it enhances the complete look of the house. When you arrange the same outdoors as if the kitchen is set in the stoned area but a little organized one.
It looks classy with a vintage touch to it. You can use different variants of stone cladding according to your choice.
6. Tabletop Grills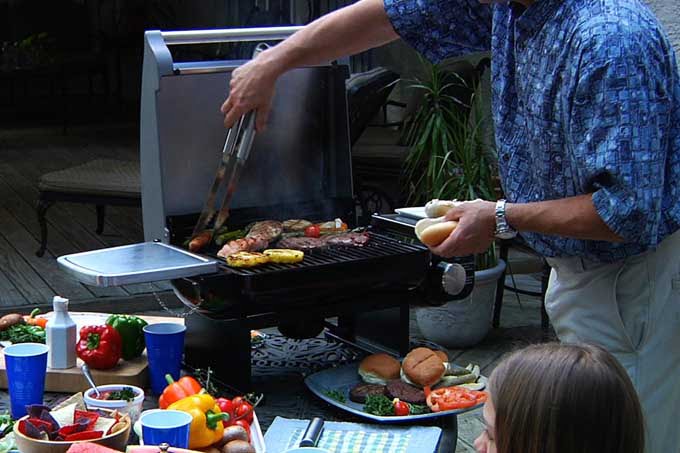 Ever heard of tabletop grills? Tabletop is a feasible outer space kitchen that you can use even if you have a smaller space. It is very doable for people who do not want to spend a lot in the backyard kitchen.
You can buy tabletop grills online. Tabletops come in handy even if you are traveling and camping. You can create your back at the kitchen look during their camps.
7. Single Storey Kitchen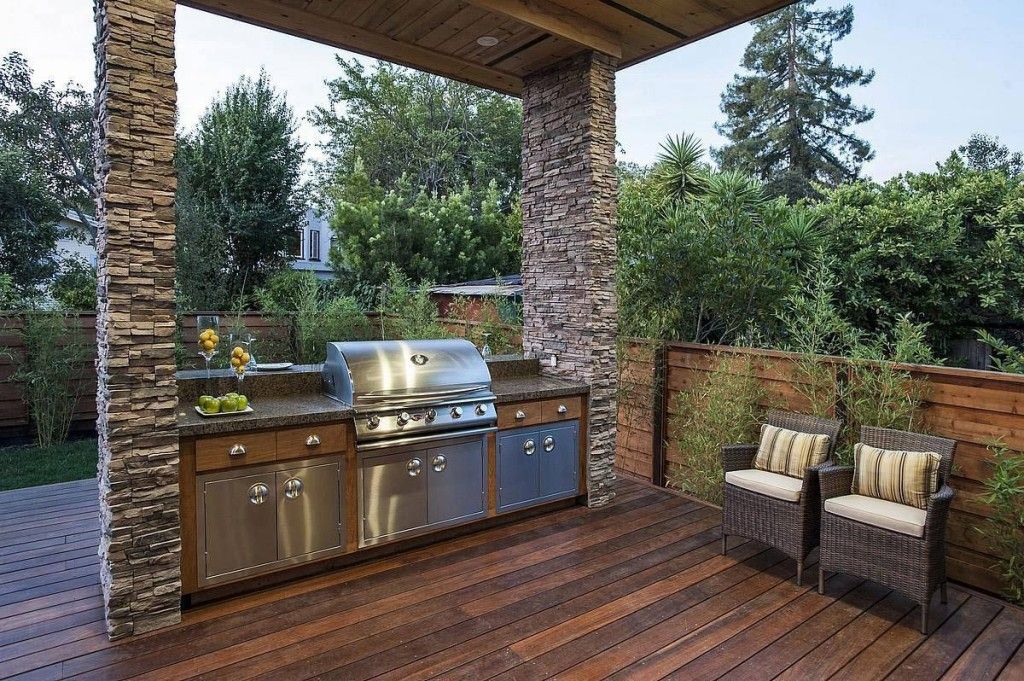 If you want a covered BBQ area but want to keep it as a backyard kitchen single-story kitchen can help because these kitchens can be set up in a smaller space.
A simple setup, like setting up a large door, can extend your indoor kitchen into a covered area outdoor kitchen that looks beautiful and elegant and enhances your stay as a backyard kitchen.
8. Sitout Kitchen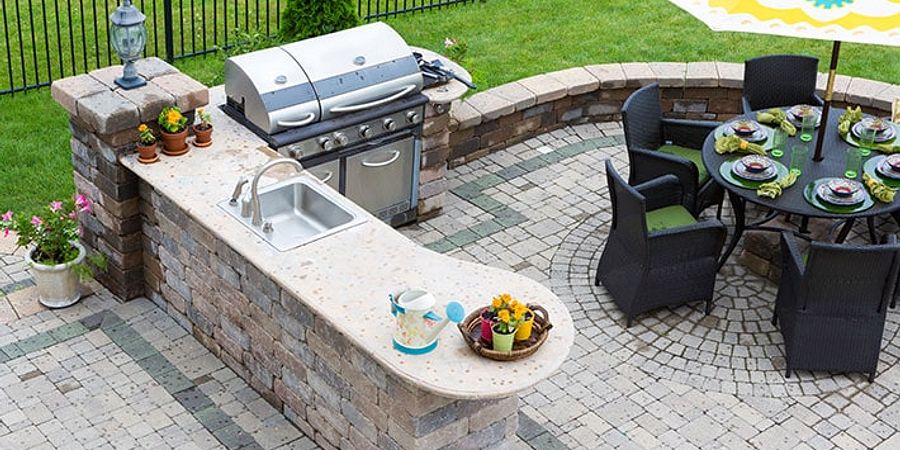 Sitout can be used as backyard kitchens as it provides space to sit and chill with your family. You can use it for cooking and children with your family and friends while you eat delicious food.
This gives the arrangement of a beautiful, covered BBQ space that can be used in two ways. People who do not want to extend their home for backyard kitchens can use this idea to provide a feasible and beautiful setup for your home.
9. Built-in Outdoor Kitchen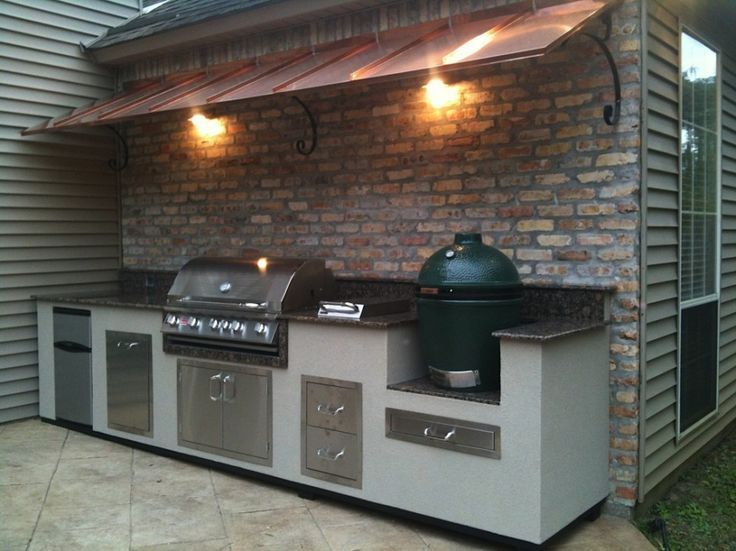 These kitchens look as if they are directly built in your backyard or your home. That means you can fix equipment that needs to set up the kitchen to your walls. So that you can use the space for setting up your kitchen.
This is again a feasible idea as it makes sure that care looks fancy as it does not take up a lot of space. It is going to be unique for people who like to keep this space open.
10. Under Awning Dining Space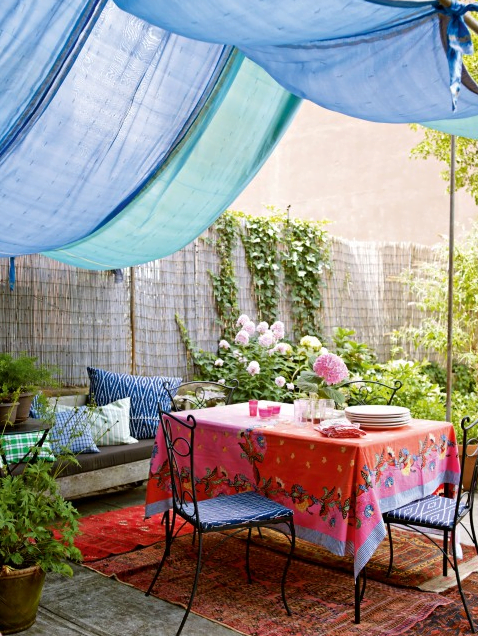 This kitchen can be built in an area as small as 50 square feet. Also, it makes your backyard space look cool as well as unique. This does not look like a minimal space as you can arrange this as a cottage.
And cotton clothes can be used to set up the dining space. We all at one time have dreamt of having a small, tented area that can be used as a kitchen, haven't we?
11. Grill Station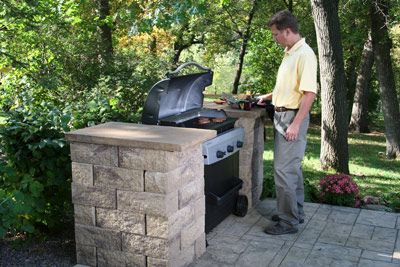 If you do not like to have too much in your backyard, a grill station can help as it takes a tiny space, and you can also use it to have fun with your family and friends.
Set up a small dining space in front of your grill station to make it look peppier and fun. A little bit of decoration of lights and trees enhance the look to the next level.
12. Modular Kitchen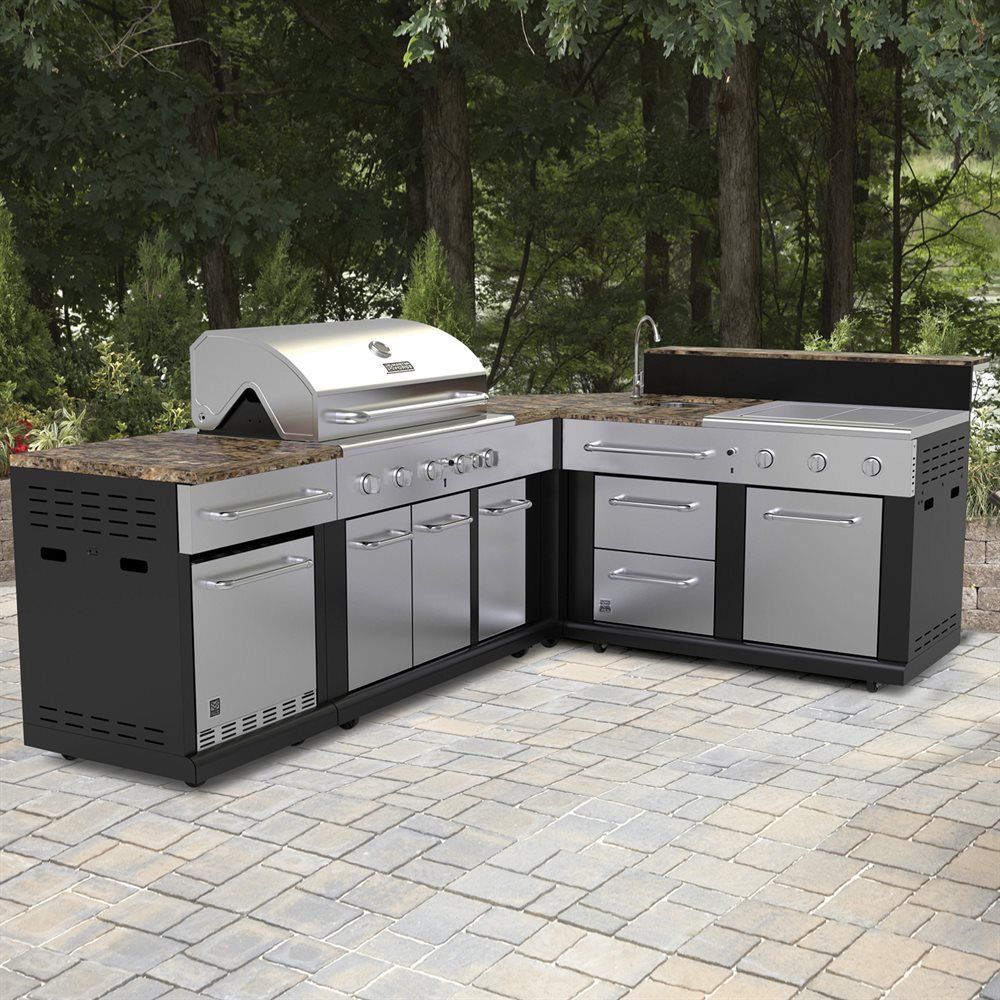 The modular kitchen is something that everyone in this generation can prefer as they are easily affordable to make and customizable. You can make this kitchen using concrete for containers.
You can make these kitchens in a covered BBQ area, which looks very feasible to produce. These kitchens are portable, and you can set them up wherever possible around your house to create a beautiful backyard kitchen.
Set up a small dining space in front of your modular kitchen and make it look just terrific.
13. Fireplace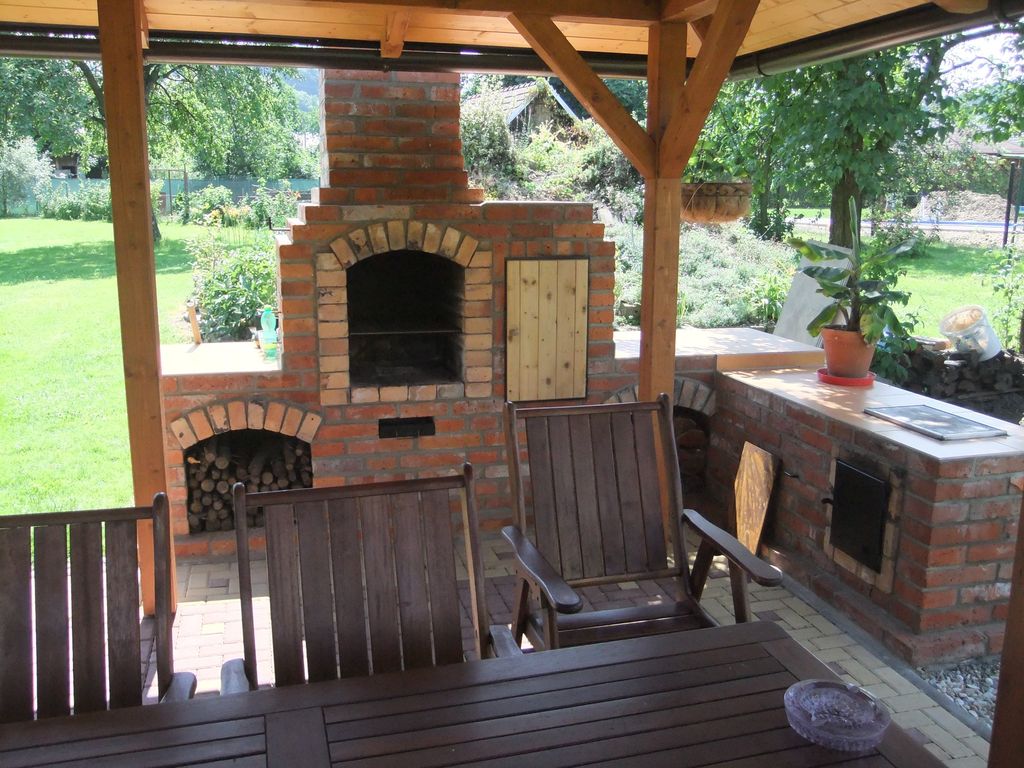 The fireplace is something that every home, most probably in the cold regions, has. It has benefits like heating the environment and works as a backyard kitchen if you want to roast your food.
At the same time, you can gather your family and friends. This is a perfect place that can be set up in indoor space and outdoors. But if you want a covered BBQ area, you can set it up but build a small roof.
14. Summer Kitchen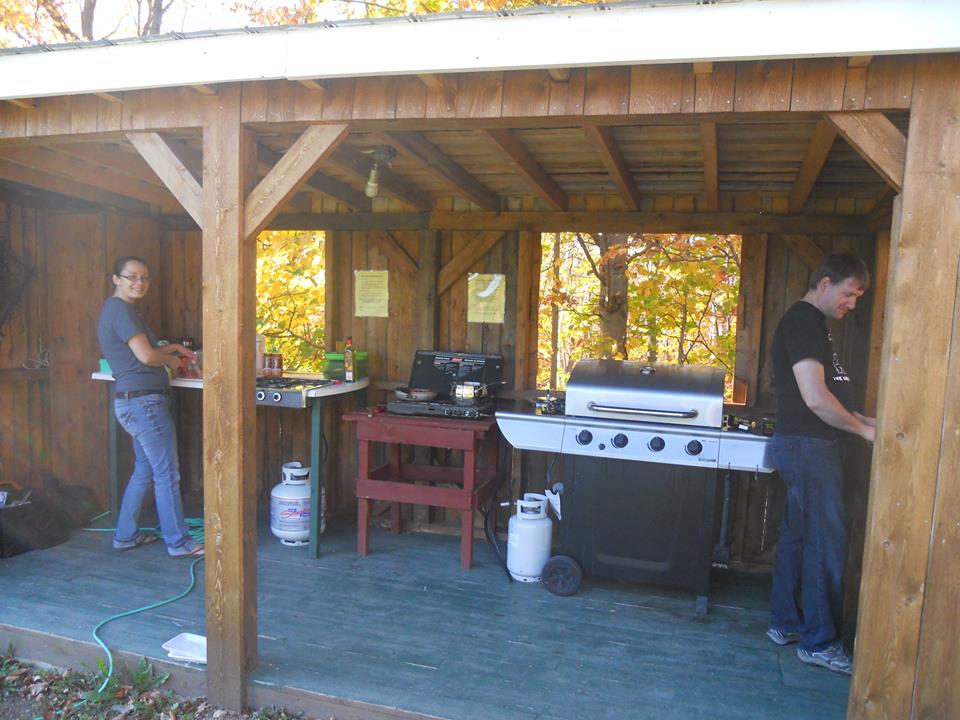 Summer Kitchen is a simple outdoor kitchen that can be set up in your backyard with a grill, refrigerator, sink, and oven. To get a modern feel, you can use stainless steel kitchen equipment like countertops and other cabinetry. You can even cover the area to create a great covered BBQ area.
15. Lakefront Kitchen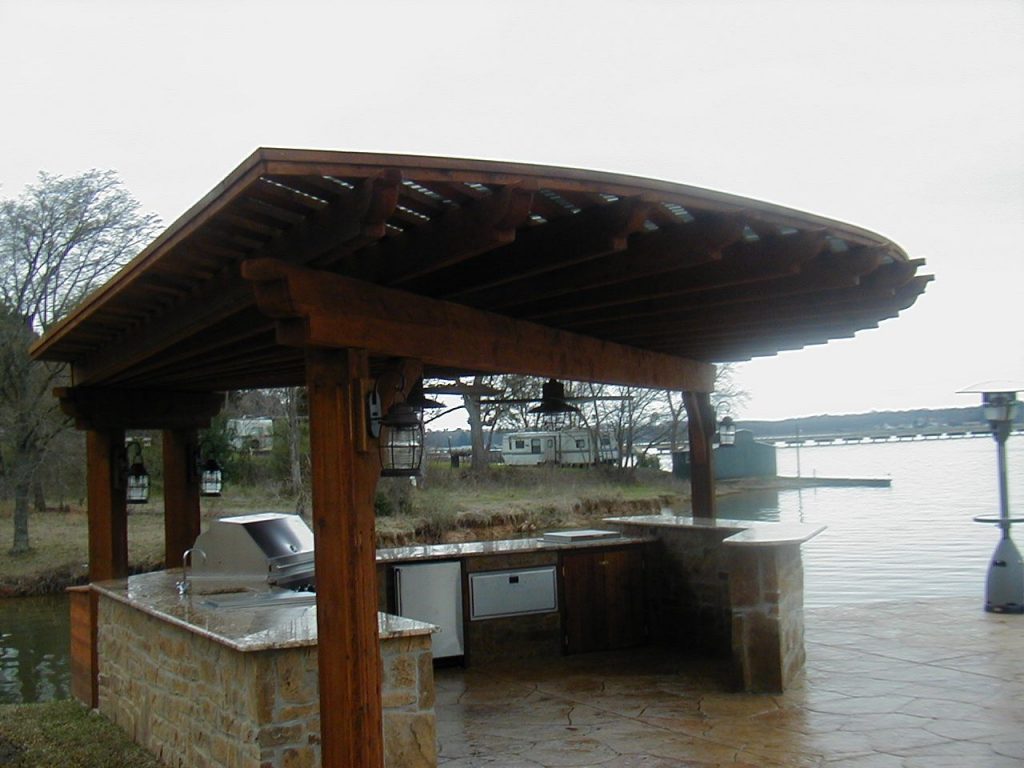 If your home is on the lakeside like most of the houses are in New York, you can use the lakefront kitchen to create a wonderful, covered BBQ area. Lakefront kitchens look beautiful with a fancy setup.
Using the fancy kitchen equipment completes your home's look that matches the beautiful lake, but that does not mean you need a lake to create a lakefront kitchen. You can always make these kitchens in your backyard, no matter where your house is.
16. Pergolas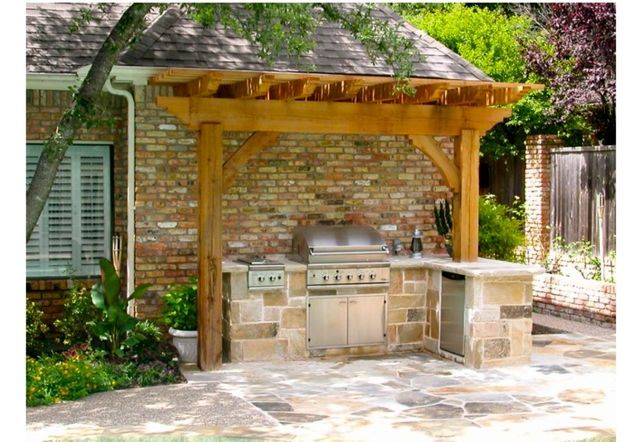 Nowadays Pergolas are very stylish spaces that everyone wants to have at their home. This was once only a southwestern thing, but not anymore. You can create these spaces at your home in the backyard to create a cool appearing and spacious BBQ space.
Wrapping Up
Backyard space is everyone's dream. Why late when you can create one with these simple tips? Use these 16 BBQ space design ideas to create a fantastic BBQ area in your home.
Small or big, your home can be beautiful with a little effort. Use these tips to create a perfect backyard kitchen for your house. If you still are not sure, you can always use a little help from a designer.