Cleaning your lawns and making it weed-free has always been a critical task, and for this task, we need a good trimmer, which helps to trim all the weeds and short sprouts from the yard. There is various trimmer available in the market which you can use to clear your lawn quickly. 
This article will discuss one of the best weed eaters named Hitachi CG22EAP2SL, which you can use to clutter all the weeds from your yard. We will also discuss some of the best alternatives for Hitachi CG22EAP2SL, which you can choose.
The Hitachi CG22EAP2SL Weed Trimmer
The Hitachi CG22EAP2SL is one of the best commercial-grade gas string trimmers available in the market, which allows the users to trim the weeds around their gardens so easily.
As it is a gas-powered trimmer, it is considered more potent. It also comes with a curved shaft, which helps clean along with the fence areas.
Hitachi CG22EAP2SL 21.1cc 2-Cycle Gas Powered Solid Steel Drive Shaft String Trimmer/Brush Cutter
21.1 cc PureFire two-stroke engine meets emissions levels without sacrificing power, adding weight,...
Solid steel 60-inch drive shaft for durability and applying more power to the gear head
S-Start effortless and reliable starting system reduces the amount of pull force required for fast...
Anti-vibration system provides maximum comfort to get more done with less fatigue
4" semi-automatic trimmer head provides hassle-free operation and holds 13 feet of .095" co-polymer...
You can also use this trimmer for medium and heavy usage too. It comes with a two-cycle engine, which makes this trimmer to be used for commercial jobs too.
Pros: 
Two Stroke Engine
Can hold up to 13 feet of cutting line
Very quick and easy to startup
Very lightweight in use (10.4 pounds)
It creates very low vibration
Fewer emission levels of up to 70%
Fuel consumptions are reduced up to 30%
It can also be used with different attachments
Comes with a commercial grade 2 engine which has been designed to last longer 
Cons:
The Gas trimmer is very noisy at 100 dB, which causes discomfort to the user
There is no harness included with this model
It is not as friendly to the environment as other models
Features and Benefits of using Hitachi CG22EAP2SL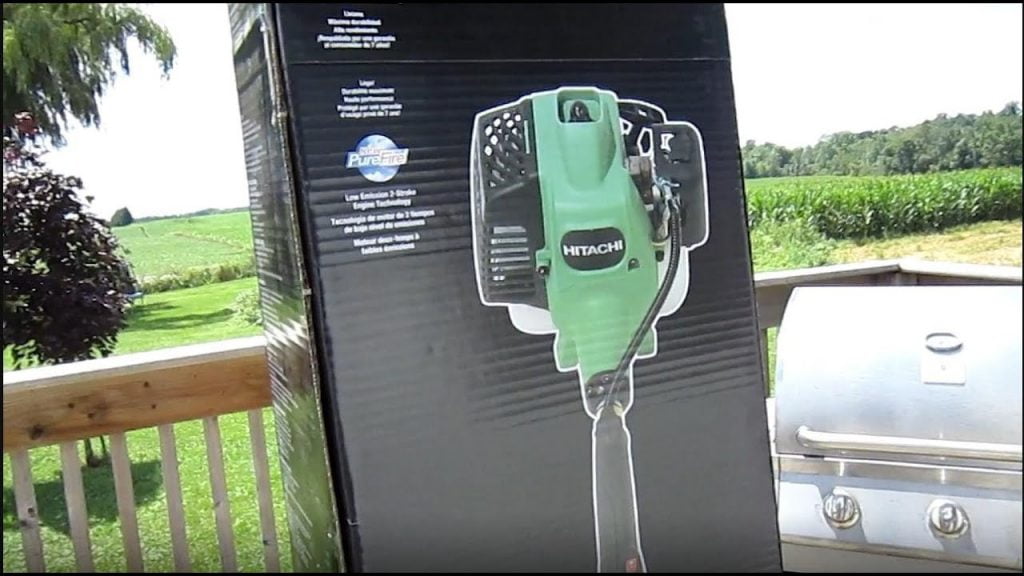 The Hitachi CG22EAP2SL provides a bundle of useful features that you can use. Hitachi always assures their customers about the quality and durability of its products. 
Some of the best features of Hitachi CG22EAP2SL are:
Easy Starting System
The Hitachi CG22EAP2SL comes with an S-Start Starting System, which reduces the effort it takes to pull the string and start the Weed trimmer. 
It is tough to start the machine. Some weed trimmers as require a lot of effort. Some people have limited strength in their upper arms, and it becomes nearly impossible for them to start weed trimmers. Nowadays, the technology has been improved, and the modern weed trimmers require less effort and less physical capabilities to start.
Semi-Automatic Feed Line
The Hitachi CG22EAP2SL comes with a Semi-automatic Feed Line, which enables its users to advance the line while working. If the users want to advance the string, they must tap the trimmer head on the ground. 
This feature helps save time as the users do not have to turn off the trimmer or release the harness to advance the line. Advancing can be done while working, so the user does not have to spend extra time stopping the trimmer and then starting it again. 
You must take care of that if the trimmer's string gets stuck inside, you must stop working immediately and then troubleshoot the cause of the tangled string. 
Two-Cycle Engine
The Hitachi CG22EAP2SL comes with a two-cycle engine that is relatively less complex to use than some other models with four-cycle engines. The two-cycle engines consist of fewer parts, so they are cheaper, lighter, and easier to use than the four-cycle engines.
There is enough power available in these trimmers, which are fully capable of trimming long grass and weeds despite being lightweight. 
Purchasing the Hitachi CG22EAP2SL can be very beneficial, but there are some cons as the two-cycle engines require a mixture of fuel and oil to run, and they produce more noise while running due to the two-stroke engine.
Curved Shaft
The Hitachi CG22EAP2SL comes with a curved shaft, which is 54 inches long, allowing other users to quickly move the machine into small and tight places. The curved shaft is very helpful in moving the trimmer along the fences and hedges. 
The curved shaft and straight shaft's main difference is that the curved shaft is mainly used in smaller yards while the straight shafts are used for heavy-duty work. 
According to customer reviews, the curved shaft trimmers are more comfortable to use as they are lighter in weight. You must be careful while using the trimmers and make sure that the children and pets do not come in the trimmer's way.
Balance and Comfort  
According to customer reviews, the Hitachi CG22EAP2SL is the most comfortable weed eater available in the market, and it is straightforward to use. As the trimmer comes with a curved handle of 54 inches, the user does not have to bend so much while working. 
The Hitachi CG22EAP2SL comes with an anti-vibration system, which helps absorb shocks, and the machine's vibration will not impact the user. You must take care of that if you are uncomfortable or holding the trimmer with a loose grip, it can lead to some disaster. 
Best Alternatives to Hitachi CG22EAP2SL Weed Trimmer
Husqvarna 128DJx
Husqvarna 128DJx is considered the best alternative to Hitachi CG22EAP2SL, as it is very lightweight, around 10.8 lbs. There is a pendulum effect available on this trimmer, which is considered one of its best features. 
It is effortless and straightforward to use this trimmer. The Husqvarna 128DJx consists of a smart start system that changes the way you maintain your lawn. 
Some of the best features of Husqvarna 128DJx are that it can work all day long, and it can be controlled easily. It also comes with a two-stroke engine, which is helpful for fewer emissions and low fuel consumption.
Poulan Pro PP28LD
Poulan Pro PP28LD is also considered one of the best weed eaters available in the market. It comes with a powerful dual engine setup. It is generally preferred for those users who have a big yard.
It can easily trim thick weeds and small sprouting trees. Poulan Pro PP28LD has a well-balanced system that makes sure that the user does not get tired quickly. 
According to customer reviews, Poulan Pro PP28LD provides some extraordinary results while compared to other trimmers. Some of the disadvantages of Poulan Pro PP28LD are that it consists of a strong motor, which is very noisy and extremely harmful for human ears. So, it is recommended for users not to run the trimmer for a long time.
Black and Decker LST136W
Black and Decker LST136W is also one of the best alternatives to Hitachi CG22EAP2SL, as it comes with many different options and features which you can use. You can also use the front cutting head of Black and Decker LST136W in different ways.
The Black and Decker LST136W is a cordless trimmer that comes with a 40-volt chargeable and interchangeable battery. It is an ideal device for those users who own a small yard. 
Core CGT400 CGTSD
The Core CGT400 CGTSD is one of the best devices you can use to trim weeds and grasses. It is very different from all the other devices you have seen on the list. It is also a cordless trimmer, which helps in creating an eco-friendly environment. 
CORE GasLess Power CGT400 CGTSD Gasless Powered Trimmer, 3 Hour Charger, 1 Power Cell
Dual mode power control speed for normal grass trimming, or torque for optimum performance and...
Powered with a state of the art prismatic high energy power cell operating in concert with new smart...
Run time up to 70 minutes
Head Speed 7,000 RPM Speed/5,000 RPM Torque - 25-Percent more torque than at 25cc 2 cycle commercial...
Head type dual line bump feed and trimmer line 0.095 diameter, 20-inch on spool
It also comes with different modes features which you can set according to your need. There is also a bump feeder available on the device.
Toro Gas Trimmer 51978
Toro Gas Trimmer 51978 is the only trimmer in the list which accepts universal parts. It is a powerful weed trimmer that helps provide significant results. It has a cutting radius of 18 inches and has 13-inch cutting paths, which is considered excellent. 
The cutting path of Toro Gas Trimmer 51978 is the largest among all the trimmers listed above, which provides the user with a faster experience while making the lawn weed-free. It is effortless and straightforward to use this machine, and it will be very beneficial for tall people to use this as it comes with a long shaft.
Final Words
So, if you want to buy an excellent commercial gas trimmer that will last longer, then you can easily choose Hitachi CG22EAP2SL. 
The trimmer can help perform all the medium to heavy tasks with so much ease, and it is also straightforward to use. 
I hope you find this tutorial useful, and If you did, then don't forget to share it once, and if you have any doubts/questions regarding the topic, don't forget to paste it in the comment section below. We will try our best to solve all your queries.