A Firewood rack is always an excellent choice to store your wood. It keeps your wood dry, clean, and close at hand. You can buy wood in bulk at a lesser price and store it in the Firewood rack.
There are many types of firewood racks that you can create, such as indoor racks, outdoor racks, and wheeled carts racks. You can generally make DIY firewood racks using 2×4 wood or with leftover offcuts that you may have in your garden.
However, if you will buy the wood to make your DIY firewood rack, then better go with pressure-treated wood as it will stand longer for years without any issues.
If you're a guy like me who loves to do things on their own, then this post is just for you. In this post, I will show you some of the best ways to make DIY Firewood racks.
It will not only save you money but also building DIY projects as a reward of its own.
Best DIY Firewood Racks That You Can Make for Free
1. Cedar Firewood Rack & Storage Shed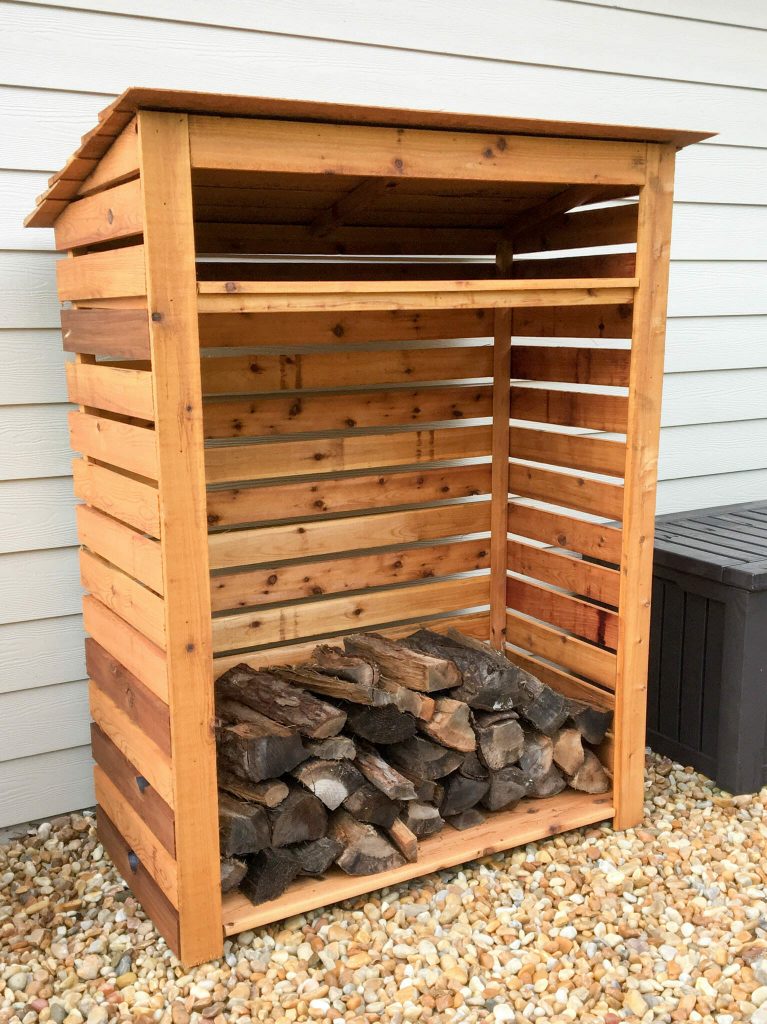 The winter season is about to come, and there is nothing better than a crackling fire. Whether it is your fireplace or backyard fire pit, friendly fire is comfy, amusing, and warms you up in the winter season.
To make your winter season like this, you need to protect your firewood from many things. This DIY firewood rack is made from cedar, which doesn't warp in the rain. It will stay robust and durable, even in moisture and damp conditions.
The design of this firewood rack is quite simple and easy to build. You can build this DIY firewood rack by using four supporting posts and three sides. The large cedar plan provides a floor to store your firewood, and it keeps them dry at the same time by preventing them from contacting the ground.
There is an additional plank on the top of the storage rack on the advanced side, which allows you to store small pieces of split wood and other small things that you need to start the fire.
Thanks to the angled roof, which keeps the rain, snow, and junk away from this fantastic firewood rack. Overall it looks beautiful, durable, and firm. It has an excellent high wood capacity, and you don't need to store wood too often.
Source: https://metrobpinc.com/cedar-firewood-rack/
2. Mighty Firewood Rack Plan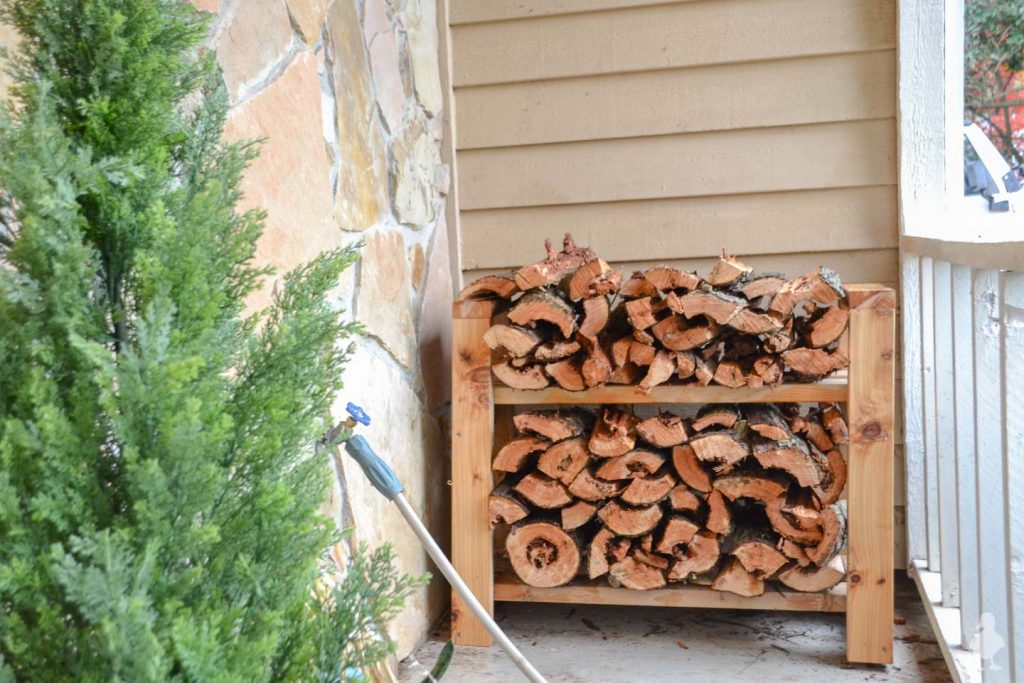 This DIY Firewood rack plan is sturdy, simple, and easy to build. It's small in size compared to our list, but it can still stack much lumber. You can set up this DIY firewood rack in porches, barns, and sheds.
The design is simple, and you can build it by using 2×4 lumber. Make sure to use the wood glue to make the build stronger and less likely to wiggle while moving the rack. The making process is pretty straightforward and doesn't require any specialized tools to create this fantastic Firewood rack.
Source: https://www.uglyducklinghouse.com/front-porch-firewood-rack-free-plans/
3. Rolling Firewood Cart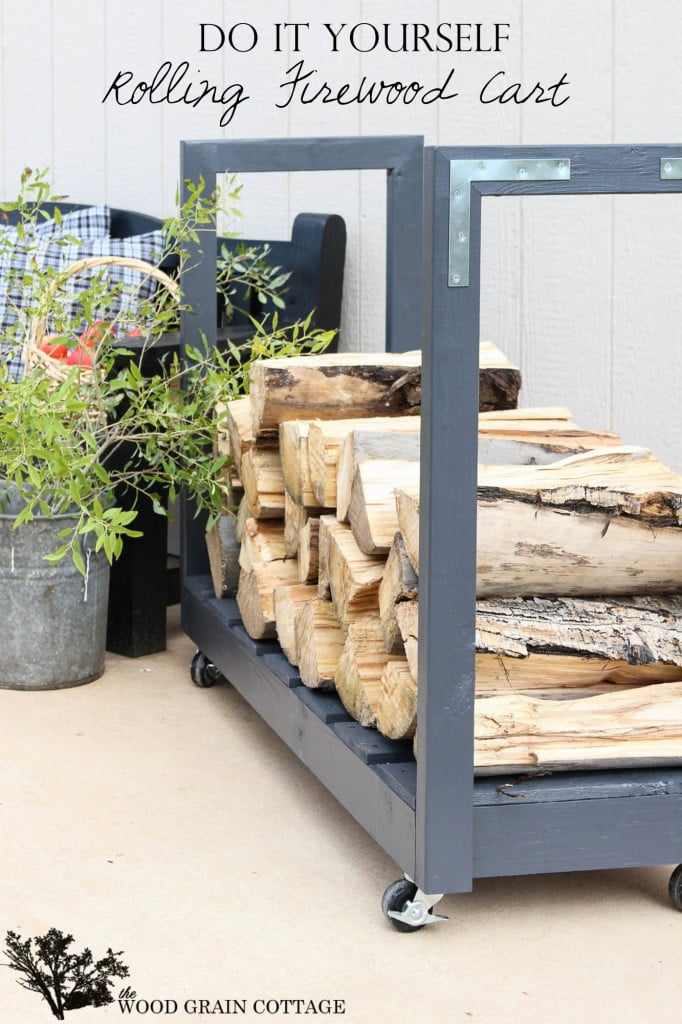 The Rolling Firewood Cart is one of the best DIY Firewood Rack plans from The Woodgrain Cottage. You can store a fair amount of wood in it. For this build, you need to use 2″ x 4″ x 10′ Redwood and 2″ x 3″ x 8′ Boards.
One of the exciting things I liked the most about this rack is its set of wheels on the bottom. The wheels make the rack super useful as you can move it anywhere without any hassle. On the downside, it doesn't save your firewood from rain.
But thanks to the wheels, you can instantly move it into your house or shed, which makes it a decent DIY firewood rack plan.
Source: https://www.thewoodgraincottage.com/diy-rolling-firewood-cart/
4. Pretty Handy Girl's Wood Storage Shed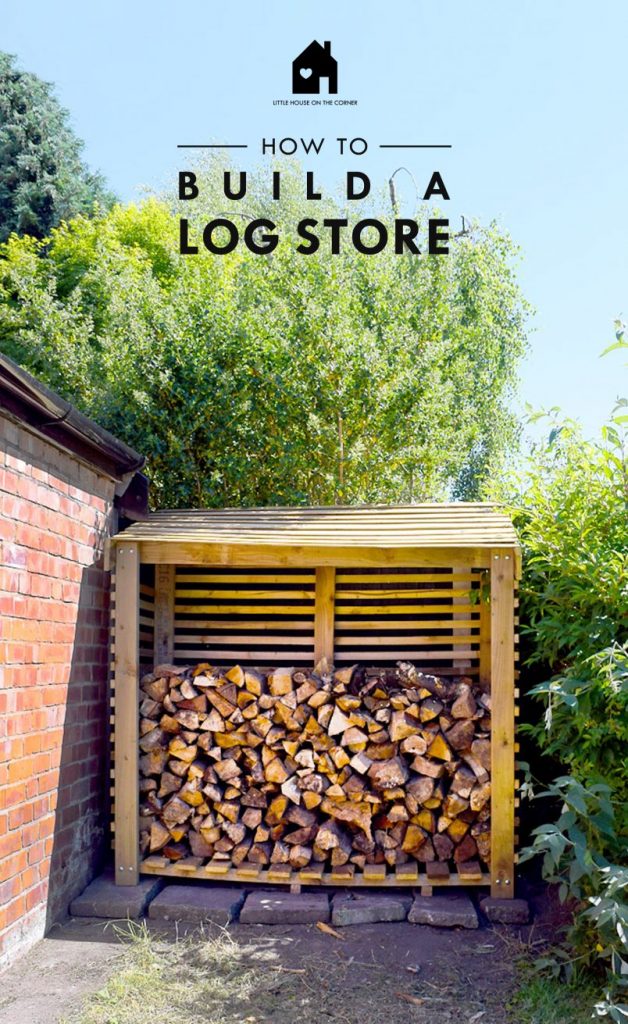 This DIY firewood rack is pretty similar to the Cedar firewood rack but with almost double the storage. So if you're looking for a firewood rack with a fair amount of space to store your firewood, then this DIY firewood rack is an excellent choice for you.
For this build, you need some salvaged wood and some essential tools. This firewood rack keeps your wood away from the ground level, making the firewood dry and well organized. It has two storage shelves.
You can store the larger pieces of wood and logs in the down shelves and store the smaller wood and small pieces of split woods on the higher shelf.
However, make sure to leave a 5 to 10 cm gap between the rack and the wall and store the firewood in a way so that air can circulate the wood. Overall it's a sturdy DIY firewood rack plan which looks so outstanding.
Source: https://www.littlehouseonthecorner.com/build-a-log-store/
5. Full Cord Firewood Rack Plans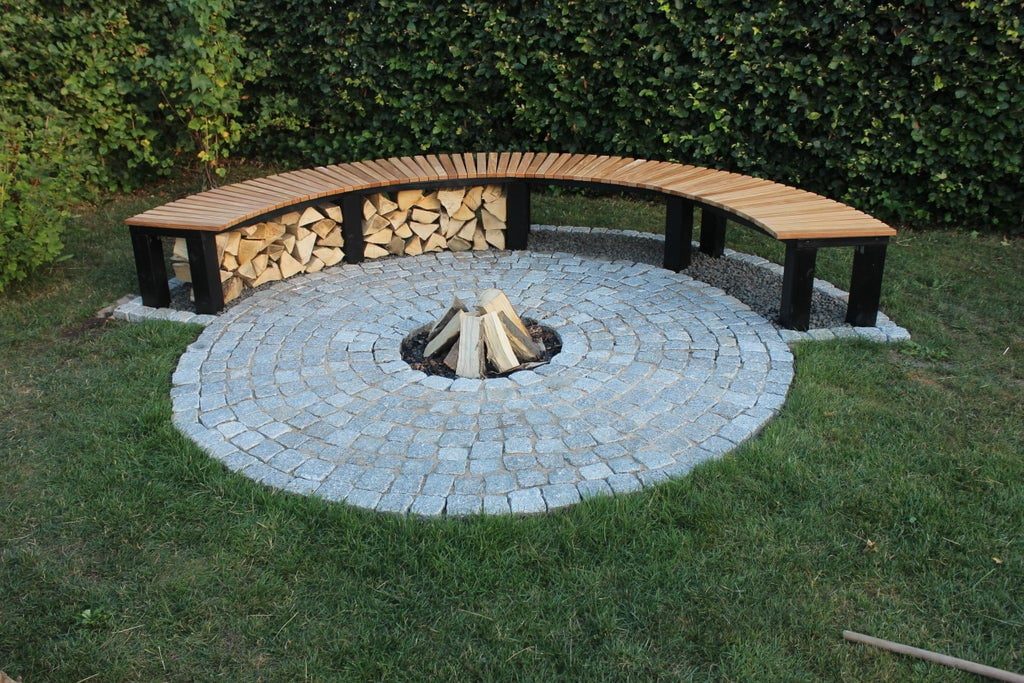 The Full Cord firewood rack plan is by far the most beautiful looking rack on our list. The design is simple yet appealing. You can enjoy a reasonable amount of time sitting on the bench plan. For this build, you need some space in your garden, some stones, leftover wood planks, and plenty of free time.
If you have a fire pit in the backyard or want to add one soon, then this Firewood rack plan is just for you. You can store the firewood under the benches makes them secure and easy to access. Firewood doesn't take any extra space as you store them under the bench. You can make the full circle or half as per your choice and requirements.
Overall I am personally impressed with this firewood rack design. You will also feel grateful to create this DIY firewood rack on your own.
Source: https://www.instructables.com/Garden-Fireplace-with-Bench/
6. DIY Firewood Rack Shed made from 2x4s Plans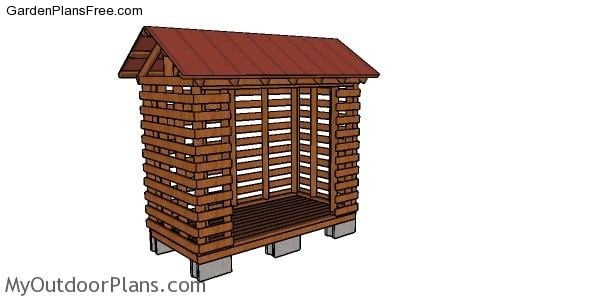 This DIY firewood rack is made from 2×4 plans. The design of this shed is pretty decent. To make this firewood rack durable and robust for years, make sure to buy some weather-resistant wood such as cedar or pine.
It saves your firewood from rain, debris and keeps your firewood away from the ground. This firewood rack's size is not that big, which means you can store it in small areas or corners of your house.
Source: https://howtospecialist.com/outdoor/shed/firewood-shed-made-from-2x4s-plans/
Things to Consider Before Making a DIY Firewood Rack
Material
The type of material matters the most in any firewood rack. If you use any ordinary wood, then your firewood rack will get debris very soon. You can use cedar, pine, or pressure-treated wood to make your firewood rack. It will make your rack sturdy and durable enough, and your DIY firewood rack will last longer for years.
Durability
Cheap metals may break easily than strong metal and plastic. However, most of the rack mentioned in our list is made from wood only except the Rolling firewood cart. Make sure to check the durability while moving it around the area.
Size and Capacity
It is one of the essential things to consider. A smaller rack like IY Firewood Rack Shed made from 2x4s Plans looks decent, and you can store them in small areas. Simultaneously, firewood Racks like Pretty Handy Girl's Wood Storage Shed allows you to store maximum firewoods in a single rack.
Water-Resistant Covers and Other Misc.
Water-resistant covers or racks with shed offers you to save your firewood from rain and snow. You can make a shed for your rack or cover the rack with a water-resistant cover to save your firewood from snow and rainfall. For your ease, you can add small pockets in the rack sides to store oil, lighter, etc.
Conclusion
So it was the post Best Firewood Rack plans. Firewood racks always come in handy in the winter season. Using any of these DIY firewood rack plans, you can keep your firewood safe and secure all the time.
The wheel cart rack allows you to quickly move your firewood rack in your backyard and move it back to place once the work is done. Every firewood rack is beautiful and elegant on its own. Let us know in the comment section which DIY firewood rack plans you like the most and why?