Having a backyard means dealing with the unavoidable problem of overgrowing weed on your turf. Most of us deal with this problem by using tools like a lawnmower, a brush cutter, or a string trimmer (also known as a weed wacker).
While the difference between a lawnmower and a handheld tool like a brush cutter or a string trimmer is easily identifiable, that is not so much the case when it comes to spotting a difference between a string trimmer and a brush cutter.
Mainly because of their remarkably similar design language. This leads to confusion as to what you should buy for use in your backyard.
If you, too, are confused about this, then you are in the right place. In this article, we have talked about everything you need to know to get rid of this confusion.
We have also included their pros and cons and talked about the factors you should consider to decide which one will be best suited for your backyard. So let us begin with a brief introduction of each one of them.
What Are String Trimmers?
A string trimmer is a tool used to cut unwanted weeds and grass on a field. String trimmers usually have a long pipe-like design, with the cutting mechanism on one end and the engine and handle on the other.
As the name suggests, a string trimmer uses a Nylon string to cut the grass or weed. However, some trimmers allow you to replace the string with a weed wacker blade.
Sale
BLACK+DECKER 40V Max Cordless Sweeper & String Trimmer Combo Kit (LCC340C)
LST140 40 volt max string trimmer/edger with power drive high torque transmission for clean, fast...
Automatic Feed Spool AFS automatically feeds trimmer line as needed
LSW40 40 volt max sweeper a wind speed of up to 130 MPH easily clear debris from hard surfaces
Low noise design for quiet operation. Up to 130MPH
Both units offer a 'state of charge' indicator which shows your battery charge level. Products are...
The unique design of a string trimmer allows it to reach in tight spaces and corners where a lawnmower would never reach. However, a compact and slim design means that it will not be as powerful as a lawnmower and is not suitable for heavy-duty work or working on large fields.
String trimmers are best used for lightweight weed and grass cutting in a small area like a lawn or a backyard. However, string trimmers come in different kinds based on the design and type of power source.
Some high-powered string trimmers can be used for the mid-sized backyard as well. Let us look at the different types of string trimmers you can buy.
Pros
Available in different types based on the power source, giving users the option to buy the cheaper ones if they do not need the extra power.
Less powerful models are lighter and hence easier to maneuver.
Electric powered models are eco-friendly.
Cons
The nylon-string used in the cutting head is weaker compared to a blade and may break down if used for heavy-duty work (we recommend replacing it with a weedwhacker blade if you want to do a more solemn task than usual)
Even the most potent models will not be ideal for working on dense vegetation and thicker scrubs.
It can be dangerous as it can deflect a small rock in your way while being used.
Types of String Trimmers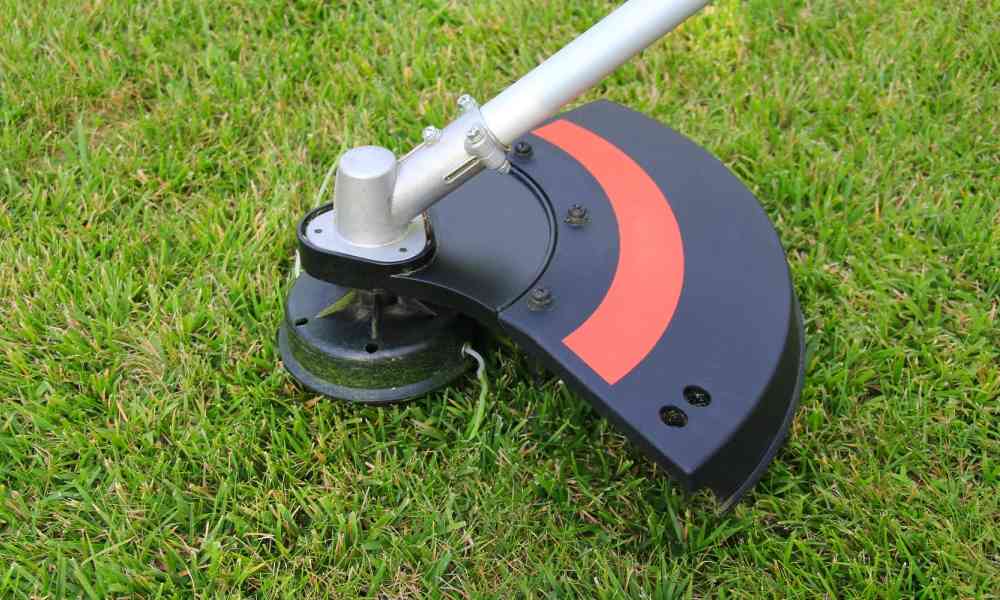 Usually, all the string trimmers are the same in their operations, as they all use a nylon-string (replaceable by a weed wacker blade). However, there are some ways in which a string trimmer can differ from the other. Which are:
Shaft Shape: The long pipe-like part of the string trimmer between the handle and the cutting blade is called its shaft. A string trimmer usually comes in two different shaft shape, namely, straight and curved.
Straight shaft string trimmers are usually ideal for tall users, as it is longer compared to curved shaft trimmers, meaning they will not have to bend or lean forward to use it.
On the other hand, curved shaft ones are ideal for short users, since it is easier to maneuver and move around. Another advantage with a curved shaft trimmer is that it can access tight spaces and corners with much more ease than extended straight shaft trimmers.
Power Source: Based on the power source, string trimmers can be classified into three types, namely, Corded Electric, Battery-Powered, and Gas String Trimmers.
Corded electric string trimmers are powered using an electrical outlet on a wall. This put corded electric trimmers at a significant disadvantage since it limits these trimmers' maneuverability and range.
Another type of string trimmer is also made to overcome this limitation of range, which are called battery-powered string trimmers. These string trimmers are powered using an in-built rechargeable battery. While the use of a battery removes the range limitation, it does limit the duration of use since once the battery runs out, you will have to recharge it before being able to use it again.
The third type of string trimmers, the gas string trimmers, are designed to overcome both limitations. These string trimmers are powered using combustible fuel engines, meaning neither they need to be connected to a power source, nor are they required to be recharged.
You can refuel them once it runs out of fuel, and you will be good to go. They are also the most powerful ones out of the three.
However, being powered by combustible fuel, gas string trimmers also give out harmful emissions, causing pollution, and their engines also make a lot of noise.
Now that we have talked about string trimmers, let us look at brush cutters.
What Are Brush Cutters?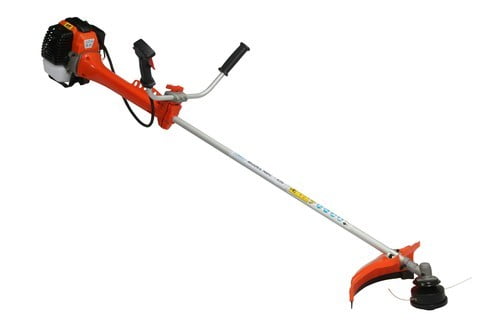 A Brush Cutter is another tool used for cutting weed and grass on a field. But that is what String Trimmers are also for. So what makes it different from a String Trimmer? The main difference between a Brush Cutter and a String Trimmer is using a blade for the cutting purpose instead of a nylon string. However, as mentioned earlier, in some cases, you can replace the string of a string trimmer with a weed wacker blade.
No products found.
In terms of design, a brush cutter is more or less the same as a string trimmer. The primary purpose of a brush cutter is to cut grass that is too dense to be cut by a string. Hence, apart from having a blade instead of a string, they also have more powerful 2-cycle engines to deliver the required horsepower for heavy-duty work.
Since brush cutters are better in terms of performance, they only make sense that they are also more expensive than a string trimmer. Other than that, they are almost the same as a string trimmer. Now, let us look at the different pros and cons of brush cutters and string trimmers.
Pros
It uses blades instead of strings for cutting purposes, making it ideal for cutting dense vegetation.
The blades are replaceable and come in different shapes and sizes to do different tasks.
Build quality is better since it is meant to do heavy-duty tasks.
Cons
If a rock hits the blade at a specific area, it can come flying at you.
It is heavier than string trimmers and is harder to maneuver and use for more extended periods.
So, Which One Should You Buy?
So far, we have told you everything you need to know about a gas string trimmer and a brush cutter and the differences between them. But now that you are clear of the differences, you must be wondering which one should you buy. And to help you make that decision, we have included this section in the article.
A few factors will play a significant role in your decision, which will be based on your needs and requirements. Those factors are:
Power Needs: What you need a weed cutter for will decide your power needs. If you want to clear some light weed or grass on your backyard or clear your fence lines or walkways, then an electric string trimmer will work just fine for you. Not to mention, you will also have the option of replacing the string with a weed wacker blade to do a more solemn task.
If, however, you need to cut weed professionally or work on dense grass and scrub, then you should go for a brush cutter.
Budget: Budget is another factor that will affect your decision. As mentioned above, brush cutters are more expensive as compared to string trimmers. So, if you are tight on budget, you should consider going for a string trimmer.
Physical Capabilities: Since brush cutters are more powerful, they also tend to be heavier and produce more vibrations and kickback when used. If you think you would not handle that, string trimmers, with lighter weight and fewer vibrations would be a better choice for you.