Well, we are pretty sure of the fact that your love for gardening and a little confusion on understanding the effectiveness of gardening tools is what brings you here. We often get confused in understanding the tools of gardening that look like each other. One such confusion that one often falls into is in understanding the difference between a spade and a shovel.
This is the most common confusion that major gardening practitioners face. They often misunderstand spades as shovels and shovels as a spade. The conversation between spade vs. shovels is just fuming up.
And we, through this article, will try our best to calm the fumes of confusion between both. Although both the tools share the same design and almost have similar functions, they are a lot different.
How and in what way is the major point of the discussion that we, through this article, will try to conclude effectively. So, continue to scroll down to understand what makes these tools different from one another.
What is a Drain Spade?
Drain spades are usually a thin narrow gardening tool that is curved at the sides and has a rounded tip. It is used to add flowers to the beds, clear the trenches, transplant small shrubs, and more. It is sometimes also called tile spades.
AMES 2531700 Steel Drain Spade with Hardwood Handle, 47-Inch, Gray
A good drain spade for landscaping and digging trenches
Uses include transplanting live trees and shrubs, clearing out holes and digging ditches
The 16" Steel blade is long and narrow to dig into tight spaces easily
A foot step supports secure placement
Easy to dig and store later
As a gardener, you would very often require digging the land and carrying several gardening activities. At such times if you have the skill and will to do the required activity, then you can use tools like this to make your work easy and convenient.  Otherwise, calling out for a professional every single time can prove to be costly.
Similarly, drain spade has several benefits that prove to be a perfect choice for many gardeners.
Works great for digging small & deep holes, trenching, and similar gardening activities.
Its structure and materials are used to make it a perfect fit that can easily penetrate hard soils.
These spades are usually light in weight which makes the spade a user-friendly tool.
What are a Trenching Shovels?
Shovels are quite like spades in terms of their structure & function. But still, there is a line of difference between them. Shovels are tools that are used in the practice of activities like digging, lifting, or moving soil, coal, sand, or gravel from one place to another.
Shovels usually consist of a broad blade fixed to a medium-length handle. Holding the handle, one forces the broad blade on the ground to dig, lift or move the soil from one place to another. The handles of shovels are generally made up of wood or glass-reinforced plastic.
Outdoor Gardening Folding Shovel - Mini Backpacking Military Trowel - Camping Multitool Collapsible...
Portable Folding Shovel (14.55 inch Length): It is designed and produced according to...
High Carbon Steel Construction : Super durable for a mini shovel; The shovel blade and handle...
Versatile :Features a regular shovel doesn't even have, all in this convenient folding...
Portable & Compact : Small folding size with storage bag, can be put in backpack. Portability...
Application: The must-haves for surviving in the outdoors
Sale
Rhino USA Survival Shovel w/Pick - Heavy Duty Carbon Steel Military Style Entrenching Tool for Off...
AMERICAN OWNED, FAMILY OPERATED - Join the Rhino Family & Support a USA based Father/Son Business!
ULTIMATE MULTITOOL - Fire Starter, Whistle, Bottle Opener, Saw, Hoe, Fish Scaler + More All-In-One
COMPACT & PORTABLE - Full 31" Long Extended with Adjustable Handle Length - Collapsible to 7"
MULTI-FUNCTIONAL - Shovels = Great Garden Tools, Backpacking Gear and Metal Detector Accessories
GUARANTEED 5-STAR EXPERIENCE - If you aren't 100% Satisfied for any Reason We'll Refund Your Money
Shovels are of great help while practicing gardening. It makes a lot of gardening work easy and convenient. Below mentioned are a few of its benefits
Specially designed to dig and empty the trenches.
Beneficial for laying drainage tiles, irrigation pipes, and many more.
You can also use it to dig fertilizer trench or remove deeply rooted plants.
Drain Spade Vs Trenching Shovel – Which Is Better?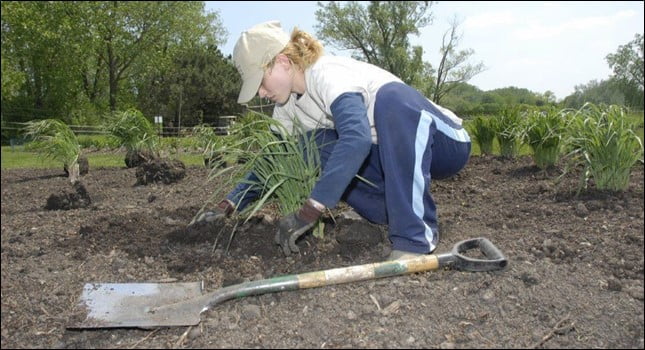 By now, you might have made an idea about the tools in terms of their structure, function, and effectiveness. Which we guess will make your choice between both tools easier.
But before doing so, we want to make things a little easier and more relevant for you by providing the biggest differences between the two tools, which eventually will end up helping you make your choice. So, let us get started.
Spades are usually shorter and have a flat blade, while shovels are longer, angled, and have a curved structure.
Spades are usually best for cutting the sod, digging trenches, or edging. While shovels are used for digging, breaking, or lifting the soil. It can also be used to scoop & move the loose materials.
Shovels have more giant blades than spades.
Points To Remember
We hope by now you might have had a much clearer idea of the functioning and the point of difference that both the tools share. And partially, you might have also chosen your own. But before making your final call, there are certain things that you need to order to make an effective choice.
Both the tools are masters of their functions in their own ways. So, choose the one that fits your need more effectively.
Choosing the product should be based on your need & comfort.
No matter which tool you choose to bring home, always ensure to pre-check the quality, warranty, and the feature of the tool.
Look for an effective cost before finalizing your purchase. Check different markets or platforms for the purpose.
Conclusion
Both the products tend to have quality importance while performing gardening activities in their own ways. Deciding which one can be better strictly depends on the work you want to perform.
The uses of spades as well as shovels are briefly mentioned above. Check for the one that is closely related to your requirement. Once you have figured it out, then confirming your click for the purpose becomes easy and effective.
We hope this article provided you with the needed information on the subject and gave you a clear idea on choosing between spades & shovels.
But if you still doubt the above subject discussed, please feel free to use the comment section below to voice it. We will get back to you at the earliest possible with the best knowledge available on the same.