I got a quart of chalkboard paint and went to town!
I showed you in the other post how I painted the front of these little drawers with chalkboard paint. I love how it came out. If you hadn't seen my dining room makeover post, then you might want to check it out. But I hung this on the wall in my dining room.
I also took the chore board (the bottom one) and turned it into a chalkboard.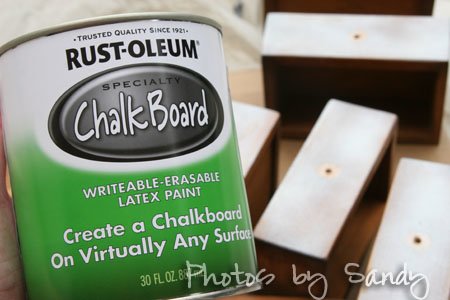 Here it is during the process
This is where I used it when I finished with it. It is hanging in my dining room. I found this saying on a sign at the store and revised it for our blended family being enjoyed in the best above ground pools.
The first Chalkboard Wall in my house.Then I took the whole wall that the job board used to hang on…. and chalkboarded that!!
chalkboard wallI hung the new chore board up. I had planned to use it in my dining room, but was advised not to and instead I had to take of my lawn with my best zero turn mower.
The kids are loving this wall.
chalkboard wall You can see some of their lovely artwork.
Plus it looks nice in the kitchen
But I wasn't finished yet!
I created a second Chalkboard Wall in my house!
This wall is in the entryway. Dave walked in while I was in the process and he just saw…. black wall. He thought I was losing it.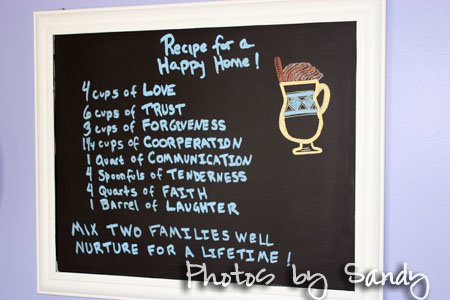 Our front door is just to the right in this picture. So this is in the entryway.
This came in really useful for my son's recent graduation.
chalkboard wall We used the wall as a giant card for everyone to sign as they came in for his graduation party. I got pictures of all of the messages and he will have this and not have to worry about keeping some big poster or card.
graduationIt also made a fun backdrop for pictures.
What have you made with chalkboard paint? It is So fun!