She shows several things she uses in order to bring order to her closet…and does it with humor.
Megan from Polish the Stars posted a desk drawer organizing post.
organizing connectorsI loved what she did with all her little electronics and cords.
Lori from Paisley Passions made a Shoe Rack for her Mud Room.
homemade shoe standGreat idea! She refinished it and added contact paper.
Cute huh?
Here is the Featured Button for each of you I featured this week.
Rules
1) Link back to my blog with either the button or my link. (If you aren't sure how to do it, please let me know and I'll help)
2) Blog posts related to Organizing or Cleaning please.
3) Family friendly (or I will delete)
4) No sales pitches or web sites.
I ask that you please link back to me with my button or my link (or both!) Thanks!
I am having trouble with my button being messed up on here. I don't know why. But… the button on my sidebar should work fine for you.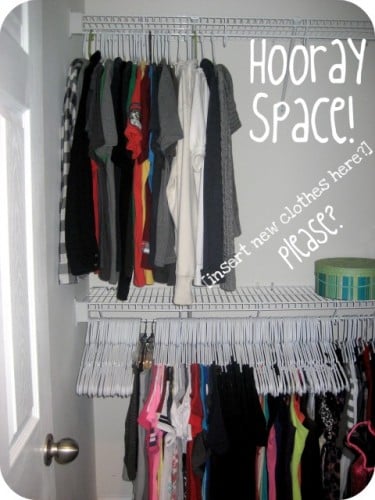 Please let me know if it isn't. Thanks SO much!
Be sure to check out my list of link parties! If you have a link party and I don't have you listed, let me know and I'll add you to the list. There aren't many buttons on the list yet, but there are more links below)
It is simple to add your link….
1) In the first box it says "link it to" – Just put the url of your specific blog post. Still not sure? Check out our home decor write for us guidelines  (not your blog, but specific post) You will see the http://your blog name/your blog post name up at the top. Just Copy and past that link.
2) Caption or Title – What is your blog post titled or what do you want the readers to see under your picture
3) Your email- that is simple
4) You can either check "From File" and this will take you to your computer info where you can pick a picture. Or you can pick "From Web" . This will take you to pictures from your specific blog post and blog. This is the one I usually pick as there is much less searching to do for a picture.
5) Once you pick your picture it takes you to that picture and you can move the box to show what part of the picture you want. then just click load or start at the bottom of the picture.
6) Then grab my button code and enter that at the bottom of your post or on your sidebar or link page… or you can use a text link too.