Furniture is undeniably an essential element of your house. They are not just tools of relaxation and comfort but also add to the house's aesthetic beauty. 
We all have that one acquaintance who has the best furniture in your whole circle, and he boasts about it like anything. Well, he has the best furniture, and you know it, and you want to be in his position, don't you? Even if you do not want to be in his position, you cannot deny that the furniture he possesses is worth boasting about. 
Everybody wants to upgrade to new furniture even if they have done it recently (because options are never-ending). But we know that no one can do everything they desire and this desire for upgrading the furniture many times falls into this category. This is because we only have so much money in the world to spend regularly on furniture.
So, what to do about that never-ending desire to upgrade the furniture? Should we kill it? Why violence? Why killing it? There are other ways to fulfill this desire and not hurt your wallet and finances. 
One of them, which has been on-trend in recent years, is going towards DIY concrete furniture. These types of furniture are aesthetic, durable, and, most importantly, cheap. You do not even need an expert or specialist's service for making one as it can be done all on your own. 
So today, we will be talking about some of these beautiful and affordable DIY concrete project ideas that will give your house a new angle. You can easily replicate one for you. Why just one? You can do as many as you like or have time for.
DIY Concrete Furniture Ideas
Let us discuss the DIY Concrete furniture ideas one by one:
Concrete Sofa Table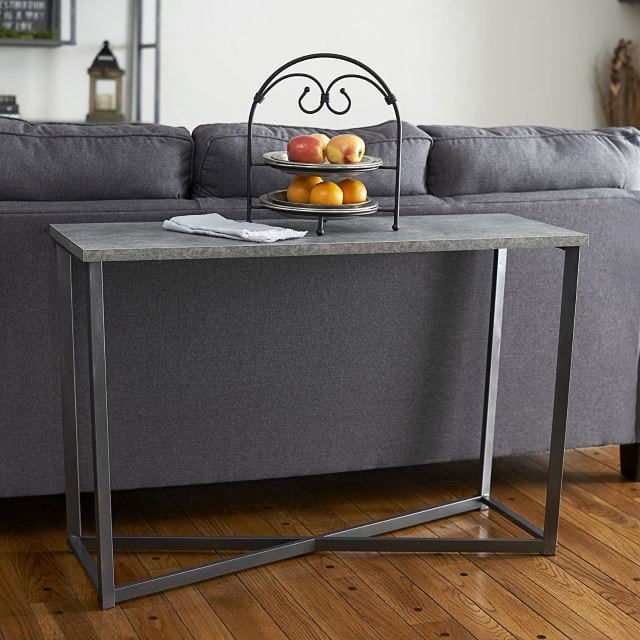 This elegant table is as simple to make as it looks. It boasts a very sleek design that appeals a lot to the guests and the neighbors. A very sleek and polished concrete slab is put over a steel frame that looks very elegant.
Put these two elegant things together, and you get a masterpiece table that can be put in the living room or in a bar or any place around your house that you think would be most suitable for the table. 
This is also very easy to make, and that makes it even more desirable. But it is also heavy as compared to other furniture made from wood.
Polished Patio Table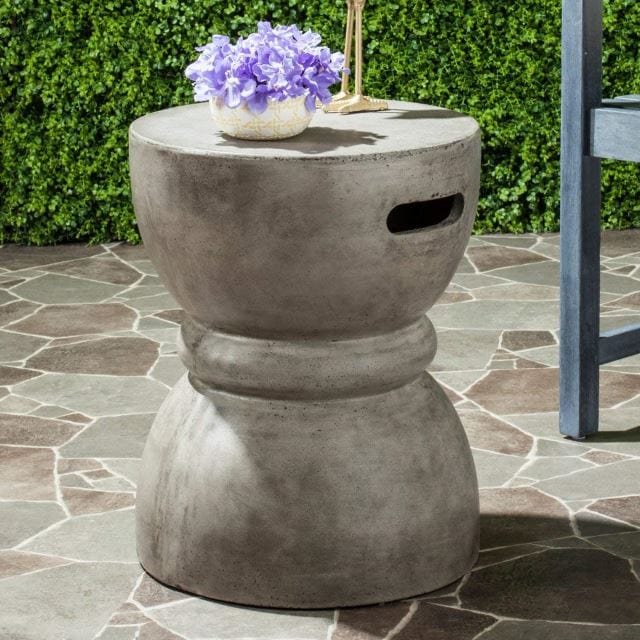 This concrete table is small but is very attractive. It is mostly used in patios to keep things while you are taking the critical vitamin-d. It can be kept both in the open as well as closed patios. When kept in an open patio, we do not need to worry much about it as it can easily withstand the atrocities of the weather and not get spoiled like any other wooden patio table. 
They also are lovely and increase the beauty of your patio and your house by acting as decor. This is DIY concrete furniture that you can make with proper tools and motivation.
Concrete Glass Table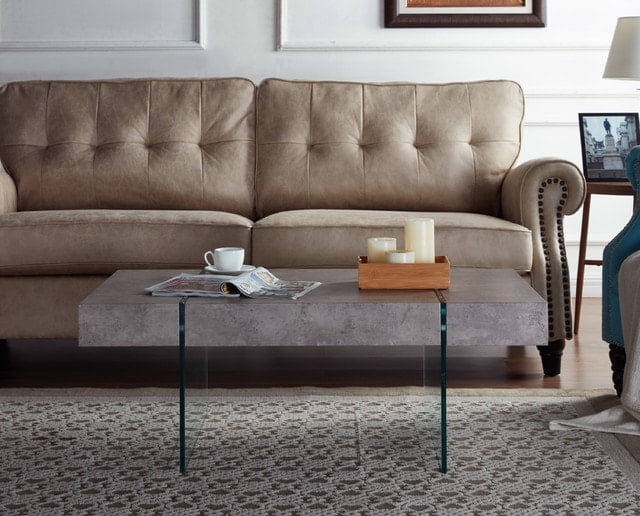 This elegant DIY concrete furniture idea can easily outshine most of those expensive and sophisticated wooden tables. It can go well with your sofas and will elevate the ambiance of your living room. 
If you are looking for a piece of furniture that will add modern flair to your house, then you should be getting one of these. The transparent glass stands are not easily visible from the sides, and it seems like the concrete slab is floating in the air. 
This is also a straightforward DIY project that will not take much of your time given you have the right types of equipment, a blueprint, and a pair or more of helping hands.
Sit Around the Garden Table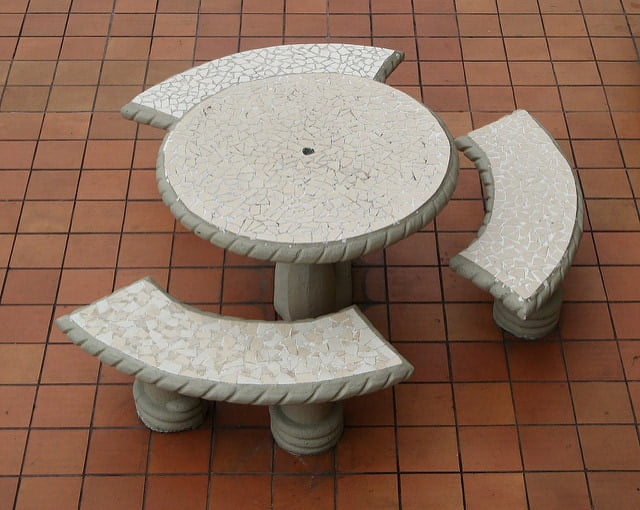 This sit around the garden table could be an exciting and comfortable place to take a seat in your garden. It looks adorable in your garden and makes it look even more beautiful. You can sit facing every one of your family at this table and spend some quality family time. 
It is not easy to make, considering its size and three extra seats to be made along with it, but with help from your family and friends, you can complete this project without even breaking a sweat. 
Concrete Block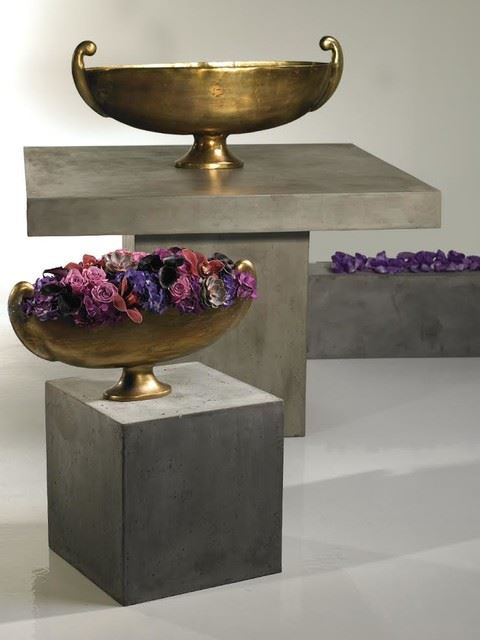 This simple piece of concrete furniture is straightforward to make and can be brought to many uses. Apart from the fact that it acts like the decor in your house, it can also be a place to keep decor. 
It acts as a table to keep things, a stool or chair to sit and get comfortable and can be placed in front of your sofa as a coffee table. If you place a giant slab of concrete over it, it will turn into an even bigger table. It is effortless to build and to switch its purpose.
Concrete Fire Pit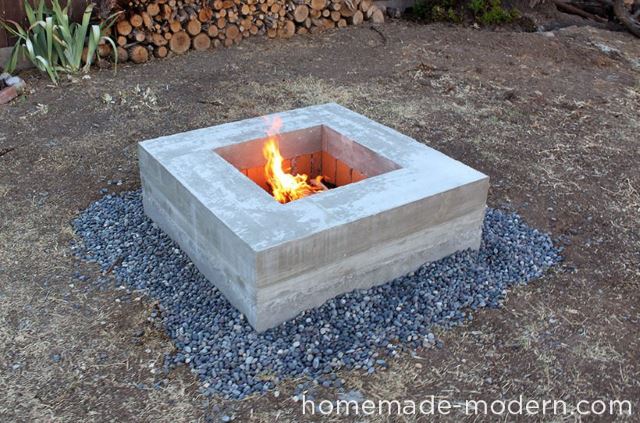 This concrete furniture piece looks like the previously discussed concrete block, but this has a hole at the top used to keep things and hold fire. You can make one out of a worn concrete block that you no more want to use as a block. So, this makes it an even more easy DIY project.
Thin Tabletop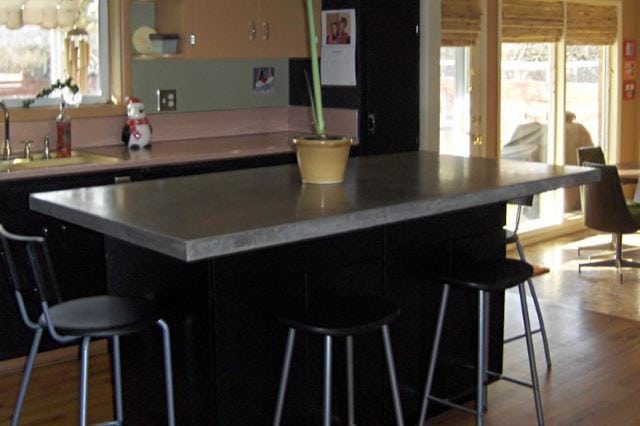 This thin tabletop appears to be very similar to a concrete sofa table, but it can accommodate a wonderful dining experience for your family. Instead of a steel frame, a wooden frame or cabinet can be used here. DIY concrete furniture ideas like these can be very efficient in utilizing and making the most available space. It is effortless to build.
Concrete Chair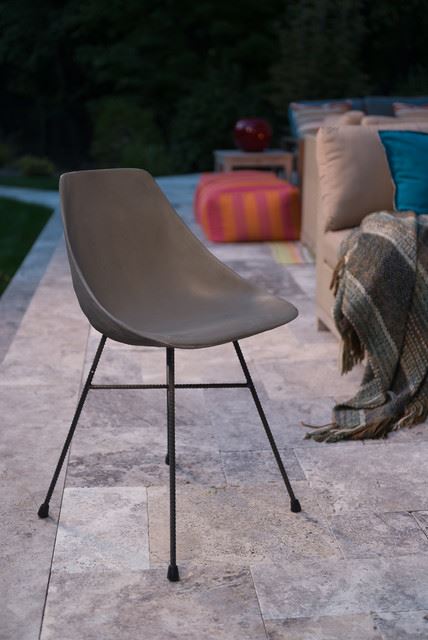 When you think that there is a limit to everything and certainly for DIY concrete furniture ideas, this idea makes you want to reconsider this belief, you can build yourself a brand-new chair using concrete. The chair may not be resistant to drop, but it certainly can withstand your weight quickly. It will be heavier than your standard chair.
Dark Gray Accent Table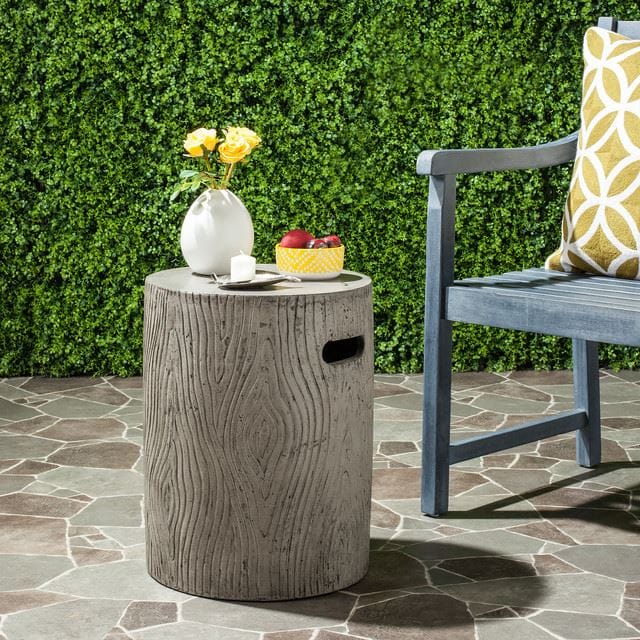 These small concrete tables can be placed at the side of your sofa or on your patios. You can keep your table lantern over it when kept in the living room. It looks very adorable and appears to be like a tree trunk. As already mentioned, concrete furniture can withstand weather changes when it is kept for outdoor use.
Cube Coffee Table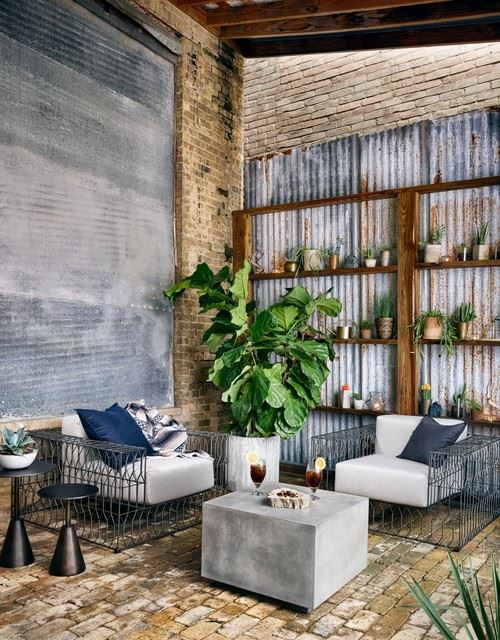 This cube table is beautiful, and it adds a new dimension to your living room. The fact that it is visible makes people go crazy as they are not used to concrete furniture that is too perfect. 
This could be placed in front of your sofa, where you can enjoy your favorite movie or your favorite team's match with a big cup of coffee. This is also among the most straightforward DIY concrete furniture ideas and is made with similar steps, followed by concrete blocks. 
You will need a hand in lifting it and changing its location as it is quite heavy because it is made from concrete.
Concrete Bench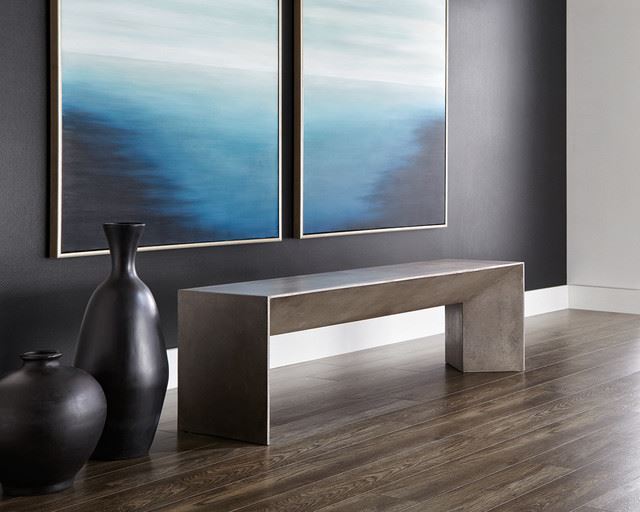 This concrete furniture can both act as a table and a bench. It is beautiful, and it makes it difficult for the guests and your neighbors to refrain from praising your house's decor. This table and being multifunctional also act as an aesthetic element, which makes it even more desirable.
Concrete Stools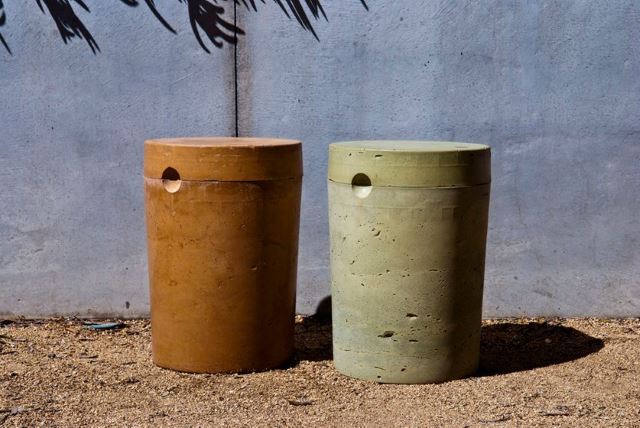 This little concrete furniture is straightforward to make and does not take much of your time and effort. They are also accommodating as they can help you solve the seating problems of places where ordinary wooden furniture could get spoilt. You do not need to keep them all the same colors and give your garden a multicolored twist by keeping these concrete stools.
Stacked Table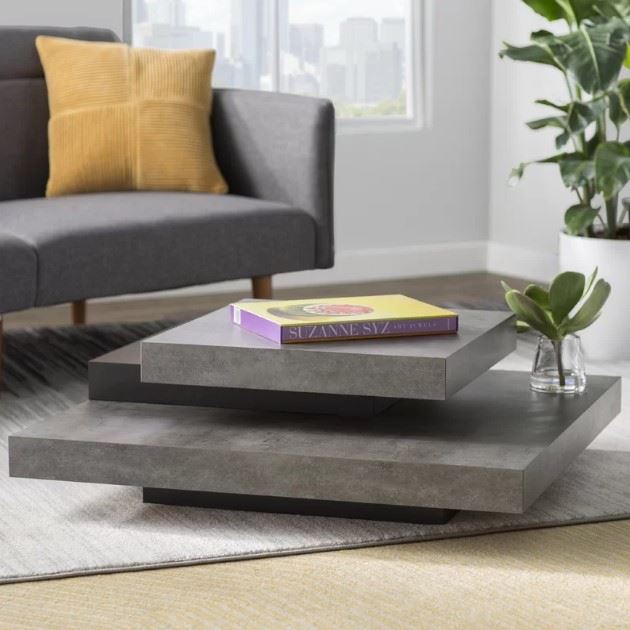 This is a lovely coffee table that will attract all your guests and neighbors to your living room. It gives your living room a modern flair and is not that difficult to build. This is also one of the most straightforward DIY concrete furniture ideas that you can easily make by stacking one concrete slab over the other.
Concrete Shelves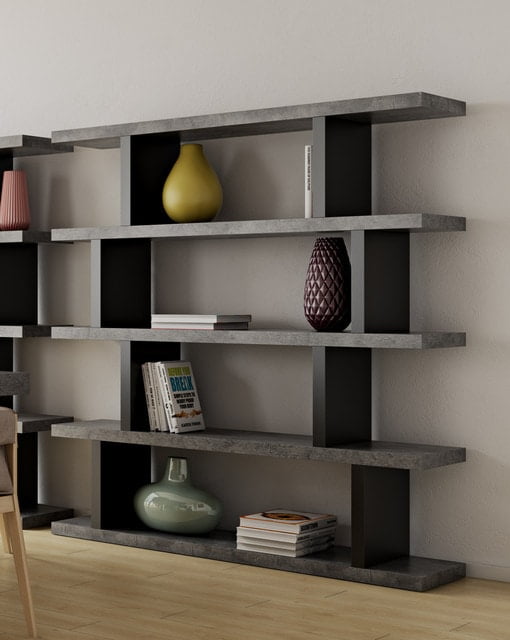 These concrete shelves will look very modern in your house and will attract everyone's attention. Not only will they serve as decor for your house but also, they will help you keep other decorative pieces and other stuff in your house. This could be the DIY concrete furniture idea that you would want to go with if you are already in need of a shelf.
Concrete Fire Bowl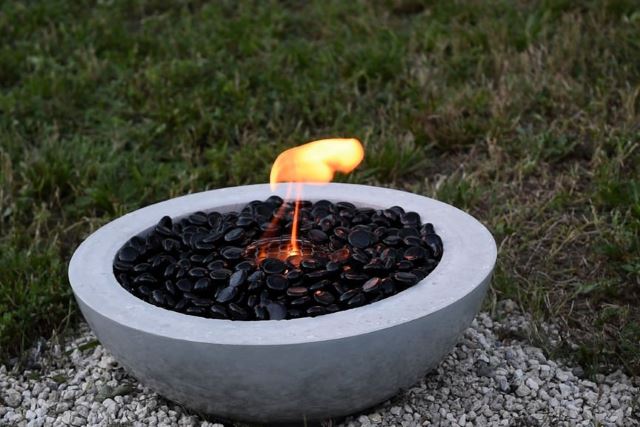 This is a very innovative and smart idea to use concrete as furniture. It will look very modern and yet very minimalistic. You can light this up on cold evenings while drinking coffee and staring at the moons and stars. The best thing? There is no fear of the cement getting burnt as it is not wood!
Concrete Block Bench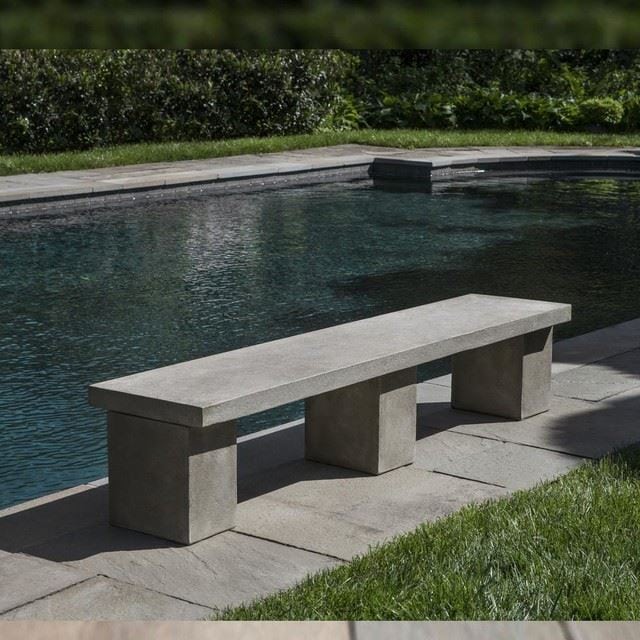 There are a lot of benefits to making or purchasing concrete blocks. You can use it for a lot of purposes. They can be used to make tables. They can also be used to make benches. All you need is one long concrete bar to sit on. After aligning the three (or two concrete blocks) at a proper distance, top it with the concrete bar. It is a straightforward DIY project and can be done within an afternoon's time.
Concrete Chair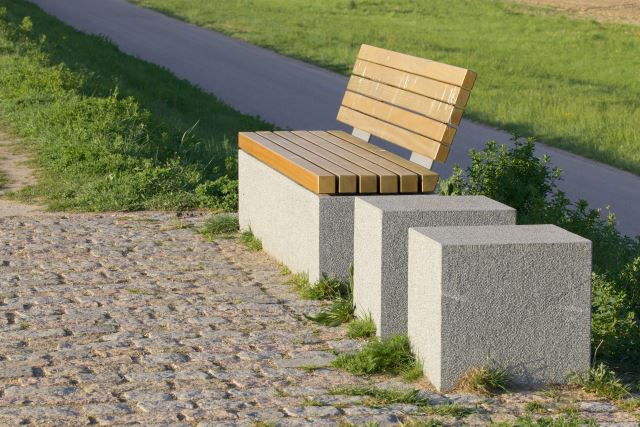 This open garden chair would be a perfect place to sit and have a cup of coffee and meanwhile watch your kids play. This is also a DIY concrete furniture idea which demands a concrete platform over which you can put logs made of concrete, and just like that, you can make a concrete chair as they have in the parks.
Conclusion
These are some DIY concrete furniture ideas that you can implement yourself. You would certainly require a pair or two of helping hands. Else, the work would become even more difficult and time taking.
If you are a victim of a busy schedule, then you can take the help of experts and professionals by telling them precisely what you want. You can also purchase ready-made concrete furniture if you do not have much time to make it or wait for the professionals to make it.