When it is winter, you barely think of getting off your comfortable bed, which continues for the whole season. You wish to do every work from the comfort of your bed. Not wanting to go along with your pet dog on a stroll, not wanting to go to the supermarket to get the goods of daily needs, and not willing to bathe from that cold water. In short, you become lazy, very lazy.
Well, this was all about winters, but when it's summers, things change tragically. You no longer want to be in your bed the whole day. Instead, you want to go out and meet your friends, you would want to go out with your dog on a stroll, and most importantly, you would want to take out your summer drawers and be pool ready.
Your pool would be the most happening place in your whole house, especially during the summers. This where patios become more critical. They are important because people use patios in summers to get the much-needed vitamin d that they will not take when it is monsoon or the winters.
Patios can be decorated in a lot of varieties. Well, there are two types of pools based on their structure.
There are a lot of pool patio ideas that can increase the beauty of your pool. These ideas may depend on the type of pool you have. Your pool patio idea could be different if you have an above-the-ground pool and then the pool patio idea for an in-ground pool.
Pool Patio Ideas and Designs
Here are some of the most famous pool patio ideas that you can quickly implement and give yourself something new to boast about. let us learn about them one by one
1. Pool Patio Garden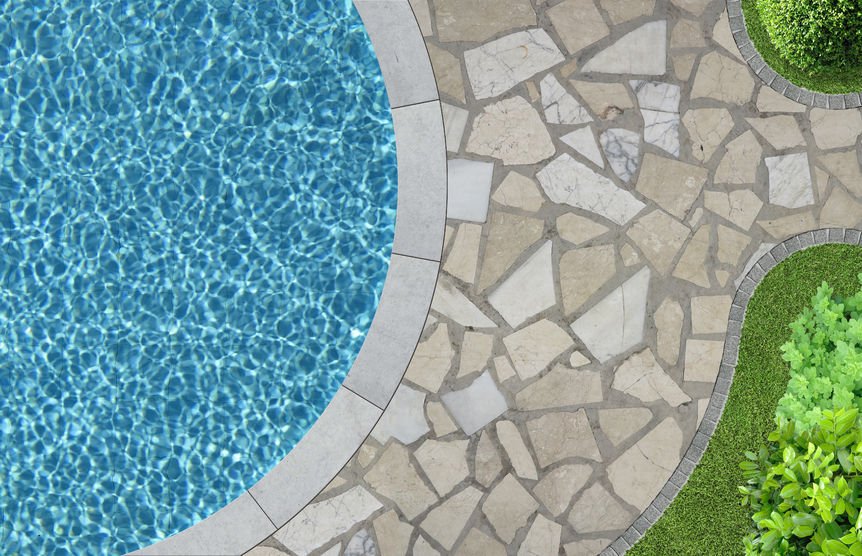 What is better than a pool patio? A pool patio garden. You can plan your pool patio and give it a garden-like look. All you need is to use some good quality tiles and grass for the lawn. One moment you can be gardening and the very next moment you can jump off in your very own pool and there is not any better way to enjoy your summers than this.
A pool patio design that will also consist of a garden will come with a lot of benefits. For one, you do not need to allocate any extra space for the garden and the patio as this way, they can both coexist. Other benefits could be that it is cost-effective as you do not need to spend money separately for the patio and the garden.
One more benefit could be that it enhances the overall look of your pool patio. You can look at the green lawns, the white pool patio, and the blue pool all at one glance.
2. Glass Pool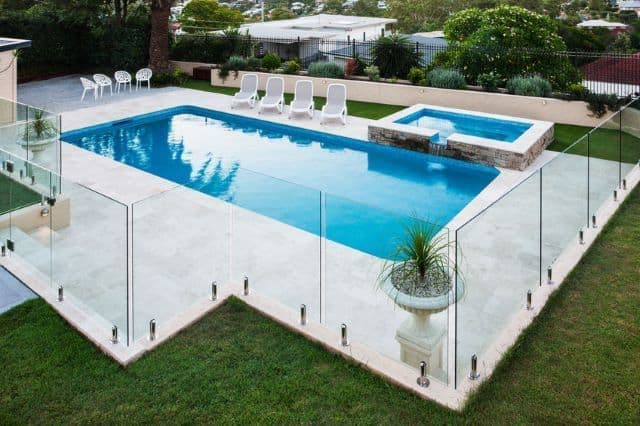 Now, this is a very decorative and modern idea that you can implement for your pool patio. The glass shields will complement the pool and the tiles and will look great from every angle. This will give a modern touch to your pool.
You can use these class shields to separate your garden area from your pool easily at a low cost. They also come with one more benefit. If you have small kids in your house, you are always concerned about them going near the pool area as accidents can happen. So, these glass shields will act like barricades and will keep your children out of the pool area until you want them to.
Altogether this pool patio idea is a win-win as it supports your budget and looks beautiful at the same time. As mentioned earlier, if you want to add a modern flair to your pool patio, then using glass as borders of your pool patio will be the best option to go with.
3. Tropical Jungle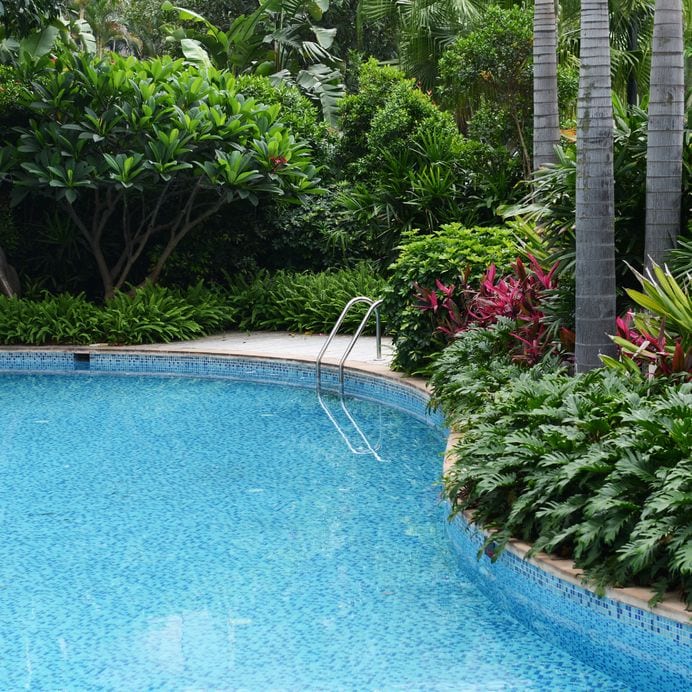 Have you ever dreamt of having a pool in the middle of a jungle? No? Then it is not your fault. It is the wild animals that are preventing you from doing so. But what if you can have it exactly the way you want, and most importantly, there will not be any wild animals waiting keenly to prey upon you. It will just be you, nature and of course your pool. Fascinating right?
Well, this fascinating idea can be brought into shape if you want so. All you need to do is surround your patio with as many trees and plants as possible. This will not be achieved in a single day, and it will take years to come into shape (Duh! Plants take time to grow). But when the plants are fully grown, and you have a patio just like you imagined it to be, then it would be one of the best, if not the best feeling of your life.
4. Pool Patio That Invites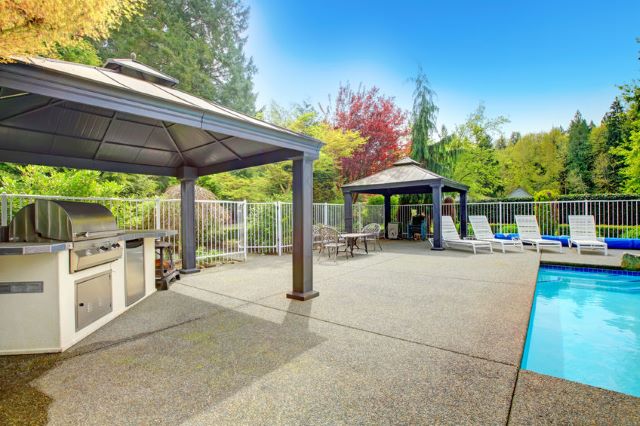 Your pool patio could be the most happening place in your whole house, especially during the summers. You can hang out with your friends, throw pool parties, chill with your family, or have a barbeque day, whatever suits you. But for all this, your pool patio design should also be inviting. You can use sheds and tables and leaning chairs so that you could be the person in the whole group who has the best pool.
This will help you grow your social profile and make new friends. You can also call your office partners or colleagues on a barbeque night to boast about your so happening poll patio area. For having a pool patio that can accommodate your friends and family, you would need to have space at your disposal. So, this pool patio idea is not for you if you have barely managed to fit your pool inside your property.
5. Tiled Pool Platform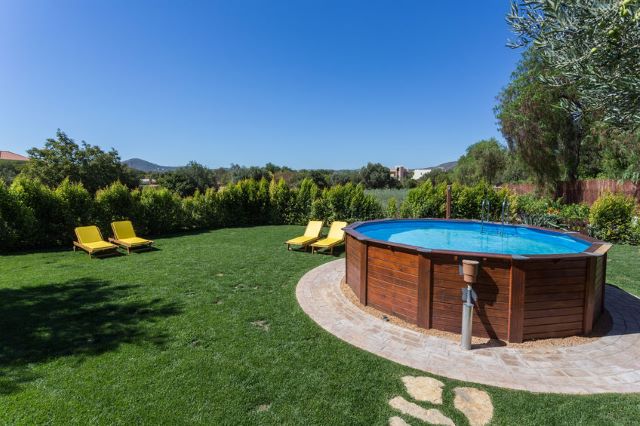 If you do not have an in-ground pool in your house, then that does not mean that you cannot enjoy summers by the side of your very own pool. You always have the option of getting an above the ground pool, which will take considerably less area and can be unset after the summers are over.
But when you are going to set an above pool platform on your lawn, then there is still something you can do to construct a pool patio. You can set your pool above the layer of tiles spread over your lawn. The benefit of the tiles will not just be one. For one, you can protect your pool from sinking. It will also provide your pool with a solid base.
6. Relax in Luxury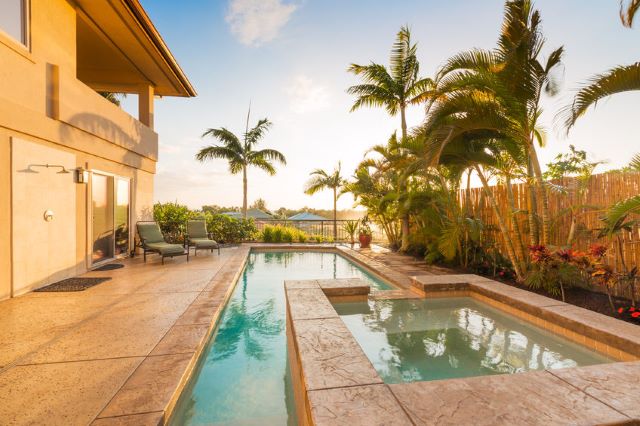 For creating a luxurious pool patio design, you would require the right textured tiles, plants and trees, and a lot of areas (how is luxury possible without enough space for it). It would help if you were looking for the one thing while creating a luxurious pool patio design to look for comfort. Your luxurious pool patio will be one great location for all your summer parties and get-togethers. This way, a luxurious pool patio could also be an inviting one.
7. Pool Deck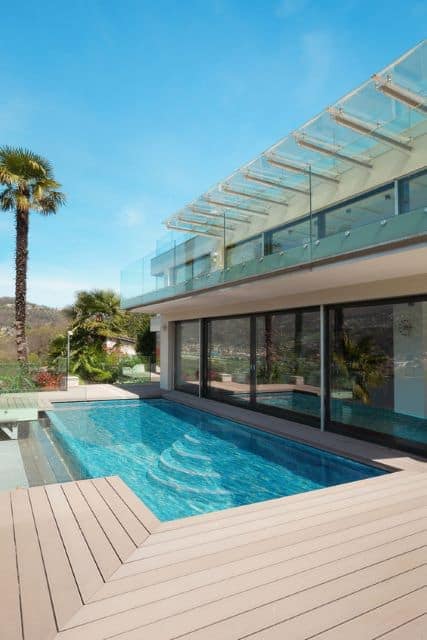 You can also make a pool patio in the form of a deck. This way, your pool patio will serve as a patio and as a deck. The wooden slats will suit the pool, and it can act as a picturesque location. This pool patio design requires your creativity. You can lay the wooden slats in any fashion you feel like, make sure that they look beautiful (otherwise what is the point of all this). For this pool patio design, you would require a lot of wooden slats. If you want the deck's look over your already built patio, you can do so by laying these wooden planks over the patio.
8. Light Up your Pool Patio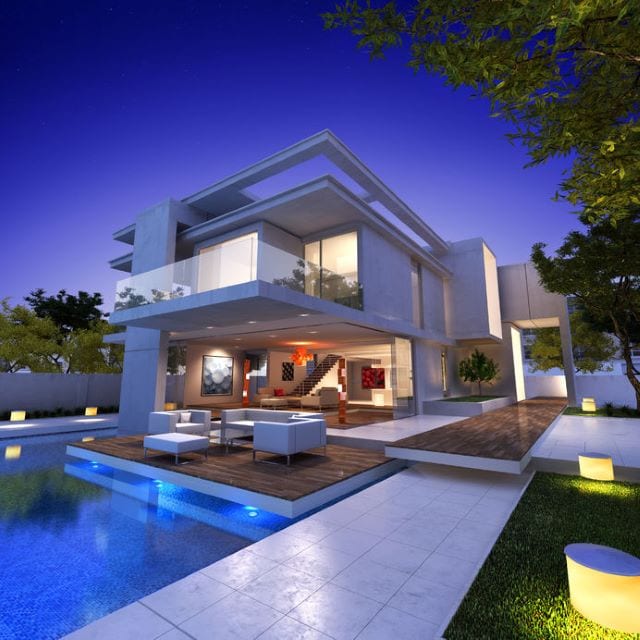 Pool patios are not just for days but even for nights, especially when you throw a party outside your house, in the lawns. You may want to swim in your pool late at night if you feel too hot. Sometimes after a tiring day, all you need is an hour of swimming. So given these situations, we can conclude that pool patios hold equal importance during the night. And when it is a night, you can add to your patio with the help of lights that are not possible during the day. There are a lot of lighting options you can experiment with. You can either use waterproof lights installed inside the pool or light stand by the side of the pool or the patio.
9. Above the Ground Pool with Pool Deck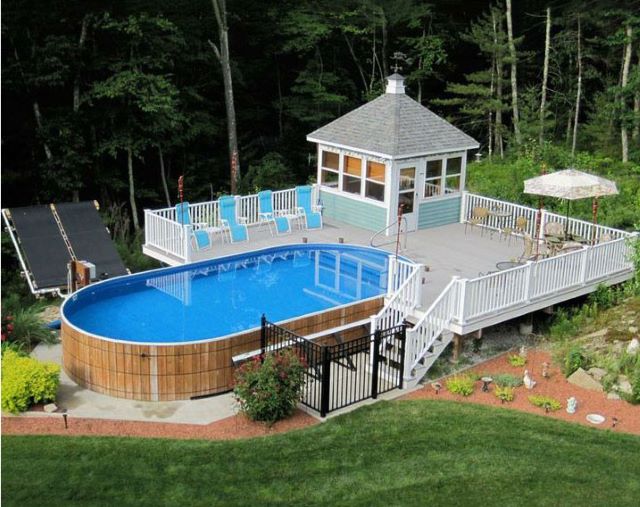 You can attach your above-the-ground pool with a wooden deck so that it feels as comforting as the in-the-ground pool variant. This deck could considerably require many areas and a lot of time, but the result (as can be seen in the picture. These decks could be used to relax and take some of that necessary vitamin d. If you did not consider constructing a pool by your house and are using an above the ground pool, then the best gift you can give to your pool will be this wooden deck. This pool patio design can be costly.
Conclusion
These are some of the most popular and recommended pool patio ideas that you can implement. Some among them can be DIY, while others will require experts such as a patio screen installation company and helping hands for completion.
You can choose the elements of two or more pool patio ideas discussed above and prepare yourself a pool patio that satisfies all your needs and expectations. Always have plants near the pool as they are the best natural decor you can get.
You can either place already grown plants or plant a seedling or a sapling and wait for it to grow into a giant plant.