Choosing the right Snow Blower for your needs, you must consider several factors.
One of the biggest confusions that come in every people's mind is which type of Snow Blower they choose, the Electric powered or the Gas powered.
In this article, we will discuss both Electric and Gas-powered Snow Blowers in detail.
We will also discuss some significant differences between Electric and Gas-Powered blowers, which help the people choose the right one.
Electric Snow Blower
Electric Snow Blower is an electronic device that needs electricity to work. You need to plug it into a power source and then use it in any direction. The Auger helps you to move the snow in an upward direction.
It comes with different shovel sizes, such as 12 inches of the shovel can provide clearance up to 4 to 6 inches, and the 21 inches of the shovel can help in clearing 12 inches.
Benefits
Electric Snow Blowers are hushed and eco-friendly machines using electricity as their power source rather than Gas or oil. They are also very light in weight, so it becomes straightforward to move and store them.
Electric Snow Blower is perfect for clearing the snow from patios, stairways, walkways, etc. They are not so expensive, so you do not have to worry while purchasing the Electric Snow Blower.
They can be easily used to clear lighter amounts of snowfall and save you from clearing your yard with a shovel.
Pros:
Very Light-Weight
Do not require Gas or oil
Very quiet
Cons:
Limited Cord length
Overheat sometimes
Does not handle heavy loads
Does not run without electricity 
Maintenance
Electric Appliances are effortless in terms of maintenance as you only must keep them in a dry place. 
Regular maintenance is not required for the Electric Snow Blowers, but you must keep the electric cord untangled. 
While checking that everything is working correctly or not, you must check the power source also.
Gas Snow Blower
Gas Snow Blowers are also available in a variety of options. They require extensive care while in use, but they are a beneficial tool for cleaning up the snow. It is recommended for those people who live in those areas which receive high amounts of snowfall every year.
Gas Snow Blower comes in both single and dual-stage designs, and both can clear large amounts of snow. They use Gas as their fuel to power the engine, and all the parts need to be maintained using oil regularly.
Sale
PowerSmart Snow Blower 24 Inch 2-Stage 212cc Engine Gas Powered with Electric Start PS24
Tackle Heavy Snow: 212cc powerful engine delivers 2400 lbs/min snow plowing capacity. Ideal for 1-12...
Quicker Snow Removal: snow clearing width 24" and intake height 20" clean up snow with less time.
Easy Start: equipped electric start, connect your outdoor extension cord and push button to start.
Two-stage Technology: all-steel auger easily cuts through tough icy snow and the impeller blow snow...
Self-Propelled System: wheel drive with 6 forward and 2 reverse speed settings better suitted to...
You also must check the spark plug and clean it daily for the successful ignition of the blower. Gas Blowers can have a maximum width of around 45 inches, which provides clearance of almost 2 feet on heavy snowfalls.
Benefits
Gas Snow Blowers are very durable, and they were designed to efficiently handle heavyweights as there are no electrical cords present to restrict the user's movement.
Gas blowers can clear large areas quickly and help in moving large quantities of snow at once. Most of the Gas Snow Blowers come with adjustable heights, which you can use to get maximum snow out of your way.
Pros:
Very Durable
Comes in Different Sizes
No Electric Cords 
Cons:
Regular maintenance required
Create loud noise
The extra cost for Gas and oil 
Maintenance
Gas Snow Blowers are quite complex to maintain as they require daily maintenance. Gasoline and oil of these blowers must be changed regularly, and you also must clean up the spark plug.
You also must take care that all the screws, bolts, pins, paddles, etc., are tightened before using it.
Gas Snow Blowers are heavily weighted. That is why they are bulky to store and move. But, if you have any issue with the Gas Snow Blower, it can be easily fixed.
Difference Between Electric vs. Gas Snow Blower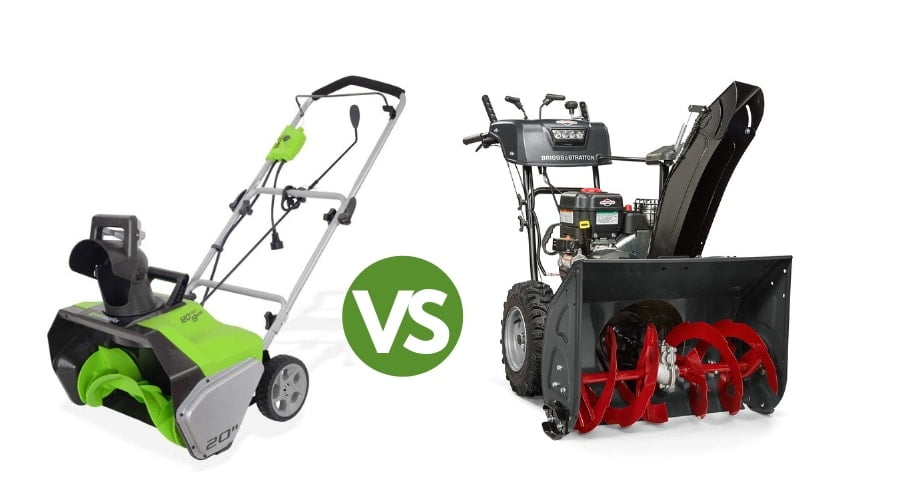 Free Range of Motion
Gas Snow Blowers are ideal for longer walkaways as there are no wire restrictions, while in the case of Electric Snow Blower, there are fewer restrictions in movement. However, if you still want to use Electric Snow Blowers, you can use a 12-gauge extension cord.
The users should use Gas Snow Blowers to achieve a free range of motion as they have unique benefits that cannot be matched by any electric snowblower.
Ease of Mobility
Electric Snow Blowers are good in terms of mobility as they are very light weighted.
Still, some Electric Snowblowers models are too light to grip the pavement the way they should, while the heavyweights of Gas Snow Blowers help in having a solid contact with the ground and grip on wheels.
Some of the Gas Snow Blowers are self-propelled and can be easily moved using some levers.
Moving Heavy Loads
Moving Heavy Load requires more power, which can only be found in Gas-powered snow blowers.
Gas-powered Snow blowers can quickly move large amounts of snow piles.
 It is a straightforward task for two-stage Gas-powered snow blowers as they have an impeller that ejects the snow faster, which is not available in any electric powered snow blower.
Clearing Width and Intake Height
On the one hand, Electric Snow Blowers can have a maximum clearing width of around 24 inches and a maximum height of almost 13 inches. It is enough for clearing a necessary amount of snow.
On the other hand, Gas Powered Snow Blowers can have a maximum width of around 45 inches and have a maximum intake of around 23.5″, which is twice as fast as any electric snowblower.
Push Button Start
Electric Snow Blowers have an electric start in them, but nowadays, many sizeable Gas-powered snow blowers come with electric start features, also known as Push Start Button.
Even if there is no electricity, the Gas-powered blowers can also start with one or two cords' pulls.
Cost Comparison
Electric Snow Blower can cost around $850, which is a relatively less expensive option to choose from if you own a small house, and there is not a large quantity of snow. Then, the Electric Snow Blower is a perfect option for you.
Gas-powered Snow Blowers can cost between $360-$3600. Many different styles and features are available in high-cost gas snow blowers. If you own a large garden where a considerable amount of snow is collected every year, then you must choose a Gas-powered Snow Blower as it can clear a massive amount of snow in a significantly less amount of time.
Your Best Choices
Your best choices remind you of the type of work you need to get completed. Electric Snow Blowers are ideal for those who have an exact climate and receive low snowfall amounts every year.
Gas-powered blowers are ideal for those who live in those areas where snowfall is heavy.
For long term usage, it is recommended to go for the Gas-powered Snowblower as it is a better choice, and it is also easier to service if anything goes wrong.
Final Words
Bigger does not always be better, and cheaper is not always more comfortable. So, it depends on you what kind of blower you want to clear the snow.
We have discussed all the main differences between an Electric vs. Gas Snow Blower.
You can choose anyone from them, which matches your necessities as both the blowers are easy to use.
I hope you find this article useful, and If you did, then do not forget to share it.
If you have any doubts/questions regarding the topic, do not forget to leave them in the comment section below.