Decluttering unnecessary items and making your garage organized are some of the most critical tasks.
Maintaining your garage and organizing all the tools and essential items are difficult tasks if you do not adequately plan.
In this article, we will discuss some of the best garage tool storage ideas you can use to organize and declutter your garage efficiently.
There are different storage and organizing ideas for maintaining your garage, which helps you access all your necessary tools and equipment.
Some of the best Garage Tool Storage and Organizing Ideas
Cabinet and Storage Units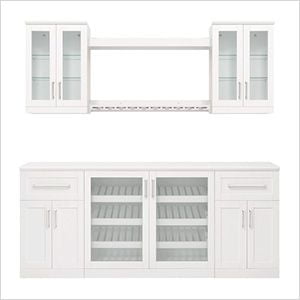 Cabinet and Storage Units are one of the best garage tools storage ideas you can also implement in your garage.
They can either be placed or hanged on the floor and the wall easily. Cabinet and Storage Units come in different shapes and sizes and have inbuilt drawers for storing smaller items.
The cabinet generally fits in almost every corner. You can keep your instruction manuals, power cords, small tools, etc., in the Storage units.
These cabinets are also helpful in preventing your necessary tools from dirt and dust.
Hanging Storage Systems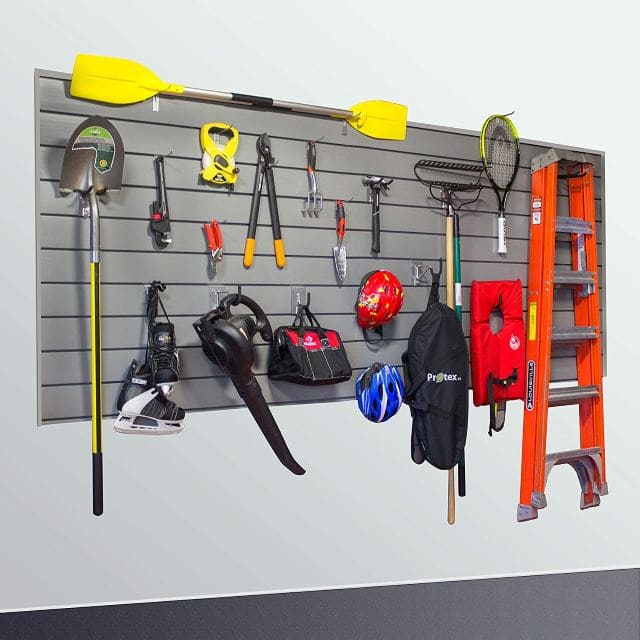 Hanging Storage System is an excellent garage tool storage idea that you can utilize on your garage walls. It can be useful for placing long tools such as screwdrivers, wooden saws, wheelbarrows, etc.
The hanging storage ideas are constructive in utilizing the higher areas of your wall, and more comprehensive tools are also easily accessed as they are placed above your head.
You can also create your own DIY Hanging Storage System using some PVC pipes and some hardware hooks. You can also add some more hooks for including basket holders and garden tool holders too.
Shelving and Support Brackets
Shelving and Support Brackets help store stack bins and boxes as they are attached to the paneling and some other types of storage units.
The Shelving and Support Bracket is also very helpful in utilizing the top of your garage's ceilings and walls.
You can store some seasonal items or rarely used items on the support brackets.
The Shelving and Support Brackets are easily accessible by a step ladder.
This storage idea is not preferable by many people due to the fear of how much wall space it can take.
Storage Bins and Boxes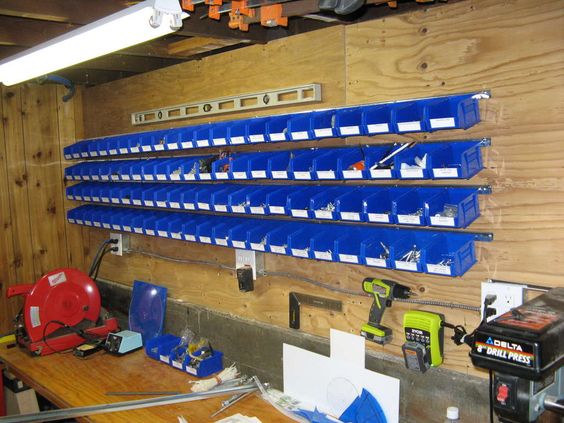 Storage Bins and Boxes are considered one of the best garage storage ideas as they provide perfect sorting containers, and they also allow quick organizations.
It is the best option for the long-term storage of essential items.
Storage Bins and Boxes are very easy to tuck on shelves. You can also hang large bins overhead while fitting the smaller ones under the cabinet.
The main feature of these bins includes being loaded up and unloaded to where they belong.
Pulley Systems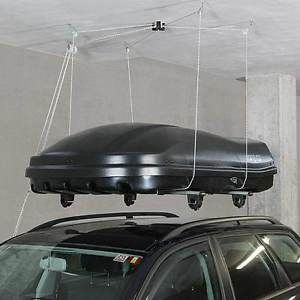 Pulley Systems are one of the great ideas to lift garage items. You can easily lift all the lower larger items to clear the way.
You just need to tie off the pulley at the nearest wall, and it will easily lift wheelbarrows and other items with a simple pull.
Pulley Systems are an ideal garage storage idea for better manipulating and hanging heavy items.
Fishing Rod Organizers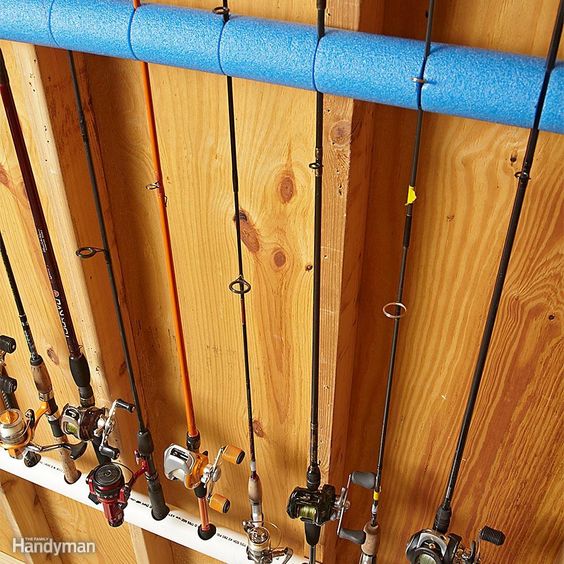 By using some PVC pipes, you can easily create your own DIY Fishing Rod organizers.
It is tough to store fishing rods as no storage ideas mentioned above have an inbuilt fishing rod storage.
Fishing Rod Organizers are very helpful in keeping your fishing rods at the right place safely.
Car Care Cabinets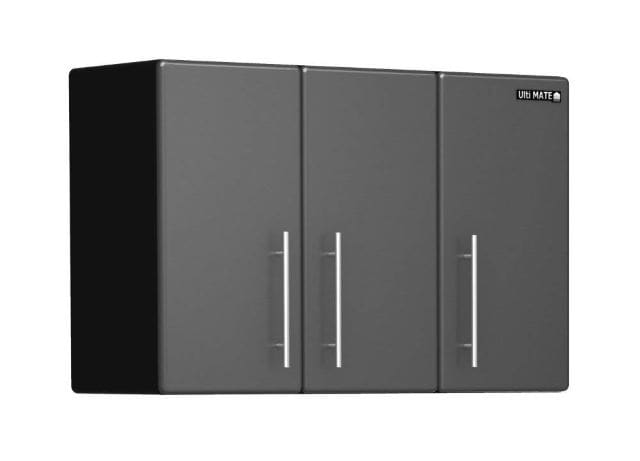 Car Care Cabinets are another perfect option for organizing garage tools. Either you can find a cheap cabinet or purchase your own.
Car Care Cabinets are beneficial in storing your car care products. You can also hang the cabinets onto the walls with the help of some hooks.
Ceiling Shelves and Track Storage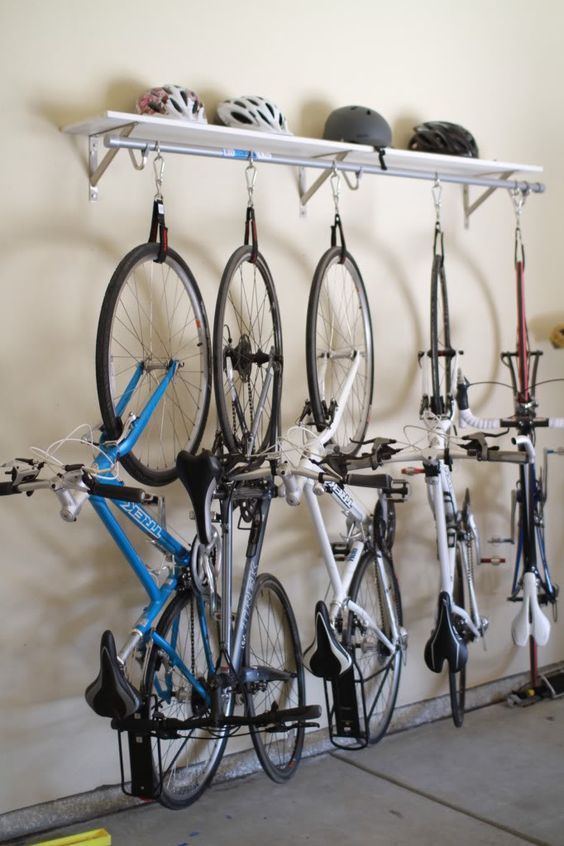 Ceiling Shelves and Track Storage are also one of the best ideas to utilize your ceiling spaces. You can easily customize the shelves to fit the bins in your organized spaces.
Ceiling Shelves and Track Storage are an excellent garage organizing idea if you have a sizeable unutilized ceiling.
Storage Tubes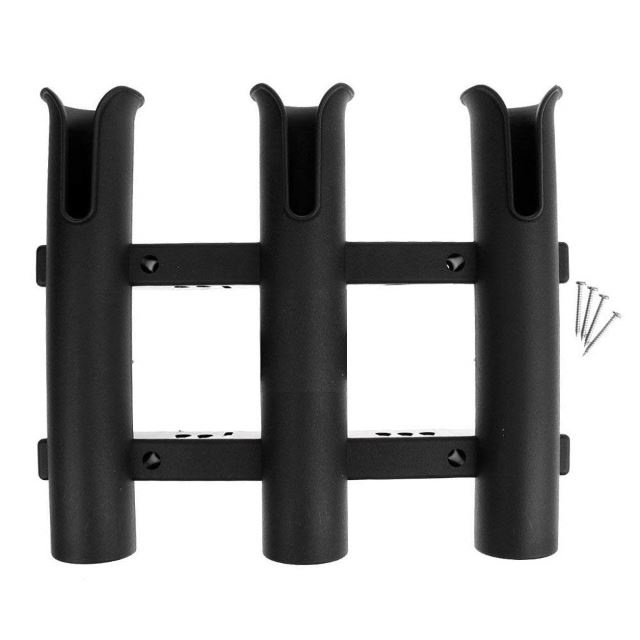 Storage tubes are another best garage tool organizing ideas which you can use to store long-handled tools easily.
Apart from tools, you can also use them for storing your essential household equipment such as fishing gear, pool noodles, etc.
Monkey Bar Units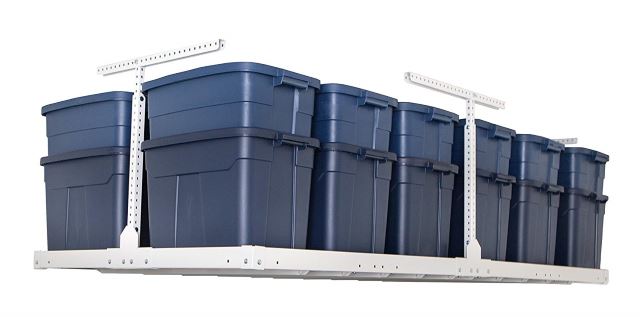 Monkey Bar Units is the only storage idea that can store all sorts of items. Monkey bars can have the potential of holding heavyweights in shelving systems.
It provides plenty of storage space to store things on it. You can use it with baskets and other different types of storage bins too.
Ball Bins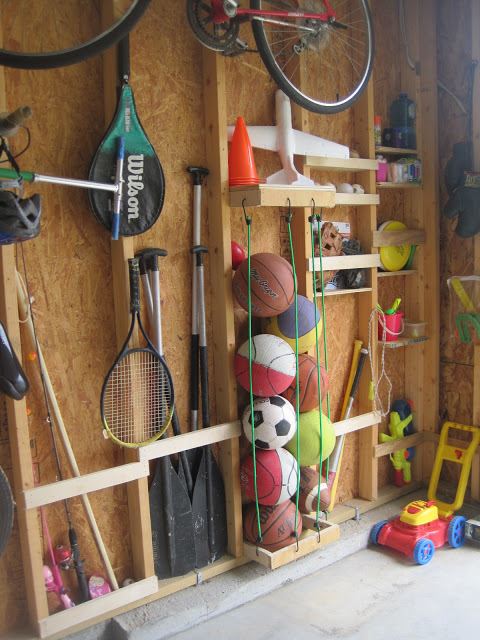 Ball Bins are one of the best ideas to store all the balls in one place in an organized manner.
You can easily create your own DIY Ball Bins by just using Bungee cords and two wooden slabs.
You just must attach one end of the cord to the downward slab and the other end to the upward slab.
Now, you are entirely ready to store your balls in your own DIY Ball Bins.
Pegboards or Paneling Walls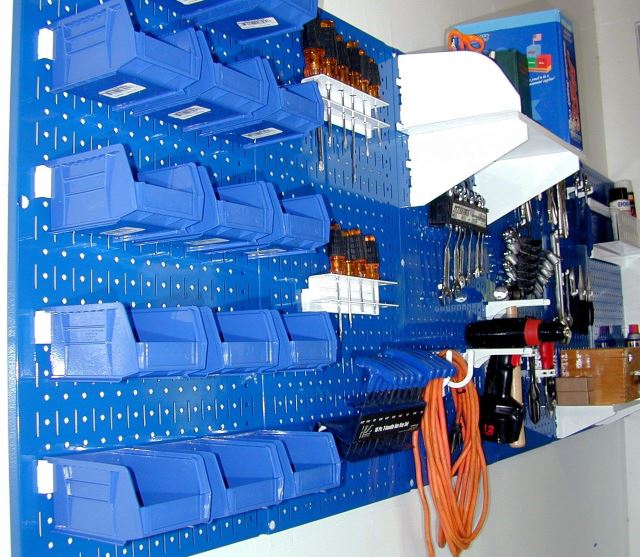 Pegboards or Paneling walls are fantastic stuff that you can add to your garage walls. It is effortless to install the paneling walls in your garage.
There are various features provided by the Pegboards for storage and optimization.
You can also attach some extra hooks, shelving, etc., to store some extra items onto the wall.
Pegboard Cubbyholes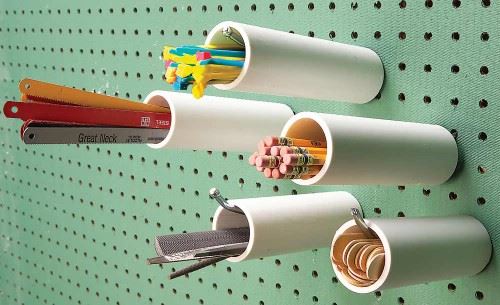 You can easily organize your pencil, brushes, small screwdrivers, etc., in a PVC pipe, later attached to the Pegboard. You just must cut a PVC pipe of approximately 15 cm.
Using Pegboard Cubby Holes can help you in storing small items, and they are easily accessible too.
Magnetic Tool Holder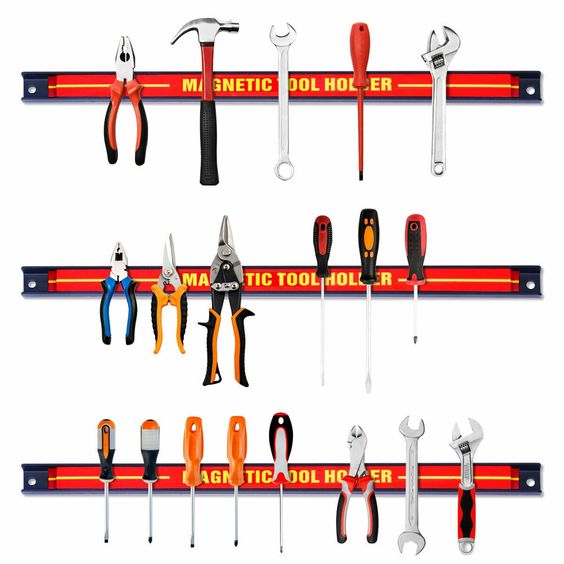 Magnetic Tool Holders are one of the best equipment which you can consider for your garage. It has the capability of holding all the metallic things.
You can easily hang the Magnetic Tool Holder on any wall by just using some hooks and screws.
A Magnetic Tool Holder will help you store all the necessary tools such as pliers, screwdrivers, etc., all in one place.
Canvas Wall Organizer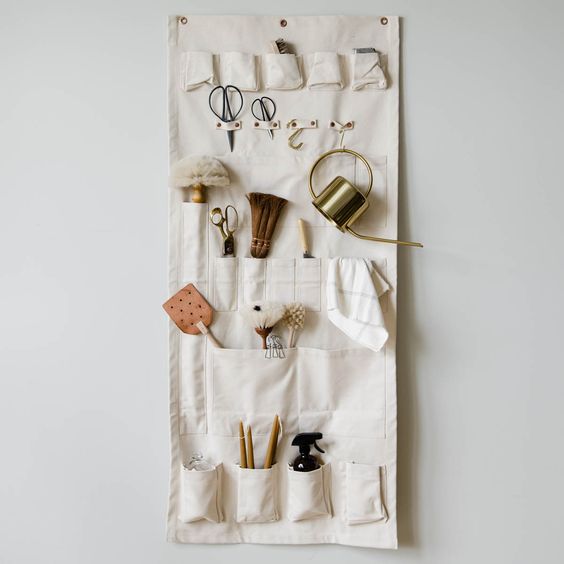 Canvas Wall Organizer is another excellent idea for your garage to hold different tools. You can easily hang the Canvas Wall Organizer on any wall with the help of some hooks.
All the different types of small tools, such as pliers and screwdrivers, are easily stored in the organizer.
Wall-Mounted Bike Rack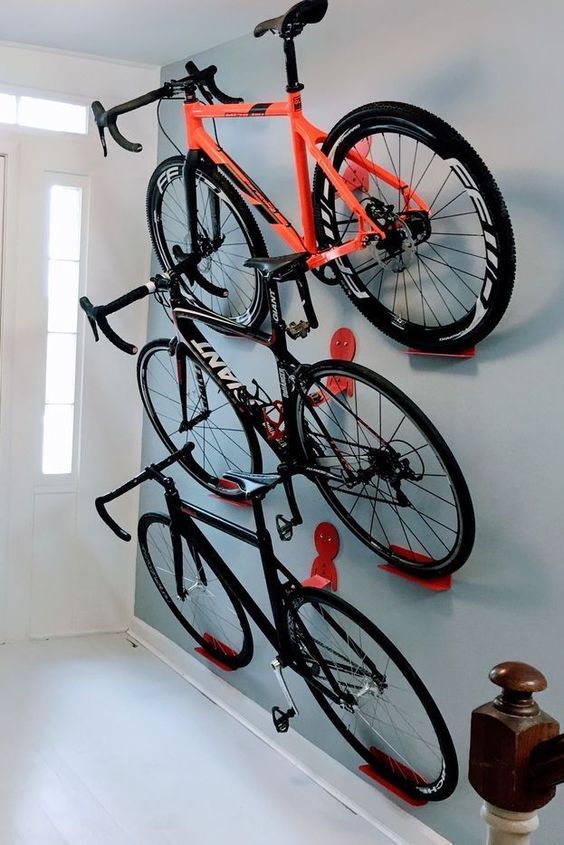 A Wall-Mounted Bike Rack is one of the essential tools in any garage if you own a bicycle. It helps you to save a lot of space from your garage.
You do not have to worry about the tire marks on the wall as the rack is designed to make enough space available between the bicycle and wall.
Final Words
Making your garage organized and placing the tools at their appropriate places may look like a difficult task. Still, with a few garage storage ideas mentioned above, you can easily organize your garage.
You can easily choose the above ideas which match your needs and apply them in your garage. From this article, our only motive is to provide you an organized space in your garage.
I hope you find this article useful, and If you did, then don't forget to share it once, and if you have any doubts/questions regarding the topic, don't forget to paste it in the comment section below. We will try our best to solve all your queries.