The pandemic spurred many homeowners to do home improvement projects that they've stalled due to lack of time. Social media posts have featured people proudly mowing their lawns or growing the trendiest plants, such as the Monstera deliciosa. Others focused on parts of the house that needed repair or refurbishment.
In light of the global interest in home improvements and hobbies, people also began to notice the emergence of shed organization ideas. Unfortunately, keeping a garage or tool shed organized is not for everyone. Some people need help from professional organizers, while others only need inspiration.
Check out the nine tool shed ideas here and transform your messy garage into an ergonomic-friendly space you can walk into without tripping.
9 Tool Shed Ideas To Clear Your Messy Garage This 2023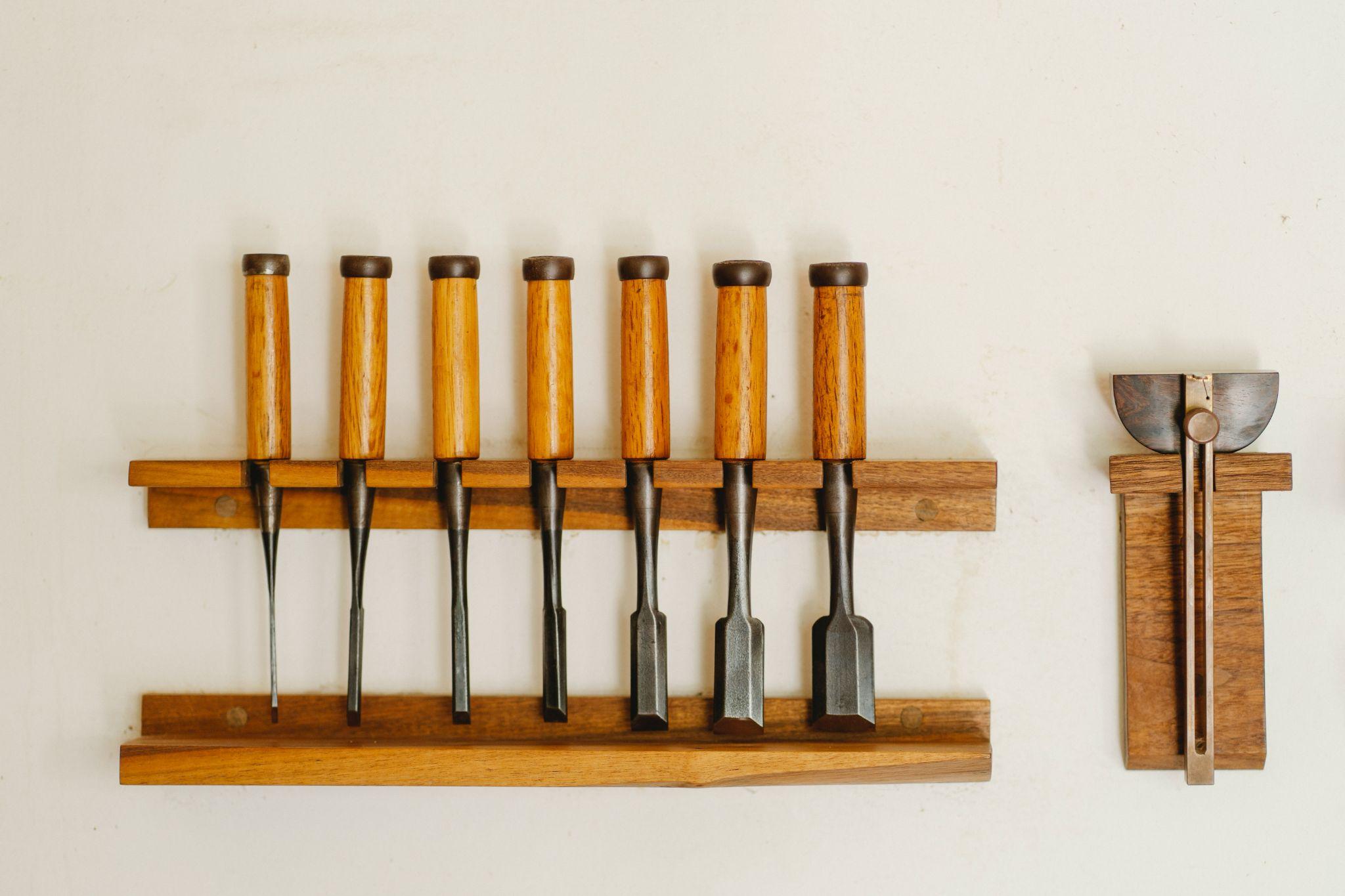 Organizing your garage would've been straightforward if you only had a handful of tools to sort out. Yet, this is seldom the case. Suppose you develop new hobbies like woodworking or maintaining a huge lawn or garden. You'd naturally need, use, and keep more and more tools over time.
Refer to these nine tool shed ideas to start this year with an organized and safe garage.
1. Use reusable containers for storage
The most common items you can use to organize your tools for gardening, cleaning, woodworking, or car repair include old bins, barrels, and containers. Besides tools, you can use them to organize scrap materials. Plus, they're a creative way to organize and save!
For a more uniform look, you can arrange them by size and paint the same-sized containers with the same color. You can also add a label for tight containers, so you don't have to open each bin to see where the scrap wood or metals are stored.
Even professional movers use this labeling technique to keep track of their client's belongings and avoid mixing them.
2. Add a pegboard organizer
Hanging tools of different lengths, sizes, and weights can be challenging. A pegboard can remedy this, but you need to carefully plan which device goes with it to affix the hooks properly. Otherwise, the pins will fall when you remove the tool, and you won't be able to hang it back (unless you can freely adjust the back part of the pegboard).
Pegboards come with two hole sizes and thicknesses. Opt for the large-hole pegboard and ¼-inch thick board for tool shed organization. Also, there are more ways to optimize pegboard organizers. You can drill holes into an old plastic cup, tie the cup to the pegboard, and organize by putting smaller items into the cups.
You can create pegboard sliders if you want to organize your smaller tools (wrench, screwdriver) without putting them on display. You can cut out pegboards that fit into built slots, hang the tools, slide them outward when taking out a tool, and then slide them inward. This pegboard solution is a favorite for those who have smaller sheds.
3. Get cord organizers or make one
Cord and ropes are one of the most common tripping hazards you can find in sheds or garages. Avoid leaving it off the floor through store-bought or DIY cord organizers. Online and hardware stores have a range of garage system hooks, hook racks, wall hooks, and over-the-door hooks that you can choose for cords, wires, and ropes.
If you have extra PVC pipes, you can transform them into cord holders. You only need to cut your desired length, drill a hole that you can use to mount them on the wall, and then voila! No more tangled mess on the shed floor.
4. Affix a mini cupboard or wire rack
Shed storage ideas don't always have to be fancy or big to work. They can sometimes come in small packages, such as a small wire rack fixed to the shed door. Others prefer to place a smaller cupboard on the external wall of the shed to collect their staple garden tools.
Of course, there are stylish options, including a sturdy metal basket attached to the wall. Owners can use this to store smaller gardening tools, like hand trowels, while others use it for keeping seeds away from rodents.
5. Use an entire wall or add a second-level storage unit
Optimizing your garage space is an essential strategy for many shed owners to use when they organize. When building shelves, consider adding a level for overhead shelving. These are the best-designated storage for seasonal items.
Using the entire wall up to the ceiling is another way to use as much space as possible for storage. Place tools and items you frequently use at arm's reach so you don't have to use a ladder to pull them out.
6. Opt for open shelving and clear windows
Open and floating shelves are popular shed organization ideas because they help keep things in their proper place but are flexible for reorganizing. If you still have a wall free of any pegboard or other organizer, you can mount shelves and free up floor space. However, stick to storing heavier items or tools on lower shelves.
Dark garages get in the way of finding the necessary tools. Of course, you can add lighting. But if you want to make the most of natural light, use windows. Clear windows can help you see the tools from outside, too.
7. Go for adjustable shelves and wall organizers
When you add new tools to your garage, using existing organizers or shelves that don't support the tool's dimensions can be challenging. It would help if you had a way for your organizer to adapt to newer devices. Adjustable shelving and adjustable wall organizers can fix this problem.
Hardware and online stores feature adjustable shelves and organizers all year round. An expandable hanger is useful for brooms, rakes, and other lengthy tools.
8. Install overhead organizers
High-ceiling garages present a unique opportunity for storing or hanging tools. These shed storage designs are an epic way of optimizing space and keeping the floor space uncluttered. You can attach bike hooks in the ceiling rafters to keep seasonal items. Others utilized overhead organizers or shelves to keep garden chemicals away from children and pets.
9. Add a backyard shed
After organizing, what if you still have many tools that need to fit into the garage? You can fix this by getting a backyard shed. This separate shed can serve as an extended tool shed space or do double duty. You can even apply the same tool shed ideas and modify a corner to create a workbench or home office.
When building a backyard shed, weigh the size and material (wood or plastic). You can invest in a ready-made backyard shed if you want to save time and have extra cash.
How To Pull Off These Tool Shed Organization Ideas
Before incorporating any tool shed storage ideas into your garage, there are four things you need to do.
1. Create a clear goal for your garage
Usually, the tool shed is supposed to handle power and gardening tools. Reevaluate if these functions still fit your current use. Will the shed still be strictly for storing tools and equipment only? Or do you want to have a small working area? If you're sharing this shed with another family member, include them when defining goals.
2. Plan how you can organize effectively
Fantastic tool-shed ideas are only worthwhile if you prioritize according to your goals. You might have no room for other tools. You could also end up placing expensive devices in the open instead of more secure shelves.
3. Play games to visualize your dream shed
Some people are confident in building or organizing by imagining their projects. Meanwhile, others prefer to scribble or sketch. Play interior design games or use apps to create a clearer picture of an organized shed.
Recommended interior design games include Paralives, Hometopia, and The Sims 4. Building apps that you should consider are Home Design 3D, AutoCad, and Planner 5D.
4. Use lists to keep an inventory of your tools
Another way to organize your tools (before actually organizing them) is by doing it on paper. List the tools and items in your garage and the tools you could store elsewhere. You may have scrap materials that are in bad condition. You need to dispose of these materials to avoid accidentally using them for any woodwork.
Start a Plan for Keeping Your Garage Organized
It's not enough to organize your garage now and continue the same habits for handling and storing tools. You must develop a long-term approach and carve "use habits" to ensure that the space you organized today still looks neat at the month's or year's end.
The following steps can be a good starting point:
Devise a system for storing, using, cleaning, and returning tools.
Make sure to avoid storing tools or items that shouldn't be in the tool shed in the first place.
Avoid clutter. Don't let an un-stored tool stay outside.
Regularly check how many spares you keep. Let go of some extra tools.
Benefits of Organizing Your Garage With These Tool Shed Ideas
Organizing a garage is a challenging chore for most homeowners. Contrary to common knowledge, organizing is for more than brandishing fancy storage designs. Arranging your equipment and tools well ensures convenience, safety, space-saving, and home value. To convince you further to organize your garage this year, here are some benefits you may reap.
Find tools and other items quickly
When gardening, cleaning, or working on a wood project, you'd want to devote more time doing these tasks instead of being hunched down, locating a scrap piece or wrench. Every homeowner knows how distracting it is to open box after box of tools.
Plus, when you find what you were looking for, you'd have quite a mess to clean up. An organized garage will not only help you find your equipment or tool quickly. A tidy space can also be a great place for brainstorming on the following metal piece or project you want to create.
Avoid accidents and minimize safety hazards
Improper storage of gardening needs, such as fertilizer and other flammable chemicals, can place any tool shed at risk of fire. Earlier this month, a fire in a Montana home started in the garage and shed.
An organized garage can lower the risks of accidents or fire hazards. You only need to prioritize proper storage for chemicals and other flammables. You can even add a fire alarm or sprinklers for further protection.
A neatly arranged garage means the floor is free from any slipping hazards. Leaks should be cleaned as soon as possible. With every tool in a proper display, you can easily see if something's amiss, such as a snake in a basket of gloves.
Promote the safekeeping of costly tools and appliances
Organizing tools in the garage can help owners prioritize the safekeeping of valuable tools and appliances. Just recently, a tool shed in Tennessee was pried open. An electric lawnmower, toolbox, and other items were stolen.
You can use cabinets and lock your lawn or garden equipment, as well as your bicycles and some valuable metal scraps that you keep for your home projects. You can also use overhead shelves for this purpose. In addition, security experts advise extending your burglary alarm system to include the garage and tool shed.
Save space and use it for more tasks
The amount of dirt, mud, or muck in your garage doesn't matter when you think of the little time you spend in it. But that's a critical point. Who stays in your dirty, messy garage when you're not there? Bugs, rodents, and other critters can make your shed their home.
You can clean and sanitize your garage better when it's organized. Instead of moving the tools individually, you can move the boxes and containers. You can see more free space when you place them on proper shelves, such as on the wall and ceiling rafters.
Add value to your home.
There is more to an organized garage than what most people know. If you plan to move and sell your house, you might be surprised how much your home value increases with a garage or shed, especially for smaller homes.
Prospective buyers who are into gardening will find your well-appointed garage valuable for their hobbies. The same can be said for buyers who like the appearance of a lovely lawn. They would look at your garage space as a place for storing lawnmowers.
Manage Your Mess, Organize Your Garage
You can choose from various tool shed ideas depending on how you want to use your garage. You can focus on putting tools on reusable containers, wire racks, or mini cupboards on the wall. You can place tools on display with a pegboard organizer and cord organizers. You can also safe-keep valuable tools with overhead shelves.
You can use the entire wall or build a second-level unit to optimize your garage space. You can also utilize open shelving systems, floating shelves, and transparent windows. For adaptable hangers, use adjustable shelves and wall organizers. Lastly, you can extend your storage with a backyard shed.
Whichever of these ideas you'd go for, know that no amount of organization will work if you won't plan on its maintenance. So keep a plan to ensure you manage your garage's mess and reap its benefits well into the future.