We all know a lot. If about jewelry, or maybe it is your mother who knows a lot! Right? Men can have a lot of information about jewelry and ornaments but still will be far more behind than a woman's instinct.
There are certain things that we men cannot understand as better as a woman can. So, we should accept these things as we are not superior, neither women are, but we can be superior and better for sure.
In this article, we will talk about something which is considered an ornament of a garden. Any guesses? Oh, you must have read it in the title, right? So, we are going to talk about gazebo designs and gazebo as well. This is the type of ornament about which men know better, and we all can agree on that, right?
So, rather than making it more of a debate about who knows better, let us focus on our main discussion topic: gazebo designs. This article has gathered some of the unique and adorable gazebo designs to choose from and apply to your garden.
After reading this article, you will have a better knowledge of gazebos and help others if they have any questions or problems regarding this topic.
So, go through them and select the best fitting ornament for your garden, which will also help you relax and have a great time.
Some of the Best Gazebo Design Ideas
1. Castle Shaped Gazebo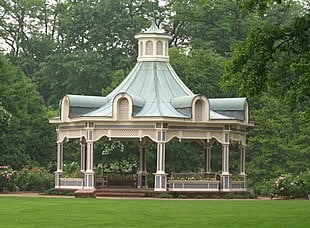 One Of the best gazebo design ones can ever have. This tall and wide gazebo is all that a luxurious house needs. Add this to your garden, and then see how much it will enhance the beauty of your house.
In case your house is not as luxurious as this gazebo design demands, you can make the exact design but of shorter height. Once it stands in front of your house, you are going to stand apart from your neighborhood.
2. Snow Covered Gazebo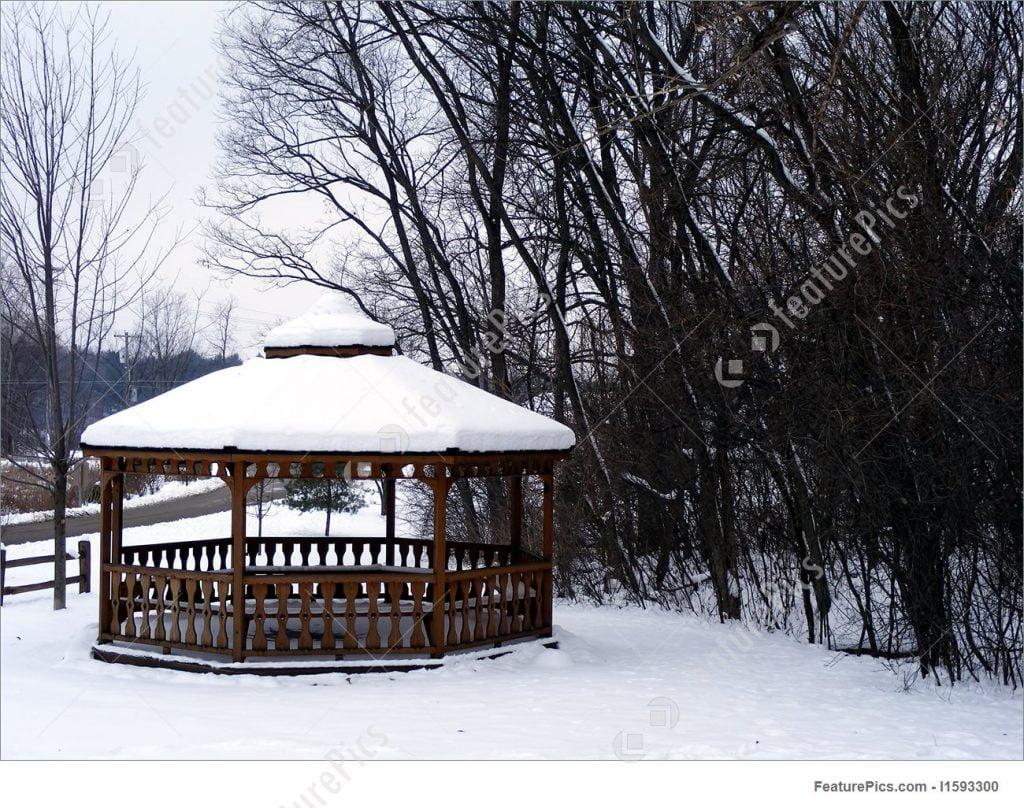 We all know that a gazebo with different patterns and textures looks way more attractive than any other thing. Have you ever looked at a gazebo partially covered from the snow? Well, you must.
This snow-covered gazebo having a weathervane is an indication that even a cold region residency can have one for them. This could be the perfect place for using a smokeless fire pit and spending some quality time with friends and family. This implies that it is not a thing that can be used in some season; instead, it is universal and can be used in any season.
3. Over the Ground Gazebo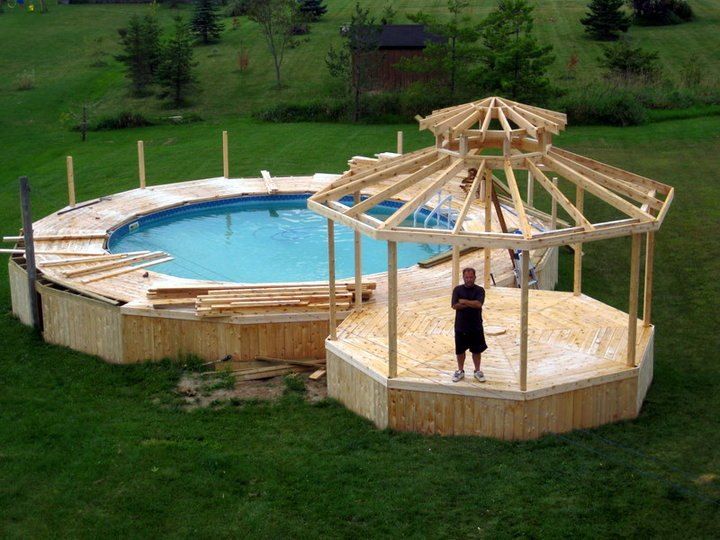 What about a gazebo in your lawn painted in a bright color? Well, this one right here is going to be a perfect relaxing place, especially for the summer.
This one is built over the ground and to go in it a little staircase is attached with it. Its color scheme looks adorable and quite simple as well. But if your house does not mix up with this color scheme, you can change it accordingly. But make sure that your keep its fences white to maintain its simple texture.
4. Traditional Gazebo Design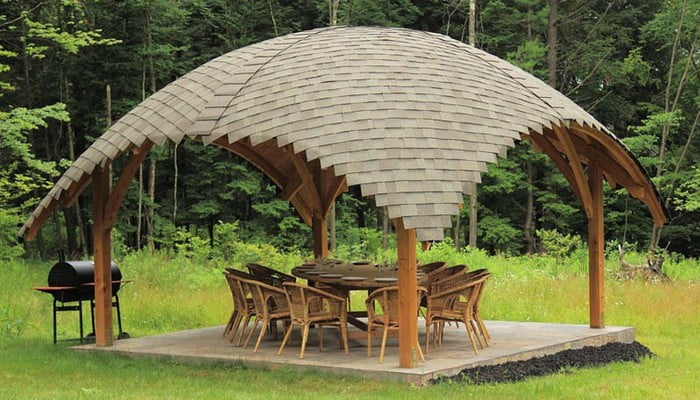 This wooden gazebo design is all that you need If your House belongs to woody areas. This wooden gazebo looks so natural that it is like that it was made by nature as it is.
Along with trees, it will look even more charming, and imagine relaxing in this wooden gazebo under the shade of trees with some birds chirping around sweetly. Thus, it is undoubtedly going to be a perfect place for meditative relaxation.
5. Gazebo at the Bank of River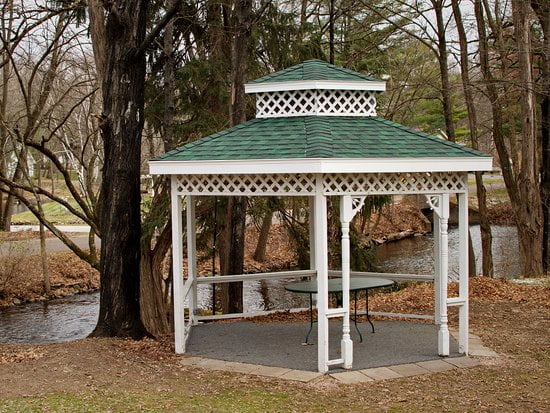 Have you ever seen a double floored gazebo? Well, we also have not seen a double floored gazebo. But when we were going through our research to find the best gazebo for you, we only came to this pavilion.
This may not look so pleasing in the first gaze, but you will find out that it is not what it seems when you look at it again. Having two separate spaces in one pavilion will be a great deal for those having a big family.
6. Pointed Top Gazebo Design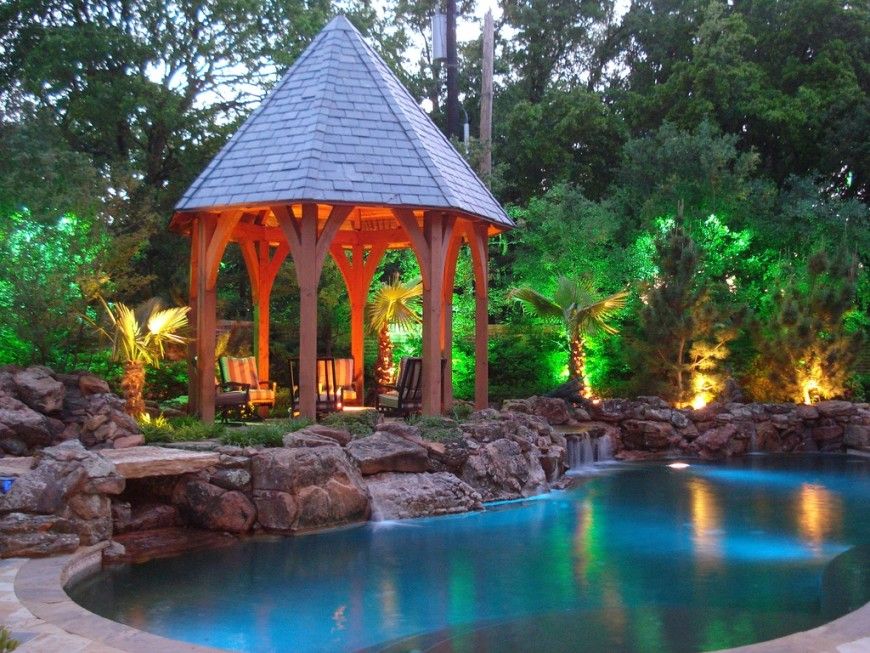 Indeed a thing looks different with different surroundings. This gazebo design looks pleasing and beautiful, having a red top, surrounded by trees with faded leaves and a bit Of greenery at its bottom.
It has iron railings around it that can be changed if you do not want an iron boundary around your gazebo or do not think it is a good match. But if you have a garden having trees nearly or precisely like that in the image, then this one is for you.
7. Temple Like Gazebo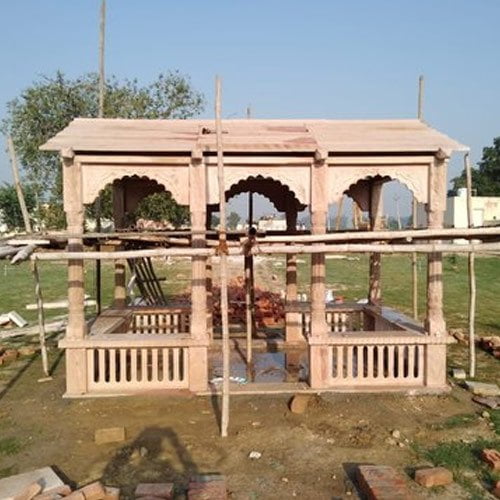 A gazebo situated adjacent to the boundary is a perfect match to the greenery your house has on its boundary. A well designed and carved top with some patterned boundary matches beautifully. Hanging flowerpot has added an extra edge to its beauty, and we are sure that you will love it once you spend some time in it.
8. Chinese Gazebo Design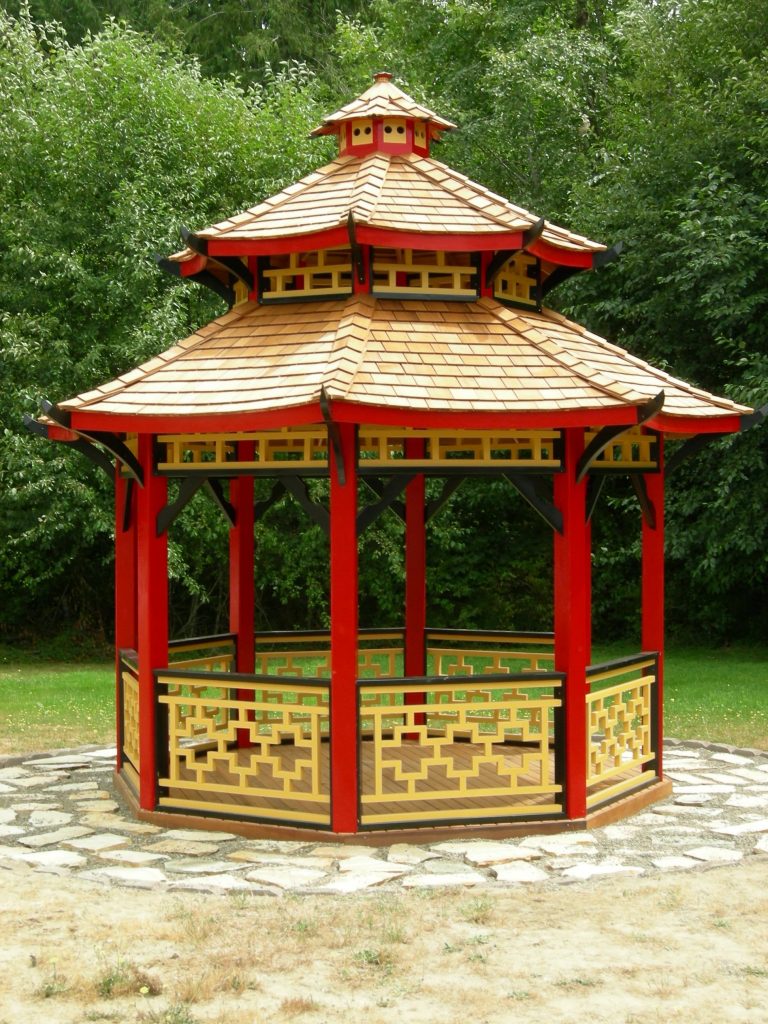 When it comes to making a gazebo, no one can beat the designs and structures we see in China or Chinese gazebos.
Their top looks unique and quite interesting as well. Their gazebo even has bright colors and unique texture as well. So, if you like bright colors, then this gazebo design will suit you perfectly.
9. Circular Gazebo Ideas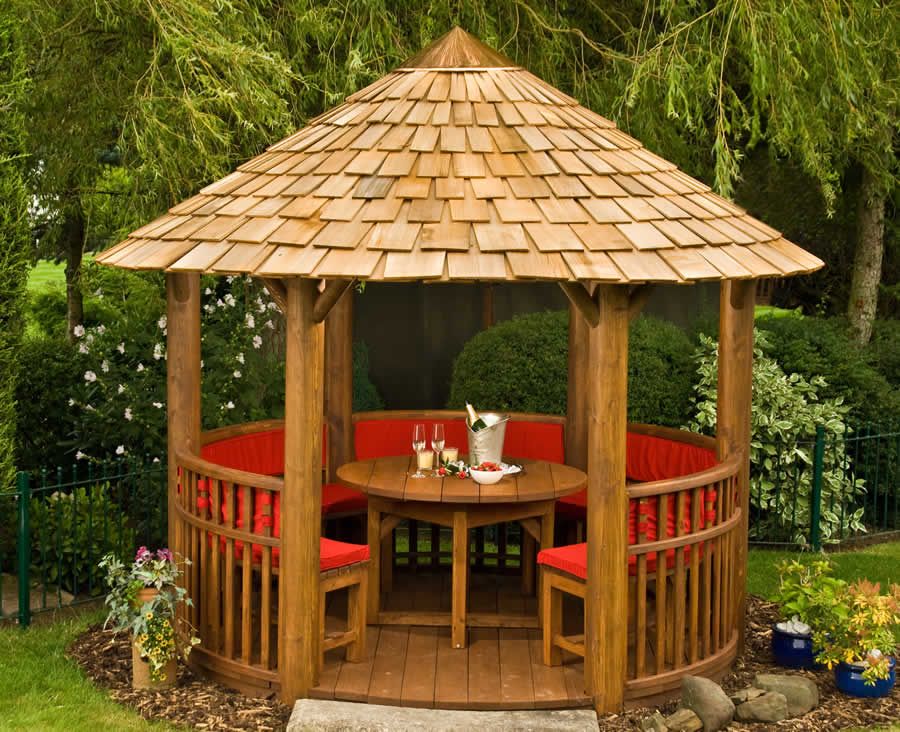 Another design which you will see in Chinese art. Chinese designs of a gazebo are circular. This one is quite simple and does not have many attractive features like the bounded or square-shaped gazebos.
But, to make it look more interesting, you can have hang flowerpots as well. This will be like an ornament of an ornament.
10. Towered Gazebo Design
A gazebo made up of bricks and stones. It is a unique pillar with a dense pattern that looks very impressive, and when sunlight passes through these patterned pillars, a bright gorgeous pattern forms inside your gazebo.
It will be perfect for your backyard, but these kinds of ornaments are better to be placed in the front garden.
11. Gazebo Carved with Gates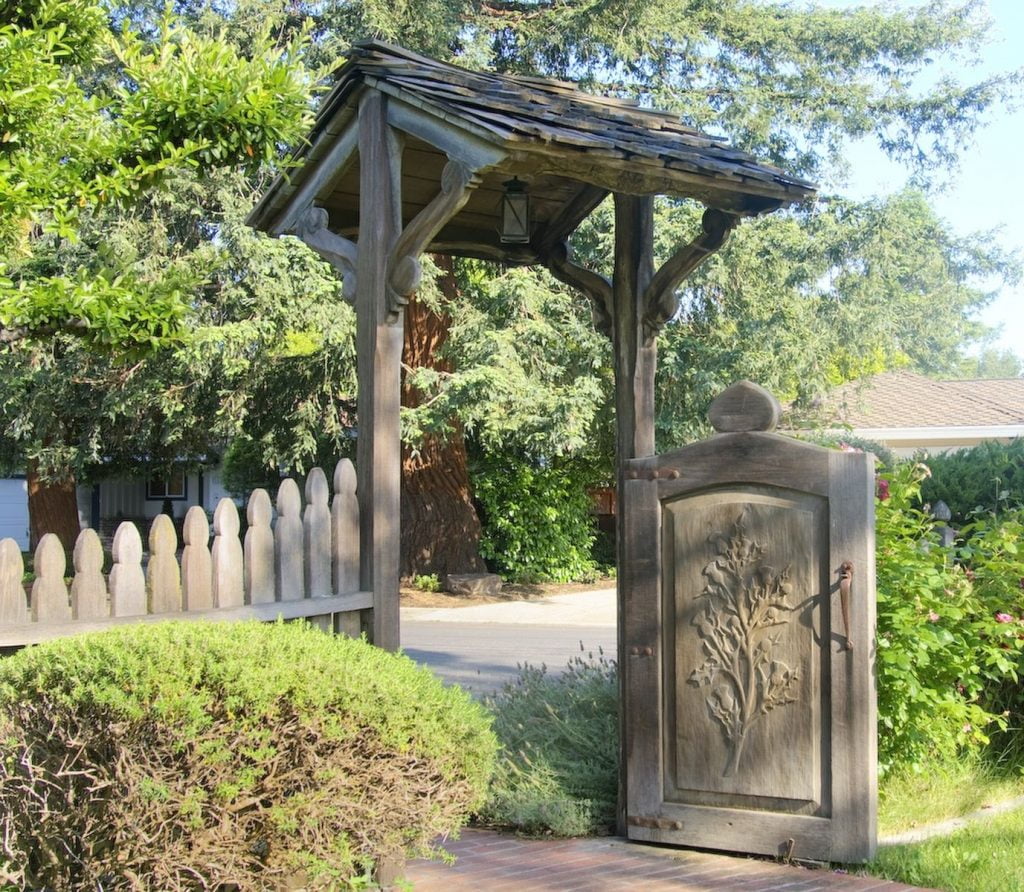 A gazebo looks uniquely brilliant when placed at the center of your garden, especially when it is circular or in a perfect shape.
This gazebo design has a lot of carved structures, which is like that of a gate.
12. Broad Gazebo Design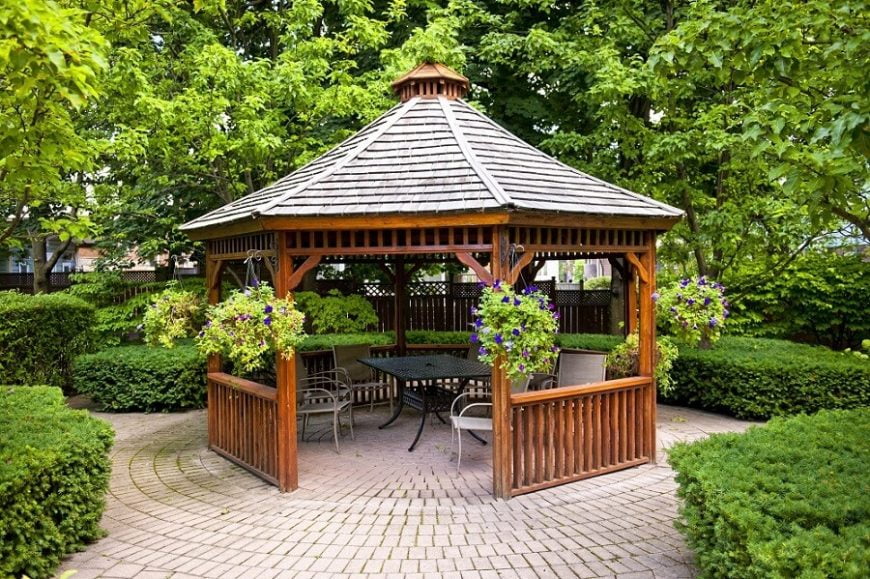 A gazebo Is something that looks gorgeous when painted with different textures, but nothing can match with white color when it comes to simplicity.
The white color gazebo can fit anywhere and with any background, whereas a gazebo with different color looks gorgeous only when it matches the color Of your House or background. So, a white gazebo could be an excellent choice for first-timers.
13. Gazebo Design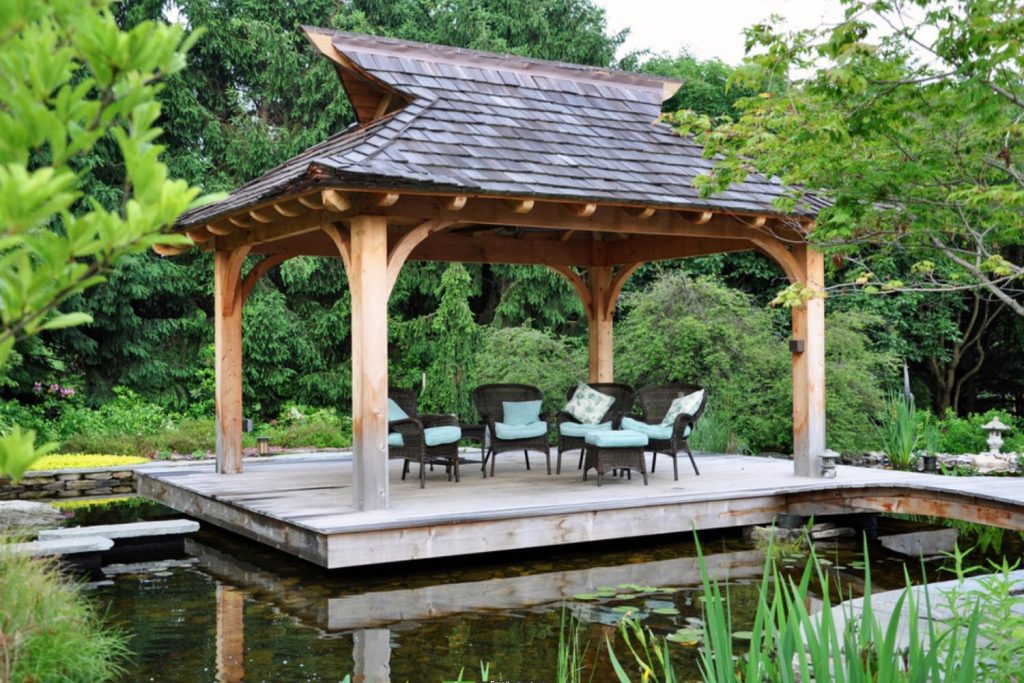 We have a modernized gazebo as well, and there is no strange thing in this. In this modern gazebo design, the top is flat, and the base is also not so above the ground. Its boundary is also open, and inside of it, there is a flat bench.
Modern gazebos are best for little space, and the one can be an excellent option for you if you do not have much space.
14. House like Gazebo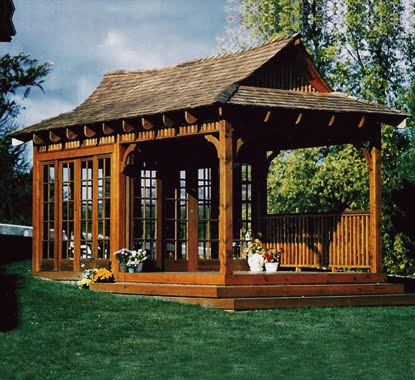 This gazebo design is going to be a perfect gazebo for city life. Most of us only get a chance to spend some time with our family and friends at night. After a hectic schedule, a gazebo-like can loosen up your stress and be a great way to relax.
You can make this is more like a bedroom so that you can spend some time in to escape from the outside world.
15. Modernized Gazebo with Chimney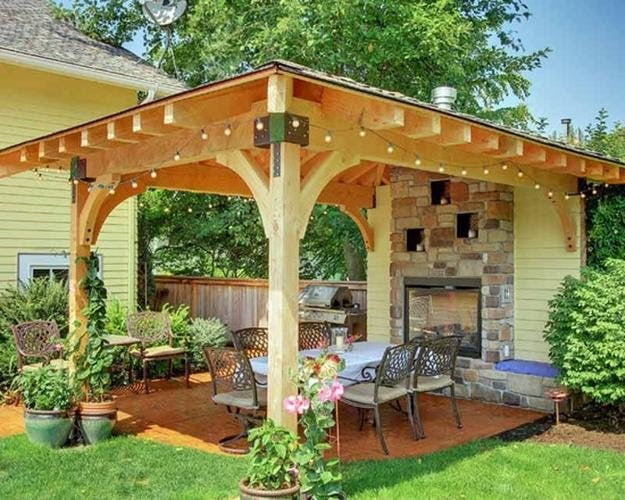 Among the modern gazebo designs, this one has unique features and designs as well. Bright yellow color has been used to give It a bright texture. With flowerpots at the corner and chairs with tables in the center is ideal for these things.
Other than external appearance, one main thing which cannot be left without appreciating is the chimney. A chimney has been embedded in its wall, which is quite a fascinating thing to add.
Conclusion
These were the best gazebo designs from which you can go for the ones that perfectly suit you.
We have gathered a lot of information about gazebos, and we found out that it has been known as other names as well, like Chinese pavilion, bandstand, and many other names.
So, if you come up with some words that are not familiar to you but the design is like a gazebo, don't worry, as it may be possible that it can be another name for a gazebo.
We want to recommend you the natural and traditional ones. As we all are modernizing things and changing its originality to make it suitable for us, keeping things like it is found or made will be a great thing and will also give those things a unique appearance.
So, use your creativity and make your gazebo design or go for the ones that suit you and fit perfectly into the section of your needs and requirements.