Your garden needs to have a healthy diet. A diet consisting of adequate sunlight, proper nutrients, pepper fertilizers, regular checkup, and, most importantly, a regular and adequate water supply. 
It is for this reason that you must purchase a water hose in the first place. These water hoses are incredible yet simple looking devices that can aid a passionate gardener. They are used to water plants and can be brought to a lot of different uses also. 
You already have spent a lot on gardening (. Both in terms of money and time), and this water hose adds to the cost. After spending so much on the right quality seeds and fertilizers and the water hoses, the last thing you would want is to see all these investments go in vain. So, you must do a proper reach before purchasing a water hose for yourself.
zero-G 4001-100 Garden Hose, 5/8" x 100', Gray
50% lighter weight compared to commercial vinyl hose.The hose does not retract or expand. Max Feed...
Jobsite tough - abrasion, leak & puncture resistant with burst rating of 600+ psi
Kink-resistant, easy to maneuver, drinking water safe & lead free
Does not expand or retract, guaranteeing an uninterrupted and high water flow Rate
Assembled in USA
Today we will be reviewing a water hose named Zero-G hose, which is very famous for the buyers. But before proceeding with any of that, we will go first into the factors and areas you must investigate before spending your hard-earned money on a water hose.
Factors Influencing Your Water Hose Purchase Decision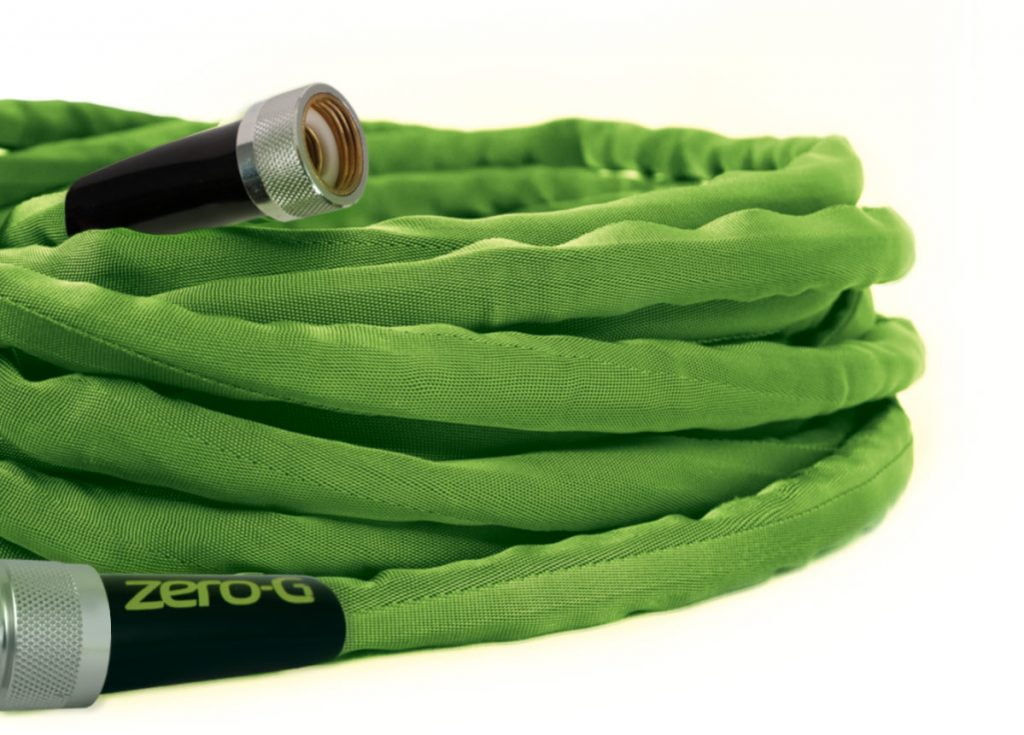 Length
The first thing you need to be very clear about is the length you want your water hose to cover. Water hose generally comes in a lot of lengths ranging from 25ft to 100ft. It would help if you were buying a water hose of the length most suitable for your requirement. 
If you need to cover a short distance and end up buying a lengthy one, it is certainly not a very wise decision for many reasons. For one, you will have to spend more than what you were required to. This additional money can go in vain. 
The second reason is that the lengthier the water hose would be, the more difficult it would become for you to move it to different places. Also, the longer hose may get kinks because it is not being utilized to its full length. 
And if you end up purchasing a shorter one, then you probably can imagine how bad that would turn out to be. So before purchasing a water hose, consider it a best practice to measure the length requirement and buy a hose a bit longer than the requirement. 
Power
It would help if you also looked for your pipe's burst rating to know how durable it will turn out to be. Burst rating tells about the maximum pressure from the flowing water that a water hose can bear before getting busted. 
The desirable burst rating is more than 350psi. If you want the water to come out of the hose with a lot of pressure, you should certainly go for ones with high burst ratings, but if you are cool to settle for a hose with medium burst ratings, try to keep your list around 350 to 400psi.
Material Used
If you want your water hose to be durable and reliable, you need to consider the material it is composed of before purchasing it. Water hose is generally made of rubber or vinyl, or a combination of both is used. 
Water hose made of vinyl is less durable and less kink-free. Too many kinks and folds can even lead to tears in the pipe. They have less power burst rating. 
Whereas the water hose made from rubber is considered more reliable, more resistant to kink and tear, and can bear the rough terrain when required. They are considerably thicker and have more power burst rating. Because of all these features and advantages, it is more expensive than the one made of vinyl.
The one made with vinyl and rubber is durable, but the water flowing through, even though it may be drinkable at the source, is not supported for drinking as it passes through many chemicals, which can turn out to be toxic for your health. 
If you are looking for a one-time investment, my suggestion is to increase the budget and buy a water hose made from rubber. 
Now that you are aware of the factors you must consider while purchasing a water hose, let us investigate Zero-G water ho features, which is quite popular in the market.
Zero-G Water Hose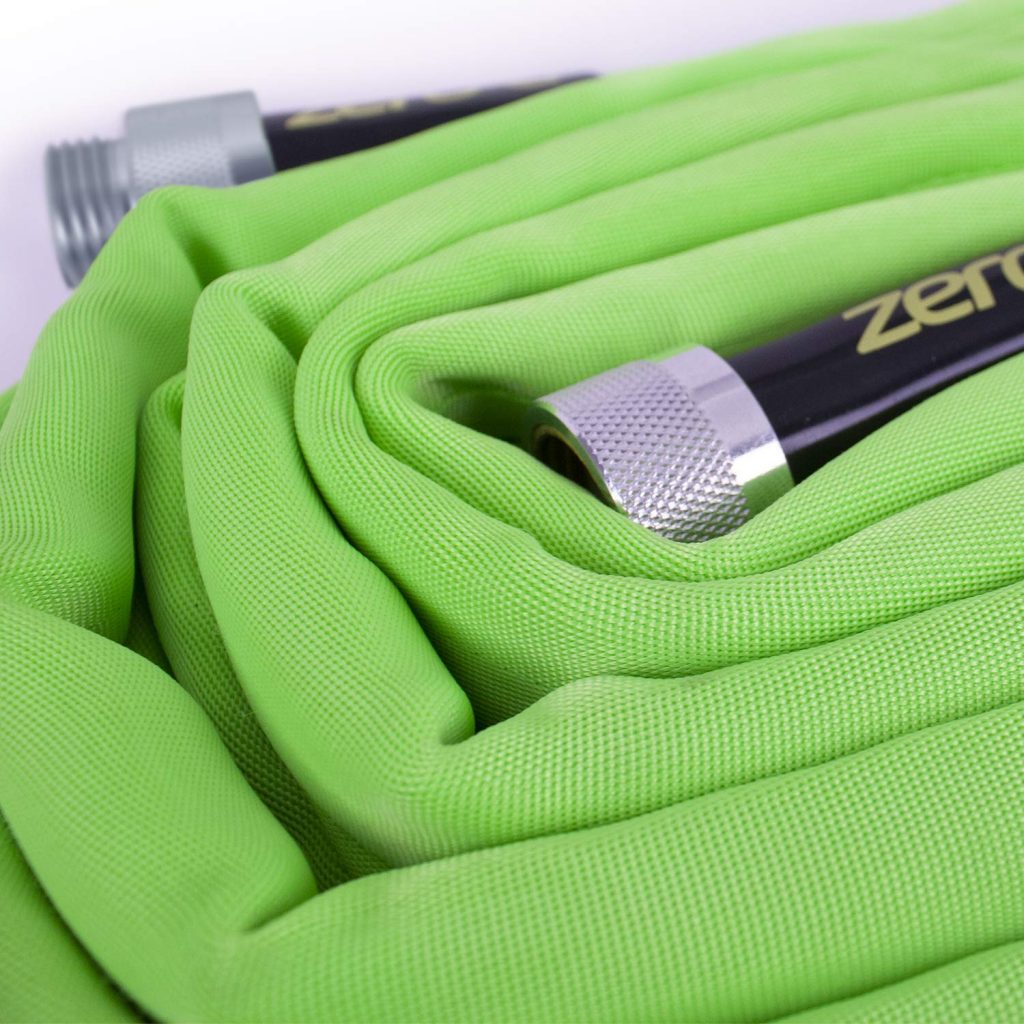 The Zero-G hose is an upmarket water hose, which is relatively better than many water hoses in many aspects. It is made from rubber and is very durable. You can purchase them easily from amazon.com or Walmart.
But make sure to compare the deals to be sure that you are going for the best one. Before discussing Zero-G hose's benefits, let us first investigate its pros and cons for better understanding. 
Pros
Crushproof couplings.
50% lighter in weight as compared to other commercial water hoses.
Durable 
Cons
Zero-G water hose is tough to wind up.
Benefits of Zero-G hose
Now let us discuss the advantages we get from Zero-G hose
Kink-Free Hose Design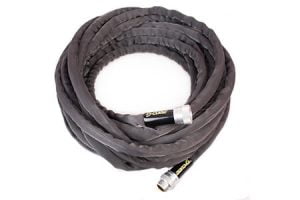 The walls of the zero-g hose are thick and multi-layered. This makes them resistant to kink and water blockage and tear. This results in comfortable and tension-free use of the water hose for household and commercial purposes. The zero-G hose is made from rubber, which prevents it from getting kink.
Lighter in Weight by 50 Percent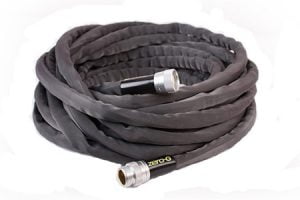 The zero-g hose is a lot lighter in weight than other commercial water hoses of the same category. This makes it easy to use by young as well as older adults. 
The biggest problem with water hoses is that they are heavy, and it becomes challenging to carry them from place to place for use. But with the zero-g hose, you get rid of this problem permanently. 
It is made of lightweight but durable materials, which provide it the strength along with lightness.
600psi Burst Rating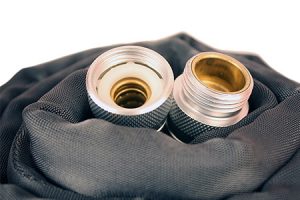 While regular water hoses have around 350psi burst rating, the zero-g hose has a burst rating of whooping 600psi. That very well explains how durable the hose is. With a burst rating so high, you can use this hose to throw water at very high pressure when in need, without even worrying about it getting busted. 
This makes it the right choice for commercial uses. You can easily wash your car with a Zero-G hose using high-pressure water. Even better, if you are a car wash owner, you can use this to provide your service as this water hose comes in both commercial and domestic lines.
Safe for Drinking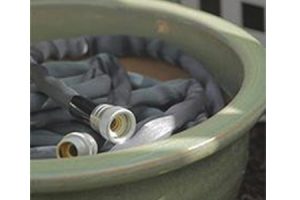 The Zero-G hose is made of rubber and not of vinyl. This means that the water flowing through it does not get contaminated, and if it is drinkable at the source, it will also be drinkable when it comes out of the hose. 
This, though not a significant benefit for a new user, is a huge plus point that is looked at from the eyes of a regular user of a water hose.
Easily Storable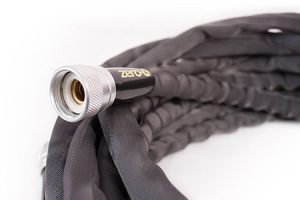 Unlike water hose made of vinyl, which gets tangled and kinks very quickly and cannot store correctly, the Zero-G hose is made up of rubber, making it resistant to kink and unnecessary folds. 
This makes the hose easily storable in a small container. And you do not need to untangle it or struggle for making it straight when you want to use it again. It certainly reduces a lot of unnecessary effort that you must put into that task otherwise.
Not So Expensive
With all the features mentioned, you must be concerned about the price it comes at, but you certainly do not need to worry about it. Despite being better than a lot of standard water hose, Zero-G Hose is a lot cheaper when compared with the benefits it offers.
It is an upmarket product with not at all a corresponding price. For purchasing a Zero-G hose of 50ft length, you will have to pay around $50. It is the best you can get at this range.
Warranty
For a price of $50, you get a warranty cover of 5 years, yes five years. This is a lot considering the price you had to pay. This makes it an attractive deal.
Customer Reviews
It has a very decent customer reviews section with more than 4.5 stars rating on Amazon. This explains why it is a choice of so many people for both household and commercial uses. 
If you are purchasing from another platform, then check what its rating is there. Chances are it might be like what is on amazon.
Conclusion
Above are some of the benefits of purchasing a Zero-G hose. Be sure to check the factors you need to check before purchasing a water hose to make the right purchasing decision. 
Coming back to Zero-G hose is a beautiful product considering the price you need to pay for it. It is durable and kink-free, which is the biggest concern of most people. 
It comes in a variety of sizes. So be sure to get one according to your needs.