Cold Frame designs seem to be interesting to have a look at. But before that, let us check out what these are and how they can be used.
If you love plantation, you better know that plantation needs a lot of effort and dedication. What if the temperature changes or animals around will destroy your crops?
The worst thing ever, right? We have a solution for you. Let us read it till the end to have a better idea.
Greenhouse Cold Frames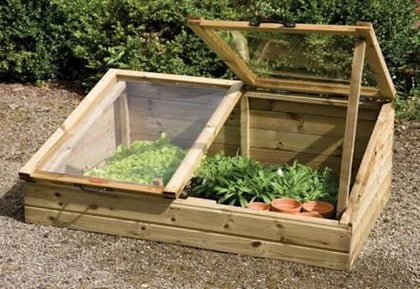 Gardening and plantation are the best hobbies, and for some people, it is a passion too. To save your plants and crops from temperature changes, Greenhouse Cold Plants is an option.
They capture the light from the sun and maintain appropriate warmth inside your Frame that you construct on your plants, deciding an area where the plantation has been taking place.
If you live in an area where a drastic change of temperature occurs, you need a Greenhouse Frame for sure for better yield. If the temperature falls rapidly or increases rapidly, that will be a nasty factor for your plants and crops.
If the temperature rises above a particular value, it will burn your leaves or damage the crops. Similarly, if the temperature falls from a particular value, it can make the leaves dry and fall.
In both cases, you will be at a total loss, and no one can help bring the yield back to the optimum level. But here is the solution with the best results—the Greenhouse Cold Frames.
Those regulate the weather inside for better development of crops save them from outer animals or birds. Maintain the perfect warmth and humidity for your plants.
Let suppose you are a commercial supplier of something nonseasonal and this will give you more money than the one providing seasonal thing.
Using Cold Frames will help you stretch the season by maintaining the weather you want inside the Frame for your plants and crops.
Types of Cold Frames and Designs:
Types of Cold Frames directly depend on the quantity of your plantation, the material you want for it, and the design.
Shower Door Cold Frame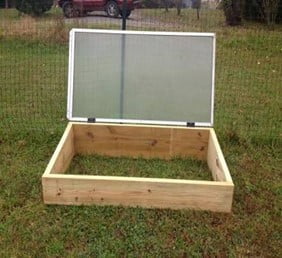 It has Glass attached to it with a wooden frame, which can easily be available in the market. You can also use any old glass of your windowpane and doors to build it on your own. It is a necessary and reasonable Cold Frame with less investment.
Brick Cold Frame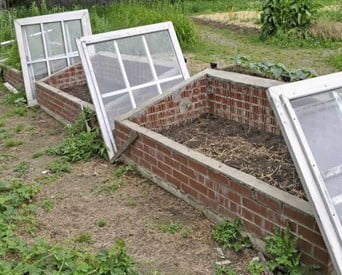 This is also a good option and needs little investment. It is the permanent one and can be built with little effort. You need Bricks, Cement, windowpane glass, and you can build it on your own as well. When the temperature is high, you can open the glass window above this Cold Frame.
Hinged Top Cold Frame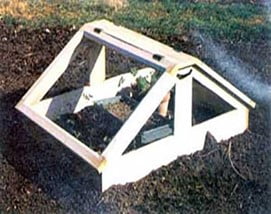 This type of Cold Frame looks very beautiful and add to the attraction of your Garden. This requires little more skills to build than other basic ones. This requires a wooden set of Frames, screws, and Glass for the lid, and here, you can use Plexiglass or UV glass as per your choice for better results.
Pallet and Window Cold Frame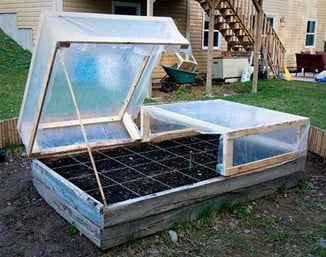 These types of Cold Frames are also highly used for different species you grow with one type of temperature requirement as you have different pallets for your plants and crops. You need screws, nails, a hammer, a screwdriver, old window glass, and Pallets to build this on your own. The skill level required here is Beginner.
Vertical Cold Frame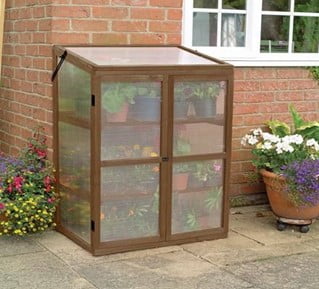 This setup is very calm and good looking for your plants and the people who will see this. It just needs some space to build a frame on the front side, as your wall will offer the background. These are Half Greenhouse and Half Cold, so very effective as per the requirement. You just need old windows with Glass, wooden Frames, and nails with some screws to build it up.
Compact Cold Frame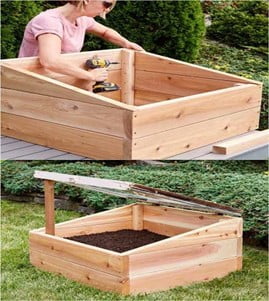 It is called Compact Frame as it has a small Frame, a small area it needs, and even small effort. This is also very useful and attractive. Tiny does not mean it is of no use. It has Greenhouse properties—little but not Least. You need wood, screws, wireless screwdriver.
Old Window Cold Frame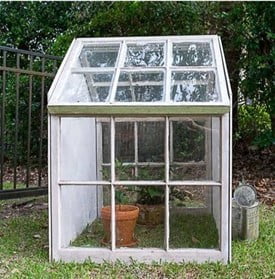 As the name suggests, this setup requires just your old windows and some skills to get it up to the mark. These window frames are used for high plants due to their length and height.
Salvaged Window Cold Frame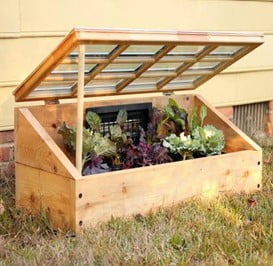 Are you thinking about getting your house windows decorated or changed with a new style? The Old and Salvaged windows are no longer in use? Then this thing is for you. Use the Salvaged Windows to build this Window Cold Frame. The Glass will not allow any dirt or snow to reach your plants.
Cold Frame Table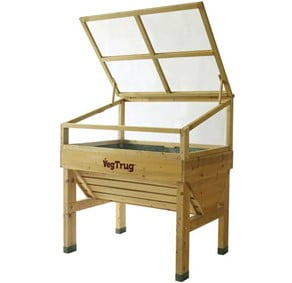 This is a fundamental and good quality Cold frame. This has a shelf underneath the Frame for more storage space.
Glassless Cold Frame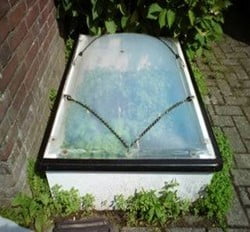 These frames do not require Glass and can be built with a skylight dome on the top of your Cold Frame. These look cool and fascinating!
Dead Simple Cold Frame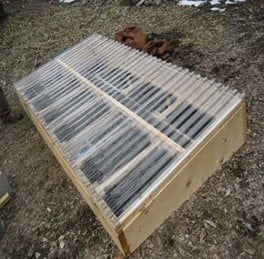 These are very simple and easy to build. Just adjust the top angle, and the rest will be like a cup of tea for you.
Raised Bed Cold Frame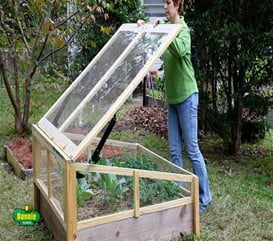 This is composed of acrylic sheets on the top and just like a bend bed shape. The slope helps rainwater to flow easily than to be collected on top. Easy to build and easy to lift the lid too.
Plexiglass Cold Frame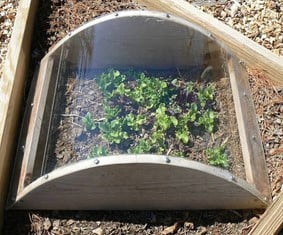 This Frame just needs a simple wooden frame of any shape as per your plant's requirement and a Plexiglass sheet on the top as a lid to handle it well.
Portable Cold Frame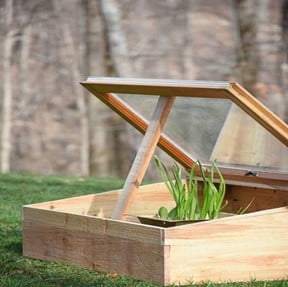 As the name suggests, this is very easy to carry from one place to another. It has a wooden Frame with an Acrylic Sheet layer on the top to capture sunlight and does not allow the snow to be collected on the top.
Plastic Bottle Cold Frame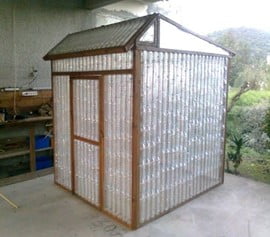 This Frame needs a little wood to hold the plastic bottles, and it is straightforward to build. This shows the perfect use of waste plastic bottles, which leads to environmental safety as well.
PVC Cold Frame with Hoop House Technique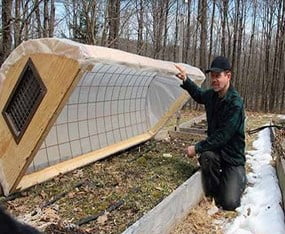 This is the most used Cold Frame as it allows light to come from all sides of this Frame due to its half-circle shape stretched to a little longer. Due to the arc shape, it gives plenty of light to plants for growth. The use of PVC makes it challenging in heavy rainfall.
Cold Frame with Tent Shape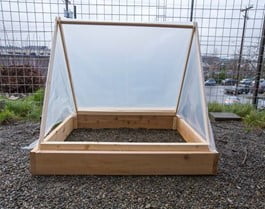 As per the name, this Cold Frame will be like a tent or Triangle. The upper portion can be of PVC or Glass as well, as per the need. The wooden edges are to give support to the sheet and Glass.
Light-weight lid Cold Frame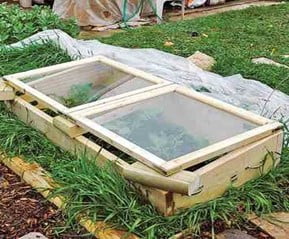 As the name suggests, it has a light-weight lid easy to lift and handle. It may have an acrylic sheet or PVC sheet, too—best for herbs.
Simple Cold Frame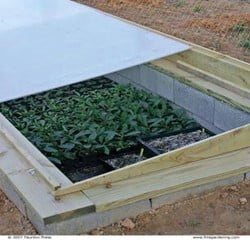 The name of this Cold Frame is Self-Explanatory. Moreover, the most basic and straightforward Cold Frames are simple to build with wood and ply sheet or Poly sheet.
Sleek and Efficient Cold Frame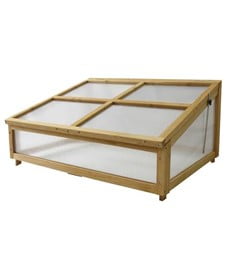 This is just like Bed raised design and sleek than that. It is easy to build and best for small plants. The upper cover can be of Glass sheet or Acrylic sheet too.
Designs of Cold Frames are interesting to know, and maximum of them you can build by yourself. Choose your best design and let us rock.
Happy Planting with exciting designs of Cold Frames!