Do you enjoy doing garden work? Or it might be possible you are thinking about beginning your small patch of veggie this season?
Well, regardless of the scenario, you will get great assistance in the event you know how you can build your organic compost, i.e., DIY indoor compost bin.
Apart from this, it also helps cut down the organic waste that is thrown in landfills. Because of the artificial space that covers the settled things in the space, organic waste cannot entirely break down into the ground.
However, it is irritating to go to the backyard compost bin whenever you have organic materials for disposal all the time.
It will be convenient in the event you have a nice little kitchen countertops compost bin. Well, you can purchase that. However, you can save your money and build one with the already available things at your home.
Well, for apartment dwellers who desire to compost and just like all other things, it is not like one-way fits all, as numerous numbers of options are there. It is merely looking for the thing that fits properly for you.
In the event you attempt something and still does not fit you, go for another thing. It is a simple DIY indoor compost bin for people who want something space friendly, less costly, and customizable. Let us check how you can DIY an indoor compost bin.
Where Can you Place your DIY Indoor Compost Bin?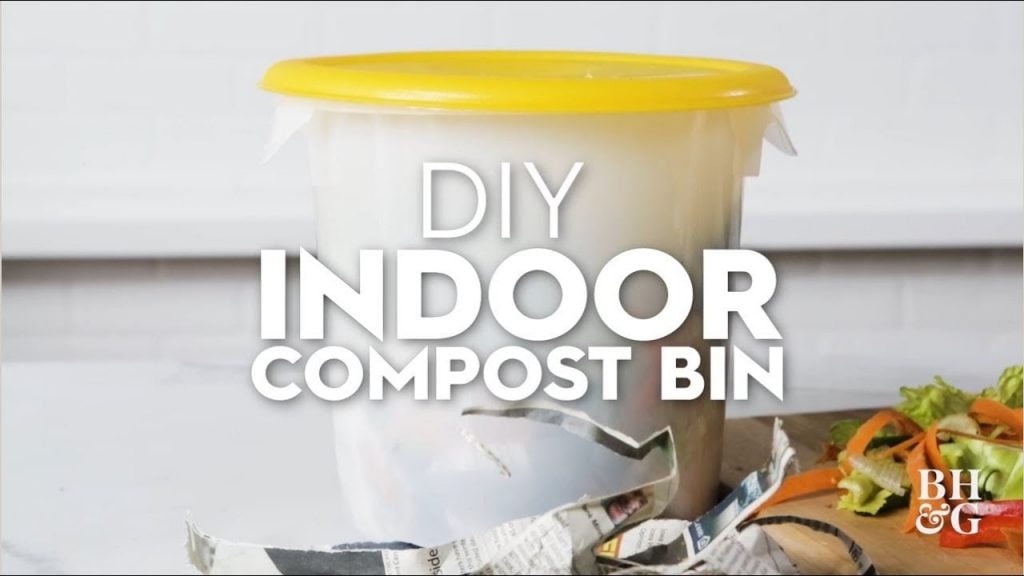 You must determine firstly space where you need to store an indoor compost bin. You can place them on the countertops for sure. However, compost likely to work great in a wet, warm, and shadowed environment. 
You can place it in a floor cabinet or under the sink of the kitchen. This will also help in keeping the bin away when the inside bacterial will perform the job.
If you have animals or kids at your home, then a locked cabinet assists the compost away from prying noses or little hands. 
Things Required to a DIY Indoor Compost Bin
Coffee Bin Made of Plastic Along with a Lid
You can go for Folger's bin if you are confused about which one to use as it has a lid having an excellent seal and has an ideal size.
Folgers 1/2 Caff Half Caffeinated Medium Roast Ground Coffee, 21.6 Ounces (Pack of 3)
Contains 3 - 21.6 Ounce AromaSeal Canisters of Folgers 1/2 Caff Ground Coffee
Flavorful and smooth medium roast coffee with a rich, pure flavor and classic aroma
About half the caffeine of Folgers Classic Roast coffee
Works with a wide range of home coffee makers, and is specially recommended for French press and cold brew coffee making
Makes up to 180 suggested strength 6 fl oz servings per canister
Well, you can make use of any bin having a removable lid. This can be made of ceramic, metal, or plastic. You do not have to forget that the lid needs to be drilled into. 
Disposable Charcoal Filter
You can purchase this from any hardware shop or any pet shop in the kittle litter area. You can buy it from the section of Kitchen and Plumbing at the hardware store. 
12pack FoodOMeter 6.7 Inch Charcoal Filters for Kitchen Compost Bin Pail Filters Replacement, Countertop Bins Odor Absorbing Activated Carbon
✅【 HIGH CARBON QUALITY】FoodOMeter charcoal compost bin filter is round, durable, with a thickness of 5mm made from activated-charcoal for better filtration. Set of 12 pcs round carbon compost filters.
✅ 【PERFECTLY SIZED】FoodOMeter charcoal compost bin filters are 6.7Inches round shape diameter that can cut to fit your compost bin. These ensure no smell will ever escape your compost bin while pores encourage smell free ventilation that is essential for composting.
✅【 EXTRA THICK & POWERFUL ABSORPTION】With an ultra-thick design and eco-friendly activated charcoal material, it will surely bring you fresh and clean indoor air and having higher carbon density for better absorption. This compost bin charcoal filters fits the compost bin to keep the odor down by adsorption and bring fresh air. It does an efficient job of eliminating top odors from sink compost pail.
✅【 DOUBLE THE ODOR PROTECTION】FoodOMeter compost charcoal filters replacement are equipped with activated carbon technology that neutralizes bad smells even on hot summer days. You can keep adding food scraps (such as vegetables, fruits, eggshells, coffee grounds, tea bags, etc.) to your compost bin without worrying about any bad smell, pests, or fruit flies.
✅ 【COST EFFECTIVE】 Are you looking for a perfect charcoal filter to trap unpleasant odors in your compost bin? Get your FoodOmeter compost bin replacement filter to bring you fresh and clean indoor air. Please do not rinse or wash the filters. Feel free to contact us if you have any comments or questions.
Drill having ¼'' Drill bit.
Its purpose is to make the holes around and neat in the lid. It would help if you created some holes; you can also go smaller than 1/4th. There can be a chance for odor escaping, so it is not suggested to go for larger holes.
AVID POWER 20V MAX Lithium Ion Cordless Drill, Power Drill Set with 3/8 inches Keyless Chuck, Variable Speed, 16 Position and 22pcs Drill Bits
Multifunctional Battery Pack: 20V 1.5Ah Lithium-ion battery pack with USB output compatible for phone charging and real-time capacity indicator
15+1 Position Clutch: 15+1 torque (260 In-lbs) settings provide precise control for driving in/out screws to prevent stripping, and drilling into wood, ceramics, drywall, plastics and even metal with ease. Max torque for drilling into wood 13/16"(20mm) or steel plate 3/8" (10mm).
Ergonomic Design: Compact and lightweight design with superior motor minimizes fatigue in most daily screwing and drilling tasks; Rubber-covered handle provides a comfortable grip for being breezily operated in one hand.
Efficient Working: A flexible shaft could be used in some places where driver bits are hard to reach; LED light illuminates dark working areas; Variable speed(0-550RPM)with electric brake function provides precise operation.
What'S Included: 10pcs drill bits, 10pcs driver bits, an extension bar for sticking on fastener and a magnetic flexible shaft for hard-to-reach places, US based customer support
Glue stick and a glue gun
A glue gun will perform excellently, and however, if you have a glue stick, it is beautiful.
WORKPRO Mini Hot Glue Sticks, 200-pack, 0.27x4 inches, Compatible with Most Glue Guns, Multipurpose for DIY Art Craft General Repairs, Home Decoration and Gluing Projects
【200 Glue Sticks Included】 Comes with 200pcs environmental-friendly glue sticks with standard 0.27" inch diameter and 4" inch length and is compatible most of glue guns on the market.
【USING PERFORMANCE】 Environmentally friendly, non-toxic, no harmful substances to the human body during operation. Hot glue sticks work with both high and low temperature glue guns and features an extended working time for great convenience for all types of projects.
【Strong adhesive &Good flexibility 】EVA hot melt glue has fast curing speed, strong adhesion and certain toughness. Easily melts and adheres to most surfaces. Create your work effortlessly without having to worry about damage in a short time. Good flexibility and luster, durability for daily gluing .
【Widely Used 】 Great ideal for home, office and school DIY crafts projects including bonding and fixing of wood, paper, cardboard, metal, textile, cork, glass and various plastics. Makes your crafts and arts more easier and more beautiful.
【ATTENTION】 Before using hot melt glue stick, please make sure the adhesive surface is water-free, dust-free and oil-free for the best effect.
How Can You Create the Indoor Compost Bin?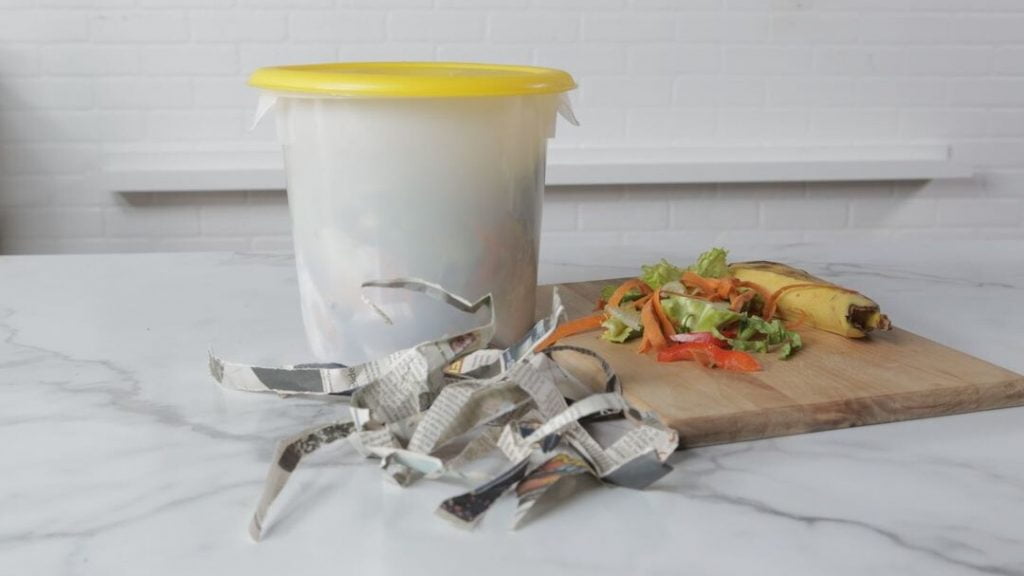 Look for a Container Made of Plastic Having a Lid
As already mentioned, you can use the coffee bin of Folger as it is simple to clean and made of plastic. It also has a nice lid that makes drilling easy.
Well, in the event you do not have this one, then you can make use of any that you have. A garbage bin made of plastic having a sealed lid will perform the same if you require something on a grander scale.
Container Cleaning
You must make use of soapy and warm water for disinfecting and cleaning the bin. It appears to be somewhat foolish, seeing as what is going inside it; however, if you will begin with a new bin, it can set the scale for composting your kitchen. You will require confirming that you are wholly drying it before its utilization.
Hole Drilling in the Lid
Get the drill and 1/4th bid and start the hole drilling in the lid. You need to make 8-10 holes. It would help if you made some extra holes for making up if you are using a smaller size bit.
You must take the scissors to them and pull them off throughout the edges if you are getting straggly bits.
Cut and Glue Filter to Lid
To fit in the lid, you need to get the filter and cut it to size. You must fit two together, having a tight seam if you do not get one sufficiently large enough. Its purpose is to avoid most of the odor from escaping.
It is not right to put the food items in there for quite a long time as it is a kitchen counter compost bin. You need to confirm that the things are not filling to the filter point.
Get some hot glue and include some dabs to the lid's underside, fix the filter(s) at the position, and tap gently when it is drying. 
You must confirm that the filter is remaining in the proper place for good. Keep in mind not making use of an extra amount of glue as this can lead to the melting of the plastic lid.
To provide your DIY indoor compost bin a tighter and better seal, you can use hot glue, having a thin bead throughout the lid's rim inside. It will assist with any extra odor.
You can place the bin on the countertop for simple access or hide it in the cupboard, having a garbage can. To mix and match it with the décor of your kitchen, you need to think of a spray painting with a fresh color.
Is it Possible that the DIY Indoor Compost Bin Will Get Dirty?
There are chances that the DIY indoor compost bin can be somewhat dirty if a large amount of compost bin is dirt. 
Numerous ways are there to lessen the dirt. It would help if you placed some tray under the bin wherever you place it. You will be having a buffer if you get some spills after lining the tray with the assistance of newspapers.
Nevertheless, most of these will be somewhat like soil or some wetness from the water that you spritz on the pile.  
To begin a DIY indoor compost bin, you will require some soil quantity, and you can get it from the outside of your house. 
It will be great to initiate with a small amount of bagged soil. It is sufficient, to begin with, a 4-inch layer inside the bin. However, larger containers may require extra. 
What are the Different Materials that Can Go Inside the DIY Indoor Compost Bin?
An ideal balance will be made of compostable things in the bin when you begin building good compost. Organic things' perfect balance needs five necessary materials – brown waste, green waste, moisture, soil, and air.
Green waste is a thing that is rich in nitrogen. It incorporates vegetable scraps, old bread, banana peels, and apple cores.
You must avoid using any dairy or meat. However, any plant-related things or eggshells can also work.
Such things will be decomposing in a manner that you might not desire. These will additionally give off unpleasant odors and attract some pests.
In a pile, you will require a fair amount of 'browns. It incorporates something rich in carbon, such as tea leaves, coffee grounds, untreated paper such as dried leaves and newspapers, or dry grass.
You will be good to go after you follow this up with the help of soil and water spritz on the pile, and you must keep it damp.
You must ensure that the pile requires damp to touch and does not have to be soaking wet. 
Is There any Need for a Lot of Maintenance for a DIY Indoor Compost Bin?
You require frequent airflow in the bin, so you have already drilled the air holes. You must sift or turn the bin frequently.
As a result, the ideal kind of microorganisms and aerobic bacteria can perform amazingly. A trick of turning one or two times can be ideal.
There is also a possibility to require extra shredded paper strips or a new soil handy scoop. As the compost decomposes, it will be shrinking in size.
Some extra soil will assist in padding the excess amount you possess if you are thinking of making use of your compost for fertilizer or soil afterward.
The blend will become off-balance slightly in the event the bind begins to smell. You must take some stock out of the things you place in the next round or include some extra air.
Compost Solutions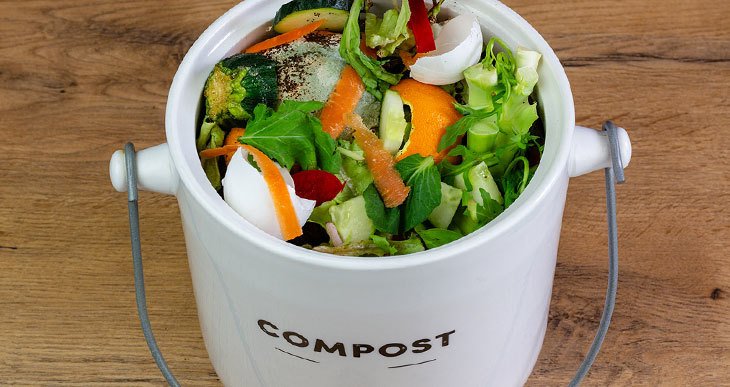 Rodents and Pests
The selection of compost containers is the very first step to prevent pests and rodents. Unwanted creatures will be out if you will go for a solid-side bin having a lid. Moreover, you need to avoid fats, dairy, and bins in the compost bin.
Smell
You do not have to stress this in the event smell is not allowing you to the DIY indoor compost bin. This is very basic to control the smell.
You can add newspaper or dry leaves to the pile in the event your bin begins to stink. Any acidic odors will be in control as the newspapers, or dry leaves will balance the wet-dry content ratio.
Slow Decomposition
To introduce air into the blend, you must ensure that you stir the pile with the assistance of a shovel or hand trowel at least one time in 7 days.
The breaking-down procedure will catch speed in the event you keep little contents in a pile like cutting-up banana peels.
Final Words
Well, hopefully, you liked these easy DIY indoor compost bin steps.
It is effortless to make and can surely assist you in the requirements of your gardening compost.
Do not forget that composting not just offers organic fertilizer for your property and plants; however, it is excellent for the environment.
It helps in cutting down the waste significantly and assists in freeing up space in the landfills.