Winter is when you take out every plant and cover up anything that can get affected in the snow. All your accessories are kept inside your home rather than outside; the same goes for your patio, most of us leave it as it is since we won't be using this, but some of us also want to use our patio and sit outside during Christmas, sipping hot eggnog, so how can we do that?
By enclosing your patio, and no, it is not permanent, you can unwind them in summers and use them in winters. Or you can keep them installed for over a year and roll them up and down when you want to catch some air, and close the panels if it's raining since all the water could come inside the patio.
Not only will you keep the cold from coming in, but also the snow.
PES (Porch Enclosure Systems) has amazing Winter Porch Enclosures that will keep away the snow from coming in or the cold breezy wind. You can roll them up and down and attach securely to your screened porch or patio. 
It lets in the warmth from the sun so that you do not get away from all the benefits of winter. It is appropriate to have 35+ degrees temperature inside your Enclosed patio during winters, even if it is just from the sun.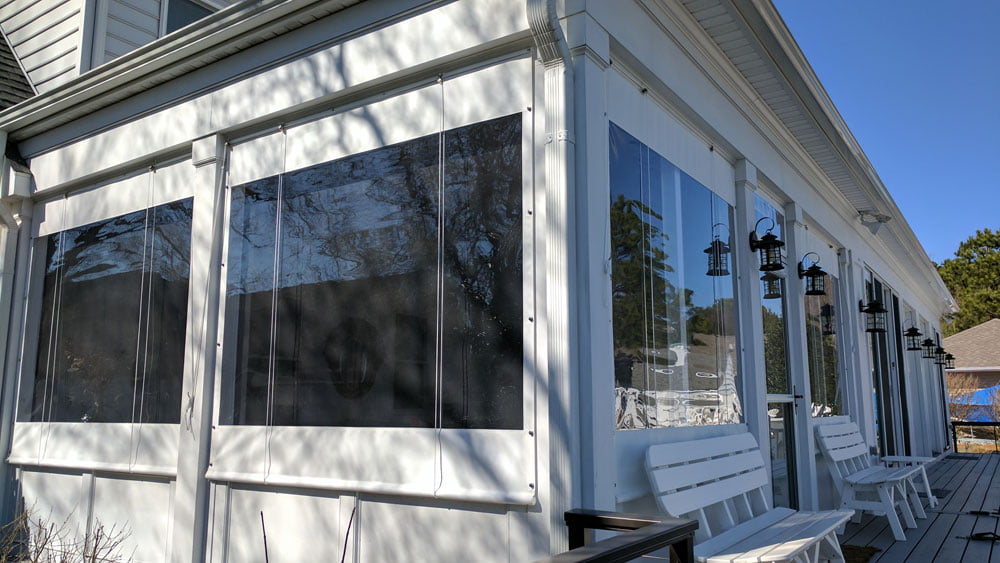 Their winter porch curtains let in plenty of light and have clear, visible, superior clarity other than that of transparent vinyl plastic winter curtains. Their winter curtains are made from high quality, scratch-resistant sheet glass, the same material used in convertible vehicles, stainless steel hardware, and marine-grade polyester. 
During the times of late fall or early spring, you can roll up your panels to let that fresh air come in your room while keeping the rest of the curtains down to keep the cold wind from entering. When you want to take the curtains down during summers, you can easily take them off from the top track and place them in the original storage bags.
The lower track can also be removed in the same way. Their straightforward, vinyl window curtains can be rolled down to keep the wetness, coldness, or dirt out, and roll them up to enjoy the warm winter mornings.
The curtains can be rolled up and down with a nylon pull cord that can be tied up in any position from opening fully to closed. When your curtains are rolled wholly or partially down, you can secure each panel's vertical sides using easy and low-profile fasteners. 
You will not require any straps to straighten out your curtains since each panel consists of the latest high-tech glass and vinyl material. These curtains can go on for an extended period, and the best part is that you can use them in any season. These curtains are low profile and come in various colors to choose from.
The panels are scratch-resistant, UV, and stain-resistant, polished vinyl sheet glass, having as much clarity from a newly polished glass. You can see them in various restaurants too. 
When you wish to remove the panels, all you got to do is lose two stainless steel screws from the top track and sliding the enclosure panels out to the left or the right side. You can either keep them up for every year or take them down.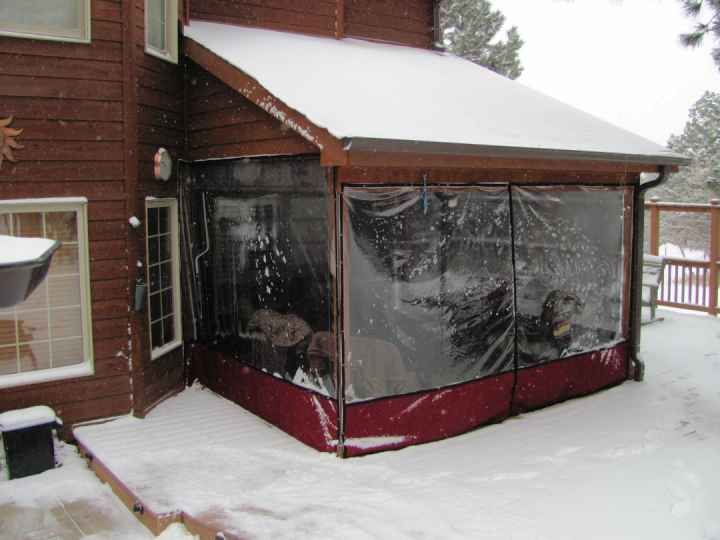 Most people chose to keep the curtains year-round because of the low-profile design, temperature fluctuations during spring and fall blocks the rain and pollen, curtains are UV resistant and look good both when rolled up and down. 
The top of each curtain is attached using a PVC or Aluminum Keder Top Track that fits perfectly on your porch or patio, resulting in minimal water penetration, running down behind your curtains, so you can easily wash them. The curtains also cut down the noise and do not shake during heavy winds. You can easily wash them, and they will not go pale. 
The curtains are selected based on your porches/enclosed patio's framework and desired window placement to assure that it fits perfectly around your patio. 
You can go down by the store to check out the curtains during winters, where you can get the best idea and sip some mimosas while checking the curtains out.
Conclusion
Enclosing your patio or porch is also an important step. Closing it with the help of PES vinyl curtains with superior quality isn't just for winters; you can use them for any season. That is why most people leave the curtains for many years before taking it down. You can easily roll them up and down, which does not mean that you cannot smell and feel the fresh air coming inside. 
They are easy to take off, too, by loosening the screws from the top track and sliding the panels. Not much effort is needed to install and remove them. PES's curtains are the best or covering up your Enclosed Patio.
They are even waterproof, which means that you can clean them from outside, and they will not fade their color. With these fantastic features that PES offers to its customers, what more would anyone need?