In the U.S, you will find a lot of trouble that is being created by frogs. On the one hand, frogs are a great source to balance the insect population, but on the other hand, a large population of frogs can be really noisy. Also, some species can be poisonous to pets.
So, if you don't need frogs jumping around you, there are few ways to get rid of them. But we need to keep in mind that animals are also beings, and the least we can do is be kind to them while getting rid of them.
How to Get Rid of Frogs Humanly?
some species of frogs are protected by law, so you cannot kill them. In such a case, you can only do things that will keep the frogs away from your garden. Listed below are some ways that you can use to keep frogs away from your backyard.
Reduce the Attraction.
If you make the yard less attractive, the frogs will eventually leave your garden alone. You can use rubber snakes in the pool to scare the frogs away, or you can also get yourself a pet, either a cat or a dog.
Drain the Pool.
If fake snakes do not get the job done, then you can drain your pool for few weeks so that frogs will stop visiting. Frogs are amphibians, and therefore an empty pool can be a real turn off.
Do not Feed Them.
Frogs need food to sustain themselves, and if you cut their food at the source, they will not return to your yard. Remove all the weeds and debris from your yard, and do not keep water for other animals in the yard or anywhere around for a while.
Use the Physical Force
Now that none of the easy tricks are working, it's time to use the physical force. You can walk out with a flashlight at night and scare the frogs away, or you can also use a net to scoop the frogs out.
How to Kill Frogs as Gently as Possible?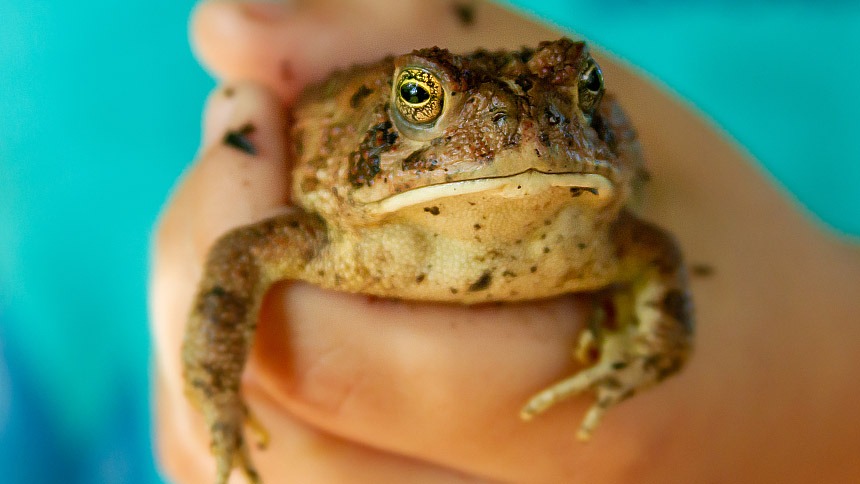 If you want to exterminate the frogs, then here are some ways that will do the job without being cruel to them.
Caffeinate the Frogs.
Coffee is one of the most effective ways to kill the frogs. Concentrated caffeine causes heart attacks in the frogs, which leads to instant death. The other way to do it is to spread the coffee beans on the ground, which will not kill the frogs but only make them uncomfortable.
Frost the Frog.
When frogs go into hibernation mode, they get cold. So, if you happen to freeze them, it is highly possible that they will not feel the pain.
Use Orajel.
Orajel is a mouth-numbing product that happens to contain Benzocaine. This product can also be used to numb the frog's brain that will stop the heart. If you happen to catch any frogs, , sprinkle a little Orajel on their head to kill them.
Spear the Frogs.
Spear or gig is equipment like claws that can catch frogs without being very close to them. Frogs happen to be most active at night, and that is when you can hunt them using the spear.
Use the Salt Mixture
Dehydration is very dangerous for frogs, and it might kill them as well. You can make a salt mixture and spray it around your yard so that frogs consume them and then eventually die of dehydration. However, salts can be harmful to your plants.
Spread Citrus Acid
If you are not convinced with the idea of salt, you can also use citrus acid to kill the frogs. All you have to do is take one gallon of water and mix 1.3 (600 gm) of dry citric acid into it. You can spread the mixture in your yard and get rid of the frogs.
Milliard Citric Acid - 100% Pure Food Grade Non-GMO Project Verified (1 Pound)
The fine granular NON-GMO citric acid is a kitchen essential used in preserving, flavoring, and...
Adds an acidic or sour taste to meat, candy, soft drinks, and ice cream. It keeps fruits and...
Perfect for bath bombs, used as the main ingredient along with backing soda (sodium bicarbonate) to...
Helps in sprouting, canning, drying or freezing, bread making, conserving, and jarring. Can also be...
Packed in our NEW durable resealable stand up bag which allows for long and safe storage. Available...
However, this will not work if it is raining outside.
Get Natural Predators
Snakes and cats both love to feast on frogs. So, if you get them in your yard, the population of frogs will decrease, and other frogs will be happy to stay away from the yard.
However, as we mentioned earlier, some frogs are poisonous in nature, so do not get a pet that is sensitive to the poison.
Conclusion
We can understand if you do not want frogs annoying you all the time or disturb you with their noise. But we also request you to get rid of them with minimal cruelty.
Do let us know which way worked for you in the comment section so that others can try it too.