A piece of fabric deliberately laid down to cover the grass shall make no sense to you if you have no gardening experience. However, people who do gardening professionally, or even on a person
al level, it can avoid their worst nightmare from coming true.
This piece of cloth is known as garden fabric or a garden cover and is laid on a garden or a field to avoid weed in the field.
Getting rid of weed can be a difficult task. Therefore, the best way to keep weed out of your life is never to let it grow in the first place.
A garden fabric also has other advantages apart from stopping weed growth.  However, it can also prove to be harmful to your garden if not used carefully.
In this article, we will tell you everything you need to know about the pros and cons of using a garden fabric, and what is the right way to use it?
What Is a Garden Fabric and What Are Its Uses?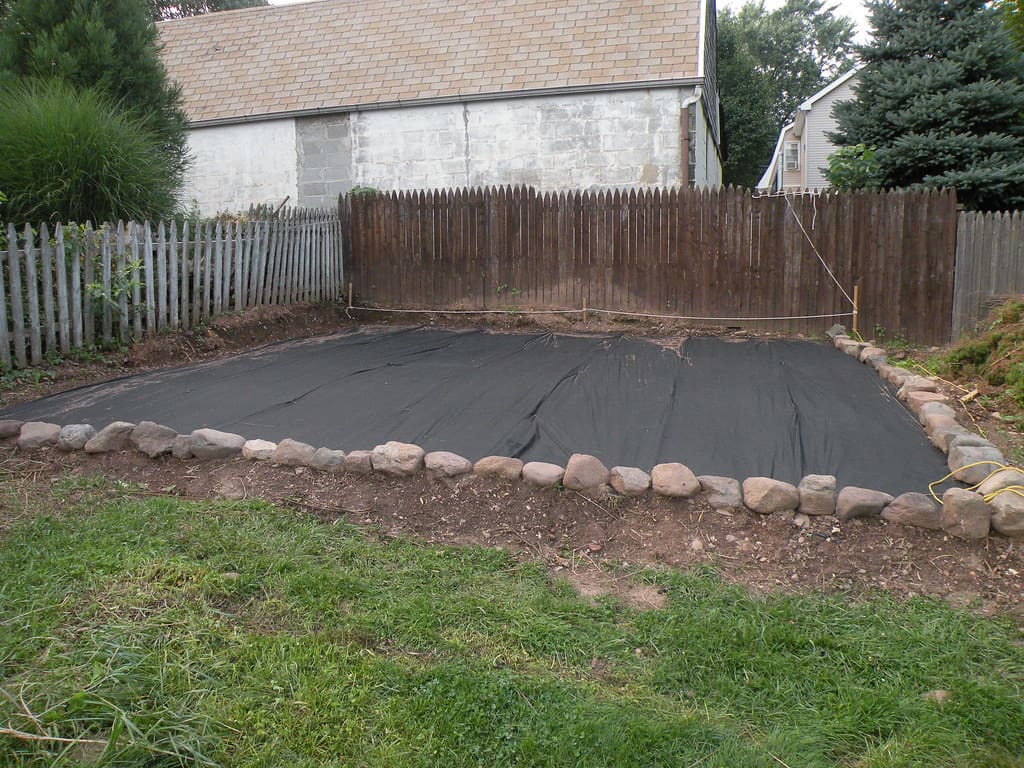 A garden fabric or landscape fabric is a roll of cloth made to cover a landmass where there is a potential for weed growth.
The fabric is usually made so that it has perforated holes in it to allow water and air to pass. However, it blocks out sunshine, which prevents weed growth in the area.
Apart from controlling the growth of weed, landscape fabrics also help control erosion in certain situations.
Sale
ECOgardener Premium 5oz Landscape Fabric, 3ft x 50ft Pro Garden Weed Barrier - Durable & Heavy Duty...
Premium weed barrier landscape fabric to make your life easier and skyrocket your productivity!
Super-easy to install and set up landscaping fabric to provide unparalleled weed control.
Garden weed barrier mat designed to conserve your soil's moisture and preserve its value.
Heavy-duty and durable weed control fabric to protect your garden from weeds for a very long time.
Most advanced, professional home gardening solution that helps you reduce the use of chemicals.
Pros of Using Garden Fabrics
Landscape fabrics can prove to be beneficial due to the following reasons:
It prevents the weed from growing by blocking out the sun.
Since weed growth is limited, the need to use harmful pesticides, which decrease soil fertility, will also decrease.
It keeps the water in the soil from evaporating, thus helping the soil retain its moisture.
It can help reduce erosion due to rain in slopes.
Cons of Using Garden Fabrics
Using landscape fabrics can often be disadvantageous, mainly when not used in a proper manner. Following are the reasons why some prefer not to use it:
It stops the natural cycle of biological fertilization by stopping the soil friendly worms from reaching the soil. Earthworms are beneficial for soil as they aerate it. Preventing them from reaching the soil can make the soil unhealthy and infertile.
Natural fertilizers, such as fallen leaves, are beneficial for soil's health as they replenish the soil's nutrients. However, a garden cover can prevent such natural fertilizers from reaching the soil.
A mulch layer (made of organic materials) is often used above the garden covers to hide it and for a few other reasons. This Mulch can often become a growth bed for the weed whose growth was being avoided under the fabric.
While weed seeds under the fabric do not get essential supplies for growth due to the garden cover, new seeds can always blow in the Mulch above it and start growing.
Getting rid of such weed can also be extremely difficult since it can set its roots in the garden fabric's perforations and can pull the cover with it when being pulled out.
How to Use Garden Fabric?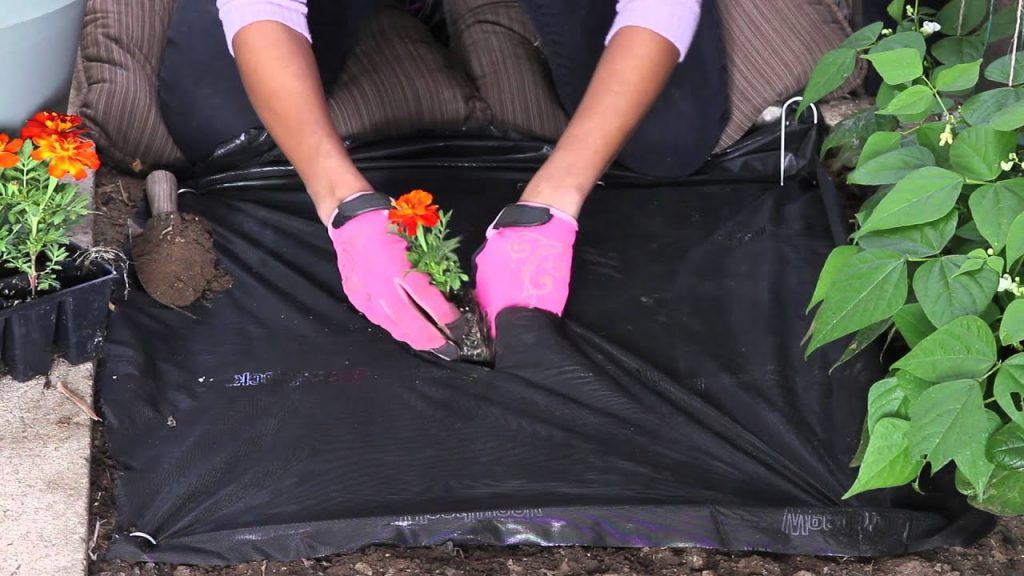 Before learning the right way of using landscape fabric, you should know that it is not acceptable to use just any plastic cover for covering your garden.
Regular plastic sheets can prevent the much-needed air and water from reaching the ground, leaving your garden soil infertile. You should always buy a commercial grade garden cover from a store.
Garden covers are often used around a seed you just planted to prevent the weed from growing near the plant. If you are using your fabric for this purpose, then cut proper size holes in your fabric to allow the plant to grow. The recommended size is at least 4 inches in diameter.
Sale
HOOPLE 3FT*180FT Premium Garden Weed Barrier Landscape Fabric Durable & Heavy-Duty Weed Block, Easy...
Professional material: Hoople 3.2oz weed barrier has a minimal impact on the ecological environment,...
Good for your garden: Hoople weed barrier fabric promotes soil health by allowing air and water to...
Easy to install: a roll of extra thick sunlight minimizing weed barrier fabric for yard landscapes,...
Thick and durable fabric: Can be used for a long time. Saving your time on buying normal fabric and...
Weed Barrier Fabric(3.2oz): This type of weed barrier fabric is made from a synthetic material like...
When placing the fabric, the fuzzy side should be facing down, as it allows the water to flow and helps it sink effectively to reach the soil. Also, make sure the surface on which you are laying your fabric is even and smooth.
If that is not the case, make it even before applying the fabric, or else it will not be effective in preventing weed growth.
Tips for Right Usage of Garden Fabric
Above mentioned ways are the general tips that you should know to make use of garden fabric.
However, some other tips will ensure that you put your garden covers to the right use and reduce the negative impacts of using landscape fabric.
Land Choice
As mentioned above, the land on which you will lay your landscape fabric should be even and smooth. Also, it should be free of weeds and grass before laying down the fabric. It should also not have any unwanted material like sticks, rocks, roots, etc.
Do not Compromise with The Quality
Using cheap quality fabric will do you no good. It will have a more negative impact on the soil than being advantageous.
Its thickness can determine the quality of the garden fabric. Thicker garden fabric is always more durable and can last for multiple seasons, while a thin one may not last even a single season.
If you do not have much experience buying garden fabric, try buying it from an offline store since you can get expert assistance there.
Make Sure to Fertilize Soil
You will not have any way of adding compost or fertilizers to your soil after you are done laying your garden cover. Therefore, make sure you do that part before you lay the covers.
Landscaping fabric is often laid for a long time and therefore is not suitable for plants that require regular care. Therefore, make sure you do not cover plants and flowers that might not survive without regular composting.
Use Proper Installation Methods and Avoid Cost Cutting
Installing the fabric is not something to which you can make amendments after it has been done. Also, the fabric is going to stay at its place for a very long time. Therefore, you must use the right methods for installing the fabric, or all your hard work will go in vain.
One big mistake people make is trying to save money by increasing the distance between the fabric pins so that fewer pins are used to cover the entire fabric.
It is something you should never do, as it can leave air gaps on the border, allowing air to go in and fuel weed growth, defeating the whole purpose of using a garden fabric. The recommended distance for pins is 8-10 inches along the border and 12 inches in the center.
If you are using multiple fabric sheets, then make sure to overlap two adjacent sheets by at least 8 inches.
Cover with at least 2-3 inches of Mulch
Mulch provides an excellent finishing look after laying down the field also has significant functional uses. The Mulch layer above the fabric helps in pinning down the fabric so that it does not come off with winds. Mulch is also known to prevent harmful UV rays from entering the soil and help the soil retain its moisture.
Time-to-Time Care
Laying down the Garden fabric might be a one-time-job, but you will still have to attend to it from time-to-time. Especially during a new growing season.
The Mulch you use above the fabric might grow some weed on it from the blown-in seeds, which you will be required to pull out. The growth of weed on Mulch can be reduced to a great extent by using a pre-emergent herbicide. You can easily find one online.
A pre-emergent herbicide can be used at the start of a new growing season. It does not have any harmful effects on established plants.
The Mulch also will require to be refilled from time-to-time as organic Mulch can degrade over time, making the layer thin. Stone and gravel mulch remains almost the same over longer durations.
Conclusion
Garden fabric is a commodity that can be extremely useful for someone who does not want to regularly deal with the problem of weeds.
However, it has its downsides, which cannot be overlooked and should be taken care of if you plan to cover your garden with a sheet.
Above, we have mentioned everything necessary to know to make the right use of garden fabric.
If you follow all the instructions carefully, you will be able to successfully keep the weed away from your garden while also keeping its fertility intact.