If you want to set the mood of any space, the right lighting will do the job. Lighting is always the most essential.
Sunshine and moonlight might be the best outdoor lighting sources, but some artificial lighting is an important aspect, primarily as night draws in.
Here is some smart outdoor mood lighting ideas that you can check out, so your outdoor space becomes warm and inviting.
Things to Keep in Mind While Setting up Outdoor Mood Lighting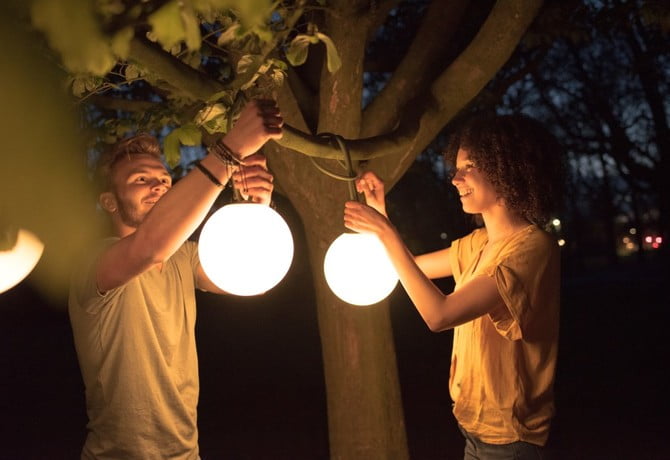 Illuminate the space clearly to accentuates garden features. If you have an expensive pond or beautiful plants in the space, make sure the lights focus there. The pathways should always be well lit up to facilitate safe navigation.
Many people forget to illuminate pathways. If you are lighting your backyard or your garden, choose low voltage, and energy-efficient LED strips. They should be waterproof. Some of them may need a battery or solar power.
Plan the light placement carefully. Do not create hotspots or place lights at eye level. Use accent lights for hardscape and exterior house lights for the façade of your home. Be choosy while selecting lights. Remember that less is more.
You do not have to use too many floodlights everywhere. Mostly if you have textured wall surfaces, a handful of lights will work. Low-level lights create a sense of depth and intrigue.
Do not ignore the floor. When it comes to outdoor mood lighting, we tend to forget that the floor can be used. Lights on the floor are not on the face. Lights can be embedded into the floor and can be used to highlight the foliage. You can also take advantage of trees and use them as natural hangers for the lights.
Outdoor Mood Lighting Ideas
Outdoor Pendants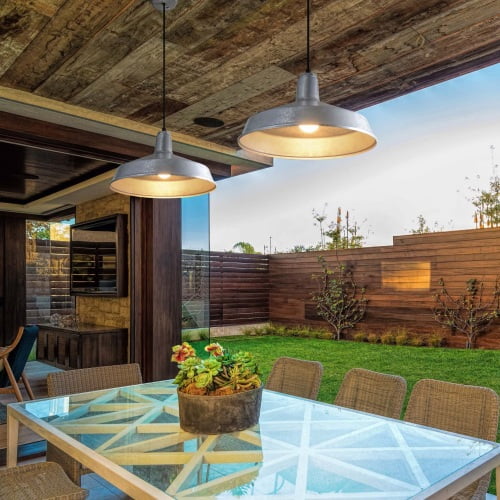 You will usually find pendants at house parties. Pendant lights suspend from an overhand and direct a concentrated light above seating areas. They are available in different sizes, designs, and finishes. Choose the finish that complements the surroundings, like a metal finish contrasts beautifully with dark wood. See an example:
Instead of outdoor pendants, you can also use recessed lights built right into the ceiling. Recessed lights allow you to notice the light without seeing it.
Floating Coloured Balls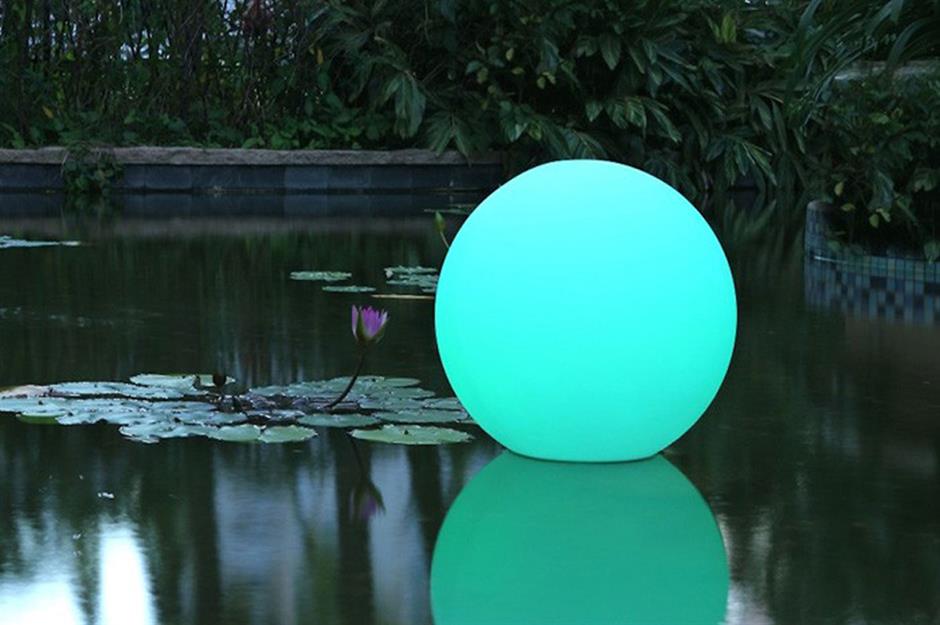 A floating sphere is usually used in ponds or pools. They come in different colors and radiate a vibrant vibe. They can be controlled through a remote to change the hues. Not just one, multiple balls can be used to make the space look even more striking.
Wrap the trees with light
You must be wondering, isn't this a holiday tradition? Yes, it is. But it can be done just to set outdoor mood lighting. You can use a series of soft bulbs or Christmas lights and wrap them around tree trunks. It is an easy and useful idea. 
Light the steps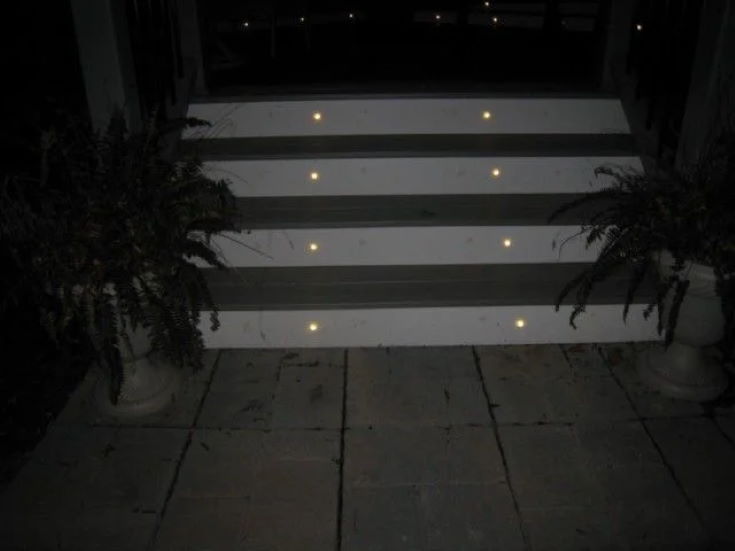 If you happen to have some steps in your front porch or backyard, lighting the risers using LED strip lights is the best outdoor mood lighting idea you can choose. They shed a warm glow on each landing and look beautiful. 
These lights can also be integrated with motion sensors. If you have a wall beside the stairs, you can use embedded lights to make the ambiance look even more elegant.
Planter Lights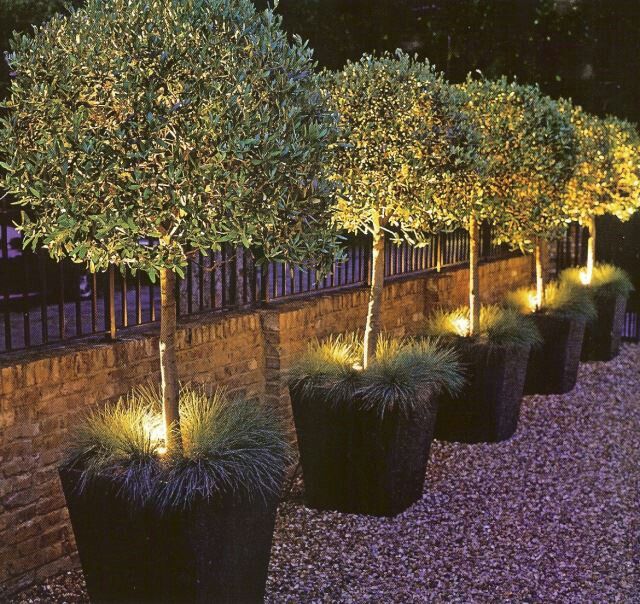 Planter lights are illuminated pots. So, they are planters by day and a light by night! If you are looking for innovative outdoor mood lighting, this is the perfect pick. Pots are available in different shapes and sizes, so you can choose the one that suits your space. They are fully waterproof, and thanks to the color-changing LEDs, you can choose any color you want to.
Create a faux fire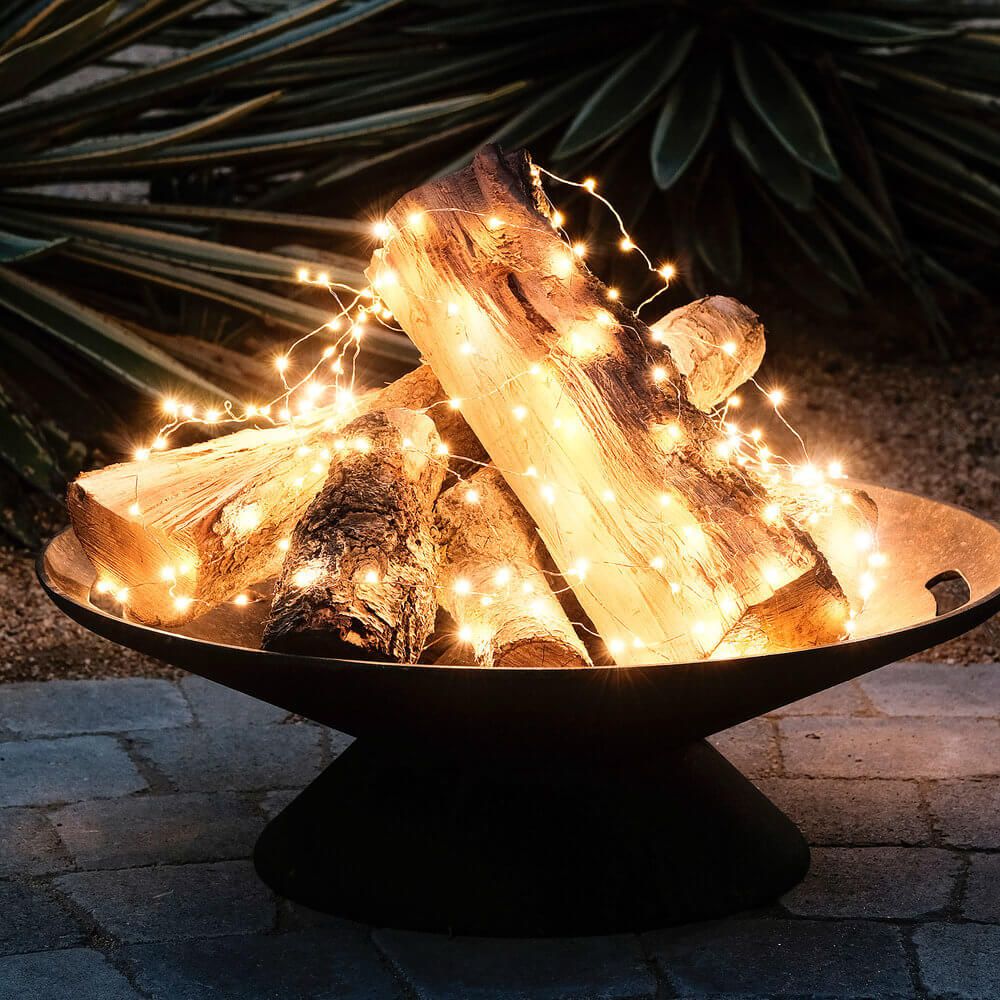 If you have children at home and worry about having an open fire pit, you can create a false one! They are very cool. You have to get a bunch of wood logs and use fairy lights to light them up. Please place them in a pit, and you are all set. This fire pit can even be placed indoors and is easy to make.
Use Lanterns

Lanterns are perfect if you want portable illumination. You can place them on a patio to light up your garden seating or place them in the pathway in a linear fashion. Lanterns are known to add an intimate glow to tables. Just keep in mind that the lantern you use should be waterproof and handle the summer season well.
Light up the Trees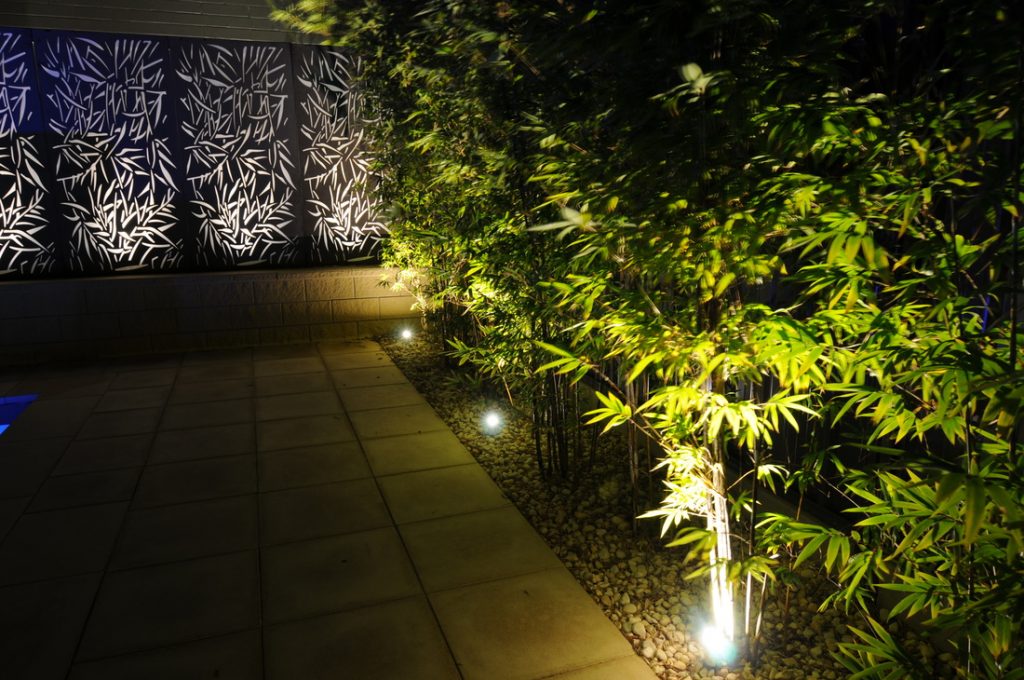 Trees and plants look magical at night if lit up. The green color complements the light so well that it looks aesthetically pleasing. The contrast of light and shadow from the foliage adds depth to space. Buy some LED lights and position them under the plants. The plant will grow, so you need to allow some flexibility.
Light the Hardscape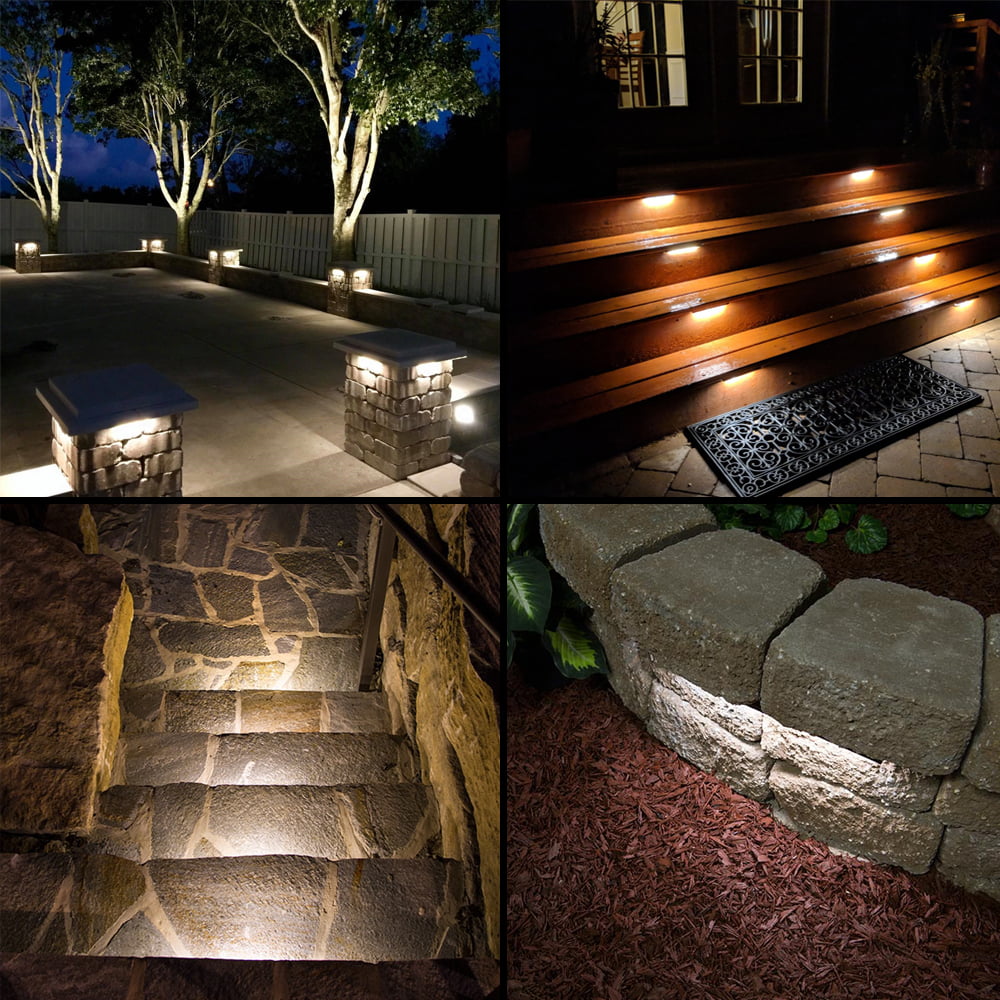 If your garden has stone walls, bench seating, retaining walls, water features, garden posts, or fencing, you should use some smart low-profile lighting. For example, accent lights highlight the hardscape features very well. Use up-lights and downlights to provide ambient to the walls. They can also be used on posts and pillars.
Chandelier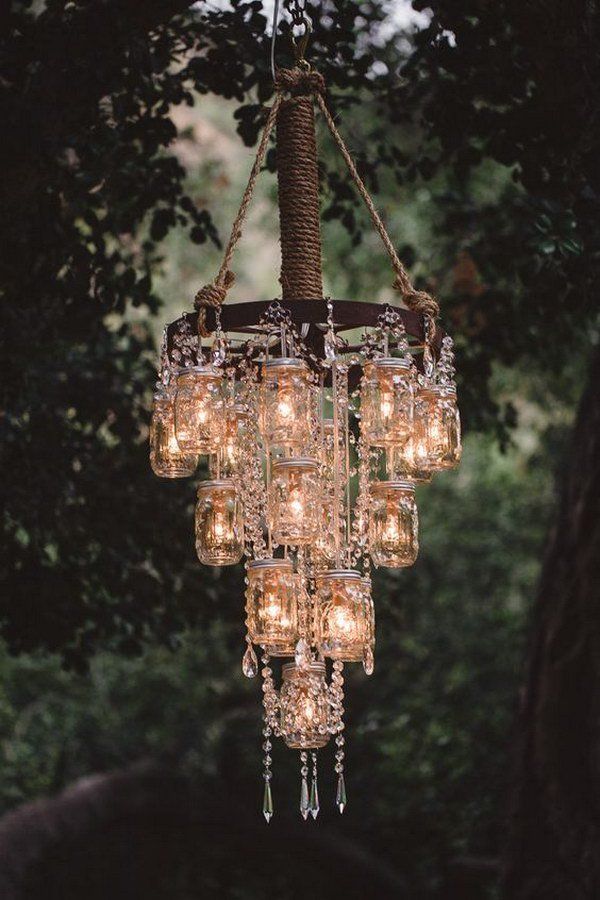 Nothing else creates an elegant dining atmosphere like a chandelier does. One problem is that they need an outdoor fixture that can be complicated and may not look good. But you can solve this by hanging it from the beams of a covered patio.
Overhead String Lighting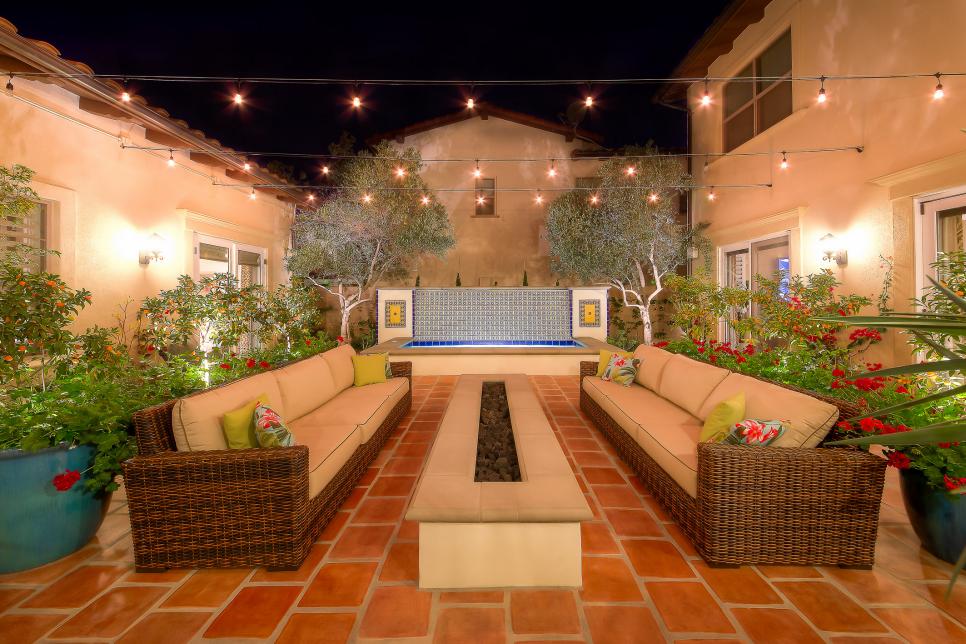 These create a beautiful illusion of a roof of light. One of the best methods to add illumination across a courtyard, string lights do not compete with the starry sky yet look elegant. You can buy string lightings of different styles, colors, and lengths. String lights can work on the ground too. Just trace the base of pathways or flower beds.
Spotlights

Spotlights are used for casting shadows on main objects in the space. They create intrigue in the garden. You can place them behind large pots, shapes, works of art, statues, etc. Since spotlights cast shadows, you can play with the contrast of light and dark to add a dramatic flair to space.
Rope Lighting
Take a rope and entwine fairy lights around it. You have a captivating outdoor mood lighting option! The advantage here is that these lit ropes will look good not only in the dark but also during day time. You can wrap these around tree trunks or fence off areas. These can also be mounted on a wall.
Garden Dome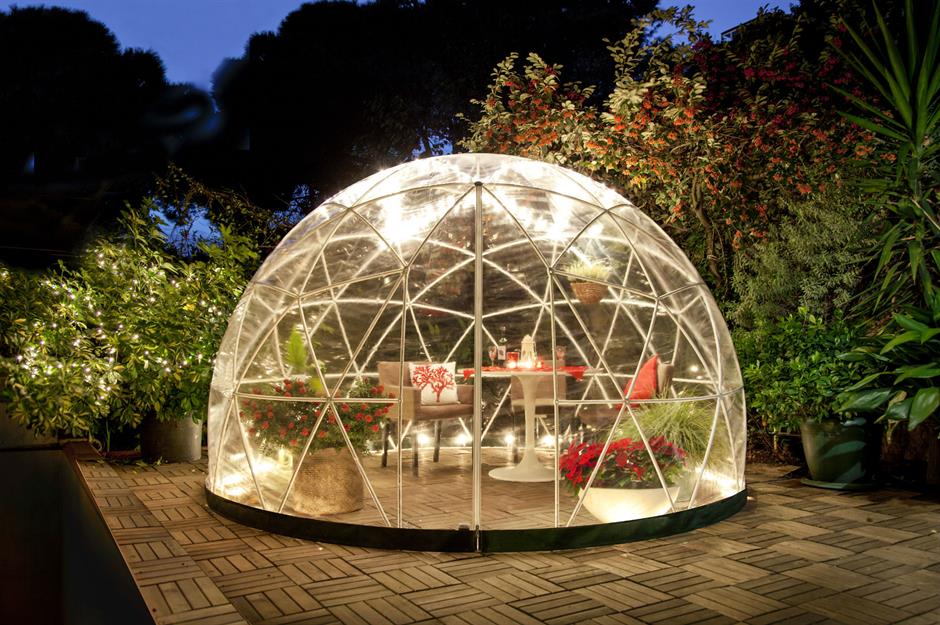 Trust us when we say this, a garden dome looks fantastic. You can buy a multipurpose dome and use it as a gazebo, conservatory, play area, or whatever you want. Just light it up, and you can spend time inside all year round, be it winter or summer.
Pool Lights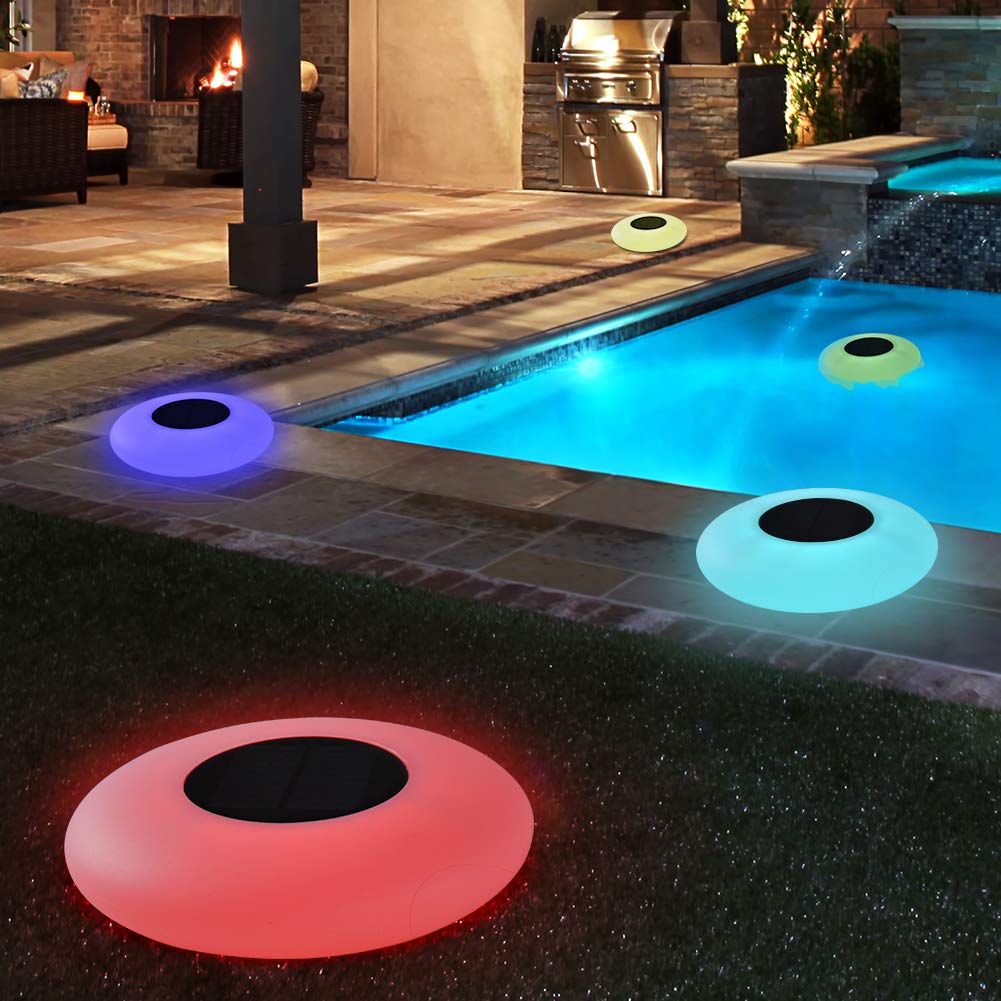 The list for outdoor mood lighting ideas is incomplete without pool lights. They are minimalistic and modern and look stunning at night. Get whichever color you want to and light up your pool.