Winter or fall grilling is never taken too seriously, mostly because no one wants to stand outside in cold weather when they can be cozy inside their home.
However, on days when the sun is shining, and a cool breeze is blowing, winter bbq can be a fun activity.
Although you might find cooking a steak a bit hard in low temperatures.
This is why we are making this list of 10 winter bbq recipes that can be cooked quickly on a cold day and will fill your heart with joy
Fall and Winter BBQ Recipes
1. Grilled Chicken Nachos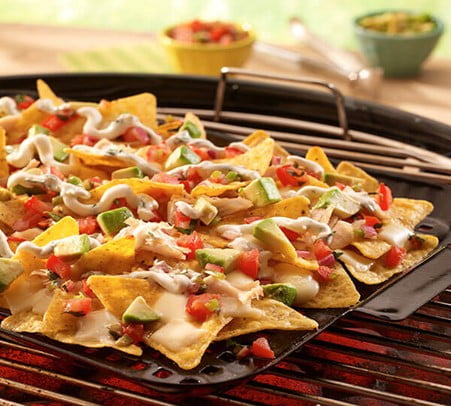 A recipe like this one, with lots of cheese and chicken, is never a sour recipe for winters—also, it is straightforward and quick to prepare so you do not have to stand outside for long.
Ingredients:
1 lb boneless and skinless chicken breasts.
Chicken Taco Seasoning (1 oz)
2 tbsp unsalted butter
2 tbsp all-purpose flour
1 cup milk
Medium cheddar, mozzarella, and Monterey jack cheese (2 oz each/shredded)
One refried bean can (16-oz)
12oz bag of tortilla chips
Favorite nacho toppings (diced tomatoes, cilantro, jalapenos, etc.)
Instructions:
Cut chicken breasts into small cube pieces and sprinkle the taco seasoning (reserve 1 tbsp of seasoning for later use)
Heat the grill to 350° F and add oil. Grill the chicken for 8-10 min on each side and then set it aside on a plate.
For making the cheese sauce, melt the butter in a pan. Add the flour to it and mix. Then add the milk. Cook the mix until the consistency is even. Then turn off the heat and add all three cheese and reserved seasoning.
In another pan, heat the beans in a tbsp of water.
In a baking sheet, make a layer using half of the tortilla chips, make another layer over it using half of the beans, and then make a layer using half of the chicken. Repeat the process over the layer of chickens. Then top it all off with the cheese sauce and your toppings and serve immediately.
2. Pumpkin BBQ Sauce Glazed Pork Chops
Grilled pork never disappoints, no matter the weather. If you want to make something unique involving grilled pork during your winter bbq adventure, then you should try this dish.
Ingredients:
1 tbsp olive oil
1 cup grated onion
2 cups ketchup
1 cup canned pumpkin puree
¾ cup chicken broth
¼ cup dark brown sugar
¼ cup maple syrup
¼ cup apple cider vinegar
1 tbsp chili powder
1 tbsp Worcestershire sauce
One teaspoon garlic powder
One teaspoon smoked paprika
One teaspoon pumpkin pie spice
¼ teaspoon kosher salt
¼ teaspoon ground black pepper
Four 1-inch-thick bone-in pork chops
Vegetable oil
Instructions:
For bbq sauce, heat olive in a saucepan over medium heat
Add onions and cook for 4-5 min. Add the ketchup, pumpkin puree, broth, sugar, syrup, vinegar, chili powder, Worcestershire, garlic powder, smoked paprika, pumpkin pie spice, salt, and pepper. Mix everything well. Low the heat and cook for 20-30 min, until thick.
For the chops, sprinkle salt and pepper on both sides of the chops generously.
Preheat the grill. Brush the chops on both sides with vegetable oil and grill for 4-5 min each side on medium heat. Brush the bbq sauce on both sides and grill for an additional 1-2 min on each side. Serve with extra sauce!
3. Grilled Apple Crisp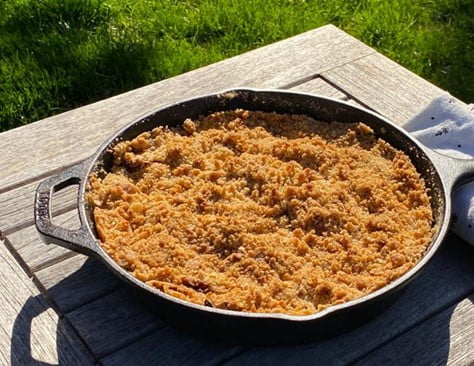 This straightforward apple dessert is probably the best fall dessert, and you should try it if you have not already. This dessert can also be made in an oven if you don't feel like going out for a bbq.
Ingredients:
Five cups peeled, cored, and sliced apples.
¾ cup all-purpose flour
½ cup granulated sugar
½ cup light brown sugar
¾ teaspoon ground cinnamon
Pinch kosher salt
½ cup butter
Instructions:
Prepare the grill for indirect heat.
Add the apples to a 12-inch cast-iron skillet.
Combine the flour, oats, sugars, cinnamon, and salt in a large bowl. Add butter. Mix everything well to form a coarse mixture. Sprinkle the mixture over the apples.
Place the skillet over indirect heat. Cook until apples are tender, and the mixture is golden brown and crispy (approx. 30-40 min). Serve warm or at room temperature.
4. Grilled Saffron Rack of Lamb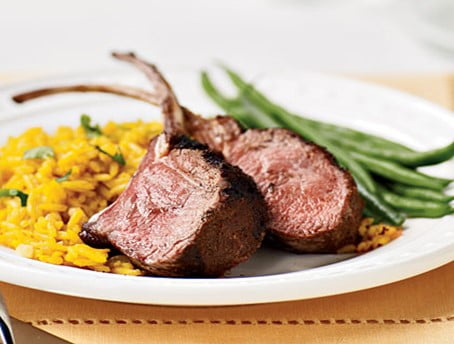 An excellent juicy lamb dish can be soul-soothing on a chilly winter day. Make this dish for dinner, and you will undoubtedly sleep one of the best sleep of your entire winter.
Ingredients:
Two racks of lamb (3–3 1/2 lb. total) rib bones frenched
Kosher salt
Freshly ground pepper
2 Crushed garlic cloves
1 cup plain 2% fat Greek yogurt
2 tbsp olive oil
One teaspoon finely grated lemon zest
½ teaspoon finely crumbled saffron threads
Instructions:
Season the lamb rack with salt and pepper and seal it in a resealable plastic bag.
Whisk together garlic, yogurt, oil, lemon zest, and saffron, and add each bag equally. Refrigerate the bags overnight.
Prepare grill for medium-high indirect heat.
Take the lamb out from the bag and remove excess marinade. Place it over indirect heat, and cook for 8-10 minutes (until uniformly brown)
Place the lamb on the cooler part of the grill and cover it. Cook until the inner temperature reaches 123 F. Then cook for another 15-minutes.
Let the lamb rest for 4-5 minutes. Cut it into chops and serve.
5. Whole Grilled Lobster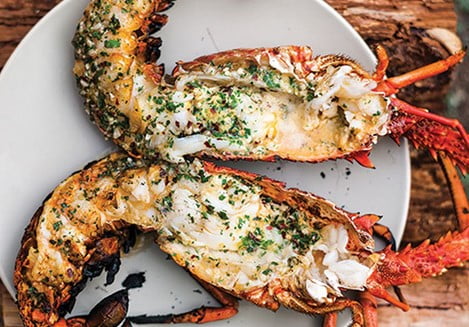 Winter bbq cannot get any better than this. This dish is what you eat when you want to have a perfect winter evening with your loved ones!
Ingredients:
¼ cups olive oil
One live lobster (1 to 1 ½ lb)
Kosher salt and ground pepper
1 tbsp lemon zest
Four finely chopped garlic cloves
8 tbsp room temperature salted butter
2 tbsp finely chopped parsley
1 ½ tsp crushed red chili flakes
Instructions:
Combine butter, parsley, chili flakes, garlic, lemon zest, salt, and pepper and set aside.
Split the lobster in half, lengthwise, from head to tail. Scoop out and discard the insides and break-off the claws.
Place the two halves (shell side down) and the claw (cracked) on a baking sheet. Drizzle it with oil and season with salt and pepper.
Preheat the grill for indirect heating. Place the two halves (flesh side down) and the claw on the grill and cook for 2-3 minutes (until slightly charred).
Flip it over and glaze with garlic-parsley butter. Cook for another 4-5 minutes (until tender). Serve hot!
6. Caramelized Onions Sweet Potato Salad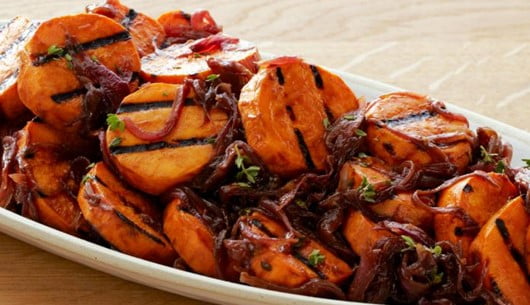 A good salad can be a great comfort food. And what more can you ask for than some comfort food and wine next to a fireplace on a cold winter evening.
Ingredients:
2 tbsp olive oil
Three thinly sliced onions
1 tbsp Dijon mustard
¼ cup balsamic vinegar
1 tsp honey
1 tbsp orange zest
1 tbsp finely chopped thyme
Three sweet potatoes, sliced into ½-thick slices
Vegetable oil
Salt and freshly ground pepper
Instructions:
Heat oil over medium heat, using a heavy skillet. Add onions and cook slowly until golden brown. Add mustard and vinegar and cook another 2 min.
Remove the skillet from heat and add honey, orange zest, and thyme. Mix well and let cool.
Preheat the grill. Brush the potatoes on both sides with vegetable oil and season with salt and pepper. Grill on both sides for 3-4 min each. Place the grilled potatoes in a bowl, add the caramelized onions and serve.
7. Grilled Salmon Collars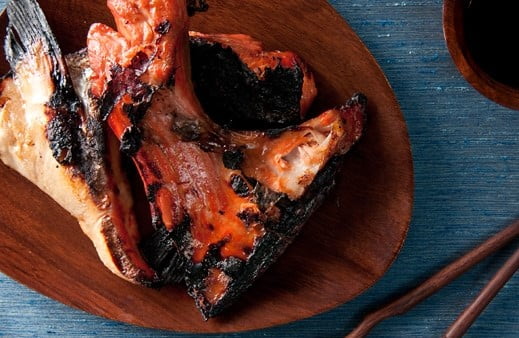 Eating fish can be advantageous in winter since it can provide much-needed warmth. However, this grilled salmon recipe is so good, and you would want to eat it all-year-round!
Ingredients:
One thinly sliced 2-inch ginger piece
One coarsely chopped fresh red chili
Two smashed garlic cloves
½ cup mirin
½ cup of soy sauce
¼ cup sake
½ tsp sugar
Four salmon collar (scaled; fins removed)
Kosher salt
Vegetable oil
Instructions:
Take a medium saucepan and add 1 cup of water. Add ginger, chili, garlic, mirin, soy sauce, sake, and sugar, and bring to a boil. Lower the heat and cook until only half the original amount is left. Let cool and then transfer the mixture into a bowl, keeping only the liquid.
Take ¾ of the total tare and transfer it to a resealable plastic bag. Coat the salmon with salt and pepper seasoning and transfer it inside the plastic bag. Refrigerate for at least 30 min and at max 2 hours.
Prepare grill for medium heat. Make sure to clean the grate before grilling thoroughly.
Remove the salmon from the bag discarding the excess tare. Place the salmon on the grill, skin side down, and keep glazing it with reserved ¼ cup tare occasionally. Grill until the skin is lightly charred and crisp. Turn and grill the other side the same amount (don't use tare on this side). Serve!
8. Meatball Bombs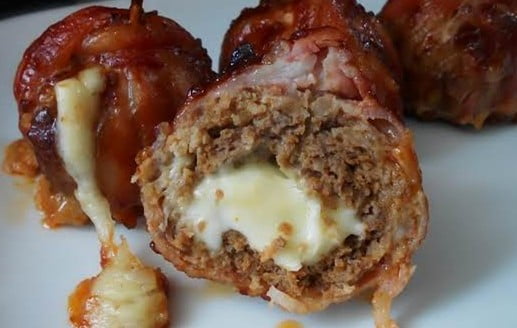 This is one of the most versatile recipes in our fall and winter bbq list since you can always add your favorite ingredients in the base mixture to make it unique. This is also one of the most fun recipes, because who does not love meatballs?
Ingredients:
Two yellow onions
1 lb ground beef
¼ cups diced onions
¼ cup chopped parsley
¼ cup chopped mushroom
1 tbsp brown sugar
1 tbsp spicy ketchup
1 tsp soy sauce
1 tsp Worcestershire sauce
¼ cup panko breadcrumbs
One pack of bacon
One bottle of bbq sauce
Instructions:
Start with preheating your oven to 425° F
Take a whole onion, remove the skin, and cut it in half. Separate all the layers and set aside the biggest ones.
Mix ground beef, diced onion, parsley, mushroom, brown sugar, condiments, and breadcrumbs in a bowl. Place this mixture inside the two most oversized onions layers.
Join the two-layer pieces together and wrap them with bacon (3 slices/ball). Use toothpicks to keep the ball intact.
Bake the balls at preheat temperature for 40 min. Cover the balls in bbq sauce and bake for additional 5 minutes. And your meatballs are ready to serve!
9. Grilled Flatbread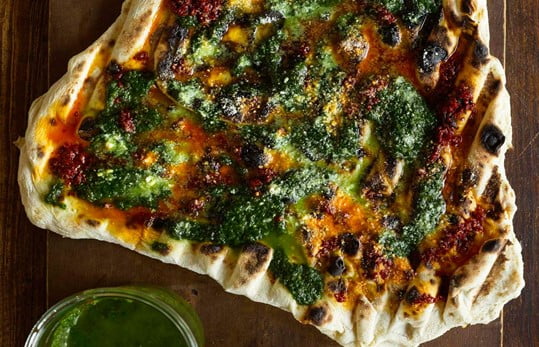 If you do not feel like having a heavy non-vegetarian meal and want something light to eat with your wine, this bread recipe can be an excellent choice. It can also be an excellent snack for a chilly fall evening.
Ingredients:
2 ½ tsp active dry yeast
Four ¾ all-purpose flour (plus a bit extra)
Two ¼ cups whole wheat flour
2 tbsp kosher salt
½ cup sour cream
Vegetable oil
Toppings (Suggestions: Ancho Chile Oil, Green Charmoula, and grated Cotija or Parmesan cheese, puréed black beans, sliced avocado, radishes, and pico de gallo, Sliced plum tomatoes, fresh basil, olive oil, and sour cream)
Instructions:
Take a bowl, add 3 cups warm water, dissolve yeast. Add the all-purpose and wheat flour and make a dough. Cover the bowl with plastic wrap and let it rest for 20 min.
Sprinkle salt over dough and add sour cream. Knead for about 5 minutes. Cover the bowl with plastic wrap and let it rest for 30 minutes.
Knead the dough for 2-3 minutes and let it stand at room temperature for 3-4 hours, and then chill it for one hour.
Build a medium-hot fire on a charcoal grill. Divide the dough into eight equal parts. Shape each part into a ¼-inch-thick circle using the hands.
Brush grill rack with oil and grill the bread for 4-5 min (until slightly charred). Turn the bread and grill for 2-3 min more. Top with your favorite toppings and serve warm.
10. Sambal Chicken Skewers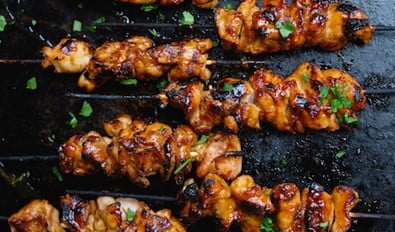 This is one of the most straightforward recipes on our list of fall and winter bbq recipes. However, it is just as good as the others when it comes to taste.
Ingredients:
½ cup light brown sugar
½ cup unseasoned rice vinegar
1/3 cup hot chili paste
¼ cup of fish sauce
¼ cup sriracha
2 tsp finely grated ginger
1 ½ lb skinless, boneless chicken thighs, cut into 1 ½ -inch – 2-inch pieces
Instructions:
Prepare eight bamboo skewers by soaking them in water for 1 hour.
Prepare grill for medium-high heat. Add brown sugar, vinegar, chili paste, fish sauce, Sriracha, and ginger in a large bowl and mix well. Add chicken and toss to coat. Remove chicken and thread 4 or 5 pieces onto each skewer.
Transfer leftover marinade to a small saucepan. Boil the marinade, reduce heat, and cook until reduced by half (7–10 minutes).
Grill the chicken evenly on both sides until thoroughly cooked. Serve hot.