Watches are not just for checking the time – smartphones and other digital devices can do that. From time immemorial, watches have always been considered fashion accessories. Actually, they are the most acceptable men's accessories, which is why many stylish men invest in quality watches.
Do you want to add some fashionable men's watches to your collection? It is important that you buy quality, trendy watches. It is also important that you get these at the best possible prices. Here, we will briefly review seven top men's fashion watches you can order straight away:
Ascari Tuscany Rubber Men's Watch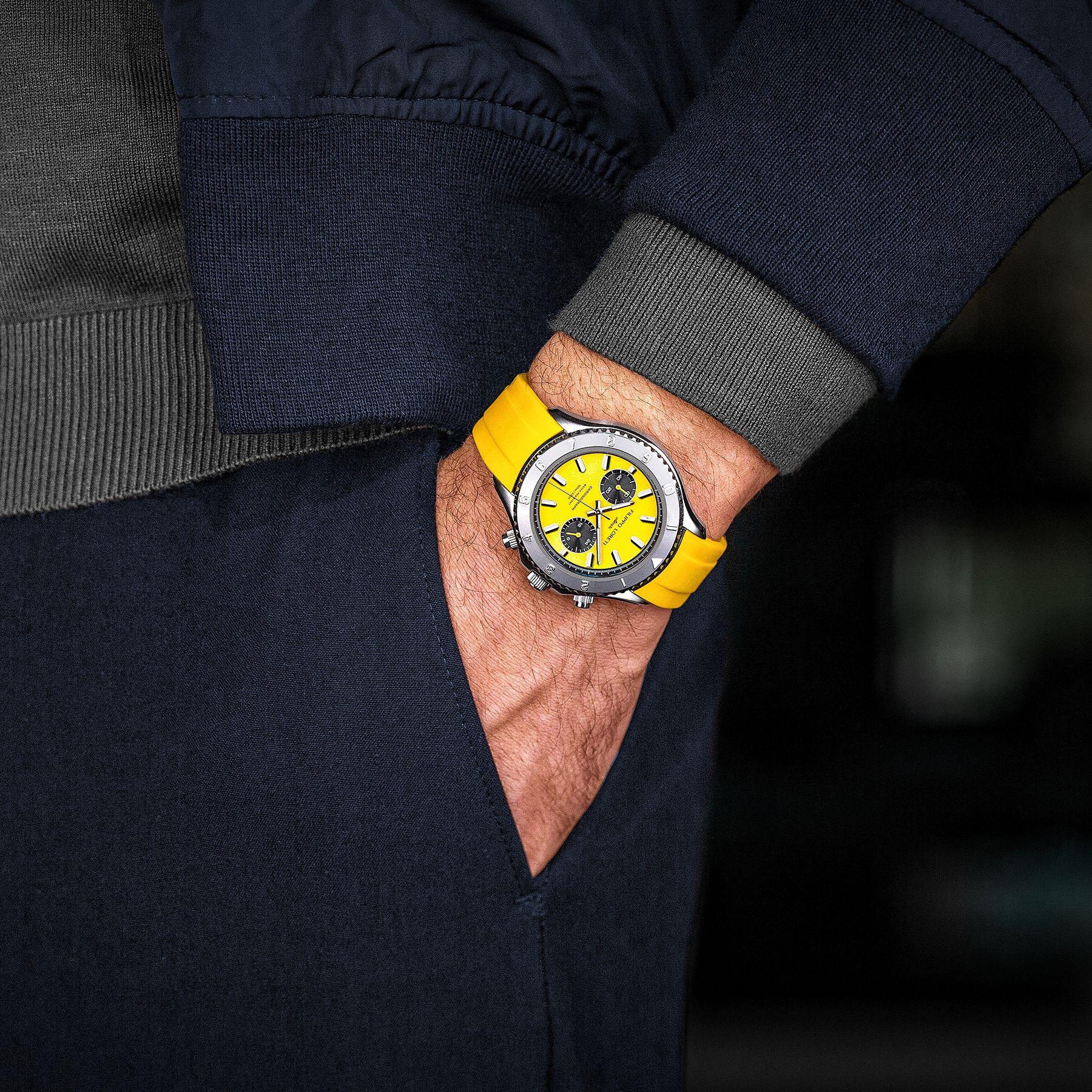 This may not be the watch for every occasion, but it will certainly be an asset in your collection. It features an integrated rubber strap that matches the silver-rimmed yellow dial perfectly. It features luminous hands and indexes to make telling time easier in all lighting conditions.
The Ascari Tuscany Rubber watch is a sports-friendly men's watch inspired by one of Italy's most loved sportspersons. It combines the accuracy of quartz with the distinct look of a chronograph. It is water-resistant, up to 100 meters, and features a unidirectional turning bezel.
Okeanos Grey Steel Link Men's Watch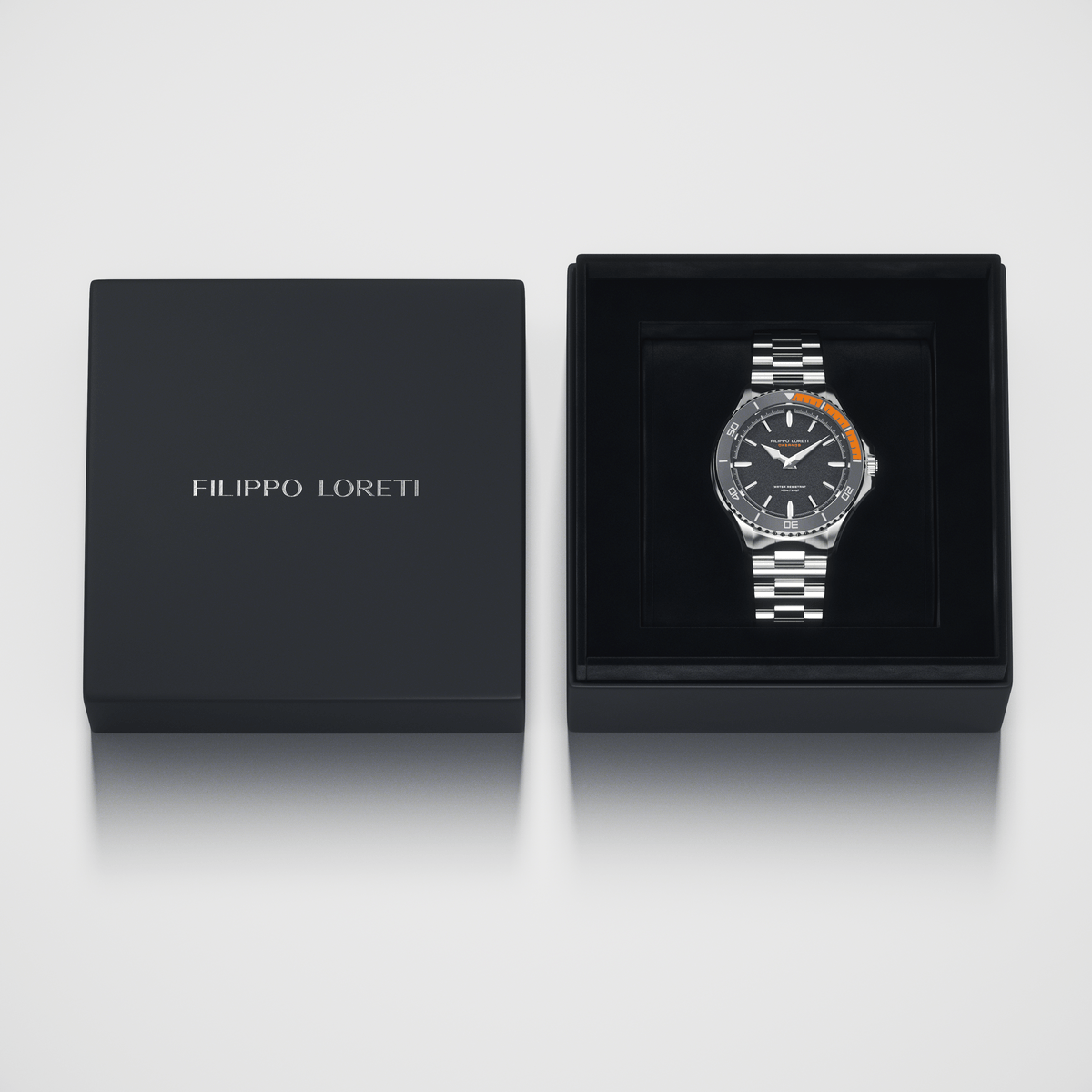 The all-new Okeanos Grey Steel Link conforms to the latest fashion in men's watches in many ways. It is not the brightest watch and certainly not the most aesthetic from Filippo Loreti, but there is something unique about the design that makes it super attractive to the men folks.
In terms of functionality, this is a reliable watch. It is waterproof up to 100 meters and features a directional rotating bezel that will accurately measure diving time and depth. The artful engravings on the crown and caseback are impressive too.
Odyssey Two Tone Rose Gold Steel Men's Watch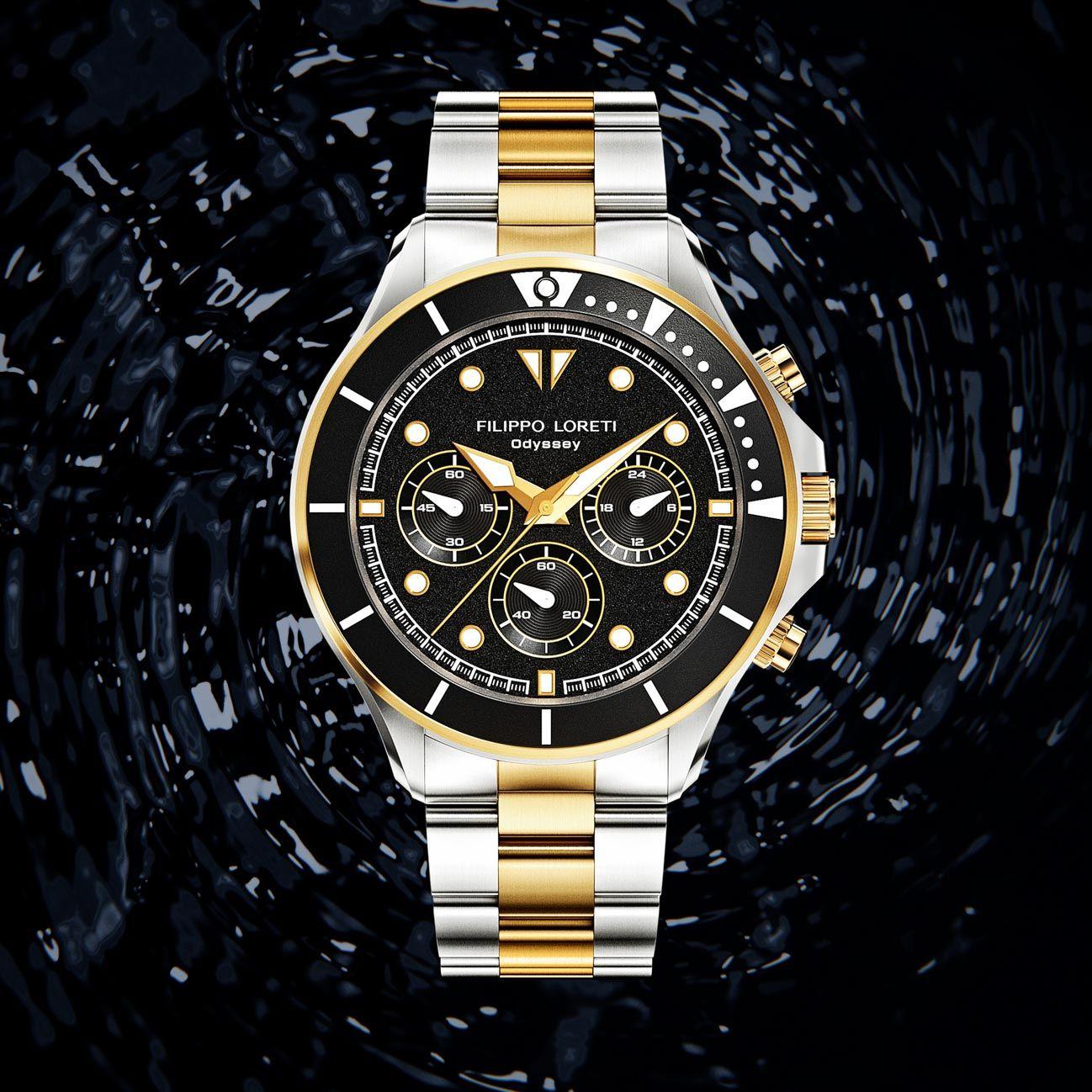 This is one of the most attractive men's fashion watches in 2020, and we know it will continue to make waves in the next few years. The design is impressive, starting from the gold-rimmed black dial to the silver and gold-coated stainless steel link bracelet.
The Odyssey Two Tone Rose Gold watch has advanced chronograph functionality. It also has luminous details to help the wearer see clearly and tell the correct time, even in poor lighting conditions.
Ascari Two Tone Moss Men's Watch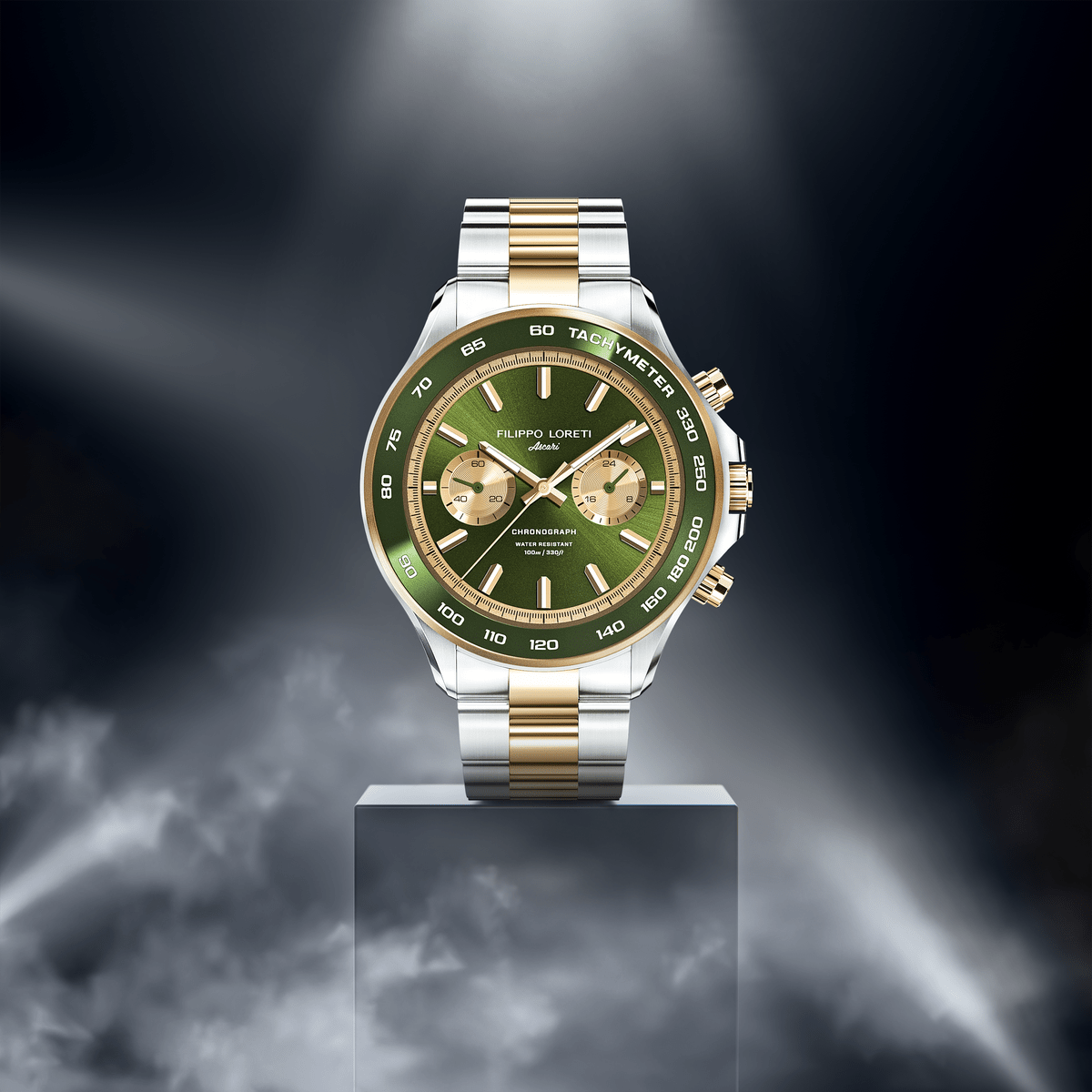 Another good looking stainless steel link bracelet watch, there is something intriguing about this timepiece. The green dial is charming in a masculine manner. By merely looking at it, you can tell that the chronograph functionality is not even its biggest selling point.
One of the things that will convince you of the quality of this watch is the tachymeter scale inscribed around the rim. It shows technical mastery and the quality of craftsmanship.
Arsenal Sky Blue Men's Watch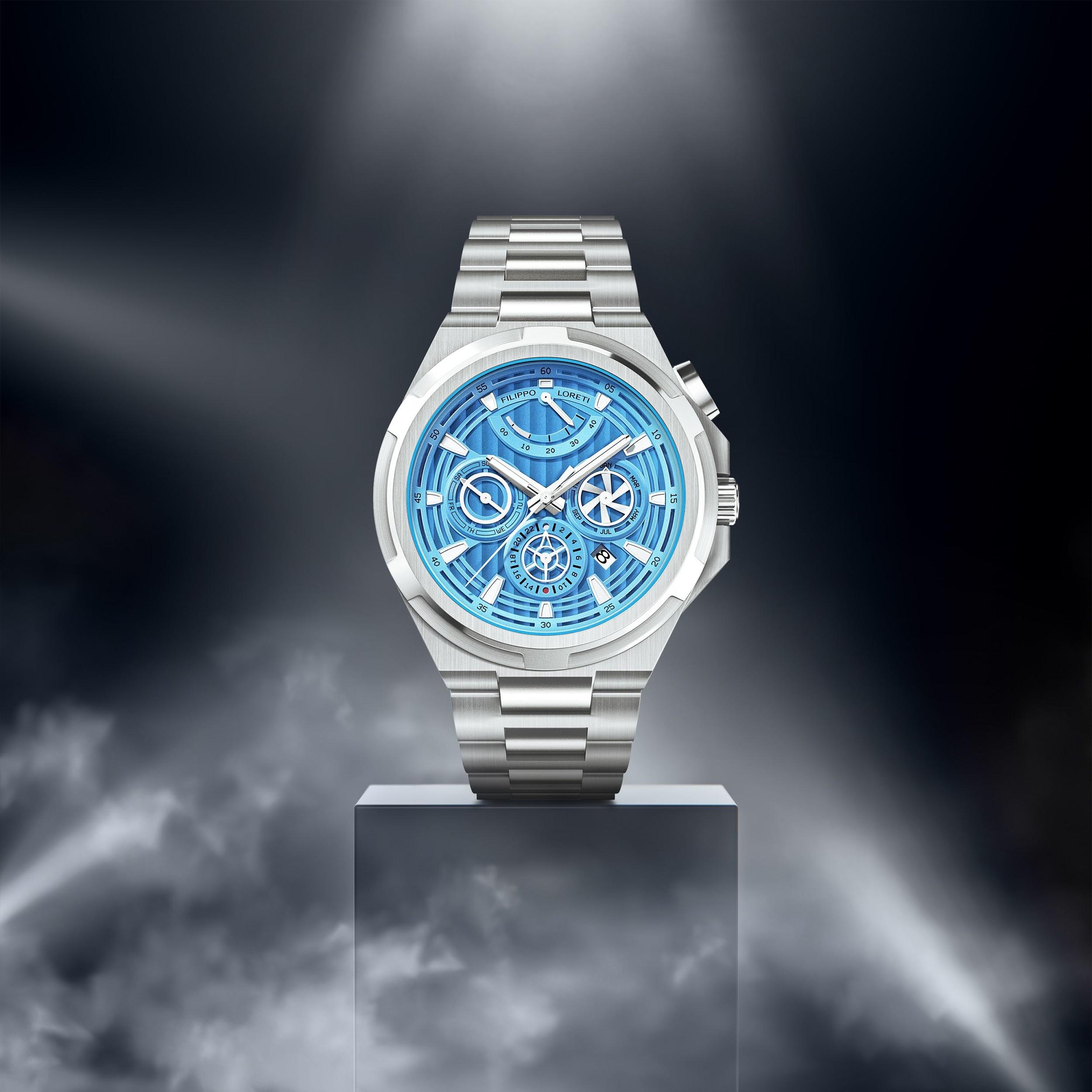 Among the top men's fashion watch brands, it will be difficult to find a watch that matches this particular masterpiece from Filippo Loreti in terms of functionality. There are eight different automatic functions integrated on the 9100 caliber complication.
To make it easy for people to appreciate the uniqueness of this watch, the dial is refreshingly aesthetic in its sky blue skeleton design. The makers also incorporated a modern sheep wheel motif to make the see-through case back even more interesting.
Skeleton Silver Royale Men's Watch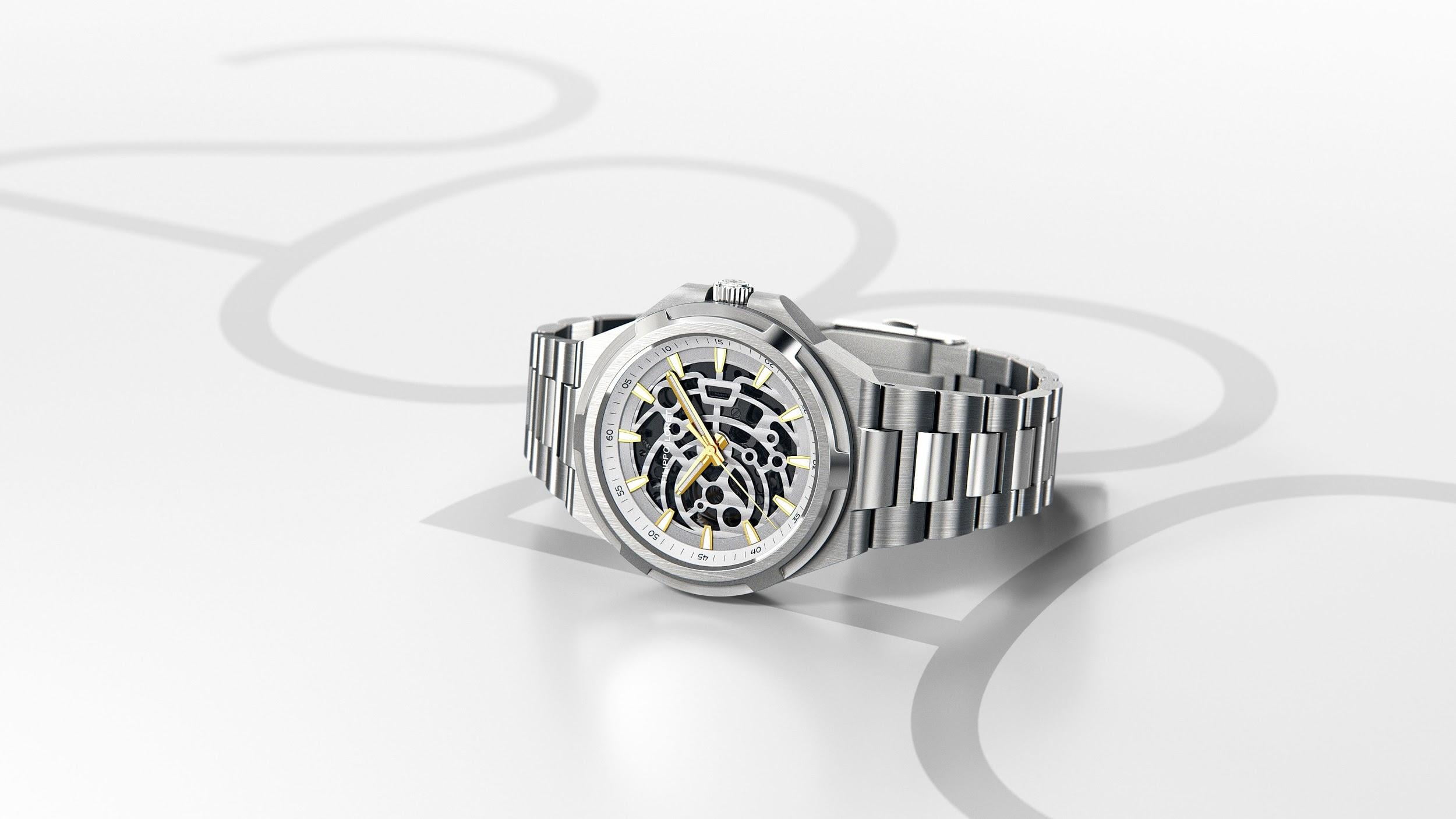 If you care for exciting design as much as you care for watch functionality, this is another impressive masterpiece from Filippo Loreti that you must add to your collections. The skeletal dial allows you to look deep into the heart of the watch and observe the actions.
Though the dial of this watch looks a lot different from what most people are used to, it won't be difficult for the wearer to tell the time accurately, even under poor lighting conditions.
Odyssey Black Amber Racer Men's Watch
This is an affordable, fashionable men's watch that is made for the active man. The black-colored dial is fantastic, and the Cordura strap adds some sportiness to the entire design. It has luminous hands and indexes to make telling time easier in different lighting conditions.
This Odyssey masterpiece supports advanced chronograph functionality. In addition to the pusher and chronograph reset pusher, there are chronograph minute hand, second's hand, and 24-hour hand.
Conclusion
Filippo Loreti has impressive watches that will rank favorably in any list of top men's fashion watches. These watches are not mass-produced. Instead, they are made according to orders placed by real customers. The company also cuts out middlemen, selling directly to customers, and keeping the prices as low as possible. Do you want to consider other men's fashion wrist watches? You can check out Filippo Loreto collections on their official website.