If you live in northern states and snowfall is a common occurrence at your place, then you must be knowing how vital snow remover machines like troy bilt snowblower are for you.
It is a dependable tool we use to clear the walkaways and drive for safety purposes.
According to you, where you live, and how much snowfall your place receives, your choices for snow clearance tools may vary.
This article will enlighten you about the effective snow clearance options you can go for and compare them to choose better.
Power Broom or brushes are used to clear the sleet, slush, and snow. They are ideal for low dustings about 3″ of snow.
They can also be used to remove leaves, sand, and more. On the other hand, a Snowblower, also known as Snow thrower, is a powerful tool that can be used in areas where a significant amount of snowfall is experienced.
Let us look deep into these two types to get more information about them.
Power Broom Snow Clearance Tool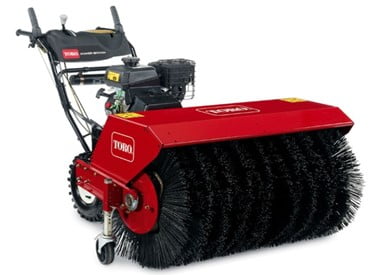 Power broom or Power brush is a versatile machine powered by an engine that runs on gasoline and oil. Power brushes use rotating wire bristles to flick the snowflakes off the surface.
Power brushes with "all-season" engines are also used to clear leaves, grass clippings, and other debris from lawn and surrounding areas. They are most popular with malls and shopping centers. It can be used pretty much in any climate area.
Uses of Power Brooms
Efficient and forceful enough to remove all sorts of debris, including snow from your driveway, sidewalk, or any hard surface.
Multi-seasonal – Its usage is not limited to winters but can be used throughout the year.
Provides higher Safety – It removes snow and other debris close to the ground, directing it from side to side in a softer repetitive motion.
Easy to carry and get into hard places.
Versatile tools – Gentle for lawns and powerful enough for hard surfaces
There are three types of Power brooms: Push Power, Handheld Sweeper, and Drill Brush
Push Power
The Push Power turbo comprehensive system sweeps twice with one move. The two front brushes rotate in opposite directions grabbing the debris in the sweeper's front while the brush roller in the bottom picks up all the fine particles. All the debris is then deposited into the large easy to empty container.
Handheld Power brush or Sweeper
Handheld Sweeper, 52cc 2Stroke 2.3HP Engine Gas Power Sweeping Broom Driveway Turf Lawns Artificial Grass Power Brush Lawn Sweeper Cleaner Tools
Tip: You need to install the broom instead of the out of the box. Feel free to contact GDAE10 customer service when installing it meet problem.
With high quality and fast logistics, you can receive this high-energy Cleaning Machine within 2-7 days. And you don't have to pay any shipping costs. This is a very exciting message and your best choice.
Our Gas Powered Sweeper have Oversized broom grounding area. Make our cleaning faster and easier
2 cycle gas/oil mixture, hand held power sweeper. It's ideal for cleaning lawns from with sand imbedded, or walkways. Wide hand held gas broom for cleaning boulevards and driveways.
Nylon Brush Sweeping broom is good for cleaning up of light debris such as heavy loose dirt, from hard surfaces.
These are either Gas or electric-powered, designed for year-round landscape maintenance. It is ideal for cleaning lawns with sand embedded or walkaways.
Nylon Power brushes are suitable for cleaning up light debris such as heavy loose dirt and hard surfaces. There are two main types of handheld power brooms: 2 Cycle Handheld and Electric Powered
2 Cycle Handheld- They run from a powerful 2- cycle engine and requires proper oil and gas mixtures for lubrication purposes. You have a lot of control with the long-handled or dual handled design provided to put the broom into the areas you need.
Electric Powered- These are slightly small for more effortless mobility. These are easy to handle tools created with one handle design, lighter body, and low maintenance.
Drill Brush
Works great on carpets, tires, wheels, and upholstery. These powerful scrubber cleaning machines can be used for snow removal from car wheels, cleaning carpets, seats, etc.
Power Brooms- Advantages and Disadvantages
Pros
Multiseasonal
Efficient
Reduced maintenance and repair work
Extremely Durable
Easier to handle.
Cons
Lower quality snow removal in a grave or wet snowfall
More useful in small areas
Is not effective in deep snow.
Snow Blower
Snowblowers, also known as Snowthrowers, use an auger or an impeller to remove the snow. It uses either electric power (line power or battery) or a gasoline or diesel engine to throw snow to a different location or into the truck.
They range from very small, capable of removing few inches of light snow, to very large, mounted on heavy vehicles to remove more vast swaths of heavy snow at least 6 feet deep.
Uses of Snowblower
It helps to remove snow from walkways and drives.
Design for a variety of surfaces, including uneven ground.
Smaller compact versions work well for decks and patios.
More extensive models include power steering and turning and offer gears to help move the machine forward.
Types of Snow Blower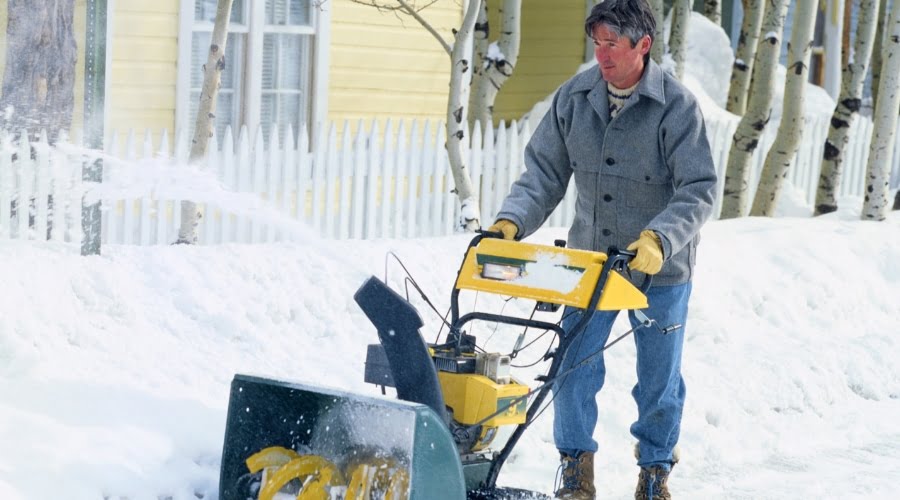 Let us understand the different types of Snowblower and discuss the advantages of each.
Single-Stage Snow Blowers
These are the lightest and most comfortable to handle. The snow is directed through a discharge chute via an auger—best for clearing mid-size areas with a snowfall of 12 inches or fewer.
As the auger contacts the surface, they are unsuitable for unpaved surfaces and best used on paved surfaces where they will not pick-up rocks or gravels.
Skid shoes or skid plates that elevate these augers are present in other models where they can be used for unpaved surfaces.
Two-Stage Snow Blowers
PowerSmart Snow Blower, PSSAM24 24-inch 212cc 2-Stage Electric Start Gas Snow Blower, Color Red and Black
212cc PowerSmart engine offers powerful snow-clearing action
Blower allows a snow clearing width of 24 in. and a clearing depth of 20 in. making it a perfect choice for regions receiving heavy snowfall
Versatile drive system allows 6-forward and 2-backward speed variations for enhanced driving convenience. 180 chute rotation for better snow-blowing control
Push button electric start or manual starter. 13 in. inflatable tires deep snow tread bites into slippery terrain
Adjustable, metal skid shoes that enable alteration in height for easy use on varied surfaces
Here the auger pulls the snow into the machine and feeds it into a high-speed impeller, directing it out of a discharge chute.
They can handle deep snow up to 12 inches. Since their augers do not touch the ground, they can be used on unpaved surfaces as well.
They are best for clearing large areas and have engine-driven wheels to handle uneven terrain and reduce operator fatigue. These are faster and are available in a more excellent range of features.
Three- Stage Snow Blowers
They are operationally like Two-Stage Snow Blowers but uses an accelerator in addition to the auger and impeller.
The accelerator's role is to collect the snow and then force it into the impeller that discharges it. The accelerator also helps cut through icy snow.
This combination of the accelerator, auger, and impeller makes the three-stage snow blowers move quickly more heavy snow than other models.
They also have a wide selection of features and help clear a tall snowdrift or a wall of snow.
Electric Snow Blower
TACKLIFE Electric Snow Blower, 15 Amp 20 INCH, Snow Blower, 180°Chute Rotation, 30' Throwing Distance, Snow Shovel & Flashlight Included, Electric Snow Thrower
15 AMP POWERFUL MOTOR - 15-amp pure copper motor generates up to 2,900 RPM and moves up to 800 lB of snow per minute, ideal for quick snow pickups on mid-sized driveways and walkways and other residential or commercial places
180° CHUTE 90° NOZZLE - Features an adjustable 180° Chute and easily adjusted deflector allow you to change snow throwing direction and distance; Light-weigh, the overall weight of 30 Lbs with 7''wheels maximize mobility
RUBBER-TIPPED AUGERS - WIth 2-blade cold-and-abrasion-resistant steel auger, the snow sweeper able to clear a path depth to 10IN and a width of 20IN, snow can be thrown to a distance of max up to 30ft
DOUBLE SAFETY SWITCH -The safety design can prevent accidental start-up and quickly stop the spinning auger and impeller when you release the handlebar grips. The cold-proof material allows the snowplow to withstand temperatures of -13°F during operation
OTHER CONVENIENT DESIGNS - Sturdy snow shovel and flashlight included for convenience; No gas, oil or tune-ups make it effortless to start and maintain➤➤TACKFILE products have a two-year warranty. Buy with confidence, we are always here to help you
These are lighter, compact, and start with a push of a button. They require low maintenance than the gas models.
Cordless Snow Blower – As technology is expanding, battery-operated, rechargeable models are gaining power. These are available in two and three-stage models and can provide more power with less vibration, less noise, and no fumes.
They have the mobility of gas models and self-propelled models, which reduces the driveway's effort.
Corded Snow Blower- These require an outdoor extension cord, which remains flexible in cold weather. Require little maintenance and are often single-stage. Create less vibration, less emission, and no noise. Follow manufacturer's instructions while selecting a compatible extension cord.
Gas Snow Blowers
Sale
Snow Joe SJ627E Electric Snow Thrower | 22-Inch | 15-Amp | w/Dual LED Lights
Versatile: ideal for quick snow pickups on mid-sized driveways and walkways
Powerful: 15-amp electric motor moves up to 25 tons/hr. Of snow and clears a 22-in x 13-in path in a single pass
Led lights: 2 x 1. 5 W LED lights facilitate night-time snow removal.No Load Speed (rpm):3000
Steel auger: all-steel auger cuts 22 in. Wide by 13 in. Deep path with each pass
These again do not require a power cord to operate and thus have good mobility. As compared to Electric models, Gas-powered models have greater clearing widths and intake heights.
They are also available in self-propelled models, where the engine is used to power the wheels making it easier to move them.
These are required to be stored correctly through the warmer months. They also require regular engine maintenance and proper gas level to run correctly.
Snow Blowers- Advantages and disadvantages
Pros
Efficient in removing snow.
Many are equipped with LED lights.
Can clear snows up to great depths.
Can throw snow 30- 40 feet away, ensuring you do not pile it up in one place.
Cons
It is for winter use only.
No use in warmer weather
Need to be appropriately drained off and then stored.
Leaves a thin film of snow on the pavement.
Conclusion
As we have reached the end of this article, we are now having enough knowledge about both Power Brooms and Snow Blowers.
We understand that there is nothing like good or bad; your choice of snow- removal tools only depends on how much rainfall you experience.
If you reside in an area with heavy snowfall, then a snow blower is probably a better choice. If you experience low snowfall and wish to have a tool you can use throughout the year, then the Power broom snow clearance tool would be the best option you can go for.
There are pros and cons for both of them, as we saw earlier. On the one hand, where Power Brooms are multi-seasonal, they are limited by intense snow and logged down or inefficient.
Similarly, Snowblowers though good with removing heavy snow, are limited by their seasonal usage and have higher maintenance requirements than a broom.
When it comes to deciding which one to buy, research better on all the available options keeping in mind snow blower pricing and extent of usage.