I had the opportunity to have a tour of the grand opening of the Harwood Heights Mariano's Fresh Market last week. I walked out of that store really wishing that I would be able to shop there regularly. Of course, that isn't an option for me since I don't live in Chicago, but I'd love Mariano's to come this way!
The feel of the store was nice. It was very crowded since it was the grand opening and you could feel the energy and excitement that everyone had as excited to take care of our lawn with best zero turn mower.What makes the store different? There were many differences from stores I'm familiar with.
They have a $6 meal that you can purchase to take home, or eat in the store. You can pick the main course and a couple sides for a $6 or $10 meal. These foods looked like awesome home cooked meals. We were going to ate lunch while we were there and everything I saw, I was thinking… oh, I want to get THAT for lunch! Look at those pot pies! They were huge! I'll tell you what, you wouldn't be able to pick out these meals at a restaurant for $6!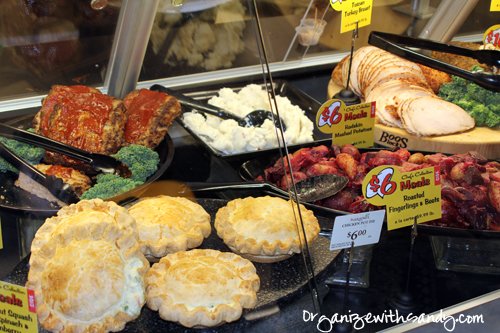 The bakery was incredible. Have you heard of Fruit Loop or bacon donuts? Look at some of the goodies.
They have their cake decorators work where you can watch them. I really loved that.
They have creativity rights to create fun! These little 5″ cakes were darling. Loved the cupcake cake!
I SO wanted to try one of these cream puffs, but I did refrain.They had a grill set up in between the seafood and meat departments. You could ask them to take a salmon or steak and grill it for you right then!
They have an extensive wine department. You can also create your own six pack of beer. I thought that was really unique. This particular stores has an extensive couple of international aisles.
We were able to meet Mr. Mariano, the CEO of Mariano's. He loves visiting the stores and stopping to talk to families shopping. He wasn't too sure what "bloggers" were, but we helped to fill him in. It was nice to see him in the store, and was really friendly.
There is a huge floral department and the flowers were absolutely beautiful.
Sushi anyone? They had a sushi bar. I'll admit that I didn't try it myself. But they were making it fresh as it was ordered.
It sure was pretty though, and three of the bloggers did have sushi for their lunch and loved it.
Melissa @ConsumerQueen and I had a fresh salad and fresh fruit.
Vivian King was our tour guide, and we've been working with her through Collective Bias. It was great to meet her in person. She had the ribs that were so awesome! There is a BBQ department that prepares them fresh in the store. We were able to try samples of them earlier. She said that she normally always gets the sushi at the grand openings, but she was straying from her normal today.
This is what I really wanted to try for lunch, but from the samples that they had throughout the store, I was actually a little too full to get one for lunch. They had individual pizzas that they would make to order for you. I wanted a mushroom, onion one… my fav! Maybe next visit to Chicago!
I have never thought about "eating" a meal at a grocery store before. But that is very much the norm at Mariano's. You can come in for a glass of wine, pick out your meal and eat in the cafe. I will certainly be stopping back by to try some more of their meals on my next visit to Chicago.
I am an employee of Collective Bias and Mariano's is our client. I went on the tour to see the store, and took a lot (almost 300) photos while there. I decided to create a post because I was so impressed with the store, I was not asked to write a post, nor expected to. I just wanted to share with you all! and we had fun in best above ground pool also.
If you're expert on Home Decor/Home Improvement things & want to get some exposure, Feel free to contribute to home improvement submit a guest post, We're actively looking for Contributor like You ❤️