I love how organized this laundry room is like my big  lawn by best zero turn mower. Can you imagine keeping twelve kids organized? Wow.. you can imagine what a house of that size would look like if she wasn't organize can't you?
I love how she has all the kids pictures across the wall too!
parents of a dozen Look at the shoes and boots! Shoes coming off at the door can be problem can't they?
I also love how she took off the cabinet door so she had a place to put the empty laundry baskets when they weren't being used.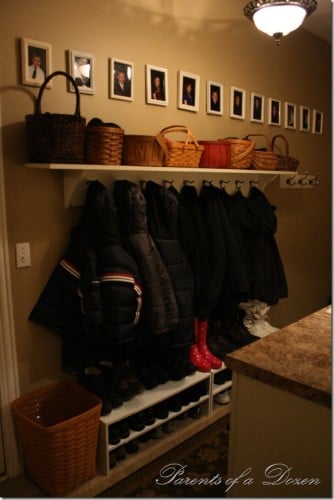 parents of a dozen You can see the rest of her laundry room if you go to her blog: Parents of a Dozen!
Denise from Pink Postcard – A Gun Rack and A Skirt
I love inventive ideas and uses of items that can be turned into an organizing tool. Denise took a gun rack and usedit to make an organizer for her ribbon.
pink postcardShe painted it and made rods to go across and hung her ribbon on it. Easy to get to and nice to look at. She attached scissors so being able to cut a piece of ribbon is easy.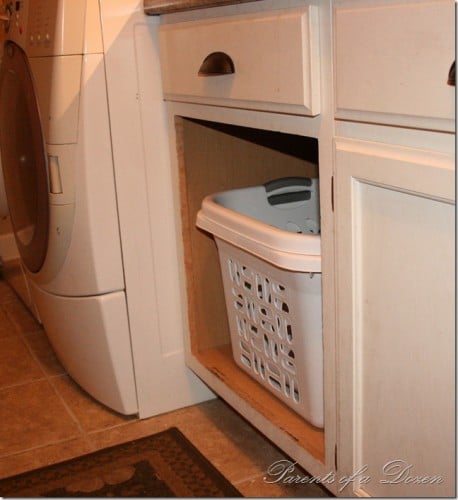 hen she finished off her craft room with making a skirt to help cover up the table she uses for her sewing machine. She loves a vintage look. I loved this because it brought back such sweet memories of that trim with the little balls… my mom used to have some that she used for things and it sat in her sewing basket for years.
You can see the rest of her craft room make over on her blog Pink Postcard.
Be sure to stop by both of my featured bloggers today , also look for best above ground pools and give them some "comment love"
For those of you who were featured this week, please pick up your button (code below the button) for your blog!