When I first saw this I thought it was only to use as a business card organizer. I didn't need that. Then I realized the full potential of the Card Cubby and I fell in love.
card cubbyDo you have a zillion discount cards, frequent user cards, gift cards, library cards, rewards cards? We get so many. I had a stack of them in my wallet and I would have to pull out that stack and thumb through them every time I needed one.
card cubbyI found the Card Cubby and realized how wonderful these little alphabetized dividers could be!
If I need my Target gift card I just go to the letter "T" and there it is!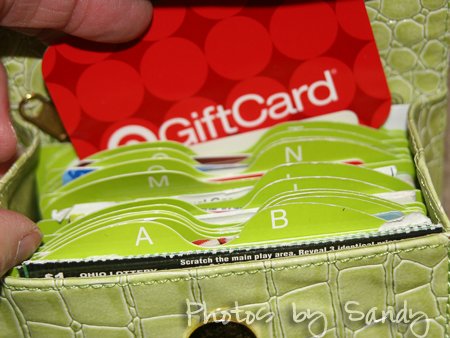 It makes it so nice an easy when you are in a store. Not having to dig through everything and hold up the line, or worse yet, knowing you have that discount or gift card and you can't find it!
There is a little zipper pocket in the back of the card cubby that you could carry some hidden cash. I like to keep a little sharpie in mine. That way when I have a gift card, I can write the remaining balance on the back of the card. Makes it so easy the next time I need to use it.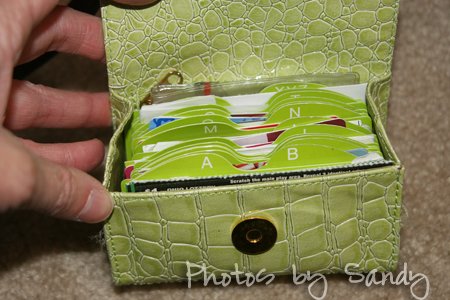 I keep my Card Cubby right in my purse. But I know some people who don't want it in their purses, they just keep it in their car so it is still near by when they need it.
It comes in all kinds of fun colors, so it is easy to find down inside your purse.
And some more, but you can see them all at my pouchee store that also has my Card Cubbies:
card cubbyI don't think of this as a good coupon organizer. You would have to fold the coupons and it really wouldn't do well for that. There is a coupon organizer in my pouchee / card cubby store that works great for that.
There is also a front window on the Card Cubby where you can put your business card or a picture.
This product has been a life saver for me and helped me to organize my purse much better, so I wanted to let you in on one of my favorite products.
I do sell the Card Cubby ( I did not invent it and do not make it) in my pouchee store.
**You can also use the discount code "ORGANIZED PURSE" for 10% off of the Card Cubby through March 31, 2011.