I was compensated for my time to visit to the Ricart Columbus Auto Mall. All photos and opinions are my own.
The Original Ford car is still displayed as it was back in the 1960′s.
Ricart Automotive Group sponsored a blogger event at their Ricart Mega Mall located in Columbus Ohio for us local "bloggers" to come and tour their space and get to know their company a bit more. I have to admit, I'd never been to their Mega Mall before and I was very impressed!
First we had guest blogger, Lisa Woodruff from Organize365.com come and speak to us about different ways to organize our vehicles. She was fun and engaging and I learned all kinds of ways to keep things in check in my minivan. Thanks Lisa!
Our next speaker was Rick Ricart himself! You know the "We're Dealin!" guy from all the commercials. He took time out of his busy day to meet us and tell us a little bit about the Ricart company.
Rick Ricart told us that the Ricart Company is a family business. Rick's Grandfather, Paul started the company in the mid 1950′s and has been growing strong ever since. Their first philosophy is to treat their employees like family. When you have happy employees, you get happy customers! One way is by building a Subway and an employee Fitness Center right on their property. The Subway will be open to the public later this month.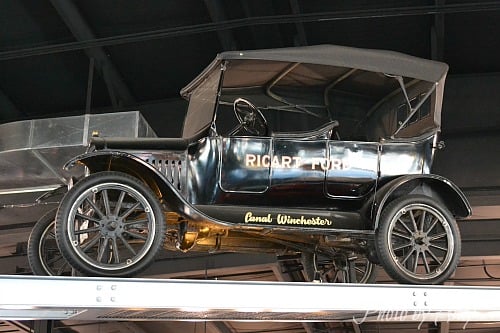 Another high priority of the Ricart Automotive Group is customer service. They want to make it a Fast, Easy and Fun experience to buy a car. It even says it right on their license plate covers!
One unique way to provide high customer service is by having their own 360 degree car photo booth, the only one in the entire country! They take a picture of every car they are selling so when you look at their cars online and find one you like, it is NOT a general factory picture, it is the actual picture of the car you are looking at! No other car company has that to offer.
Also, if you purchase a car with Ricart you get a free car wash whenever you want! As long as it says Ricart somewhere on the car, you just pull up to their car wash, and Bam! Clean car! Now THAT is pretty awesome!
Ricart Automotive's Philosphy – No in your face selling, no gimmicks, no balloons and crazy signs on every car. Just good honest business at a good honest price.
And this one too… Probably a bit more practical for the carpool.
Ricart recently teamed up with the Ronald McDonald House Charities for their newest commercial. These are all Ronald McDonald House volunteers, not actors. Perfect for the upcoming Halloween season I might add. Take a look at their fun and spooky Revive Your Drive Commercial.
You can also check out Ricart on their website at Ricart.com , Facebook and Twitter
Thank you Ricart for the Fun and informative afternoon! I know where I'm heading next time we need a new car!