A lot of people spend a lot of time brainstorming Halloween decorations. Right from candy seeking children to grown-up adults, each and everyone wants to develop an exciting and intriguing DIY Halloween decoration idea.
It is a shame that Halloween comes once a year. But the memories and fun of Halloween are everlasting. Halloween décor plays a vital role in making it even more special.
Each family member must be involved in this Halloween décor process and compete with your neighbors to have the weirdest yet spooky DIY outdoor Halloween decoration.
I am sure that each and everyone has pleasant experiences on Halloween. As children going door-to-door and distributing candies was fun! Moreover, the Halloween atmosphere would make even the grown-ups more enthusiastic. But I am sure that each and everyone must have found at least one Halloween décor as too spooky or terrifying that even its sight ran shivers down your spine.
In this article, we will be talking about such DIY outdoor Halloween decorations! We will talk about cute little Halloween décor to the dark and frightening spooky Halloween décor ideas. We will also include some weirdos in between to keep it interesting.
Where should we place our DIY Outdoor Halloween Decorations?
There are three target areas for DIY outdoor Halloween decorations. The first one is yards (both front and back), the second one is the window area, and finally, the spot is the door area.
DIY Outdoor Halloween Decorations:
1. Spider Invasion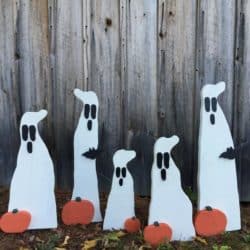 This eight-legged creature is creepy, strange, and frightening. And in Halloween Decorations, spider décor is a must! This creature has just about everything which can frighten even a grown-up person. And if someone has arachnophobia, then this Halloween décor can send shivers down his spine. Though there are also people who love spiders and will surely enjoy this Halloween décor.
You must either buy or make DIY spiders yourselves. It is entirely your choice. But DIY spiders are not very difficult, so you can skip buying them. The spiders should be of various sizes and placed at different locations of your house, which will give you a feeling of a spider invasion (I hope Spiderman comes to the rescue!). The best part is you will have different reactions such as shock, surprise, frightened, and amazed by the people.
2. Wooden Graveyard Stakes and Pumpkin Ghosts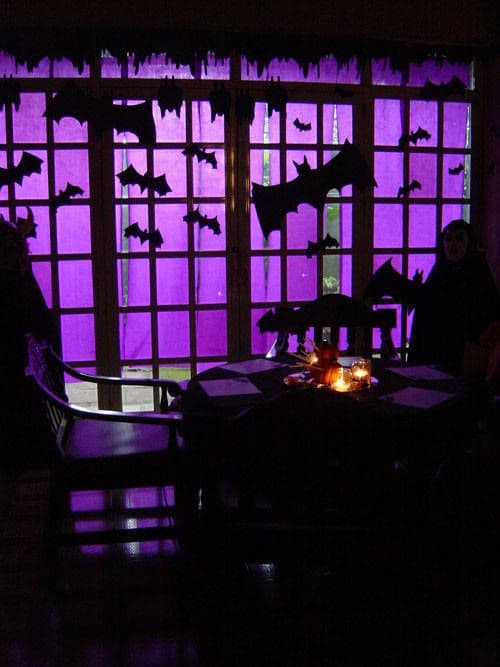 There are two parts, graveyard stakes, and pumpkin ghosts. You can buy both and DIY yourself. And the best part is you can use your creativity in this Halloween décor. You can use different colors, sizes, and another décor according to your creativity.
You can shape the graveyard stakes in the shape of a vampire, ghost, or even Frankenstein. You can also keep it simple and make a simple graveyard stake. You can use any leftover wood (maybe from any furniture or carpentry work) or buy some wood. If you are painting over wood, then do not forget to use a primer (mainly for bold and dark colors).
You can make your pumpkins scary, spooky, or even go with the basic ones! If you do not want pumpkins (or hate them), use the Jack O'Lanterns. The combination of graveyard stakes and pumpkins (or Jack O'Lanterns) makes it a bit spookier. Also, place them such that they do not notice and have the element of surprise.
3. Spooky and Frightening Windows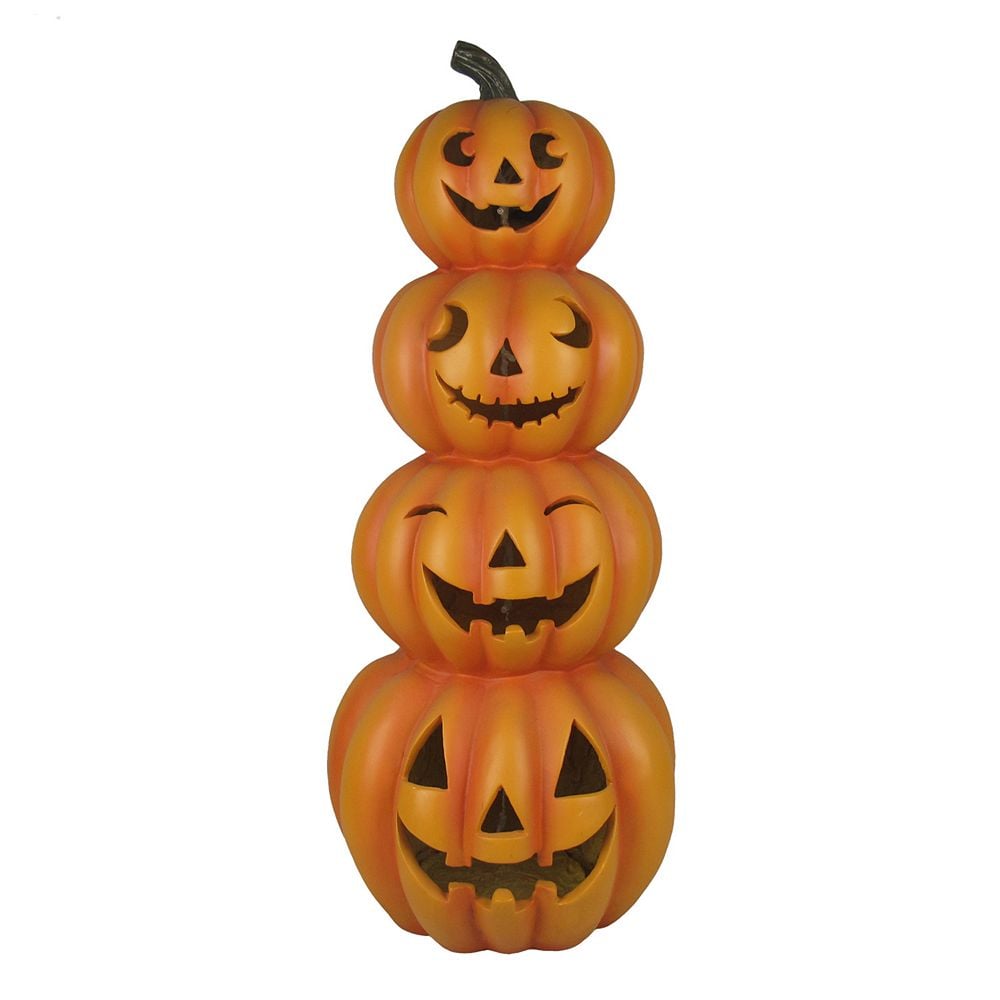 It would help if you bought or DIY miniature spiders, bats, owls, ghosts, ghouls, vampires and, other Halloween figures. Place them near your windows to surprise the kids and guests visiting your house.
4. Stacked Jack Lanterns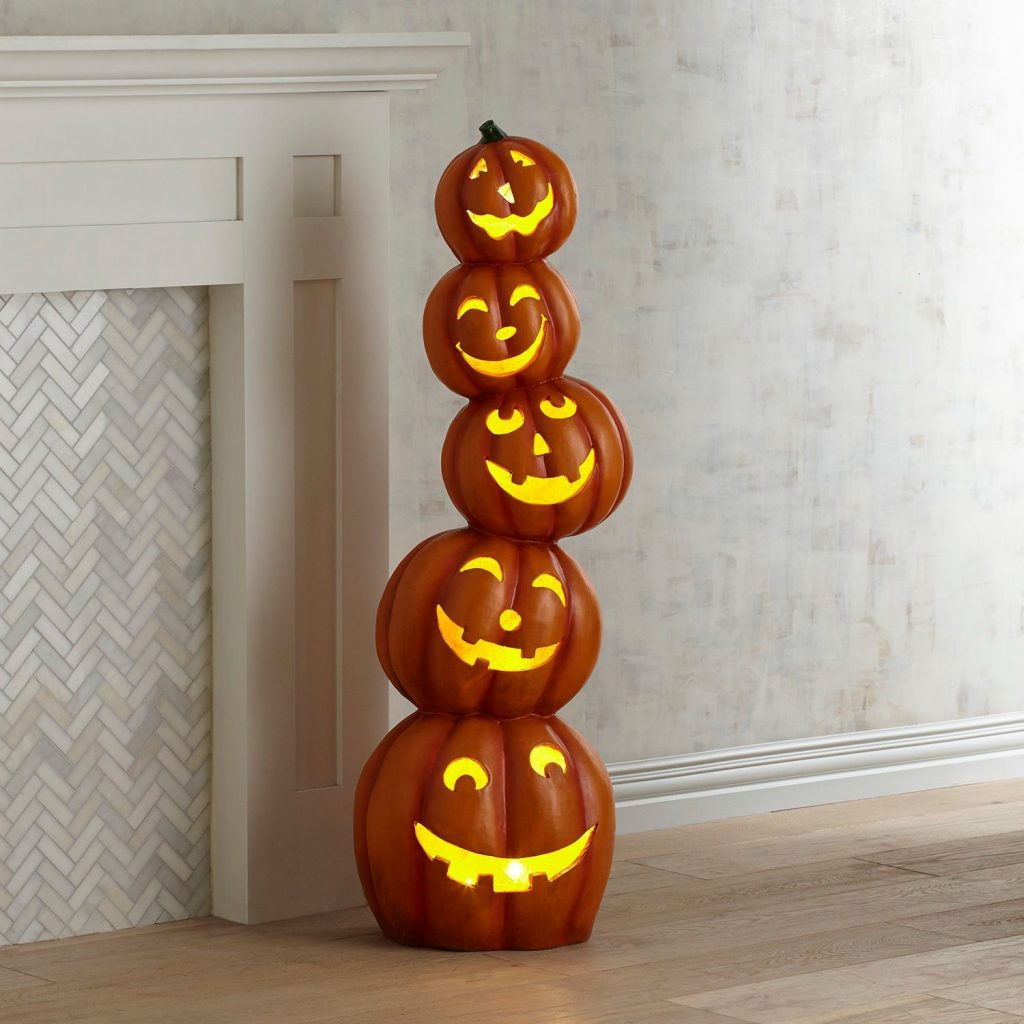 The people who do not like pumpkins prefer going with Jack O'Lanterns, which are considered 'not a pumpkin.' Well, that is debatable, but this stacked Jack O'Lanterns do give a Halloween effect. Do not forget to be a bit creative and add some décor according to your choice.
Jack O'Lanterns are made much similar to the pumpkins using round wooden blocks or use pumpkins. If you are using pumpkins, then be a bit careful while cutting the pumpkins, mainly when you are carving the face of Jack O'Lantern. You can also paint your Jack Lanterns in different colors if you do not like the orange color.
5. The Wheelbarrow of Skeletons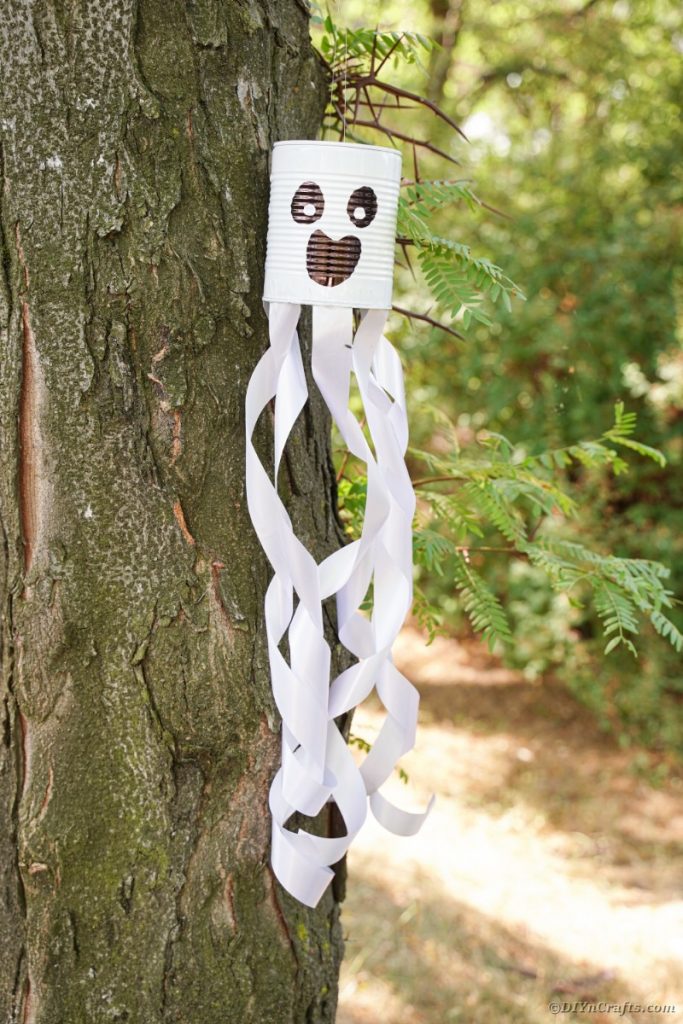 If you have a wheelbarrow, it can be a good idea to implement this DIY Outdoor Halloween Decoration. You will need a wheelbarrow full of soil, dirt, or manure. Place one or two DIY skeleton(s) in the wheelbarrow, or you can always buy from the stores. The skeleton should be partially visible, for example, the skull and few other bony parts. You can also place a few DIY skulls in the wheelbarrow instead of a skeleton.
To spice it up, you can also DIY vultures and crows. No one would expect these scary birds to sit near the wheelbarrow, and if you place them well, you can have an element of surprise. You can also buy these scary unreal vultures and crows from any store.
6. Coffee Can Hanging Ghosts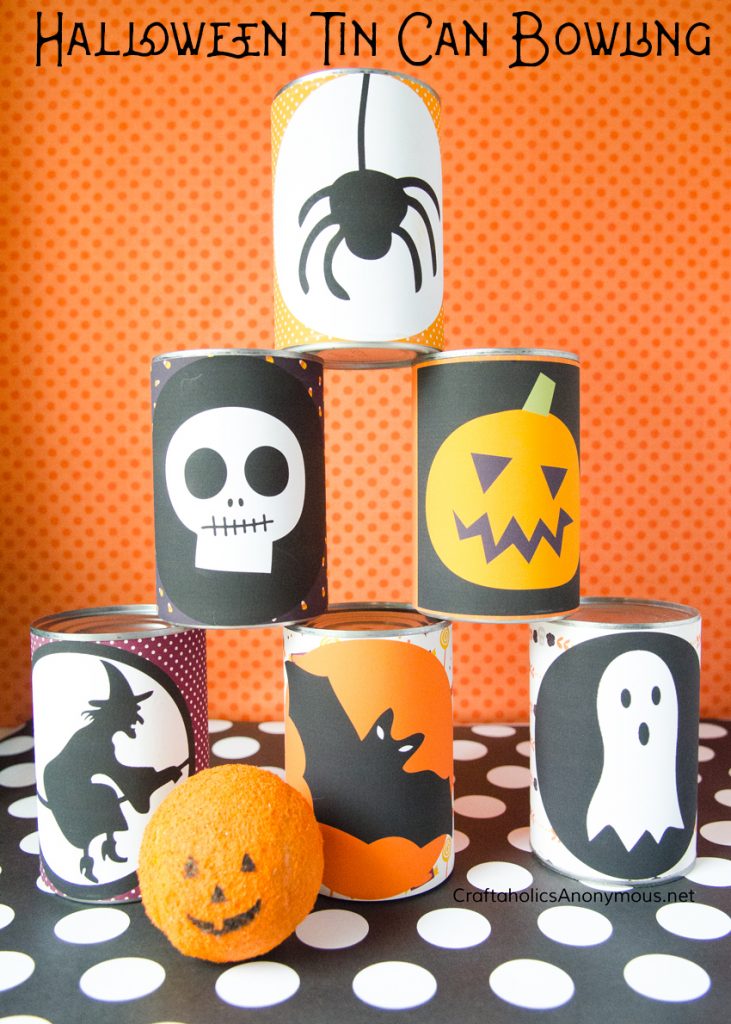 Coffee cans are the best ones for DIY projects. Instead of recycling them quickly, you can use them in DIY projects very effectively. All you require is white (preferably) coffee cans, black (and white) paint, brushes, transparent tape, and white cheesecloth. Not only do they require fewer requirements, but they also are quick and inexpensive to build.
Firstly, paint the coffee can white if it is in a different color. After drying the paint, make a scary and spooky face using the black paint. Now using the transparent tape, stick the white cheesecloth. Your ghost is ready! Now hang these ghosts using a transparent or thin wire to make them more frightening during the night.
7. The Tin Can Bowling Game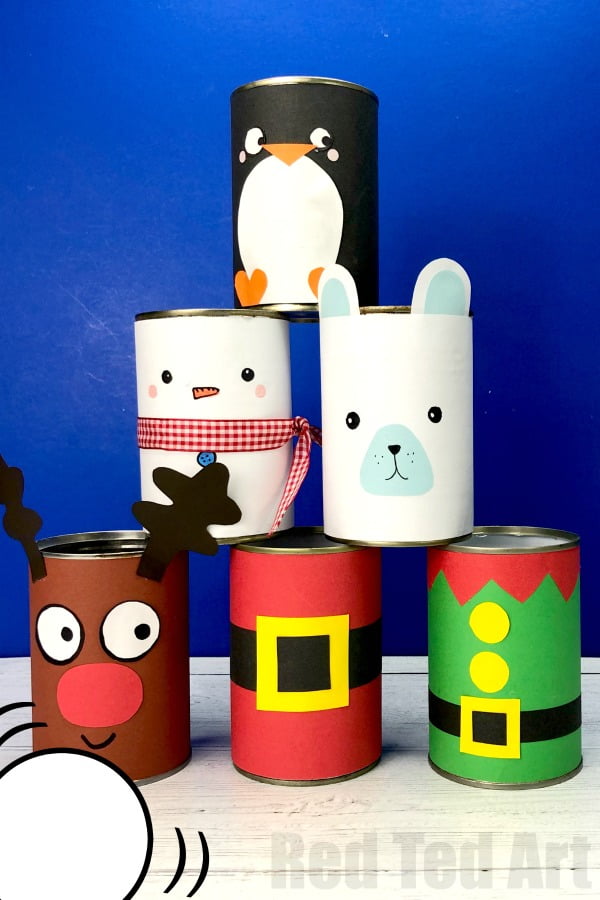 Halloween is the best time to rejoice and spent time with friends and family. And nothing brings people group together better than parties and games! This is a DIY outdoor Halloween decoration and a game that you can play during Halloween.
You need to get hold of a few tin cans and then use all your creativity to make these tin cans more interesting. Go for different Halloween characters such as the vampires, Frankenstein, owl, or even the ghouls. You can also paint scary and spooky faces on the tin cans. Also, make a small spooky ball from paper or any other material. You can also paint a baseball for this DIY game.
Assign every Halloween character and weird faces at different points. Then arrange these tin cans in a pyramid structure with the tin cans of the lowest points on the top. When you play the game by bowling out these DIY spooky tin cans, the fallen tin cans give you points. The player with the highest points in three such rounds wins. You can make changes to the game to make it more interesting.
8. Giant Eyes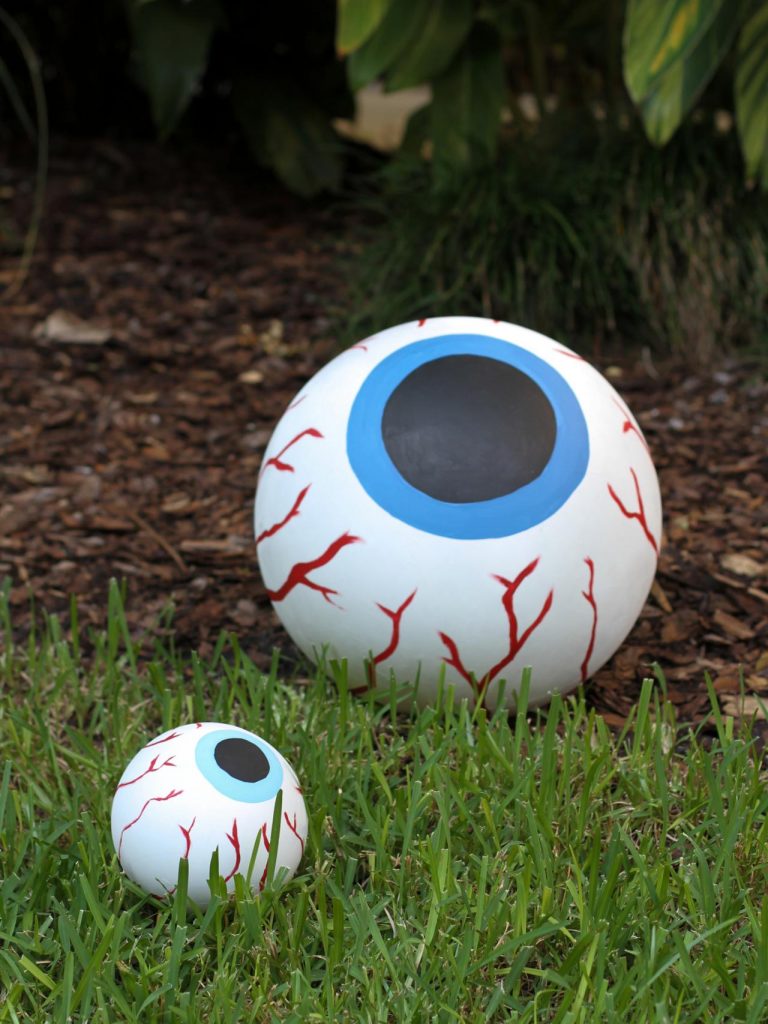 You can make these giant eyes cute, scary, and spooky, or even frightening. Place these giant eyes in bushes or trees to make your visitors feel that someone is watching their back. Bring out the creativity within you to color these giant eyes with different paint colors. Try to make more than one giant eye. Each one should be different than the other one.
Conclusion
Halloween should be celebrated with joy and happiness. These DIY outdoor Halloween decorations aim for the same. There are many more Halloween décor, but the ones mentioned are simple to construct, inexpensive, and very intriguing. You can use your creativity and experiment with the above ideas to make them look more realistic and scarier. Happy Halloween!