Break your shed organization system into zones. You will probably have different zones than I do. You have to look at the bulk of what you are storing, and decide from that. I have four main zones.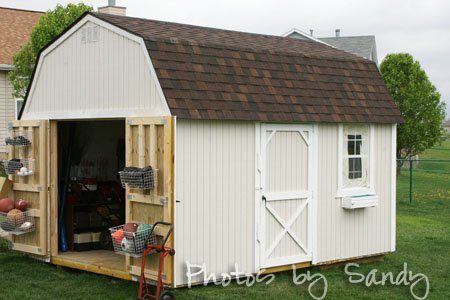 Come on in my shed! I'll take you on the first phase tour!Notice something on those doors? I thought that space was too good to pass up. This was the solution I came up with for the kids balls and ball gloves.
I used these baskets that I found at The Container Store. They are a heavy duty wire basket made for the Elfa closet system. I had my husband drill screws into the studs on the door. Then I just hung the basket over the screws. They have been staying on without any problems.I have the ball gloves in the top basket and some of the balls in the bottom.
There is still work that has to be done on the shed. One of those things is to get hook and eyes on the doors to hold them open. They stay open if there is no wind. Today it was windy and getting ready to storm while I worked. So I propped the doors open.
On this door we have the elbow and knee pads for skateboarding. (The kids hardly use them anymore. I did get rid of several sets, but did keep just a couple in case they decide to start using them)
This bin has the baseballs and golf balls… along with whatever that orange ball is. I think it is for the Lacross stick actually.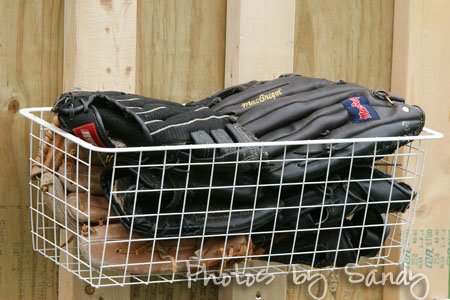 When you come in the double doors of the shed, to the right you will find the "kid zone". This is where almost all their equipment will be stored.
I did hang the step stool right inside the door on a hook. It has easy access, and since we do have lofts in the shed, we will need to use it on occasion to get things.
shed organizingI did purchase this tennis ball organizer from The Container Store. I really like it. The lacross stick is just hanging on a hook.
Their scooters and pogo stick are hanging on a specialty pegboard hook that I already had.
The baseball bats also hung easily from a pegboard hook.
I hung their bike helmets low and simple for easy access.
So what else do we have in the garage that takes up space and scratches the cars coming in and out (when they aren't careful).. that we REALLY wanted in the shed?
Yep…. Bikes!!
This part of my plan has not been completed. Dave is going to build me a bike rack underneath the shelf. I am hoping to be able to store all five bikes in it. For now, I made this temporary bike rack using a 3 level wire shelf that I had. It doesn't work the greatest, but it does give the triplets a designated space for their bikes rack
There is still extra wood and pegboard that may yet be used, but for now I just slipped it out of the way behind the bike rack and under the shelf.
The other two bikes have pegs on the front tires that are going to come off. I have my bike rack designed, I just need the man to make it for me. Sometimes things in my head aren't realistic for what can actually be done.
bike rack
I just used green duct tape to label with. It doesn't look the greatest right now, and after we get the final bike rack completed (which I will show you when it is done) then I will be relabeling.
Now for the two teenagers bikes. We already had these portable bike racks that I purchased a few years ago from The Container Store.
So I slide the two bikes in sideways in the shed. Is there the perfect amount of space in this 10×14 shed to have the bikes not block something? Nope…. but I did try to arrange them so that you could get to the areas that are most used.pegboard in shedThis area is still under construction. My husband has decided he is in charge of this area. I did the major organizing of the items. He still has to go through all his tackle boxes and get rid of stuff.
So you think I don't have struggles with my better half decreasing his clutter? lol I said, "Dave, we have seven people in this family, there is NO reason that we need more than seven tackle boxes." Ok… that didn't go over so well. He has all kinds of reasons why he needs more than seven tackle boxes. "A Man can't have to much fishing equipment", he said.
I of course disagree with that!! I did however get him to get rid of five fishing poles. He hasn't had time to get to this yet (but I'll tell him I'll do it if he doesn't! That will help) I used this old brown shelf that we had in the garage for roller blades and it is now for his tackle boxes.I took advantage of the pegboard for a few things. The corner area is where he is going to build his fishing rack.fishing equipment in the shed
He even left a hole in the corner of the loft floor so that his taller fishing rods can fit.
His newer fishing tackle box has these separate organizing sections. I think he has a few too many for the bag and that is why these were loose
I'll also share the fishing rod racks once those are completed… (unless he doesn't ever do them!!)Don't forget to link your organizing, cleaning or DIY posts to my Organizing Mission link party!
If you're expert on Home Decor/Home Improvement things & want to get some exposure, Feel free to contribute to home improvement + "write for us", We're actively looking for Contributor like You ❤️