Hello CS:GO Navaja fans! Have you ever purchased a skin that costs an arm and a leg, only to realize you don't even like it all that much? It's only natural to want the best skins for your weapons when they literally cover the entire screen as you play.
Don't worry. We are here to help you spice up your Counter-Strike knife collection with some sizzling Navaja skins!
The Navaja Knife
Enter the Navaja knife, a folding blade that oozes funky flair and sharp style. Inspired by the traditional Spanish knife, the Navaja will have the enemy side worrying about getting knifed in their boots with its deadly, tapered edge.
So get ready to add some knife clips to your montage and cut through the competition like a true knife-wielding pro with the Navaja paired with these insane skins.
Navaja | Doppler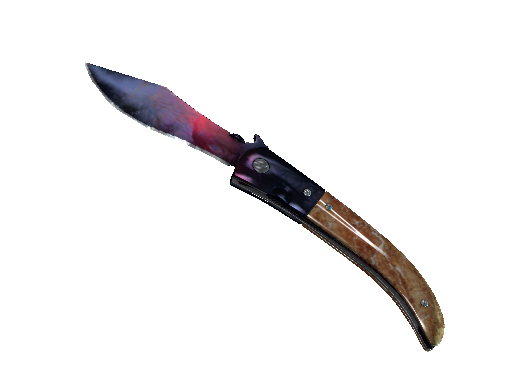 Factory New (FN) Price: $200
Minimal Wear (MW) Price: $491
Let's start with a knife that's out of this world (literally): Doppler is a cosmic wonder, with a swirling blend of pink and blue that looks like it was plucked straight out of the galaxy. The skin creates a mini-universe in the palm of your hand, ready to unleash its power against Terrorists or Counter-Terrorists.
The more worn variants of Navaja | Doppler are more valuable thanks to the unique and rare doppler-effect patterns that can emerge on the blade. So not only will you be the coolest knife camper on the block, but you could also be sitting on a goldmine! Navaja | Doppler is not just a knife, it's a portal to another dimension.
So get ready to conquer the cosmos with what is easily one of the best Navaja skins ever created: Doppler!
Fade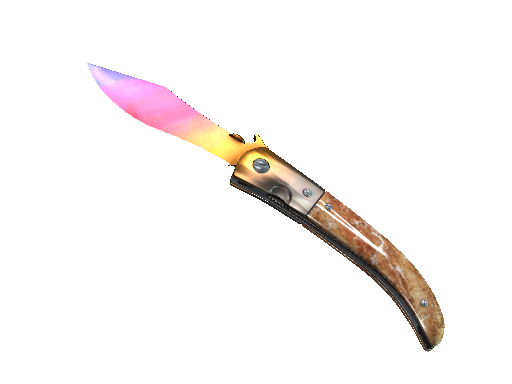 Factory New (FN) Price: $300
Get ready to be amazed by the Fade skin in CS:GO! With its stunning rainbow gradient that fades from deep blues to vibrant yellows, this knife is sure to turn heads and blind your enemies with its sheer awesomeness.
With 21 different ratios of color mixes, you'll never know exactly what color combo you'll get, but that's part of the fun, right? Whether you're wielding it in-game or just admiring it in your inventory, Navaja | Fade is a true gem.
Rust Coat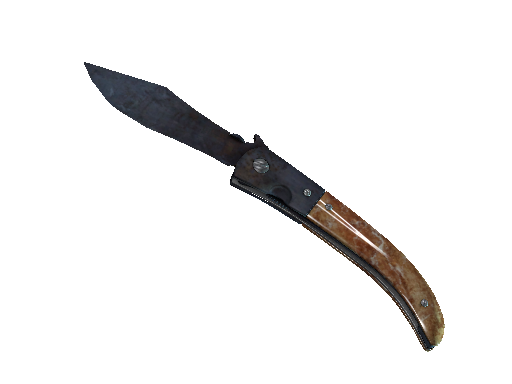 Well-Worn (WW) Price: $134
Want to add a touch of grungy coolness to your knife collection? Look no further than the Rust Coat skin! This skin has seen some battles, and it shows in its rough, rusty exterior that's full of character and attitude.
The skin only comes as Well-Worn (WW) and Battle-Scarred (BS), but it's still sharp enough to cut through the enemy team like butter. Navaja | Rust Coat is for those who prefer their weapons to have a bit of history and a whole lot of edge.
Case Hardened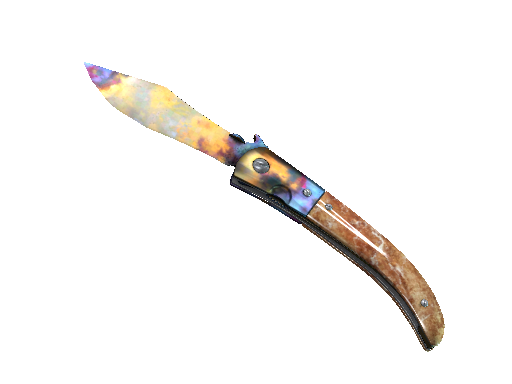 Factory New (FN) Price: $190
If you're all about that shiny bling, the Case Hardened skin is the one for you! This knife is coated in a vibrantly colored pattern that shimmers and shines under light; each of these skins is unique thanks to the randomness in this pattern, making it a work of art that can be used to knife your foes into oblivion.
Navaja | Case Hardened is for you if you want to show off your flashy side while still being deadly enough to have your enemies keep their guard up, so they don't get knifed!