As beautiful as an in-ground pool idea looks, it requires as much maintenance and cleaning as any other part of your beautiful house, but the process of cleaning a pool is comparatively complicated because, unlike the remaining part of your house, your pool is filled with water.
And having to drag your vacuum cleaner throughout the surface of the pool is a difficult task. But do you have any choice in this case? No. After all, a dirty pool will not only look unattractive on your property, but the water in which you swim cannot be left uncleaned and contaminated, right?
However, if this is your first time cleaning a pool, there are a few things that you need to keep in mind and a strategy you need to stick to, to make this process easier, and that is exactly what we will teach you today.
Let us get started.
Prepare Your Pool for Vacuuming
If you are a beginner, then you might feel like to vacuum a pool, you need to drain the water, get inside the pool, and scrub every inch with your own hand and refill it, but that is not how it is done. Thankfully, the process is much simpler, and we will get to that part, but first, you need to prepare the pool.
Here are the two things that you need to do:
Get rid of any floating debris like plastic containers, juice packs, or leaves. You can use a pool skimmer to do this. The debris being larger in size will be easier to get rid of.
Once the debris is gone, turn on the pool pump to ensure water flows through the pool filter.
What Vacuum Options Do You Have?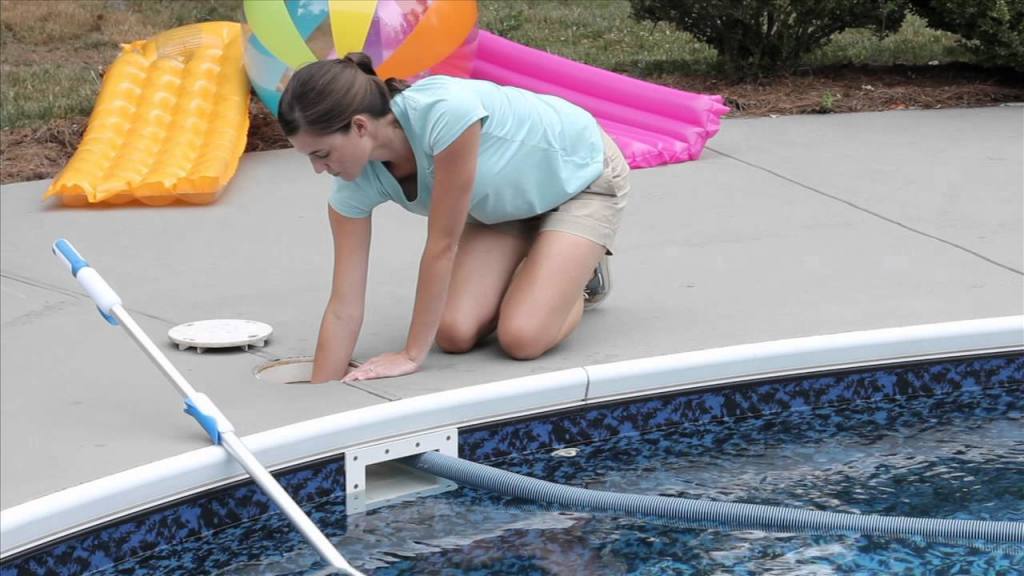 Luckily, when it comes to choosing the right way to vacuum your pool, you have two options to choose from: Manual Vacuuming or Automatic Vacuuming.
Manual Pool Vacuum
As the name suggests, a manual pool cleaner is a handheld pool cleaner that requires you to push it around the entire surface of the pool.
Most people prefer a manual pool cleaner over an automatic cleaner because certain manual cleaners provide high suction power compared to automatic cleaners. With a manual cleaner, you can focus on certain parts that are dirtier.
These cleaners are weighted and rechargeable to ensure smooth functioning underwater. They will also require an extended pool pole and vacuum hose, sold separately, and you need to assemble the three.
Automatic Pool Vacuum
An automatic pool cleaner is an independent machine that crawls on the surface of your pool to vacuum the floor. Apart from the initial setup, there is no such need to assemble any part, unlike a manual pool vacuum which makes it easy to use.
However, while with a manual vacuum, you can concentrate on different areas of the pool separately, but automatic cleaners exert the same pressure and effort on every part of the pool regardless of how dirty they are.
Dolphin Nautilus CC Robotic Pool Vacuum Cleaner —  Wall Climbing Capability — Powerful Active...
The Dolphin Nautilus CC robotic pool vacuum cleaner features powerful wall climbing capabilities to...
With the Dolphin's active scrubbing brush design, your pool surface gets incredibly clean. Each...
Get your pool exceptionally clean with the easy-access, top load fine filter basket. The fine...
Cleaning your pool has never been easier. With the Dolphin's plug-and-play system, just plug your...
Dolphin pool cleaners have been effortlessly cleaning the world's pools for over 35 years,...
Step By Step Process to Vacuum an In-Ground Pool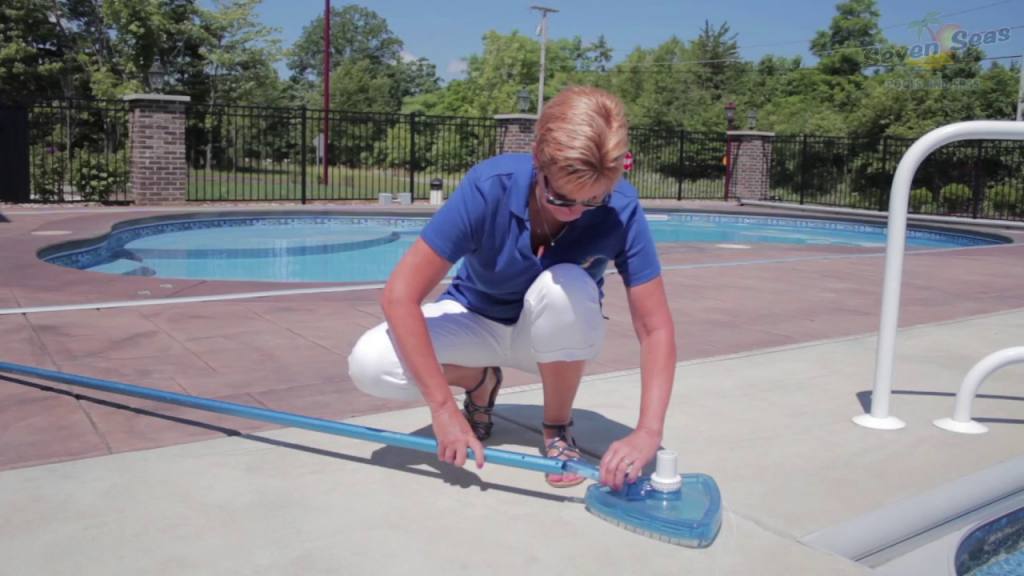 Since automatic pool cleaners are easy to use, and there is nothing much to explain about how it works, we will guide you through the process of using a manual cleaner to vacuum your in-ground pool:
First, lower the vacuum head into the water steadily until it reaches the floor.
Make sure that you have secured the pool pole tightly in its place.
Once you are done with that, you need to grab the free end of the vacuum hose and hold it in front of the water return outlet to fill it with water. You will see bubbles form around the vacuum head. Once all the bubbles have escaped, pull it away from the outlet and ensure that the hose is still submerged in the water.
Put in the open end of the vacuum hose on the skimmer plate. Then, put the plate on the pool wall skimmer directly on top of the suction vent. The vacuuming process will be initiated.
Start from the shallow end and move it slowly along the length to clean every inch of the pool effectively. If your pool has a larger surface area, it will be easier for you if you move in a grid pattern.
In the case at any point the vacuum is stuck, turn off the pump and reposition the vacuum head, then turn on the pump again.
While you are vacuuming, you might feel the suction power has diminished over a certain period. In this case, remove the hose from the skimmer plate and hold it again over the water return outlet. Once you see that all the bubbles have escaped, put them back in the water.
After the vacuuming is done, make sure you test the water and restore its original pH balance.
And that is it. You are done vacuuming your pool, and this was all that you needed to know about vacuuming your in-ground pool with the help of a pool cleaner.
We hope this article was helpful and you were able to follow the guide. If you have any further queries, feel free to reach out to us in the comment section below.