If you love swimming and enjoy the relaxing sensation of water on your skin while soaking in for long hours, it is essential to winterize your pool when the temperature falls. When summers over, you need to realize that closing your pool is a wise choice.
As the temperature falls, you will need to understand that your pool no longer is conducive for these cold temperatures, and winterizing is essential. It is a straightforward task so that you can enjoy your pool next season without much preparation. There are several ways of doing it, and we will take you through the process step by step.
Best Time to Winterize a Pool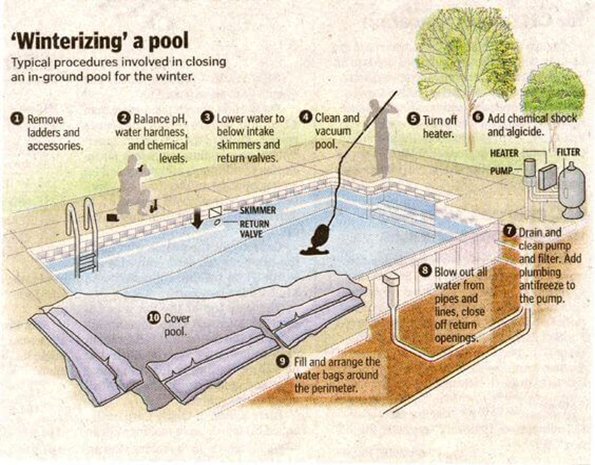 Winterizing a pool is best done when the temperature drops below 20 degrees Celsius during the off-seasons. It is essential to remember that doing it very soon is not a wise decision. Wait until the summer to end and then when the temperature starts falling, and then you are good to go. This is a good time because several algae need a warm temperature to thrive, and a cold temperature ensures that your inground pool ideas are clear of infestation.
Get all the Material.
To winterize your pool, you will need a chemical kit and a few products. The essentials are listed here with their function:
pH Increaser
pH increaser helps in raising your pool water pH and reduce water acidity. It also helps cut down on the eye and skin irritation that may be caused due to water acidity. This causes a rapid dissipation of chlorine that is often caused by acidic water that is made up of sodium carbonate and is essential to winterize your pool.
Alkalinity Increaser
This product is essential to winterize a pool as it raises the total alkalinity and helps prevent equipment corrosion and plaster damage during the off-seasons.
Calcium Hardness Increaser for Pool 
Calcium hardness increaser is essential to obtain the balance in water hardness. Often low calcium hardness is associated with corrosion of pool walls. This can cause staining on the pool surface. Increasing hardness helps in keeping the calcium hardness in a desirable range.
Shock Enzyme Supplement 
This is mainly used for shock treatment of a pool before it is winterized. It also helps prevent the growth of unwanted organisms such as bacteria and fungi algae in your pool water. It helps in preventing contamination so that your pool is all set for the next season.
Pool Skimmer Cover
The skimmer cover is made of solid material that will not let the water pass through. It is water-resistant, dustproof, and durable for covering your inground swimming pool during the off-season. It is made up of very high-quality material and saves your pull from debris and leaves.
Algaecide
Since algae grow well in the water, you must safeguard your inground swimming pool by adding an algaecide. This helps keep your water away from contaminants and make sure all types of algae and that water are killed. It works well for low doses and is safe for the skin so that you can bask in your pool without worrying about it in the next season.
Drain Line and Expansion Plugs
This pipe plug comes with the cap and is good for draining water during the winter months when plumbing may be damaged because of the expansion of freezing water.
Water Bag
These are heavy bags that are placed on the top of your skimmer cover and on the inside walls of the swimming pool to ensure that the cover stays in place when the pool is not in use.
Swimming Pool Antifreeze
This is a non-toxic solution of propylene glycol that protects your pool from any freeze-related damage. It is very safe for the human skin and can be used for all types of plumbing and protects your pool.
Pool Pillow
It is used to absorb the air pressure that is often caused by ice expansion during the cold months, and it protects your swimming pool from any winter damage.
Clean Your Pool Before Closing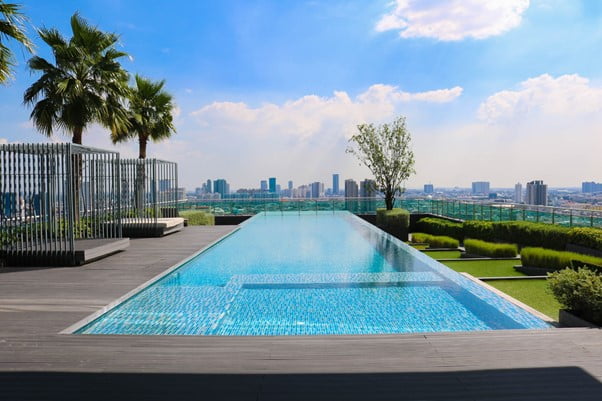 Cleaning is the next step to clean your swimming pool before you start to close it. For this, you will need to skim the surface of the swimming, brush all the walls, and scrub it well. It would be best if you also vacuumed the entire pool. 
This is essential because it will keep your pool in good working condition when it opens next spring and summer. This clean pool is much easier to take care of and ensures no algae or fungus develops in your pool during the offseason.
Balance the Pool Water's pH Levels.
The next thing to do is to balance the pH levels of your pool. This is essential one last time before you close your pool. 
First, you need to check the pool's pH with the water testing kit or pH strips and get accurate results.
You must maintain the pool pH between 7.4 to 7.6. You must also ensure that the alkalinity is maintained between 100 and 150 ppm and calcium hardness is maintained between 175 and 25 ppm.
For chlorine, you need to maintain at between 1 and 3 ppm.
Once you know the pH of your water, you need to add the winterizing chemicals. For this, you need to add your pH increaser, alkalinity increaser, calcium hardness increaser, pool shock, and algaecide.
Once all these are added in the right amount and the water pH is balanced, you are all set.
You must adjust the alkalinity of your swimming pool water by adding a base such as a chemical called alkalinity increaser.
It is mainly composed of sodium bicarbonate and is essential for creating balanced water.
After you are done with all these steps, you must make sure that you get your pH in between the range of 7.4 to 7.6 and get the proper balance.
You must also check the calcium hardness of your water because excess calcium deposits in your pool plumbing and can cause a build-up. If water is too soft, this can corrode the metal. It is essential to balance your pool well to create a good pH to prevent damage to the walls, plumbing, and pool vaults.
Next, you need to add algaecide to your pool so that no unwanted algae grow in the water. This is usually done based on the dosage mentioned on the back of your pack.
It is also essential to add a clarifying enzyme to prevent growth and build-up that can be stopped in the swimming pool. This also helps in preventing murky growth over the pool.
Store the Lines.
The next step is to clean and store all the lines of the swimming pool. Pool lines are essential plumbing for your swimming pool and can be destroyed by ice expansion. Clear the lines, remove them, and store them until you reopen your pool. To disconnect these lines, drain the water, dry your lines, and store them in a cool place.
Drying them is essential to prevent any mold growth. Blowing out pool lines is important because stagnant water can cause these lines to freeze when the temperature grows cold.
Safeguard Your Skimmer
Safeguarding your skimmer is essential when you are winterizing your pool. For this, you need to remove the skimmer basket and then dry it before you store it in a cool place. You can decide if you want to enclose and cover your skimmer. Usually, a skimmer cover helps seal out all the unwanted elements and covers the whole skimmer.
Clean Filter and Pump
Cleaning the pool filter is important. This is essential to remove any remnants in the pump that should not stay in it for winter. Clean it, air dry it, and store it until the next season. For the cleaning pump, you will need to remove all the drain plugs and then finally remove the pool pump and chlorinator as well as all the other hoses in your swimming pool.
Take out Drain Plugs, Add Expansion Plugs
The next thing to do is to remove all the drain plans in your pool. Make sure that you remove all the essential components of these plugs in your pool so that these are safe for the next spring and summer. This also ensures you do not have to worry about cracks and damage in them because of water freezing and expansion.
After this, you will need to add your expansion plugs which will help prevent damage that is often caused by ice-cold freezing water. These also have been protecting the skimmer lines and make sure that the water will not cause damage to your pool valves and other outlets and inlets.
Clean Additional Pool Accessories
After the last step, you will need to clean all the pool accessories and remove all the toys, tubes, and ladder before closing your pool.  Leaving them can cause large damage to your pool. It can also cause corrosion and rusting of the item, which can later damage your pool walls. Gather and clean them well, disinfect them, let them dry and then store them until the next season.
Add Pool Pillow
Next, you need to install the pool pillow. It is also called the ice compensator as it helps absorb the air pressure of the expanding snow and protects the sides and covers of your pool from blowing up. You must fill your pool pillow to about 55% of its capacity so that it compresses naturally during the winter months.
Finally, Add the Pool Cover
You are all set with winterizing your pool. Next, you will need to place your pool cover and secure it using the air pillow. You need to ensure this cover does not blow up. You can add some cable and cover clips to keep it in place. Voila! You are all done with winterizing your pool.
Conclusion
Winterizing your pool is an essential step if you want to safeguard your pool from damage to the winter months and ensure it is fresh when you open it again during the spring and summer months. Winterizing also ensures you get balanced and safe water. It also safeguards your hardware and accessories.
Winterizing is a long process, but it is worth it because it benefits and safeguards your pool. When the summer ends, you can get back to pristine water and a clean swimming pool for the next summer season with equal gusto and enthusiasm.