Winter is the most beautiful climate but can also be tough in many ways. The best part of this season is that it looks beautiful all around. The worst part of this season is that we have to put on extra clothes, keep vehicles warm and clean up the snow. To clear up the snow, we will need a snow thrower to let us look at some of the reasons you need a snow thrower.
1. Saves Effort
After starting the snow thrower engine, there is not much to do for you because once you guide the snow thrower, it will do its work well. And then, the snow is successfully blown from the driveway or sidewalk.
2. Timesaving
A driveway takes a lot of time to be cleared if a shovel is used, especially if a huge snowstorm has occurred, and there are possibilities that you might get late for the office if the driveway is not cleared well. Also, no one likes to spend their half of the weekend in shoveling chore. The best thing is to use a snow thrower and enjoy it like never.
3. Prevents Back Injury
If shoveling is used, it can hurt your back because it is heavy, and snow is wet on the other hand. We recommend you use a snowblower because it requires minimal effort and no chances of injury.
Essential Tips to Use Snowblower
Do not wait for the snow to stop. Because if you wait, there will be a huge amount of snow gathered. And once the snow is gathered, it will take time to be cleared.
Try to throw the snow as much far as possible. So, the trick is to switch on the snow thrower at full speed but from a low ground level; just keep in mind to adjust the chute diverter accordingly.
After clearing up the snow with the thrower, look out for unnecessary stuff in the area and inspect the property well. Make sure there is nothing left that will trigger you afterward.
Add stabilizers and fresh oil to the snow thrower regularly according to its need.
Do not forget to take a maintenance check-up before the snow season arrives. So that you can use the thrower effectively and efficiently as and when required.
Different Types of Snow Throwers
Corded Electric Snow Thrower
A simple model for this type of snow thrower costs up to 100 dollars. But as the models keep updating price goes up to 300 dollars.
Some corded snow throwers allow their users to let go of the trigger with an automatic shut-off motor known as 'dead man's release.
There are comfort grips that include padding for better functioning. It is available in most of the corded electric snow throwers.
Sale
Single-Stage Gas-Powered Snow Thrower
According to the size and power of the engine, the price keeps fluctuating mainly from $300 to $750.
If we buy a cheaper model of single-stage snow thrower, then we would require pulling a cord to the engine manually. And if your budget is $450 and up, then you can go for a thrower with a push-button start and headlights.
Mostly, all the single-gas powdered snow throwers come with a dead man's release. And most of the models are self-propelled.
No products found.
Two-Stage Gas-Powered Snow Blowers
These snow blowers come with electric start buttons, and their price range starts from $600 to $2000.
As the prices keep increasing according to the model, its maneuverability also increases.
The features these snow blowers include are padded grips, headlights, dead man release, and speed options.
Three-Stage Gas Power Snow Blowers
The prices for three-stage snow blowers range from $1000 to $2500.
Power steering option, comfort grips, the electric start button is included in this style of the blower.
Some of the three-stage gas power snow blowers come with track drives that help to avoid slip on icy surfaces.
Difference Between Snow Blower and Snow Thrower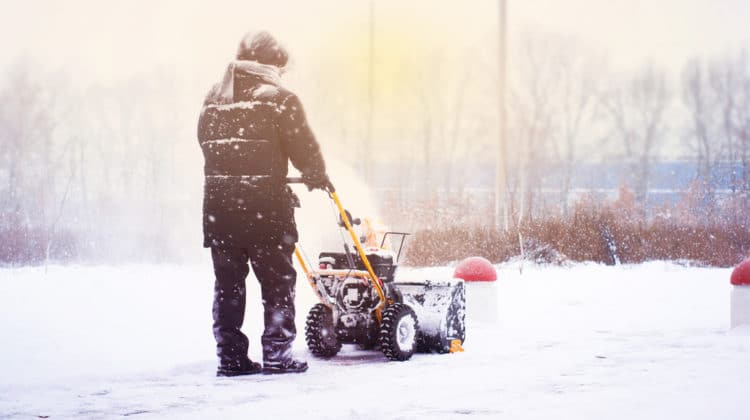 Let us have a look at which is the best amongst the two, snowblower vs snow thrower.
The snowblower has more power than the snow thrower because the snowblower is a single-stage machine, whereas the snow thrower is a two-stage machine.
The snowblower is less expensive than a snow thrower because it has more functions, and it performs well when it comes to clearing up the snow.
Snow thrower requires less maintenance and can be stored easily as compared to the snowblower.
A snow thrower requires an extension cord, whereas a snowblower requires fuel.
The snow thrower is suitable for areas with less snow accumulation whereas, a snowblower can work well with lots of snow.
Conclusion
Snow throwers are the most well-designed machines for snow. We should use it even before the snow starts falling, as the snow accumulation is, expected.
Snow throwers are elementary to carry and use. Just make sure to wear all the safety gear before using the thrower to avoid any injuries.
There are many types of snow throwers, but the one with significant features is recommendable for everyone. It also depends on your budget. Some models of snow throwers are cheap, and some are expensive.
Snow throwers also save a lot of time and effort that results in betterment.
We hope you have understood all the points well and in advance so, what are you waiting for?
Grab up your snow thrower and start the work effectively.